GII-3 Keene Decanter
Blown Three Mold
Keene Decanter
GII – 3
Probably Keene Marlboro Street Glassworks
Keene, New Hampshire
Deep Olive Green Half Pint Decanter
Provenance: Michael George Collection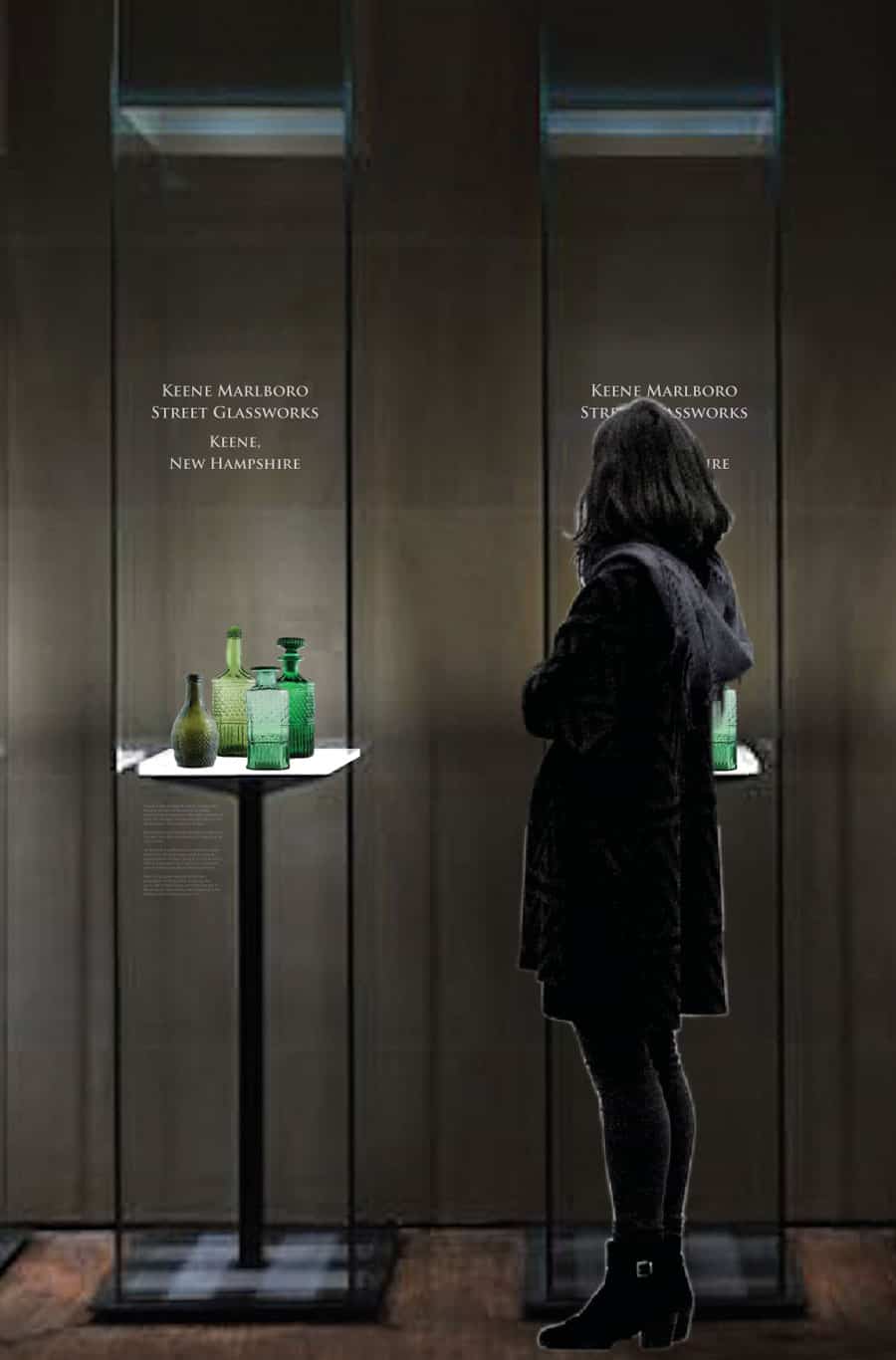 The three main categories of three-mold glass patterns are Geometric, Arch and Baroque. Diamond patterning, also known as diamond diapering or diamond quilting, is the most common geometric design and can be found on tableware items such as decanters, stoppers, cruets, casters, condiment sets, pitchers, punch bowls, pans, dishes, preserve dishes, mugs, tumblers, wine glasses, celery glasses, salts, and doll dishes.
Our GII-3 decanter was likely produced at the Keene Marlboro Street Glass Works in Keene, New Hampshire, from 1815 to 1830. The Keene glassworks opened under the direction of Henry Schoolcraft and his two partners in 1815 and continued in operation under various operating firms for the next 35 years. Although the vast majority of the plant's products appear to have been unmarked, the factory made several flasks embossed with an owner's initials or the location name—all of which may be closely dated.
Our extremely rare half-pint 'Blown Three Mold GII-3 Decanter" was initially unearthed in the fall of 1989 by a young, novice bottle collector digging on Cape Cod in Massachusetts. The bottle was caked in red clay, which probably helped preserve it in its virtually "attic" mint appearance. The bottle is banded and segmented with bordered diamond patterning. The glass color is a medium to deep olive green. The barrel form decanter has gracefully tapering shoulders, an applied short double-collared mouth, and a pontil scar.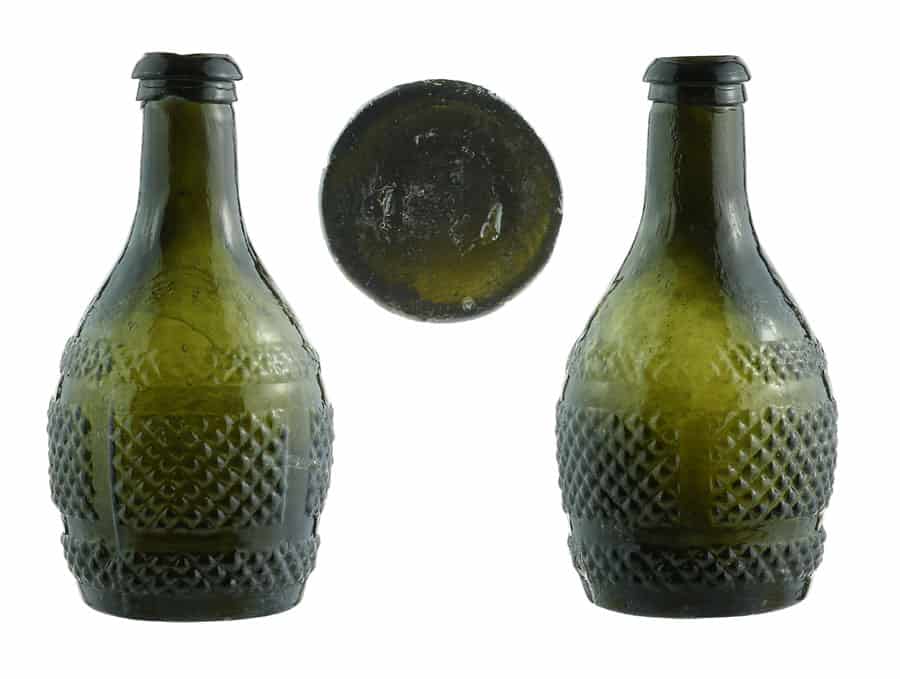 The dug bottle was subsequently brought to Norman C. Heckler for public auction and featured in their catalog Auction #5 as lot 343 on March 31, 1990. Renowned collector Paul Richards was the successful buyer in the sale.
Upon Mr. Richard's passing, his legendary collection of colored blown three mold decanters was sold in their entirety via a brokered transaction to a Rhode Island collector/investor who wished to keep the transaction private; thus, the bottle's whereabouts became a mystery.
Eventually, the collection surfaced and was again dispersed by a private sale through the prominent bottle and antique dealers Jeff and Holly Noordsy (see picture). The purchaser of this extremely rare little decanter contacted John Pastor with American Glass Gallery to discuss a public sale of the bottle. The important decanter came to auction in November 2009 with American Glass Gallery catalog Auction #3, lot 63.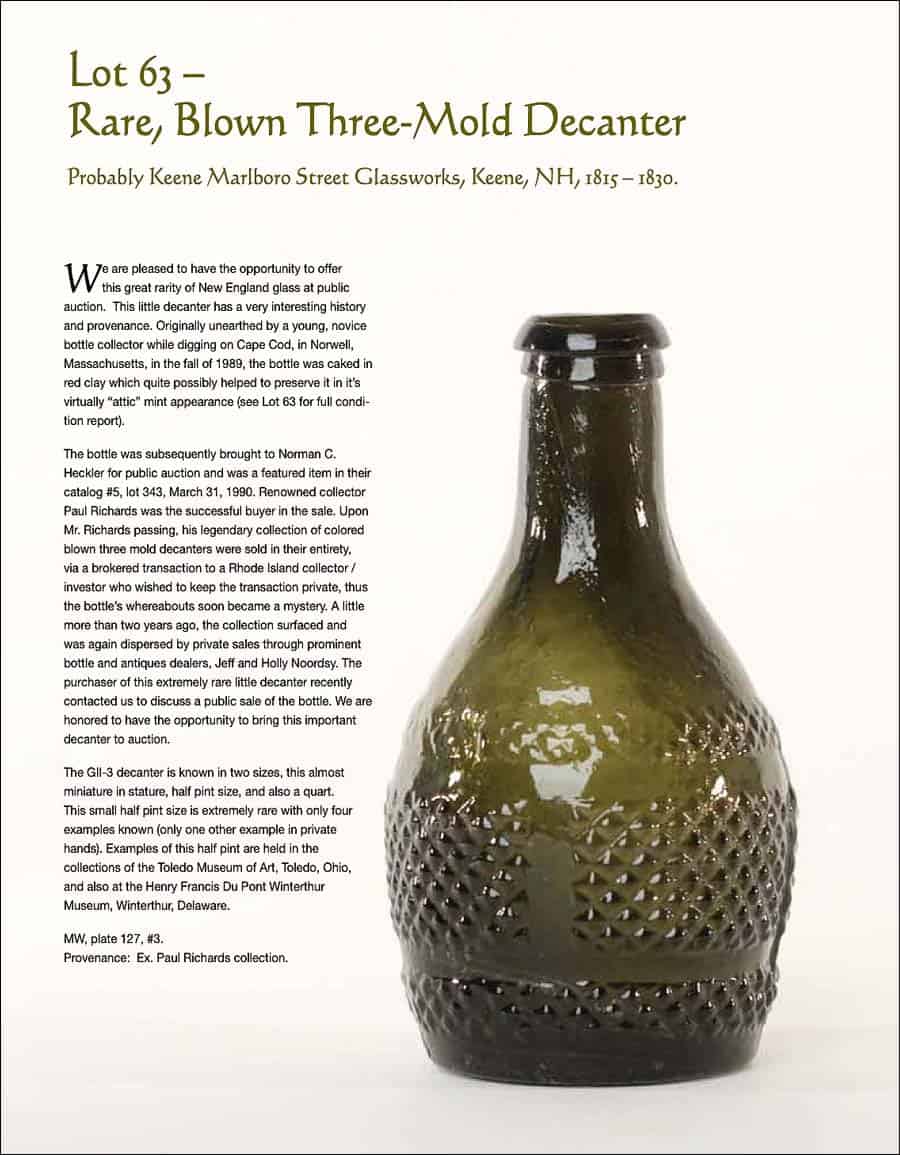 The GII-3 decanter is known in two sizes, this almost miniature in stature, half pint size, and also a quart. Oddly, a pint-size has not been reported. This small half-pint size is extremely rare, with only four examples known. Examples of the half pint are held in the collections of the Toledo Museum of Art (Toledo, Ohio) the Henry Francis Du Pont Winterthur Museum (Winterthur, Delaware, and in a 40-year New England Collection.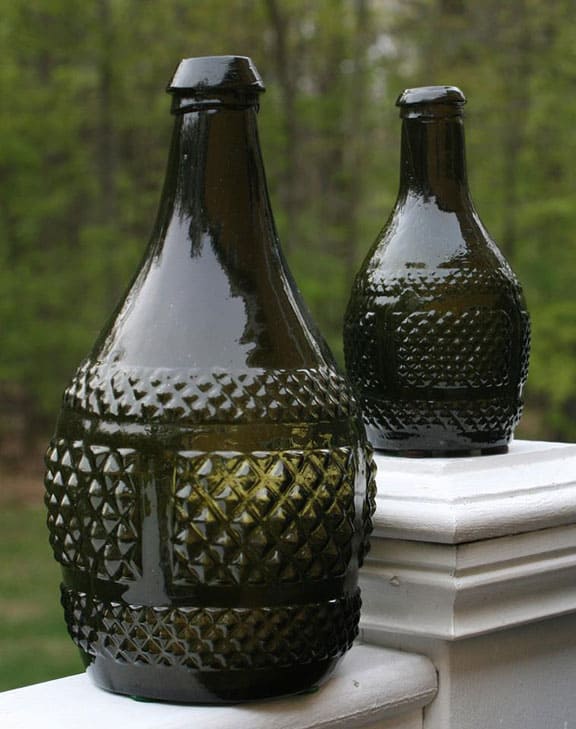 Primary Image: Half pint GII-3 Keene Decanter imaged on location by Alan DeMaison, FOHBC Virtual Museum Midwest Studio.
Support Image: [Exterior] Blown three mold decanter, (McK# GII-3), deep olive green, cylindrical, pontil scar, half-pint, applied sloping collar with ring. Blown at the Keene Marlboro Street Glass House, Keene, NH, 1820-1840, extremely rare. This truly exceptional blown three mold decanter is one of four known examples and one of only two in private hands. The other examples can be found in the Toledo Museum of Art, Winterthur and in a 40 year New England Collection. For those who have collected since the early 90s you may remember that this example was unearthed on Cape Cod and sold in Heckler Auction #5 for $9,900 – Jeff and Holly Noordsy
Support Image: Catalog Page. Auction Lot 63: Blown Three Mold Decanter, probably Keene Marlboro Street Glassworks, Keene, NH, 1815 – 1830. Medium to deep olive green, barrel form with gracefully tapering shoulders, applied short double collared mouth – pontil scar, 1⁄2 pint; (a shallow 1⁄2" flake located on the side at the base, tiny bit of roughness on the underside of the double collar). GII-3. An extreme rarity in American Blown Glass. Ex. Paul Richards collection (see page 30 for details). – John Pastor, American Glass Gallery, Auction #3
Support Image: Pair of colored blown three mold decanters. This is the quart and half-pint size GII-3. "As far as I know, a pint does not exist." – Michael George
Support: Reference to American Glass by George S. and Helen McKearin, Crown Publishers Inc., New York, 1989.
Support: Reference to American Bottles and Flasks and Their Ancestry by Helen McKearin and Kenneth M. Wilson, Crown Publishers, New York, 1978.
Support: Reference to Two Hundred Years of American Blown Glass by Helen and George S. McKearin, January 1, 1958.
Join the FOHBC: The Virtual Museum is a project of the Federation of Historical Bottle Collectors (FOHBC). To become a member.