Duffy Crescent Saloon Figural Pig
DUFFY CRESCENT Saloon
204 Jefferson Street, Louisville, Ky

John Duffy, Louisville, Kentucky
Amber Figural Pig
Provenance: Jim Hall Collection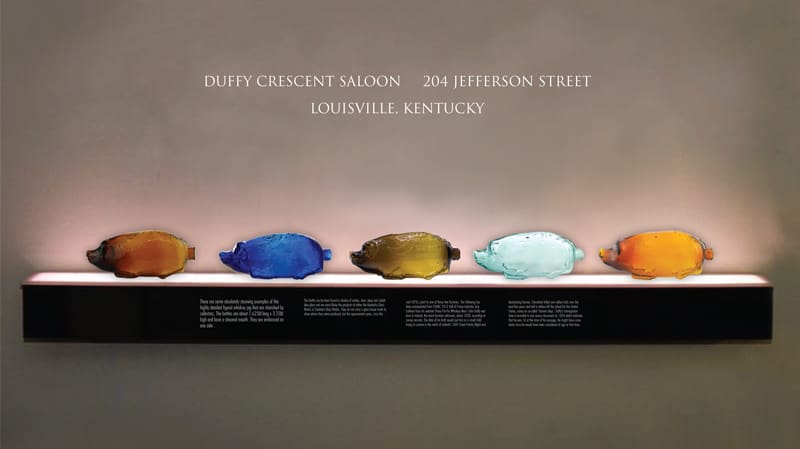 There are some absolutely stunning examples of this highly detailed figural whiskey pig that are cherished by collectors.
The bottles are about 7.625″ long x 3.25″ high and have a sheared mouth. They are embossed on one side 'DUFFY' on a banner with an embossed rooster and the words 'CRESCENT' (inside a crescent moon) 'SALOON 204 JEFFERSON STREET LOUISVILLE KY.'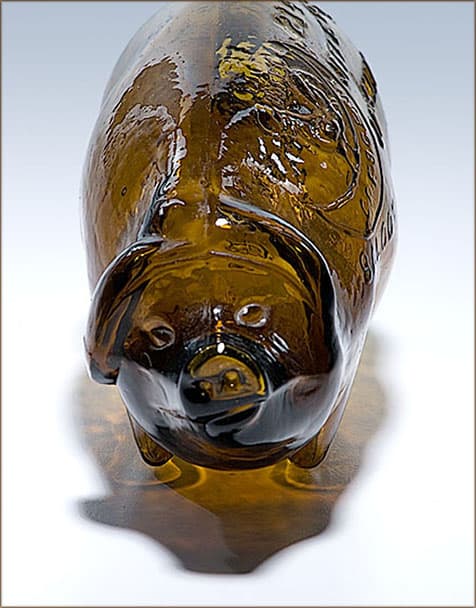 The bottle can be been found in shades of amber, clear, aqua and cobalt blue glass and are most likely the products of either the Kentucky Glass Works or Southern Glass Works. They do not carry a glass house mark to show where they were produced, but the approximate years, circa the mid-1870s, point to one of these two factories.
The following has been extrapolated from FOHBC 2012 Hall of Fame inductee Jack Sullivan from his website Those Pre-Pro Whiskey Men!
John Duffy
John Duffy was born in Ireland, the exact location unknown, about 1838, according to census records. The date of his birth would put him as a small child trying to survive in the midst of Ireland's 1845 Great Potato Blight and devastating famine. Starvation killed one million Irish over the next five years and half a million left the island for the United States, many on so-called 'famine ships.' Duffy's immigration date is recorded in one census document as 1854 which indicates that he was 16 at the time of his passage. He might have come alone since he would have been considered of age at that time.
Although his whereabouts immediately upon arrival go unrecorded, he surfaced in 1857 in Temple Hill, an unincorporated community in Jones County, Iowa, married to Margaret O'Connor (aka "O'Connors), a girl still in her teens who also had emigrated from Ireland. A daughter, Margaret Ida, would be born to the couple the same year at Temple Hill. A son, William J., would be born in 1875."
In 1856, John Duffy was listed in a Louisville directory working as a bartender at the Theatre Inn, a downtown saloon, and living at 972 Goss Avenue. It is likely that while pursuing this occupation, he met William Kagle, a fellow barkeep, who worked at Delmonico's Restaurant and boarded there. About 1867, they determined to throw in their lot together and opened a saloon. The partners called their establishment "The Asteroid Saloon," located at 108 Fifth Street at the corner of Court Place, a center of city government activities.
They advertised vigorously in Louisville's daily papers. On October 21, 1867, for example, they announced that "oysters could be had in their saloon, any style, for forty cents a dozen." An advertisement a week later declared that "fine Saddle Rock Oysters could be had at the Asteroid; fifty cents bought twelve." The partnership was short-lived as a Notice of Dissolution was posted in February 1868. William Kagle is recorded as having gone back to bartending, this time at the H. S. McNutt Saloon, and he later became proprietor of the Delmonico Hotel.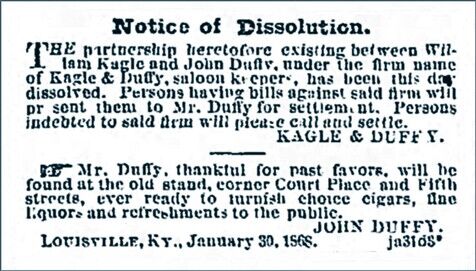 Meanwhile, Duffy continued to run a saloon at 108 Fifth Street. He may have renamed it "Duffy's Saloon," the designation to be found on an Albany Slip stoneware jug with a "scratch" label. Duffy remained at that location until about 1873 when he moved to 214 Jefferson Street, a major Louisville commercial thoroughfare. He called this new watering hole, the "Crescent Saloon." It was from this location that Duffy issued his miniature glass pigs. He is believed to have handed them out full of whiskey at Christmas to favored customers.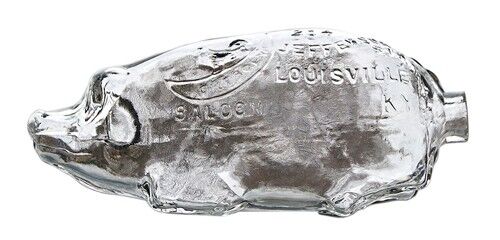 Primary Image: The Duffy Crescent Saloon pig imaged by the FOHBC Virtual Museum midwest studio by Alan DeMaison.
Read More: John Duffy's Little Piggies Have a Market by Jack Sullivan
Support Images: Jim Hagenbuch and Glass Works Auctions
Support Image: Yellow-olive example from Cowan's Auctions
Read More: Louisville Glass Factories of the 19th Century – Part 3 by David Whitten
Read More: Figural Pig Series | Duffy Crescent Saloon Figural Pig Bottle