Mason's Patent Nov. 30th 1858
Mason's Patent Nov. 30th 1858

John Landis Mason, Vineland, New Jersey
Aquamarine
Provenance: Patricia Sprang Collection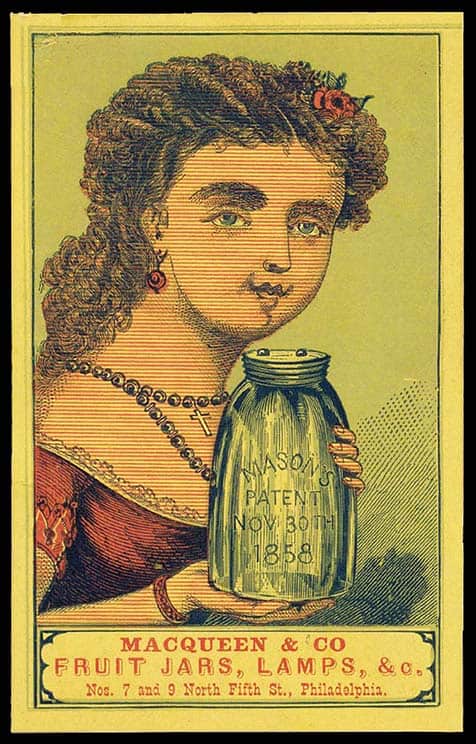 Just about everyone has heard of a Mason jar. Besides being the most famous of all canning jars, we might have put marbles or coins in them as a child or casually had them in our windows for decoration. Now they are collected and prized by many and often reproduced. Our museum example of a Mason's Patent Nov. 30th 1858 is striking because the glass contains a sea of air bubbles giving it great eye appeal and desirability.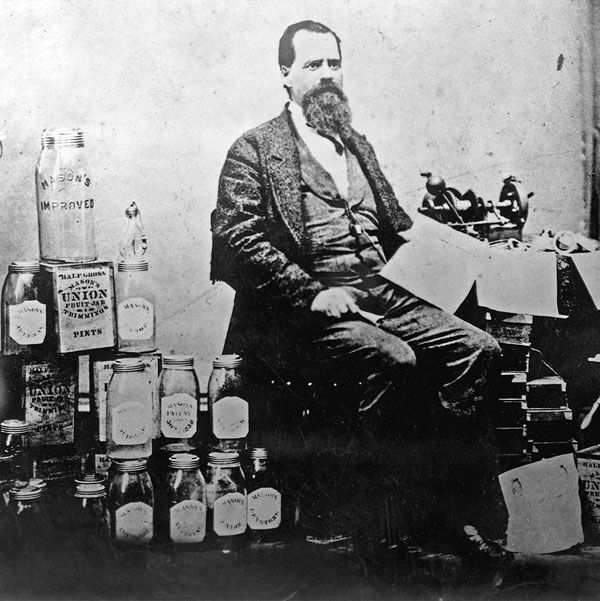 Mason jars were named after John Landis Mason who invented his molded glass jar for home canning to preserve food. He was the son of a Scottish farmer who was born in Vineland, New Jersey in 1832. Mason was living in New York when he conceived the idea of preserving the freshness of the fruits and vegetables he and his father once raised.
John Landis Mason set out to make threads at the top of a glass jar to allow a metal cap to be screwed down, forming an air tight seal. Mason was a tinsmith by trade and owned a metal shop on Canal Street. First, he set about designing a glass jar with a diagonal thread slightly below the top and let it vanish before reaching the shoulder of the jar. This screw thread on its outer perimeter accepted a metal ring or band. When the tin cap was screwed down, its rim imprisoned the integral rubber ring or band, achieving a strong hermetic seal on the shoulder. Now the contents would not spoil.
On November 30th, 1858, Mason had his invention patented and stated that it was an "Improvement in screw-neck bottles." This "Mason's Patent Nov. 30th 1858" copy was to be embossed on glass jars for the next seventy-five or so years.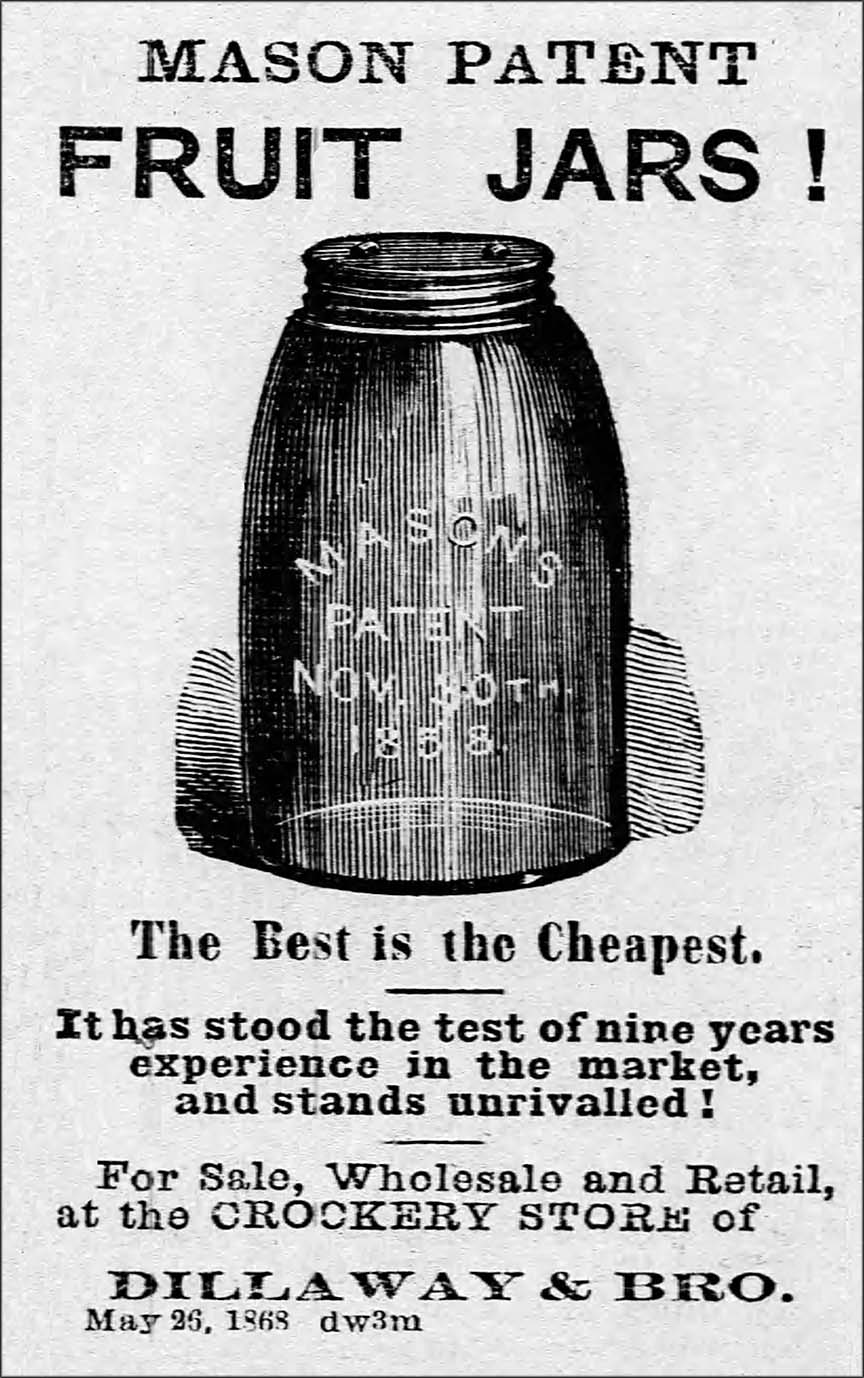 The very first Mason jars with the Nov 30th, 1858 patent date embossing are believed to have been made at the Crowleytown Glass Works located in Washington Township, New Jersey. These early Mason containers looked like glass versions of tin cans. Collectors commonly referred to these jars as "Crowleytown" Mason's since they had straight sides, flat bases, and sharp base corners. You can see a Crowleytown example on an adjacent shelf in our museum. The Clyde Glass Works in Clyde New York also made Mason's Patent 1858 jars. You can see an example in our museum. Mason's CFJCo Improved Clyde N.Y.
Primary Image: Mason's Patent Nov. 30th 1858 jar imaged on location by the FOHBC Virtual Museum midwest studio led by Alan DeMaison.
Support: Reference to Celebrating 150 Years of Mason Jars 1858 – 2008 by Jim Sears and Joseph Merkel, Bottles and Extras, November – December 2008
Support: Reference to Fruit Jar Annual 2020 – The Guide to Collecting Fruit Jars by Jerome J. McCann
Support: Reference to Red Book #11, the Collector's Guide to Old Fruit Jars by Douglas M. Leybourne, Jr.