D.J. Dennis' Georgia Sarsaparilla, Augusta Ga
DR. J. Dennis's
Georgia Sarsaparilla
Augusta, Ga.
Dr. John Dennis, Augusta, Georgia
Rectangular Aquamarine Medicine
Provenance: Mike Newman Collection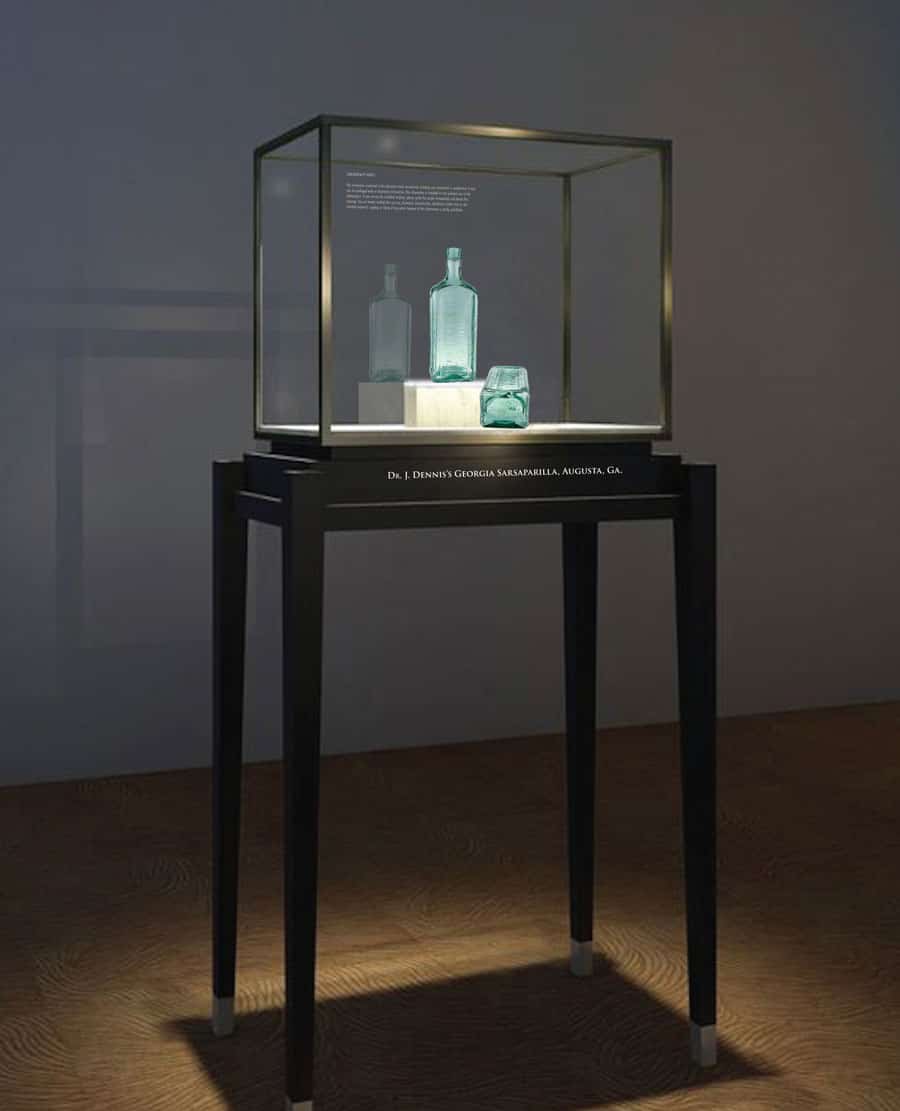 Dr. John Dennis was a smart man who saw an opportunity after seeing Northern Sarsaparilla medicine brands like Dr. Townsends, Sands's, and Masury's come down from New York and sold to his patients and neighbors in Georgia in the 1840s. He decided to source his own Sarsaparilla, circumvent the northern influx, and produce and sell Dr. J. Dennis's Georgia Sarsaparilla in Augusta, Georgia.
See Museum example Dr. Townsend's Sarsaparilla, Albany, N.Y.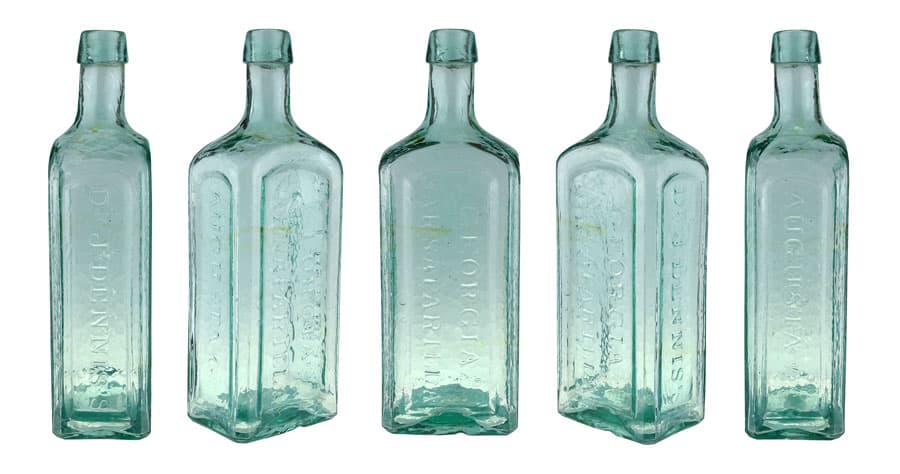 This robust aquamarine Dr. J. Dennis's Georgia Sarsaparilla bottle is extremely rare, with only a half dozen examples in collections. The bottle is rectangular with beveled corners, has an applied sloping collar mouth, an improved pontil scar, and is approximately 10 1/8 inches tall. The bottle has three vertical recessed beveled panels containing copy embossed shoulder to base in a serif typestyle. 'GEORGIA SARSAPARILLA' occurs in two centered lines on the front panel. 'DR. J. DENNIS'S' is embossed in a single line on the first side panel. The "R" in "Dr" is smaller and raised. 'AUGUSTA, GA.' is embossed on the second thin side panel. The back blank flat panel was meant to display a paper label. None of the latter are known to exist.
A Dr. J. Dennis's Georgia Sarsaparilla sample sold in the 2021 American Glass Gallery auction #28 from the Gary Enters collection. That same bottle sold back in 1992; Harmer Rooke Galleries, Sale #48, Lot 160. The early Harmer Rooke tag remains on the base.
The consigner of our Georgia Sarsaparilla example recounts the following: "I got a lead several years ago from Bill Baab on a new (possibly found in an attic) find by a non-collector from South Carolina. The guy must have heard that Bill was a collector. Since Bill already had an example, he gave me the guy's number to call. I reached out, and we ended up meeting at a gas station off I-20 near the Georgia-South Carolina border to do the transaction. The bottle has the most whittle I have ever seen and a couple of subtle amber striations that may have shown in the photos. I'm guessing that there are about half a dozen examples known. Tom Hicks once owned a rich green cracked example that also supposedly came out of an attic many years ago. Not sure who owns it now, possibly Walter Smith. No telling what a perfect rich green one would bring now."
John Dennis Jr. was born on August 1, 1816, in Litchfield, Kennebec County, Maine. He spent most of his life practicing medicine and as a patent medicine manufacturer in Augusta, Georgia, where he was well-known and respected. Sarsaparilla was his specialty.
In 1849 and until late 1850, Dr. J. Dennis was advertising "Botanic Medicines for plantation and family use." His laboratory was located "Opposite Eagle & Phoenix Hotel, south side Broad Street, a few doors below the Post Office corner." There was no mention of Sarsaparilla though he said his Medicines would be useful for all "sudden and dangerous attacks of diseases like Chills and Fevers, Colds, Coughs, Croup, Jaundice, Dyspepsia, Bowel complaints, Colic, Cholera, Fits or Spasms and Poisons of all kind." In 1850, Dr. John Dennis posted that he moved to the "Bridge Bank Building, near lower Market."
We see the first newspaper advertisements for Georgia Sarsaparilla in December 1850 in the Georgia Journal & Messenger, saying that J. Dennis, M. D. Augusta, Georgia prepared the "Sarsaparilla." The ad further stated that the medicine was "a superior article for diseases of the liver and to purify the blood. All the complaints for which Sarsaparilla is useful (and more to) have been mentioned in the Northern advertisements. Large quantities of Sarsaparilla for the past three years have been prepared in this State for the Northern market, sent on in barrels and then sweetened with sugar or molasses, and we may well suppose considerable of it comes back again, though in a very diluted state. The only way for people in the South to get a pure article is to obtain it from those who prepare it in the South. That prepared by Dr. D. is from the pure southern roots and nothing else."
Advertising for Georgia Sarsaparilla would continue until mid-1855, and Dr. John Dennis continued using Sarsaparilla in his compounds until the mid-1870s. He died on November 13, 1898, in Augusta.
Primary Image: "Dr. J. Dennis's Georgia Sarsaparilla Augusta, Ga" bottle imaged on location by Alan DeMaison, FOHBC Virtual Museum Midwest Studio.
Support: Reference to Auction Lot 211: "DR J. DENNIS'S – GEORGIA / SARSAPARILLA – AUGUSTA GA", probably 1850 – 1855. Aquamarine, rectangular with beveled corners, applied sloping collar – iron pontil scar, ht. 10 1/8″; (an 'attic' type bottle that has some interior content etching in the top third). Odell, p.109; DeG #60. A big, impressive, bottle, extremely rare. One of only a small handful known. Provenance: Gary Enters collection. Note: this is the same bottle that sold way back in 1992, Harmer Rooke Galleries, Sale #48, Lot 160. The early Harmer Rooke tag remains on the base. – John Pastor, American Glass Gallery, Auction #28
Join the FOHBC: The Virtual Museum is a project of the Federation of Historical Bottle Collectors (FOHBC). To become a member.