Leonard Appleby's Rail Road Snuff
Leonard Appleby Rail Road Mills Snuff
MACABOY Snuff
Leonard Appleby & Son, Spotswood, New Jersey
Medium to Deep Strawberry Puce Snuff Bottle
Provenance: Michael George Collection
Our outstanding museum example represents a rare "Leonard Appleby Rail Road Mills Snuff" bottle. The 4-3/8″ tall bottle is rectangular with concave corners. The copy is embossed boldly in three lines vertically from shoulder to base in a san-serifed typestyle. The first line reads 'LEONARD APPLEBY' with no space between the first and last name. The "A" of "Appleby" is enlarged. The second line reads 'RAIL ROAD' with a space between "Rail" and "Road" while the third line reads 'MILLS SNUFF.' The glass color is a rich medium to deep strawberry puce and the bottle is full of character and whittle. There is a tooled flared mouth and a tubular pontil scar. The opposite side of the bottle would have had a paper label for Macaboy or Scotch Snuff. This example is ex Robert Mebane collection and Dr. Charles and Jane Aprill collection.
See the museum example of a Pimlico Tobacco Works Baltimore snuff bottle.
Leonard Appleby
Leonard Appleby grew up with little means but ended up a man of great wealth and respect who made his first fortune dealing in tobacco. Appleby was born on October 4, 1797, in New York City, New York on Reade Street where his early life was spent.
In 1750 or so, four brothers, John, William, Joseph, and James arrived in New York City, coming from or near Appleby, England. For the times, they were considered "well to do." They settled in Williams Manor in Westchester Co., New York. Three brothers engaged in farming and Leonard Appleby's father James, the youngest brother, engaged in the mercantile business at White Plains, N.Y. When James Appleby was thirty years old, he and his wife Sarah Herbert Appleby, 29 had a son, Leonard Appleby.
As a young lad, Leonard was taken out of school when he was 10 years old to work in a local store He only stayed a month as he was too small. Soon after his mother got him a job at a grocery store on the corner of Rector and Greenwich Streets in the Financial District where he stayed about two years. At about this time, his father traded his house on Reade Street for a farm in Monmouth Co., New Jersey so the family moved and Leonard left for Old Bridge, Middlesex Co., New Jersey to become a clerk for his uncle Obadiah Herbert in the grocery business where he stayed about four years until he was 16 or 17 years old. By 1819, Leonard Appleby was now managing the business and his uncle John Appleby would join the following year. For the next two years, Leonard set out to be a carpenter and get his apprenticeship but quit that and stayed home two years until he was about 21.
Leonard Appleby would marry Ann Amanda Fitzallen Van Wickle, daughter of Judge Jacob and Sarah Morgan Van Winckle on October 24, 1821, in Middlesex, in a ceremony performed by Bishop Cruse of New Jersey. The Morgan family were of Revolutionary stock and were well established and wealthy. The Appleby's would eventually have eight children, four sons, and four daughters.
While in the grocery and now lumber business at Old Bridge, Leonard displayed an excellent business tact and ultimately secured control of the business. What helped Leonard was that he received financial support from his wife that allowed him to expand. He began with the purchase and shipment of wood, having secured nearly all the Forge lands, of which George C. Thomas was his agent. He also dealt extensively in lime and embarked on the manufacture of pottery and fanning mills for farming. The stoneware water cooler pictured below is circa 1825.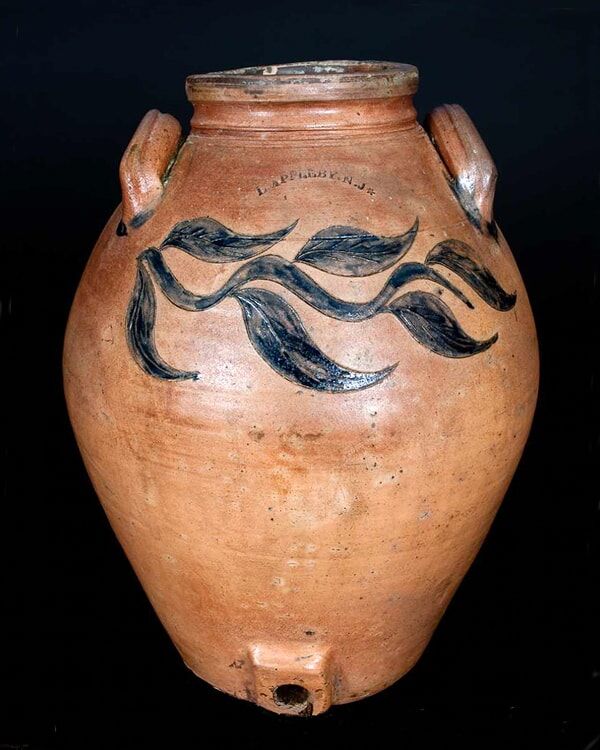 Leonard next engaged in the snuff and tobacco business, two miles south of Spotswood, on what would become Railroad Mills. He would establish Railroad Mill in 1825 and commence by erecting some buildings himself. This ensuing tobacco mill is thought to be one of the earliest snuff mills in the country. Spotswood's first settler was James Johnston in 1685 who originally called the place "Spottiswoode", named for his old place of residence in Scotland, It was also historically spelled "Spottswood."
In 1837, Leonard Appleby dispersed his interests and moved to New York City to engage with William Allison in the business of dry goods under the banner of Appleby & Allison. Here he remained two years after which he resumed the snuff and tobacco trade on the corner of Wall and Pine Streets. He entered into the brokerage business around 1857 or so and amassed a large fortune in the tobacco trade, and also dealt in stocks, as well as advancing money on property, discounting notes, etc. He was at that time a considerable owner of real estate and largely engaged in its improvements and the erection of buildings. He owned property and real estate in New York, Perth Amboy, and at Spotswood. He was also a large stockholder in the Central New Jersey Railroad Co. and held other stocks of various kinds. It was said that he usually kept eighty or one hundred thousand dollars ready to speculate although he was generally very careful and successful in everything he endeavored to do.
At one time he gifted each member of his family a present of a house and lot worth $25,000, and to his wife, he gave the accrued interest and principal of her dowry, which she had loaned him when they first started in life. With an accumulation of wealth, Leonard Appleby moved to Spotswood in 1856 to enlarge the Railroad Snuff Mills. He would work with his son Jacob Charles Appleby. Eventually, his son Jacob Charles and his son-in-law George W. Helme would run the snuff mills.
George Washington Helme was born on May 18, 1822, in Kingston, Pa. He quit school at the age of 16 and went to work as a clerk for Asa Packer who was a wealthy contractor. In 1851, he moved to Shreveport, Louisiana, and became a member of the Louisiana Bar. By 1852 he opened up a law office. In 1858 he would marry Margaret Appleby whose father was Leonard Appleby.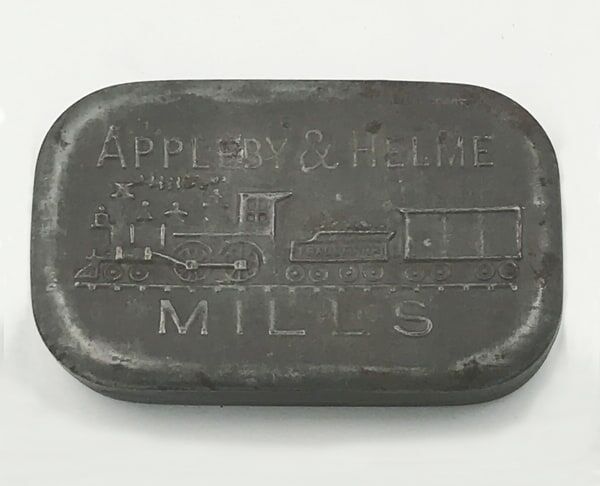 In 1866, Jacob Charles Appleby formed a partnership with his brother-in-law, George over the Railroad Mills property. Helme became the sole owner in 1872. During this time, George W. Helme would purchase property between Jamesburg and Spotswood which today is the city of Helmetta. This is where he would have a new snuff mill built along with 105 homes for his workers. He named the town after his family surname and his daughter Antoinetta. He continued the Railroad Mills operation until the late-1800s when he bought the property that is today's snuff mill district and incorporated the George W. Helme Company in 1884 with the stock of $500,000
See the museum example of a Helme's Railroad Mills jar in the Jar Gallery.
On the morning of June 13, 1893, Helme's wife, Margaret, son, George A., and daughter-in-law left for the Chicago World's Fair. Helme stood behind in Helmetta. About 7:00 P.M., Helme sat on the front porch of his mansion at 11 High Street. He complained of feeling ill to a snuff mill employee who had stopped to talk. Suddenly he fell back in his chair, dying unexpectedly of a heart attack on June 13, 1893. Over 1,500 people attended his funeral. It was reported in the Jamesburg Record newspaper that George W. Helme was the second wealthiest man in New Jersey.
At the time of his death, Helmetta was a laid-out town with a population of 500 persons, many from Spotswood and Jamesburg, which replaced the early snuff (mills) and sawmills. There were well-cared-for streets, and the town was on the Jamesburg branch of the Pennsylvania Railroad. Through Mr. Helme's energy and business ability, these things had been accomplished. He had nurtured the village from a sleepy place of two houses and a mill or two, known as Railroad Mills, into a prosperous community.
Leonard Appleby died as a millionaire on March 17, 1879, in Spotswood, Middlesex, New Jersey, at the age of 80. When he died, his eldest son Stephen was living in Spotswood, his second son Gen. Leonard L. F. Appleby was widely know and respected, Jacob Charles as noted was in the snuff business partnering with George Helm, and the youngest son was a proprietor of the Central Park Garden in New York. Of the three surviving daughters, the eldest was Adaline who was married to John S. Sutpen of Bergen Heights; the second Margaret was the wife of George W. Helm, and the third daughter Julia married John Outcalt of Spotswood, proprietor of the flour mills there. It was reported that her hominy obtained a prize medal at the Paris Exhibition.
Primary Image: Leonard Appleby Rail Road Mills Snuff bottle imaged on location by Alan DeMaison, FOHBC Virtual Museum Midwest Studio
Support Image: Auction Lot 151: "Leonard Appleby / Railroad Mills / Snuff" Jar, America, 1830-1850. Rectangular, light yellow-amber with a hint of olive, outward flared tooled mouth – pontil scar, ht. 4 ½ inches. One of the finest examples of the Appleby snuffs we have seen. Brilliant, clear color, strong embossing. An exceptional example. – Norman Heckler Jr. & Sr., Norman C. Heckler & Company, Auction #101
Support Image: Auction Lot 68: "Leonard Appleby / Rail Road / Mills Snuff" Bottle, America, 1840-1860. Rectangular with beveled corners, deep blood red, tooled flared mouth – tubular pontil scar, ht. 4 ½ inches; (flared mouth has a ½ inch area of chipping). Very strong embossing. Retains 75% label which reads "Rail-Road Mills. / (locomotive with cars) / First Quality Macaboy Snuff". Outstanding rich color. Rare. – Norman Heckler Jr. & Sr., Norman C. Heckler & Company, Auction #108
Support Image: Auction Lot 54: "Leonard Appleby / Rail Road / Mills Snuff" Bottle, America, 1840-1860. Rectangular with concave corners, medium to deep strawberry puce, tooled flared mouth – tubular pontil scar, ht. 4 3/8 inches. Similar in form and construction to MW plate 75, #15 This rare bottle has a beautiful, rich color and bold embossing. Fine condition. Ex Robert Mebane collection, Dr. Charles and Jane Aprill collection. – Norman Heckler Jr. & Sr., Norman C. Heckler & Company, Auction #174
Support Image: Auction Lot 13491: Early LEONARD APPLEBY RAILROAD MILL Snuff. Open pontil, Size: about 4-½" tall, Color: Amber with Puce tones, Closure: flared lip made for a cork stopper, Appearance: an unearthed bottle that has been left as-found, with some haze but no damage, Embossing: strong, Base: open (blow-pipe) pontil scar – Greg Spurgeon, North American Glass, November 2016
Support Image: A snuff tin from the Appleby & Helme Railroad Mills Co. of Helmetta N.J. Tin dates to 1866-1872, judging by the fact, that both owner's name are on it. By 1872 George Helme was the sole owner. – Rubylane.com
Support Image: Four-Gallon Ovoid Stoneware Water Cooler with Incised Foliate Decoration, Stamped "L. APPLEBY. N.J*," Leonard Appleby, Old Bridge, NJ, circa 1825, ovoid cooler with heavily tooled shoulder, narrow mouth, large ribbed handles, and squared bunghole. Decorated with a crisply-incised and cobalt-highlighted design of a vine with heavily veined leaves. Shoulder impressed with the mark, "L. APPLEBY. N.J". The stamp on this cooler should be regarded as one of the rarest maker's marks from the region. While significant in its rarity and origin, this example also carries great decorative appeal with its elegant cooler form and finely-incised leaves in the classic Old Bridge style. Variants of this distinctive leaf design can be found on pieces bearing early 1820s dates, attributed to the Van Wickle and Bissett potteries. A wonderful example of early New Jersey stoneware. Provenance: Found decades ago in the northeastern U.S. Excellent condition with only very minor flaws. A small, shallow chip to the top of the rim and a small iron ping to the interior of the rim. Minor wear to bunghole and base. Some faint surface lines to the base area, not visible on interior and presumably in-the-firing. H 15 1/2″. – Crocker Farm, March 2015
Support: Reference to Snuff Bottles at Peachridgeglass.com
Support: Reference to History of Union and Middlesex Counties with Biographical Sketches of Many of Their Prominent Men, edited by W. Woodford Clayton, 1882
Join the FOHBC: The Virtual Museum is a project of the Federation of Historical Bottle Collectors (FOHBC). To become a member.