Ahrens – Bullwinkel Co.
Ahrens – Bullwinkel Co.
Trade Mark (embossed Stag Elk)
San Francisco, Cal.

George M. Ahrens and John D. Bullwinkel
San Francisco, California

Amber Fifth
Provenance: Richard T. Siri Collection
This is a tough bottle to find. Later than most examples in our Spirits Gallery, we can date this post-1906 San Francisco earthquake. It is found in amber only.
Born in Hamburg, Germany, George M. Ahrens immigrated to the United States in 1871. Ahrens is first noted as a saloon keeper in 1879 in Alameda, California, across the bay from San Francisco (Great Register, 1879), along with Diedrich Nicolaus Ahrens, his senior brother by six years. George Ahrens moved to San Francisco with his family and entered the grocery business in 1880. His brother, Diedrich, stayed in the saloon business in Oakland, eventually suffering significant reversals and forced into bankruptcy in July 1908. Diedrich died in Oakland in 1925.
The firm of Ahrens, Pein & Bullwinkel first emerged as wholesale dealers of wines and liquors at 620 Post Street, San Francisco, in October 1894 (San Francisco Call, October 13, 1894)
The trademark of the stag elk was first used by Ahrens, Pein & Bullwinkel for its Royal Stag OK liquors. The mark was registered with the State of California as Trade Mark No. 3273 in October 1898. Operating in a slightly more protective mode than many companies, the partnership also trademarked the singular design of the stag without the accompanying words relating to its whiskey (Trade Mark No. 3274). It is presumed this move was in anticipation of using the visual stag trademark with other brands of wines and liquors that the company was selling or planned to sell. The referenced bottle is possibly an example of this action.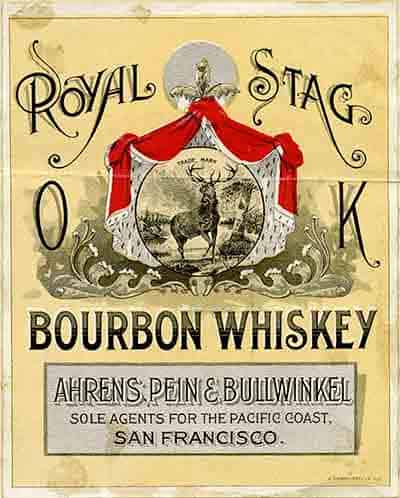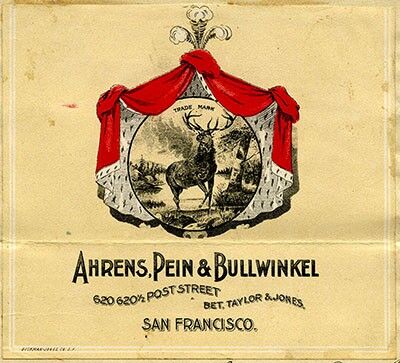 On the same day Ahrens, Pein & Bullwinkel also registered two more of its products; Chief Tonic and Hiawatha Bitters.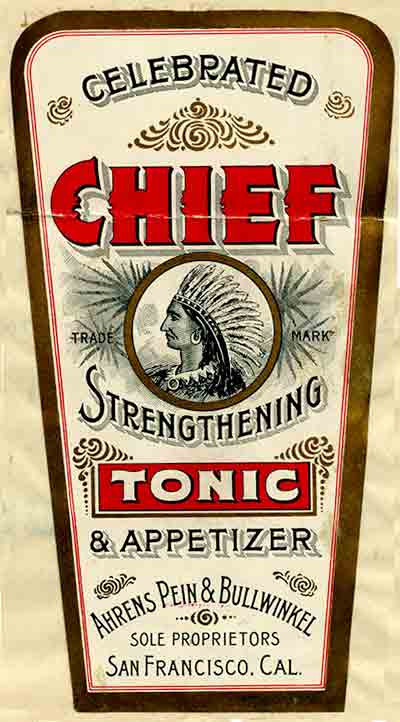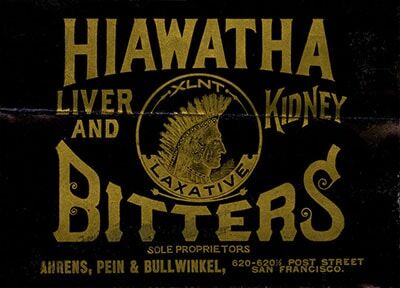 Ahrens, Pein & Bullwinkel survived the San Francisco earthquake of 1906; however, in about May of 1907, George H. Pein dropped out of the partnership in favor of co-ownership of a saloon in nearby Oakland. Thus, the old company emerged with the name of Ahrens – Bullwinkel Co.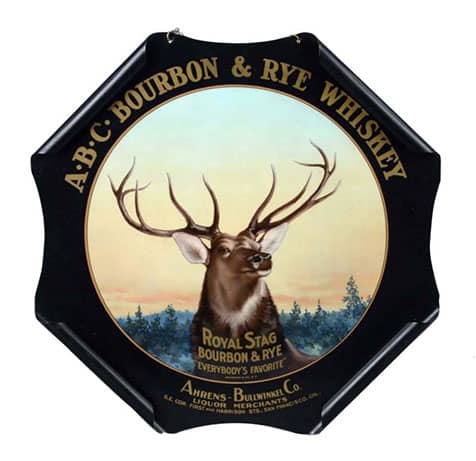 It no more than got started when it almost ended with a near-death experience delivered to George Ahrens. He and his family were frequent visitors to the mineral springs in nearby Sonoma and Napa counties. On one excursion in June of 1907, Ahrens was enjoying the serenity of Vichy Springs near Ukiah, California. Another springs visitor named F. Z. Kaizen had decided to go deer hunting. He saw something moving in the bushes, took aim, and shot. "Ahrens will recover, but his arm and side are badly riddled. . . . Ahrens having recently become interested in a wholesale liquor house." (Oakland Tribune, July 27, 1907) The company maintained its existence in San Francisco for at least thirteen years during which time the featured bottle was produced.
The Ahrens-Bullwinkel Company actually did survive the enactment of the Volstead Act, which took effect January 17, 1920; however, serving "refreshments" from the SE corner of 1st and Harrison in San Francisco, as noted in the 1920 business directory. In 1922, the function of the company was redefined as "soft drinks," and by 1925 the company name was changed to Ahrens & Bullwinkel, their last year of operation. George M. Ahrens died on August 15, 1928, in San Francisco, and John D. Bullwinkel died in San Francisco on September 17, 1943. He was the brother-in-law of his long-time partner.
Primary Image: Ahrens – Bullwinkel Co. bottle imaged on location by the FOHBC Virtual Museum midwest studio led by Alan DeMaison.
Support: Primary research and label images by Eric McGuire. Some bottle images courtesy Bruce Silva and Western Whiskey Gazette and Prepro.com.
Support Images: Some bottle images courtesy Bruce Silva and Western Whiskey Gazette and Prepro.com
Support Image: Auction Lot 151: ROYAL STAGG OK BOURBON WHISKEY AHRENS PEIN & BULWINKLE S.F. SOLE AGENTS with embossed STAG. Clear fifth with tooled top. Barnett 705, 1893-1905. There are two variants of this tooled top clear fifth. They were both made at the same time. This one is a real gem in glass that has turned light amethyst. Nice graphics, possibly cleaned but displays beautifully. A fine picture whiskey. Notice the names are the same as the labeled Hiawatha Bitters. Grades a 9. – Jeff Wichmann, American Bottle Auctions, Auction 70, Part 1 of the Don Dwyer Collection
Support: Reference to Whiskey Bottles of the Old West by John L. Thomas, 2002