Bogardus' Glass Ball – 8 (within diamond panel)
Bogardus' Glass Ball
Patd Aprl 10 1877.
8 (within diamond panel)

England
Apricot Swirls
Provenance: Ex: Ralph Finch Collection, American Glass Gallery
Here is an interesting Bogardus target ball as it was licensed to be made in England. We can confirm this because of the embossed, inverted numeral '8' within one of the embossed diamonds above the 'A' in APR. Other numbers have been reported. You can see this below and in the support examples, we have displayed.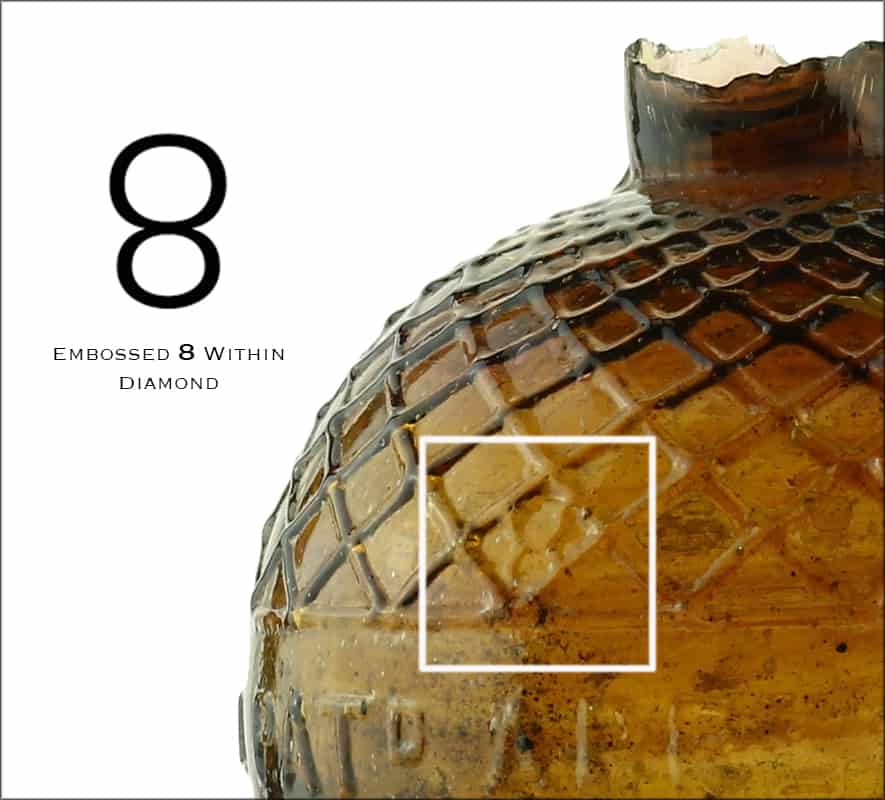 Our subject museum ball is 2-5/8″ in diameter and is in an apricot tone glass color with some streaks of yellow, and a thin band of pale amethyst swirled through the ball. It has a quilted diamond pattern above and below the center band where the embossed copy reads, 'BOGARDUS' GLASS BALL PATD APRL 10 1877'. As noted above, there is an embossed 8 within one of the diamond panels. The ball was made in a 3-piece mold and has a rough sheared mouth.
The balls were patented by Capt. Adam H. Bogardus in 1877 and was likely made by many glass houses both in the United States and in England. It is quite possible that Bogardus obtained the quilted diamond pattern idea from England. This pattern helped the ball break when struck as opposed to a smooth glass deflecting the shot. Among the reasons to collect Bogardus target balls is the wide range of colors these balls can be found in.
See Virtual Museum example of Lot 638 'Bogardus 8' in a very light, almost colorless tone in the base, with some streaks of light amethyst swirled through the body, and a band of light yellow swirled from the neck.
See Virtual Museum example of Lot 642 'Bogardus 8' in a gorgeous, medium-to-deep Prussian, or midnight blue, with a band of deep puce striations swirled through the lower half.
See Virtual Museum example of Lot 636 'Bogardus 8' American variant.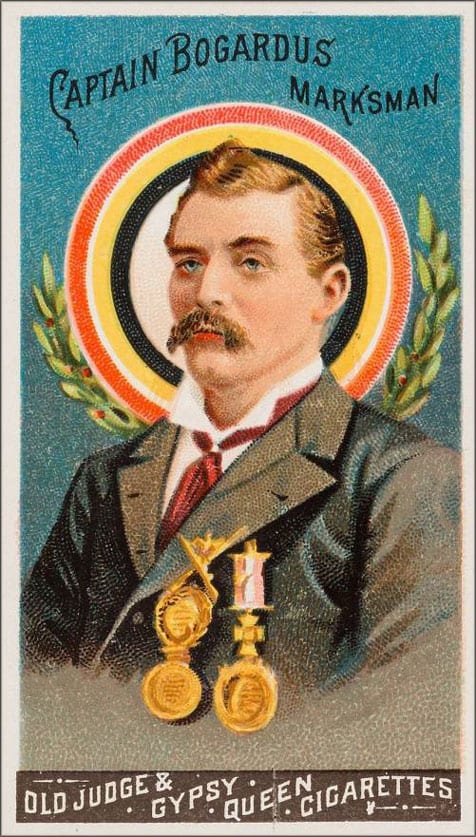 Capt. Adam Henry Bogardus (1834–1913) was the father of target balls. Even today, many in England refer to any target ball as a "Bogardus ball." Bogardus was born in Berne, New York, and is credited with patenting the first glass target ball and target ball trap in 1877.
Among other accolades, Capt. Bogardus was a world champion shooter, a United States champion trap shooter, a wing shot champion of the world, and is in the National Trapshooting Hall of Fame. He is credited with popularizing trap shooting, winning almost every shooting record of his time.
In one of his greatest feats, Capt. Bogardus shot at 5,000 glass balls in eight hours and 20 minutes, breaking 4,844 of them. He accomplished this at Madison Square Garden in New York, using two guns and enlisting aid to cool off his guns in a bucket of ice water.
Shooting rules formulated by Capt. Bogardus soon became popular and in general use. He was also the author of a book called Field, Cover and Trapshooting. Later, he and his sons toured with the Buffalo Bill Wild West Show as one of the shooting champions.
See other Bogardus target balls in the museum Target Ball Gallery:
Bogardus' Glass Ball Pat'd Apr 10 1877 Target Ball
Bogardus' Glass Ball (Without Patent Date)
Bogardus 'D' Glass Ball Patd Apr 10th 1877
Bogardus' Glass Balls – Stolberger Glashutten A.G.
F. G. Hopkins St. Jo. Mo. Bogardus Glass Ball
Support Primary Image: Auction Lot 637: "BOGARDUS' GLASS BALL PATD APRL 10 1877." – "8" (within diamond panel), Target Ball, England, 1877 – 1900. Apricot tone with some streaks of yellow, and a thin band of pale amethyst, swirled through the glass, quilted diamond pattern above and below center band, 3-piece mold, rough sheared mouth, dia. 2 5/8"; (some washable interior residue, a couple of bubbles in the shoulder area with trapped residue, otherwise excellent). Crude with a real mix of colors! – The Ralph Finch Collection of Target Balls, Traps and Shooting Ephemera, An Absentee Auction in Six Parts – 2017-2019, John Pastor and American Glass Gallery
Support Image: A Collection of Sixty-Two Rare Bogardus Glass Target Balls, Late 19th Century – Christie's Sale, Fine Antique Arms and Armour and Sporting Guns London, South Kensington, 17 December 2015
Support Image: Auction Lot 135: "Bogardus Glass Ball Patd Aprl 10 1877." – "8" (Within Diamond Panel) Target Ball, three-piece mold construction, America, 1877-1900. Spherical with quilted diamond pattern above and below center band, bright yellow, rough sheared mouth, dia. 2 5/8 inches. Exceptionally bright and beautiful color. Fine condition. Cindy Gaffney collection. – Norman C. Heckler & Company Auction #159
Support Image: Jeff Wichmann and American Bottle Auctions
Support: Reference to the American Glass Gallery, The Ralph Finch Collection of Target Balls, Traps and Shooting Ephemera, An Absentee Auction in Six Parts – 2017-2019