Mason's Improved Trademark CFJCo (Monogram) Patd 1869
Mason's Improved Trademark
CFJCo (Monogram)
Consolidated Fruit Jar Co., New Brunswick, New Jersey
Pale Yellow Pint with Striations
Provenance: Phil Smith Collection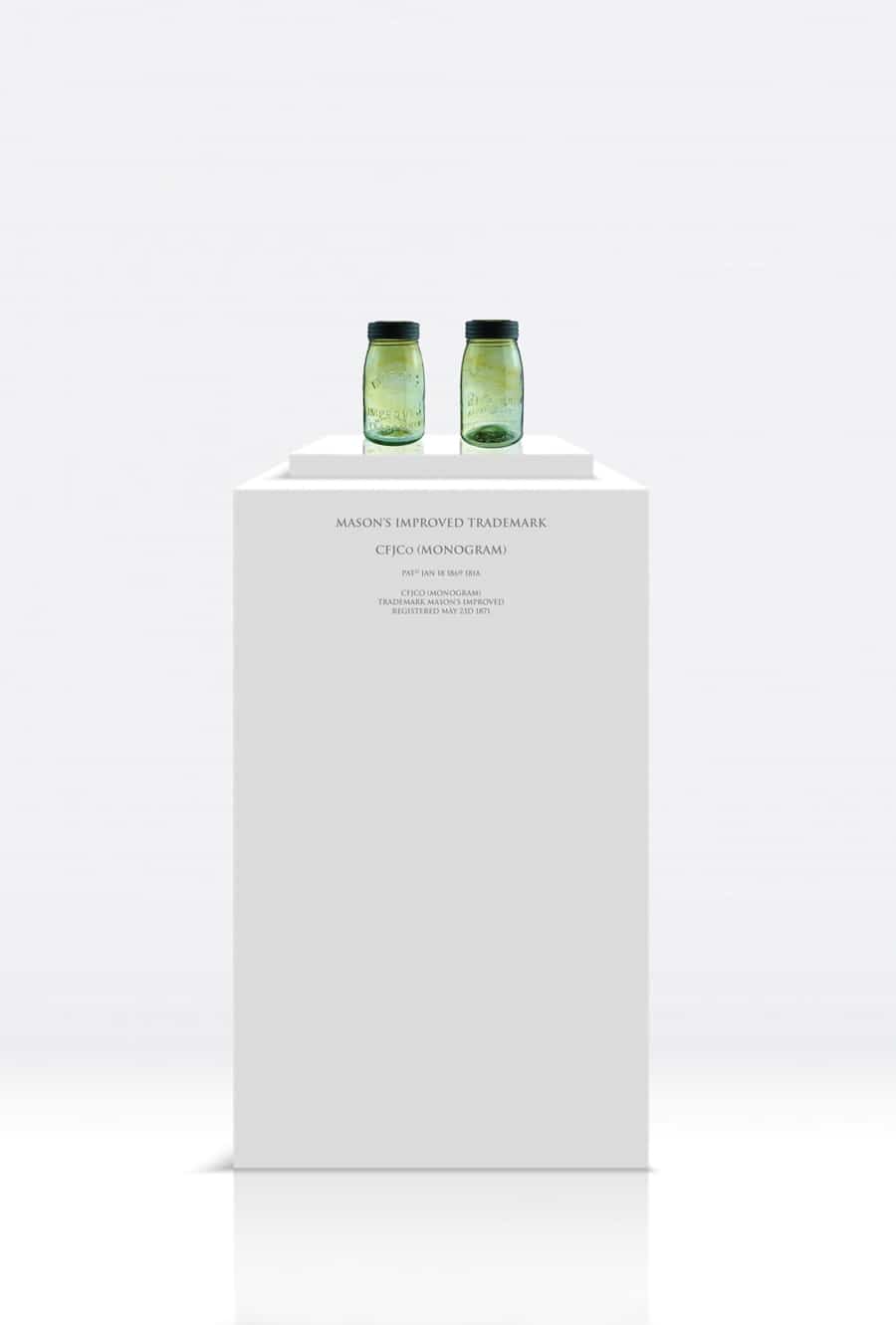 This wonderful pale yellow pint has olive striations swirling in the glass. It was made for the Consolidated Fruit Jar Company of New Brunswick, New Jersey, by several glass houses. The jar is hand blown with a ground lip. The closure is a top-seal for a straddle lip glass lid and zinc screw band.
The obverse side of the jar is embossed in three centered lines of sans serif copy. The first line is arched and reads, 'MASON'S.' Near the bottom of the jar are two horizontal lines reading 'IMPROVED' and 'TRADEMARK.' The reverse side of the jar has an embossed 'CFJCo' monogram that is seen nicely through a visual window on the front of the jar between the "Mason's" and "Improved Trademark" copy. The base is embossed 'PATD JAN 18 1869' in a circular pattern. The embossed characters '181A' is centered on the bottom. The glass lid is embossed 'CFJCo' (monogram) in the center, and 'TRADEMARK MASON'S IMPROVED REGISTERED MAY 23d 1871' around the rim in smaller type.
As the Mason jar patents began to expire in the early 1870s, Louis R. Boyd, John L. Mason, and two others formed a corporation to renew the patents and retain control of the Mason fruit jars. Incorporated in December 1871, the Consolidated Fruit Jar Company began manufacturing the tinned-steel lids and screw bands for Mason jars. The company authorized glasshouses such as the Clyde Glass Works of New York, the Whitney Glass Works of New Jersey, and the A & DH Chambers Co. of Pittsburgh to produce the glass containers.
Administration for the new firm was initially located at 66 Warren Street in New York until the office moved to 49 Warren Street the following year. The actual plant was situated on the Raritan River in New Brunswick, New Jersey. Consolidated registered the CFJCo. monogram as a trademark on April 23, 1878, with first use, claimed on April 3rd of that year.
See the museum example of a quart cobalt blue "Mason's CFJCo Improved Clyde N.Y."
See the museum example of a midget pint "Mason's Patent Nov 30th 1858 CFJCo" in cornflower blue.
Primary Image: Pale yellow "Mason's Improved Trademark CFJCo (monogram)" pint jar imaged on location by the FOHBC Virtual Museum midwest studio led by Alan DeMaison.
Support: Reference to Celebrating 150 Years of Mason Jars 1858-2008 by Jim Sears and Joseph Merkel, Bottles and Extras, November – December 2008
Support: Reference to Fruit Jar Annual 2020 – The Guide to Collecting Fruit Jars by Jerome J. McCann
Support: Reference to Red Book #11, the Collector's Guide to Old Fruit Jars by Douglas M. Leybourne, Jr.
Support: Reference to Consolidated Fruit Jar Co. by Bill Lockhart, Beau Shriever, Bill Lindsey, and Carol Serr
Join the FOHBC: The Virtual Museum is a project of the Federation of Historical Bottle Collectors (FOHBC). To become a member.