Davy Crockett Pure Old Bourbon
Davy Crockett Pure Old Bourbon
Hey, Grauerholz & Co. S.F.
SOLE AGENTS

P. E. Payne, Owensboro, Kentucky

Amber Fifth
Provenance: Richard T. Siri Collection
Here is a great-looking western cylinder fifth embossed prominently with a double outlined circle. Between the circle outlines is an embossed brand name for 'DAVY CROCKETT PURE OLD BOURBON'. Within this circle, in horizontal straight line embossed copy, is 'HEY, GRAUERHOLZ & Co. S. F. Beneath this copy is 'SOLE AGENTS in a concave arch.
A late bottle, most examples come with a tooled top. Our museum example has an applied top. Crockett, from Tennessee, was an American folk hero, frontiersman, soldier, and politician and commonly referred to in popular culture by the epithet "King of the Wild Frontier."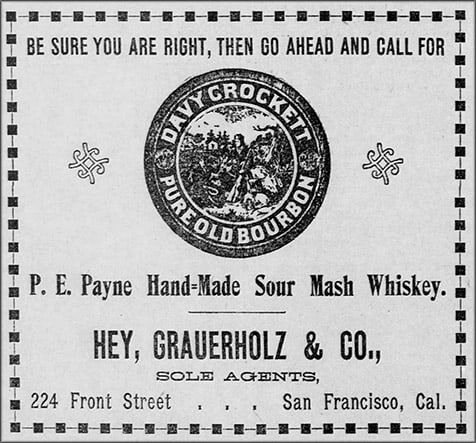 Our bottle story starts in Tennessee with P. Edwin Payne who was part of the many variations of the Monarch Brothers' Distilling Companies in Owensboro, Kentucky.
In 1870, Edwin was hired by M. V. Monarch who in 1873 would become his brother-in-law when Payne married the sister, Mary Ellen O'Bryan, of M.V.'s wife, Elizabeth Ann O'Bryan. P. Edwin became the Secretary, and later Vice-President of the Sour Mash Distilling Company owned by M. V. Monarch. In 1890, Mr. Monarch blended several of his distilleries into the "M. V. Monarch Distillery," and P. Edwin Payne continued as Vice-President of the new company.
In 1892, they sold one brand of whiskey under the name of "P. E. Payne." With all the other brands they sold, they were considered one of the largest distributors of sour mash whiskey in the United States in 1893.
P. Edwin was also known as one of the best salesmen in the trade and was extremely well-liked. He was a member of St. Paul's Catholic Church in Owensboro and he and his wife were one of the 1890 donors of the bell for the church, which was the largest in Owensboro at that time. His name is engraved on it. The bell was still being used by St. Paul's in 2016.
There was only one brand of bourbon solely owned by P. E. Payne which was called Davy Crockett. It was the only brand he did not sell with the Monarch brothers. It was distributed by the sole agents, Hey, Grauerholz & Co. in San Francisco, California, a city that Payne traveled to quite frequently. This relationship is embossed on the bottle and repeated in advertising.
Regarding the sole agents for Davy Crockett Bourbon, we see that John Hey was working in the early years as a porter for the wholesale wine and liquor company, Kelly, Henderson & Gilchrist in San Francisco. In 1883, he set out on his own and developed a partnership with Henry J. Grauerholz and Henry Faust that lasted until 1887. Faust dropped off and Hey, Grauerholz & Co. was formed in 1888. They were located at 105-107 California in 1884 and 1885 and 215 Sacramento from 1886 to 1896. They moved to 224 Front Street from 1897 to 1905. It was during this period that they were the sole agents for Davy Crockett Pure Old Bourbon. It is written that the great San Francisco earthquake of 1906 greatly disrupted business.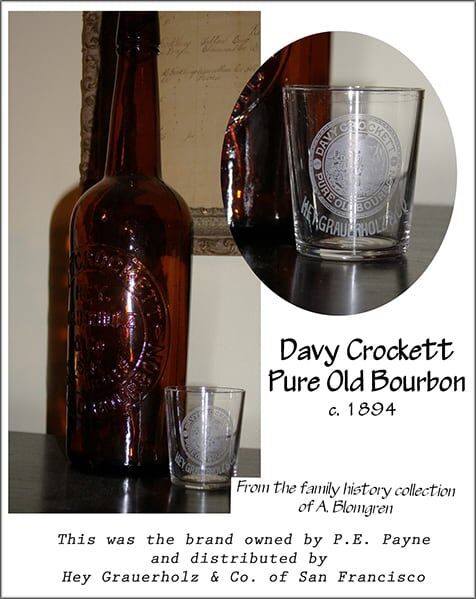 Primary Image: Davy Crockett Pure Old Bourbon bottle imaged by the FOHBC Virtual Museum midwest studio by Alan DeMaison.
Support: Reference to Family History Collection of A. Blomgren on the brand owned by P. E. Payne. Aileen Blomgren, is a great-great-granddaughter of P. Edwin Payne.
Support: Whiskey Bottles of the Old West by John L. Thomas, 2002
Support Image: Fully labeled example and color trademark from Richard Burgarella.
Read: The Richard Monarch Story from Those Pre-Pro Whiskey Men! by Jack Sullivan