S.T. Suits KY Bourbon
S. T. Suits
Walker Bros Sole Agents
Ky. Bourbon
Samuel Taylor Suit, Louisville, Kentucky
The Walker Brothers, Salt Lake City, Utah

Amber Fifth
Provenance: Richard Siri Collection
Our museum example of "S. T. Suit's Kentucky Bourbon" is a rare and desirable fifth cherished by collectors. Like many of our museum bottles, there is a story that goes along with it. John L. Thomas in his book Whiskey Bottles of the Old West noted that "all examples are a yellowish green-amber except for one that is light amber." This could be our museum example. The bottles have big, bold, embossed lettering in four lines that read, 'S. T. SUITS' (1st line convex arch), 'WALKER BROS' (2nd line horizontal), 'SOLE AGENTS' (3rd line horizontal', and 'K.Y. BOURBON' (4th line concave reverse arch). The cylinder bottles have an applied mouth with a ring and were probably made in a San Francisco glasshouse from 1872 to 1874.
Samuel Taylor Suit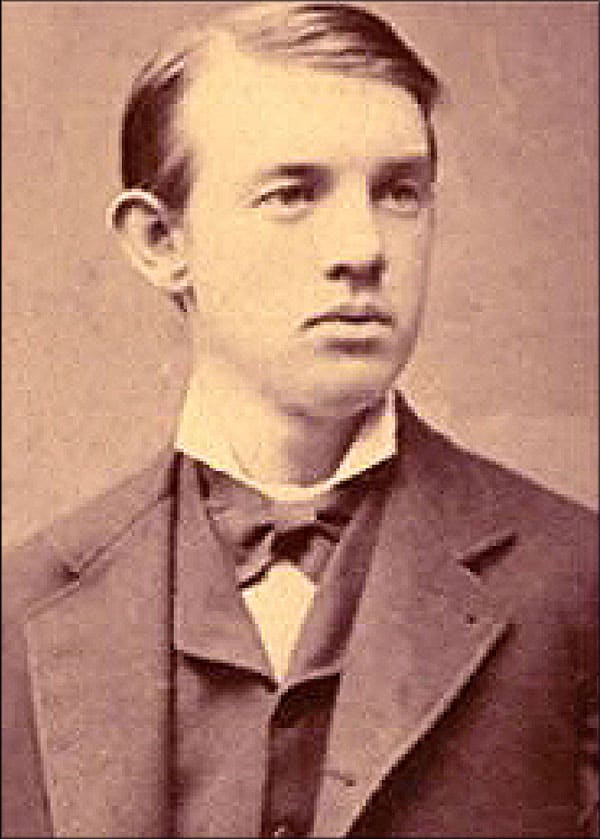 Samuel Taylor Suit was born in Bladensburg, Maryland in 1832. He was the son of Fletcher Suit, an innkeeper. When he was 14 years old, he left school to work as an errand boy in a dry goods store in Washington, D.C. He would depart for the midwest shortly thereafter settling for a time in Keokuk, Iowa.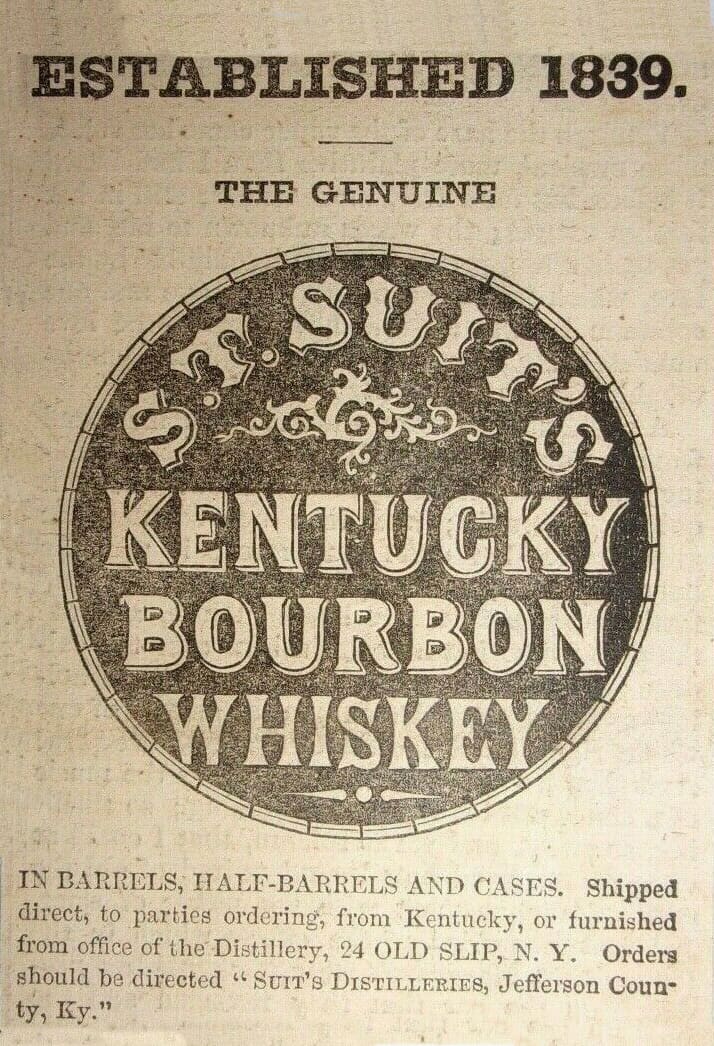 From there he was on to Louisville, Kentucky where he would plant his roots and become involved in distilling whiskey, eventually buying and running his Salt River Distillery that had been established in 1839. He would become one of America's best-known whiskey barons. During this time he became an honorary Kentucky colonel and was known as Colonel Suit from that time onward.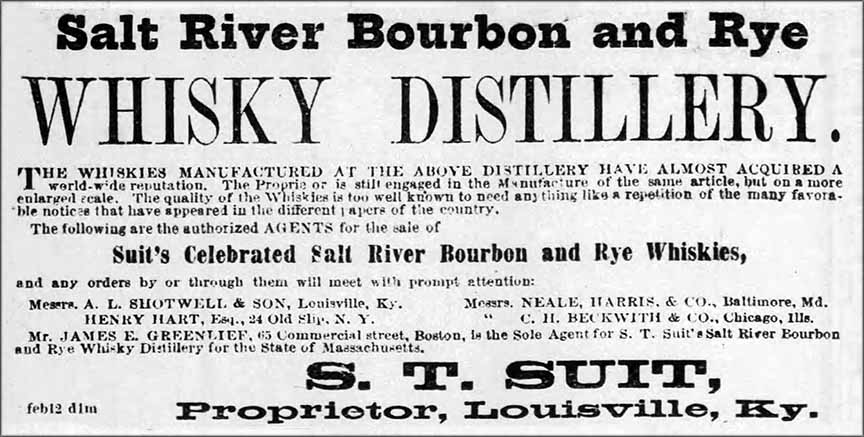 We see newspaper advertising for S. T. Suits as early as 1859 though we know his bourbon was being sold in the 1840s and 1850s, probably in stoneware jugs or bottles reading S. T. Suits with a paper label. The Suit's Celebrated Salt River Bourbon and Rye Whiskey must have been his first big seller. The token below and related advertising say 1850.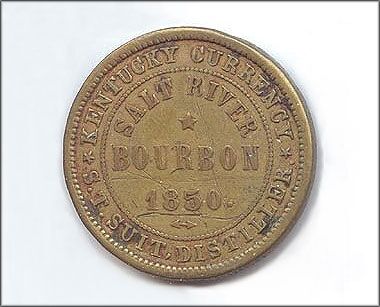 A Chicago advertisement in 1860 listed "S.T. Suit's Old Bourbon, 1854," "S.T. Suit's Old Bourbon, 1856," "S.T. Suit's Old Bourbon, 1858," and "S.T. Suit's Old Rye" for sale, for "Medicinal Purposes." Another ad noted that he had a five-story warehouse filled top to bottom with whiskey from no fewer than 18 distilleries. Another ad in 1862 said there were 4,000 cases of S.T. Suit's Kentucky Bourbon and Rye Whiskey for sale at 24 Old Slip in New York City. By now it was a national operation with the brand represented by agents, A. L. Shotwell & Son in Louisville, Henry Hart in New York city, C. H. Beckwith & Co. in Chicago, and J. R. Greenlief in Boston.
By 1872, additional S.T. Suits brands were being advertised in newspapers around the country including S.T. Suit's National Bourbon, Suit's Capitol Bourbon, Suit's Congress Bourbon, Suit's Senate Bourbon, Suit's Private Stock Bourbon, Suit's Cabinet Bourbon, Breckinridge Rye, and White Wheat.
Eventually, Suit left Louisville and moved to New York City, where he obtained a seat on the New York Stock Exchange. In 1867, Suit moved back to Maryland with his family and purchased a 300-acre plus estate near Washington, D.C. The property, which became known as Suitland, is now the town of Suitland, Maryland. In 1870, Suit set up a new distillery in the town.
Samuel T. Suit was married three times. His first wife died. He was divorced from his second wife. For his third wife Rosa, 28 years his junior, he ordered the construction of a castle in Berkeley Springs, West Virginia. Suit's Suitland mansion was a place where he entertained such figures as President Ulysses S. Grant. S. T. Suit died in 1888. His whiskey business made him rich and famous.
Walker Brothers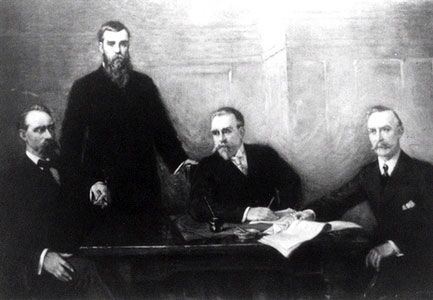 The Walker Brothers consisted of Samuel Sharp (1834-1887), Joseph Robinson (1836-1901), David Frederick (1838-1910), and Mathew Henry Walker (1845-1916). They were the sons of Matthew and Mercy Long Walker. The family came from Yorkshire, England.
The family left England in 1850 for the United States, moving to Utah in 1852, having converted to the LDS church. During the wagon train trip west, the father would perish. Upon arrival, the brothers got into the merchandising business and traveled through the Mormon settlements selling notions as employees of William Nixon, a merchant out of St. Louis, Missouri. In 1859, Patrick J. Hickey, who freighted the goods out of San Francisco, California helped the brothers establish a store, Joseph R. Walker and Bros., in Fairfield, Utah, where the U.S. Army had established Camp Floyd as a result of the 1857-58 Utah War.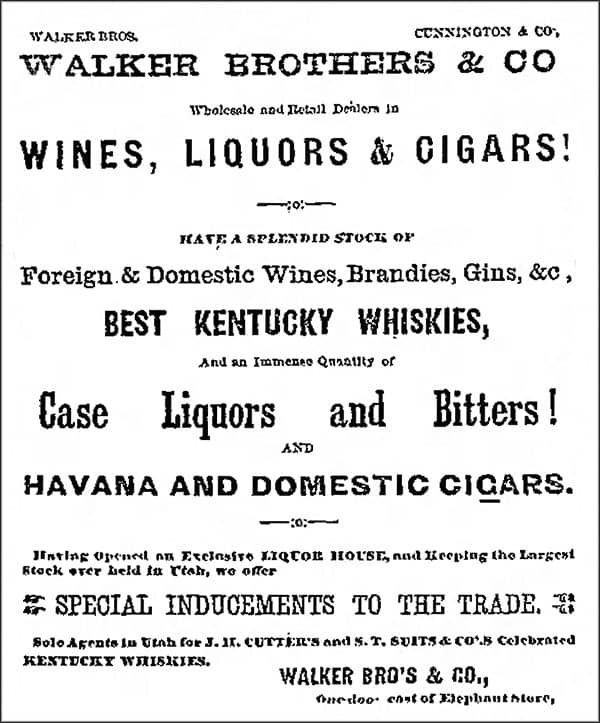 The brothers purchased a safe and began to keep gold and other valuables for their customers. By 1860, the safe had become so popular the brothers opened a banking section in the store. As businesses developed in neighboring areas, many companies began using the Walker brother's banking facilities. When the army auctioned off the assets at Camp Floyd the next year, the brothers were among those who benefitted by buying up the goods and freighting them to Salt Lake. The Civil War years were good for business and the brothers continued to prosper, finding ready customers among the California Volunteers stationed at Fort Douglas.
By 1873, the Walker Brothers & Company were wholesale and retail dealers in wines, liquors & cigars. They were also the Sole Agents in Utah for J. H. Cutter and S. T. Suits & Co's Celebrated Whiskies. This pretty much dates our bottle. In the following years, it was the banking business that continued to be the center of the Walker Bros. ventures.
Primary Image: S. T. Suits Bourbon Whiskey bottle imaged on location by Alan DeMaison, FOHBC Virtual Museum Midwest Studio
Support: Reference to Whiskey Bottles of the Old West by John L. Thomas, 2002
Support: Reference to The Life and Love's of S. T. Suit, A Jug-Fillers Story by Jack Sullivan, Bottles and Extras, Spring 2005
Support: Reference to Walker Brothers by Brian F. Hahn, Utah History Encyclopedia
Support: Reference to Answer Man raises a glass to S.T. Suit, the whiskey king who created Suitland, Md. by John Kelly, The Washington Post