Bertinguiot (Coventry)
Bertinguiot
Inkwell
Attributed to a Connecticut glasshouse, probably Coventry Glass Works
Yellow-Olive
Provenance: Richard S. Ciralli Collection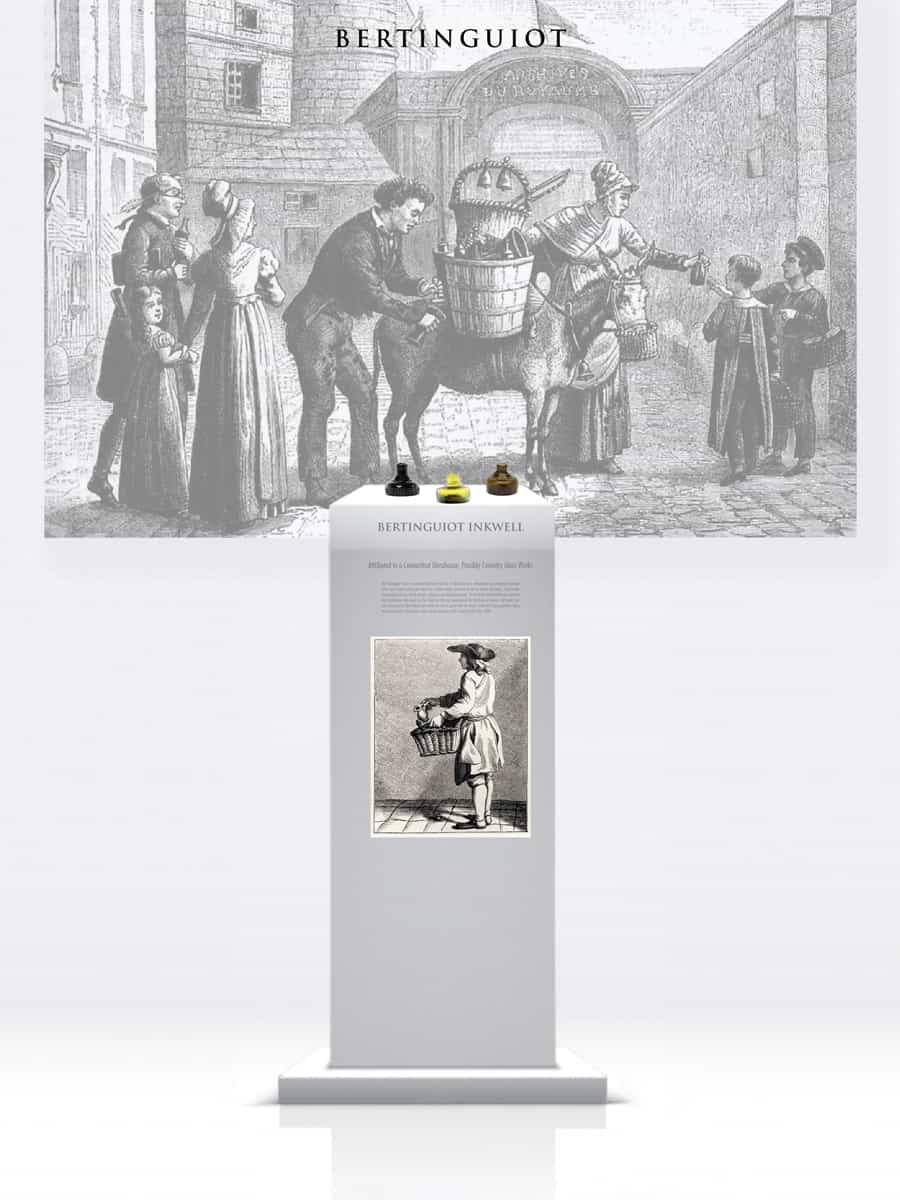 The "Bertinguiot" and "Maurin" names are associated with fine French-made ink that dates back centuries. Early documents note that the ink house of Maurin – Bertinguiot was established in 1790 and that Adrien Maurin would take over the business in 1837 in Paris, France. His "AM" initials are embossed on some of the Bertinguiot inkwells. In 1874, G. Toiray would partner with Adrien Maurin, and by 1900, Encres A. Maurin would lead the business. During these periods of proprietorship, you can find embossed ink bottles and inkwells with paper labels with the Bertinguiot and Maurin names.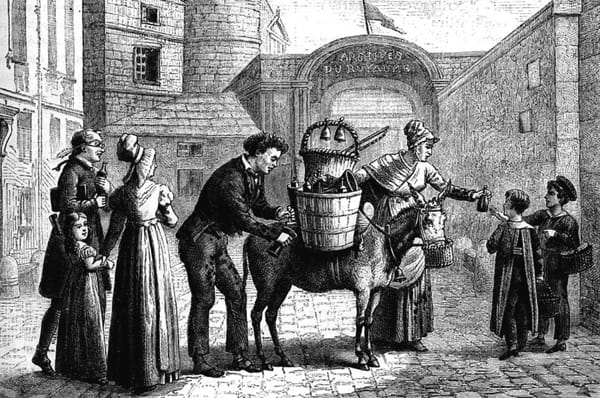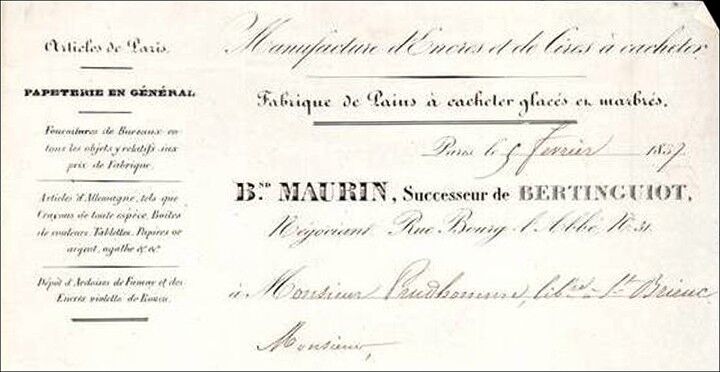 In colonial America, literacy was growing though writing letters was somewhat expensive when you included mailing. There was, however, a broad market and need for ink for diaries and books. Commercially manufactured ink was sold by printers, stationery and bookshop keepers, and even libraries. The ink bottles and inkwells were made by American glasshouses who would use French, British, or India ink that was manufactured for distribution and imported to America.
In an advertisement in The Globe, Washington D.C., June 6, 1836, F. Talor announced that he was importing Eagle Quills, Swan Quills, Metallic Pens, Terry's British Ink (red and black), Bertinguiot's French Ink (red and black); and had all types of American inks in powder, sticks, and fluid.
It is assumed the Bertinguiot inks were marketed to the French population in America and Canada as examples have been found in New Orleans just outside the French quarter with the heavy French and Creole population. Examples have also been found in the midwest and western states with the population movement in the first half of the 1800s.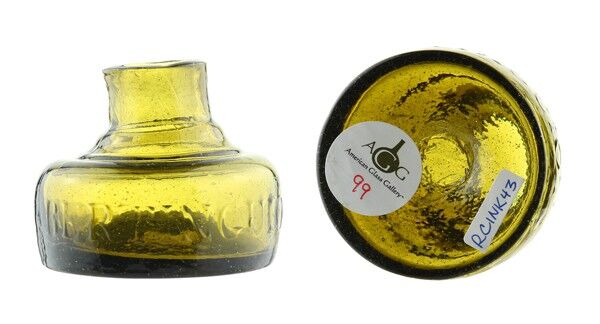 Our 1-7/8" tall, cylindrical inkwell is embossed 'BERTINGUIOT' in a serifed alphabet. It is an American piece attributed to New England and probably a Connecticut glasshouse like Coventry Glass Works from 1830 to 1850. The glass color, pontil, form, and sheared top are all characteristics of early Coventry production. The museum example is in a clear, light-to-medium yellowish olive, almost an olive-yellow color glass. The inkwell has a sheared mouth, a blowpipe pontil scar, and is in perfect condition. It is classified as C#575.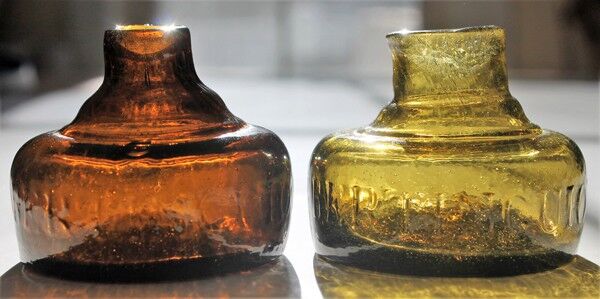 Primary Image: Bertinguiot Inkwell imaged on location by the FOHBC Virtual Museum midwest studio led by Alan DeMaison.
Primary Image: Auction Lot 99: "BERTINGUIOT" Inkwell, probably New England, possibly a Connecticut glasshouse, 1830-1850. Clear, light- to-medium yellowish olive, almost an olive yellow, cylindrical, sheared mouth – blowpipe pontil scar, ht. 1 7/8", perfect! C# 575. A very scarce, light and pretty color for this ink. Outstanding condition. Likely one of the choicest examples that you could hope to find. – John Pastor, American Glass Gallery, Auction #18
Support Images: Auction Lot 29: "Bertinguiot" Ink Bottle, America, 1820-1840. Cylindrical domed form, medium yellow olive, sheared mouth – pontil scar, ht. 2 inches, dia. 2 3/8 inches. C #575 Beautiful color. Stronger embossing than most. Fine condition. – Norman Heckler Jr. & Sr., Norman C. Heckler & Company, Auction #157
Support Images: Auction Lot 57: "AM Bertinguiot" Ink Bottle, probably France, 1845-1860. Cylindrical dome form, cobalt blue, inward rolled mouth – pontil scar, ht. 2 1/4 inches; (professionally cleaned with remaining wear marks, approximately half of mouth has roughness or grinding). C #576 Attractive medium density color and strong embossing. – Norman Heckler Jr. & Sr., Norman C. Heckler & Company
Support Image: Purple-puce Bertinguiot inkwell held in hand image provided by Dale Mlasko. Open pontil and was dug in San Francisco in the 1960s.
Support Image: 19th Century French Ink Merchant illustration from Collection Abecasis Science Photo Library.
Support Image: Very dark glass Bertinguiot inkwell, John Pastor, American Glass Gallery
Support Image: Bertinguiot ink in olive-yellow, open pontil – GreatAntiqueBottles.com
Support: Reference to Ink Bottles and Inkwells, William F. Covill, Jr., 1971
Support: Reference to Bertinguiot… French or American Inks? Peachridgeglass.com
Support: Reference to American Bottles and Flasks and Their Ancestry by Helen McKearin and Kenneth M. Wilson, Crown Publishers Inc., New York, 1978.