J.C. Lefferts Patented 1859 Cast Iron Can
J. C. Lefferts
Patented
Feb.y 15th 1859
Manufacturer
John Cozine Lefferts, New York City

Cast Iron Can – Quart
Provenance: Jerry McCann Collection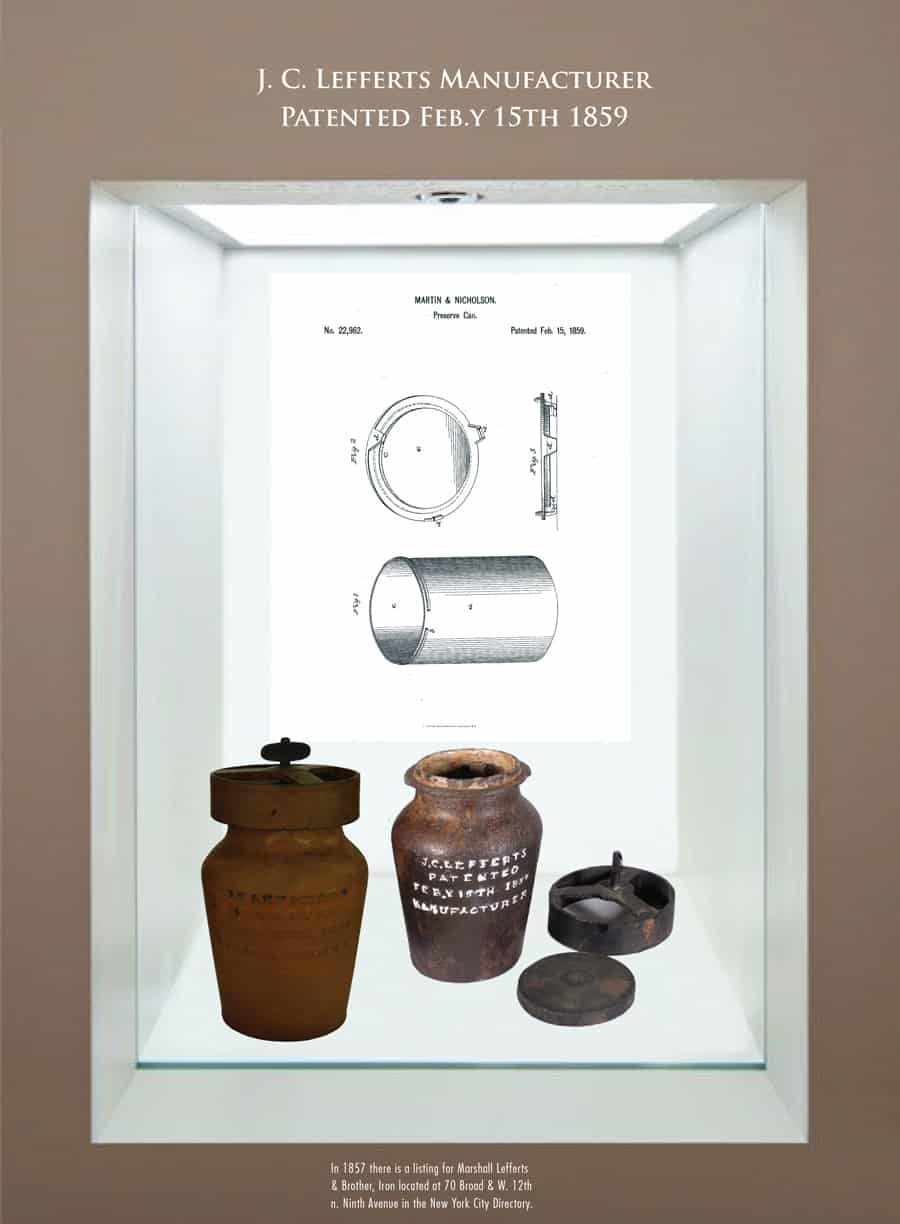 The J. C. Lefferts container can be found in two primary variations. One has the wording in four horizontal lines like our museum example. It reads J. C. LEFFERTS (1st line) PATENTED (2nd line) FEB. Y. 15TH 1859 (3rd line) and MANUFACTURER (4th line). The second variant has the wording in three lines. In a third variant, just the patent date is stenciled on a brown can. A fourth variant has the wording embossed in three lines with the first and third lines arched. Three of these examples are represented in the gallery.
The Lefferts is a cast iron jar with a top seal closure with a straddle lip cast iron lid held down by a cast-iron yoke clamp with thumbscrew which engages three notches in the jars flange. The container is lined with vitreous enamel which was meant to prevent the effects of acids in the food from attacking the metal of the container. The lid fits inside the cage when the cage and lid are attached to the neck of the jar. They are tightened with the thumbscrew.
See Arthur's Air-Tight Self-Sealing Patent Can in our Jar Gallery.
The initial patentees on February 15, 1859, were James F. Martin and Henry C. Nicholson of Mount Washington, Ohio. The patent was reissued on November 4, 1862, and assigned to John C. Lefferts of New York, New York.

John Cozine Lefferts was born on September 15, 1837, in Schoolcraft, Kalamazoo County, Michigan. His father was John A. Lefferts (1815-1881) and his mother was named Catherine J. Eyre (1818-1914). His spouse was Adelia Malvina Lefferts and they had three children.
In 1857 there is a listing for Marshall Lefferts & Brother, Iron located at 70 Broad & W. 12th n. Ninth Avenue in the New York City Directory. The brother was John A. Lefferts. The third brother was John Cozine Lefferts. His name is embossed on the subject can. J. C. Lefferts, at various times from 1860 through the 1880s is listed as a metal broker, manufacturer, iron glazer, galvanizer. Much of the time he is addressed on Beekman Street in Brooklyn, New York.
In 1903, The Leffert's Galvanizing Works was announced in The Metal Worker: A Weekly Journal of the Stove, Roofing, Cornice, Tin, Plumbing, and Heating Trades. They were located at 508-514 East Twentieth Street in New York. The concern was incorporated under the same name with a capital stock of $75,000 and noted as being in the general galvanizing business and selling galvanized bands, hoops, nails, plates, sheets, bars, rods, &c. The officers and directors were Louis Lefferts, president; J. C. Lefferts, vice president, and general manager, and L. L. Lefferts, secretary, and treasurer. John C. Lefferts died on February 26, 1913, in Manhattan, New York.
UNITED STATES PATENT OFFICE
JAS. F. MARTIN AND HENRY C. NICHOLSON, OF MOUNT WASHINGTON, OHIO
IMPROVEMENT IN PRESERVE-CANS
Specification forming part of the Letters Patent No. 22,962 dated February 15, 1859.
To all whom it may concern:
Be it known that we, JAMES F. MARTIN and HENRY G. NICHOLSON, both of Mount \Vashington, Hamilton county, Ohio, have invented a new and useful Provision-Can for the Preservation of Substances by Hermetically Sealing; and we hereby declare the following to be a full and exact description of the same, reference being had to the accompanying drawings, making part of this specification.
To the use of self-sealing cans as at present constructed there are many and serious objections, which will be apparent when we come to consider the many different kinds of materials of which they are composed. Self-sealing cans such as are now in use may be divided. into two classes – to wit, mineral and metallic. Familiar examples of the former are earthenware and glass jars and of the second tin. To the first of these housekeepers raise the serious and reasonable objections of their frangibility, and of the great difficulty experienced in securely sealing them, because of the irregularity of their shrinkage in cooling after being heated for the purpose of expelling the air, and also because of the difficulty of forming a good and lasting connection between metal and earthenware or glass when a metallic cover is used, which is the only practicable mode that can be adopted, an illustration of which may be found in the glass jars in common use for the preservation of prunes. Another objection to the use of pottery-ware arises from the glaze of such ware, because of the presence of large quantities of poisonous metallic oxides, which are easily acted upon by the acids of the fruits, &c., intended to be preserved. In reference to the second or tin cans, all persons at all conversant with the nature and properties of fruit will readily and instantly perceive how little adapted are any of the baser metals for their preservation, because of the presence of the vegetable acids contained in them, which act vigorously upon such metals, corroding the cans, entirely destroying the finer and more delicate flavor of the fruit, and communicating to it a disagreeable metallic taste, at once unpalatable and unwholesome to those using them. Another serious objection to the tin can is the impossibility of perfectly excluding the air. The numerous soldered joints and the liability of tin to become dented in use cause a large percentage of the cans to be defectie, resulting in the destruction of the fruit intended to be preserved. Again, in practice it has been found that with the use of tin (because of the lack of rigidity and strength) cans of all sizes are compelled to be made with narrow and contracted mouths, causing great trouble and inconvenience in the insertion and removal of the fruit. Notwithstanding all of these drawbacks, however, it is true there are many who, rather than be without the fruit, &c., still use the tin in preference to the mineral jars, because of the liability of the latter to break with heat or by any accidental concussion, and because of the liability of stoneware, although glazed, to have minute "blow-holes", which, while they may be imperceptible to the eye, are still sufficient to afford communication with and circulation of the air.
To provide a can that is not subject to these objections, one that will be at once strong, not liable to be broken, impervious to the air, and not subject to the corroding action of the acids contained in the fruits, &c., is the object of our improvement; and it consists in constructing hermetically-sealed fruit or provision cans of iron or other metal possessing the requisite strength and rigidity, lined on the inside with a vitreous enamel, capable of withstanding the chemical action of the acids of the fruit.
In the accompanying drawings, Figure 1 is a perspective view of a can embodying our improvement. Fig. 2 is a perspective view of the under side of the cover. Fig. 3 is a side view of the cover.
b represents a screw-thread formed round the exterior of the mouth of the can; d d d, lugs on the cover, which engage with the screw thread b, so that the turning of the cover will cause it to be closed tightly down; c, an india rubber or other gasket, which may be interposed between the can and cover, to assist in forming an air-tight joint; f f, studs projecting from the top of the cover to turn the latter by means of a suitable key. Both the can and the cover are constructed of iron or other suitable metal, either cast or pressed, and have their whole interior surfaces, e, covered with a vitreous enamel, capable of resisting the action of the acids contained in the substances to be preserved.
In enameling the cans, we do not intend to confine ourselves to any specific receipt, so long as the enamel is one suitable for this purpose that is to say, not liable to be acted on by the acids contained in the fruits, &c. An enamel suitable for this purpose may be made by compounding, in the usual way adopted by enamelers, two pounds ten ounces of glass, one pound fourteen ounces of sand, three pounds fourteen ounces of oxide of tin, two pounds four ounces of borax, two pounds twelve ounces of soda, one pound two ounces of saltpeter, eight ounces of white clay, one ounce of chalk, and ten grains of oxide of cobalt, and these in themselves may be varied in their relative proportions or either substituted by their chemical equivalents, or other articles added, this being merely one of a number of receipts, here deemed unnecessary to describe, suitable for the purpose. Enamels such as this may be applied in any suitable and efficient manner known to those skilled in the art of enameling metals. A can thus constructed can be made of less weight than glass or stoneware of the same capacity, and still possess almost incomparably greater strength, and at the same time be as free as glassware from liability to corrosion by acids. It is therefore economical, wholesome, readily cleansed, and admits of being used season after season, as long as desired. It admits also of being constructed with an aperture of the fuil size of the top, which, as well as adding to its convenience in use, greatly facilitates its 1; transportation, when empty, by nesting either in assorted sizes or otherwise. It is believed that a non-corrosive hermetically sealed provision can has never before been produced capable of excluding the atmosphere from its contents after being subjected to the frosts of an arctic winter or adapted to preserve perishable articles of diet with sufficient economy and success as to be extensively used for this purpose in long sea-voyages. l do not claim, broadly, the construction of a hermetically-sealed fruit or provision can; nor do we claim-coating vessels with vitreous enamel, both being well known and in common use; but I/we claim as a new and useful article of manufacture. a fruit or provision can to be hermetically sealed, constructed of metal lined on the inside with a vitreous enamel capable of withstanding the action of the acids contained in the fruits, &c., to be preserved, substantially in the manner set forth. 2. The combination of a metallic cover, vitreously enameled on the inside, with a fruit or provision can, substantially as set forth. In testimony' which invention we hereunto set our hands. JAMES F. MARTIN. & HENRY C. NICHOLSON.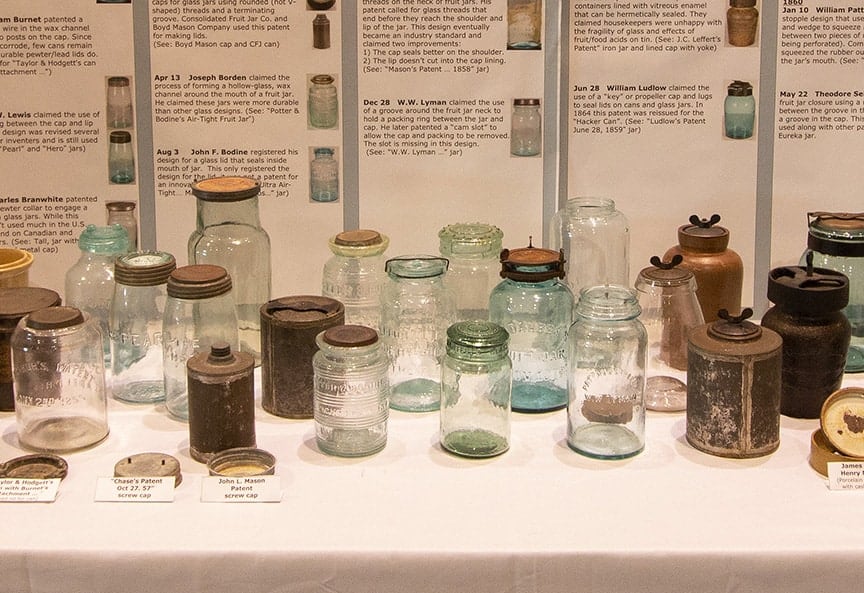 Primary Image: J. C. Lefferts can imaged on location by the FOHBC Virtual Museum midwest studio led by Alan DeMaison.
Support Images: Auction Lot 4483: J C LEFFERTS PATENT 1859 Quart. Cast Iron. Closure: excellent replica closure made of cast iron. Oxidized surface. Solid condition, losses to the enameled lining. Strongly embossed raised lettering (highlighted in white by a previous collector). Base: mold sprue. Circa 1860, Rare – Greg Spurgeon, North American Glass
Support Images: Auction Lot 1495: Cast Iron, Enamel Lined Quart J C LEFFERTS, Closure: reproduction clamp and lid. Appearance: dark smooth untouched surface. Condition: much of the original enameled lining remains (estimate about 85%) Strength of embossing: none. Base: mold sprue. Age: late 1800s, Availability: scarce – Greg Spurgeon, North American Glass
Support: Reference to Fruit Jar Annual 2020 – The Guide to Collecting Fruit Jars by Jerome J. McCann
Support: Reference to Red Book #11, the Collector's Guide to Old Fruit Jars by Douglas M. Leybourne, Jr.