S.B. Rothenberg Old Judge Kentucky Bourbon
S.B. Rothenberg & Co
Old Judge Kentucky Bourbon
(Embossed Judge) Trade Mark Registered
San Francisco, Cal.
Samuel B. Rothenberg, San Francisco, California

Red Amber Fifth
Provenance: Ken Schwartz Collection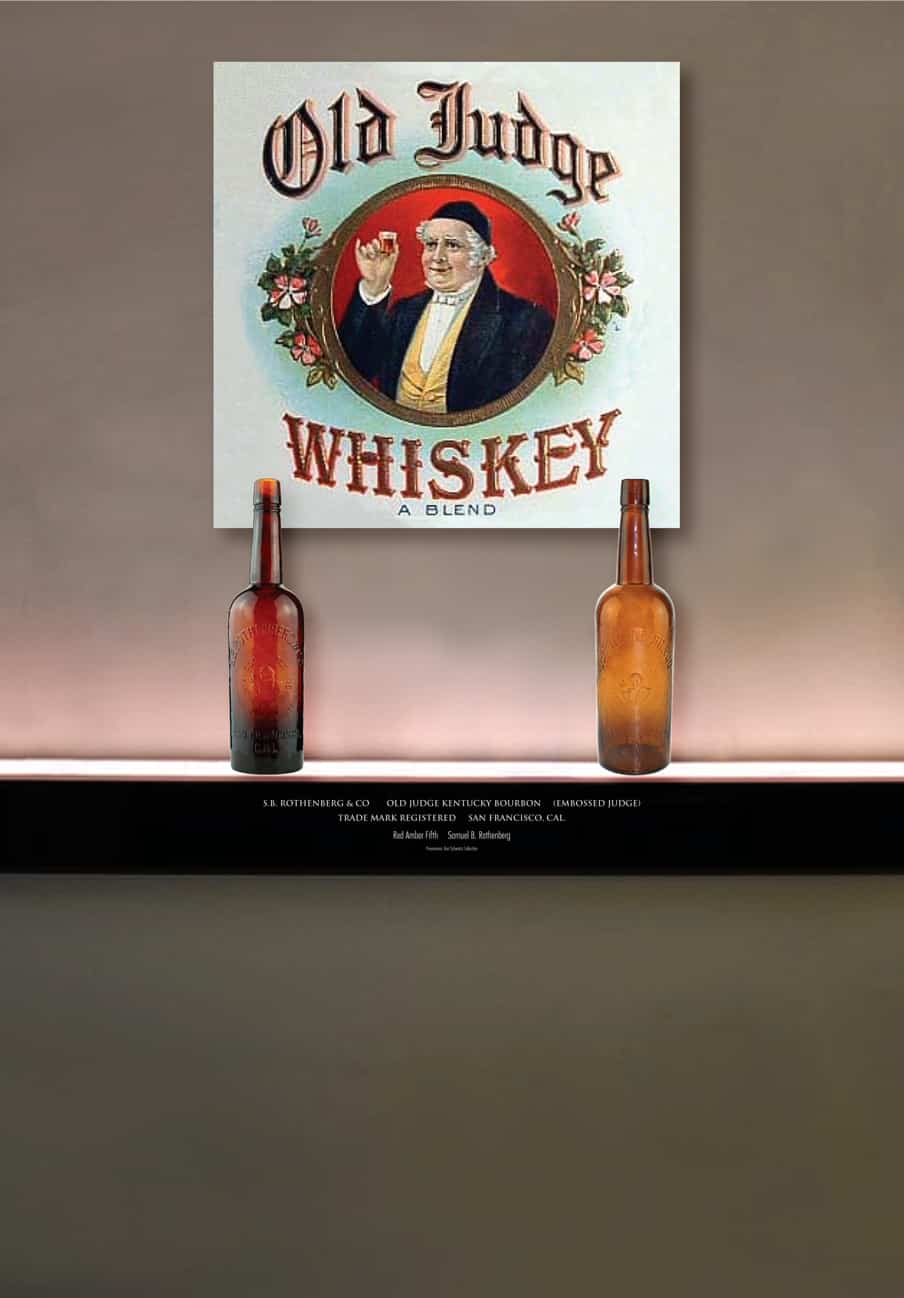 Here is a striking red-amber fifth embossed with a facsimile of the Old Judge Whiskey trade mark. The S. B. Rothenberg Old Judge Kentucky Bourbon is a late bottle probably made in Germany and distributed in the west. Our bottle is superb as it has striations of puce coloration in the glass. The bottles are typically whittled and have an applied top.
The Old Judge name is long and storied. Whiskey authority Jack Sullivan, says that "Among brands, the history of The Old Judge is among the most convoluted."
We covered one segment of the brand previously with Old Judge Bourbon, Newberg, Gruenberg & Co. in San Francisco. You can see that bottle on the same gallery display shelf as our subject example. We will now look at when S. B. Rothenberg & Co. were agents for the brand in the late 1890s. We also have a Gamecock Whiskey on the same shelf that was represented by M. Rothenberg.
We first see S. B. Rothenberg selling liquor in a wholesale and retail capacity in 1888 in Oakland, California at 864 Broadway. From 1894 to 1897 the listing is Samuel B. Rothenberg, wholesale liquors, 874 Broadway. Henry and Louis Rothenberg are both listed as a salesman.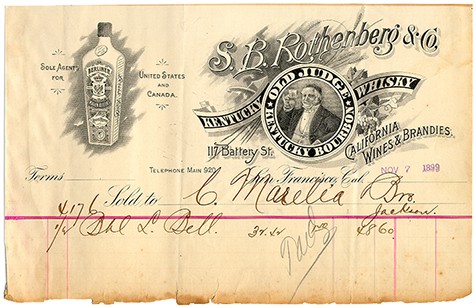 By 1899, the concern had relocated to San Francisco at 117 Battery. They still specialized in wholesale wines and liquors but were now listed as agents for Old Judge Whiskey. Back in Kentucky, the brand had been acquired in 1899 by S. C. Herbst, a Milwaukee wholesaler, who produced both Old Judge and Old Fitzgerald at RD #11, Kentucky 7th district.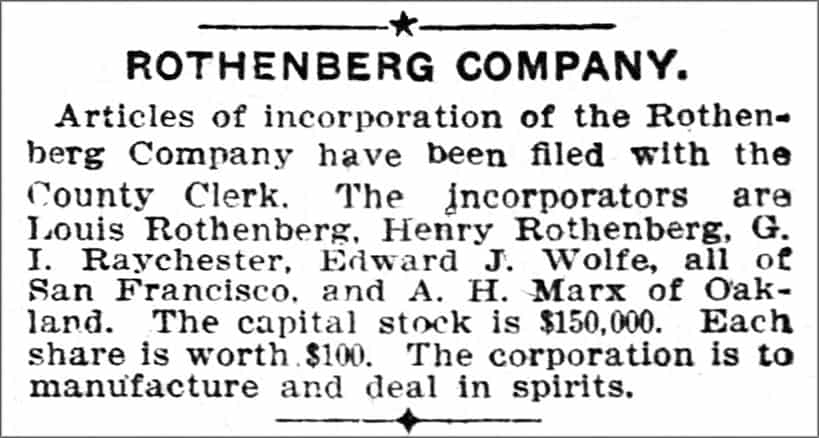 By 1901, the S. B. Rothenberg Co. name had changed to The Rothenberg Co. wholesale liquors, 140 Front Street, San Francisco. Louis Rothenberg was President. The liquor manufacturing concern filed a certified copy of its articles of incorporation that same year. The directors were Louis Rothenberg, Henry Rothenberg, G. I. Raychester, and Edward L. Wolfe. The capital stock was $150,000, divided into $100 shares. The principal subscriber of the stock was S. B. Rothenberg, who was not part of the directorate, who held $149,500 of the stock.
Primary Image: The Old Judge Kentucky Bourbon bottle imaged on location by the FOHBC Virtual Museum midwest studio led by Alan DeMaison.
Support image: Red-amber Old Judge Kentucky Bourbon example courtesy of Jeff Wichmann and American Bottle Auctions.
Support image: Orange-amber Old Judge Kentucky Bourbon example courtesy Jim Hagenbuch and Glass Works Auctions.
Support: Reference to Whiskey Bottles of the Old West by John L. Thomas, 2002