Brown's Celebrated Indian Herb Bitters
Brown's Celebrated Indian Herb Bitters
B 225

Neail N. Brown, Philadelphia, Pennsylvania

Citron Green Figural Indian Queen
Provenance: Ferdinand Meyer V Collection, Ex-Judge MacKenzie and Doy McCall Collection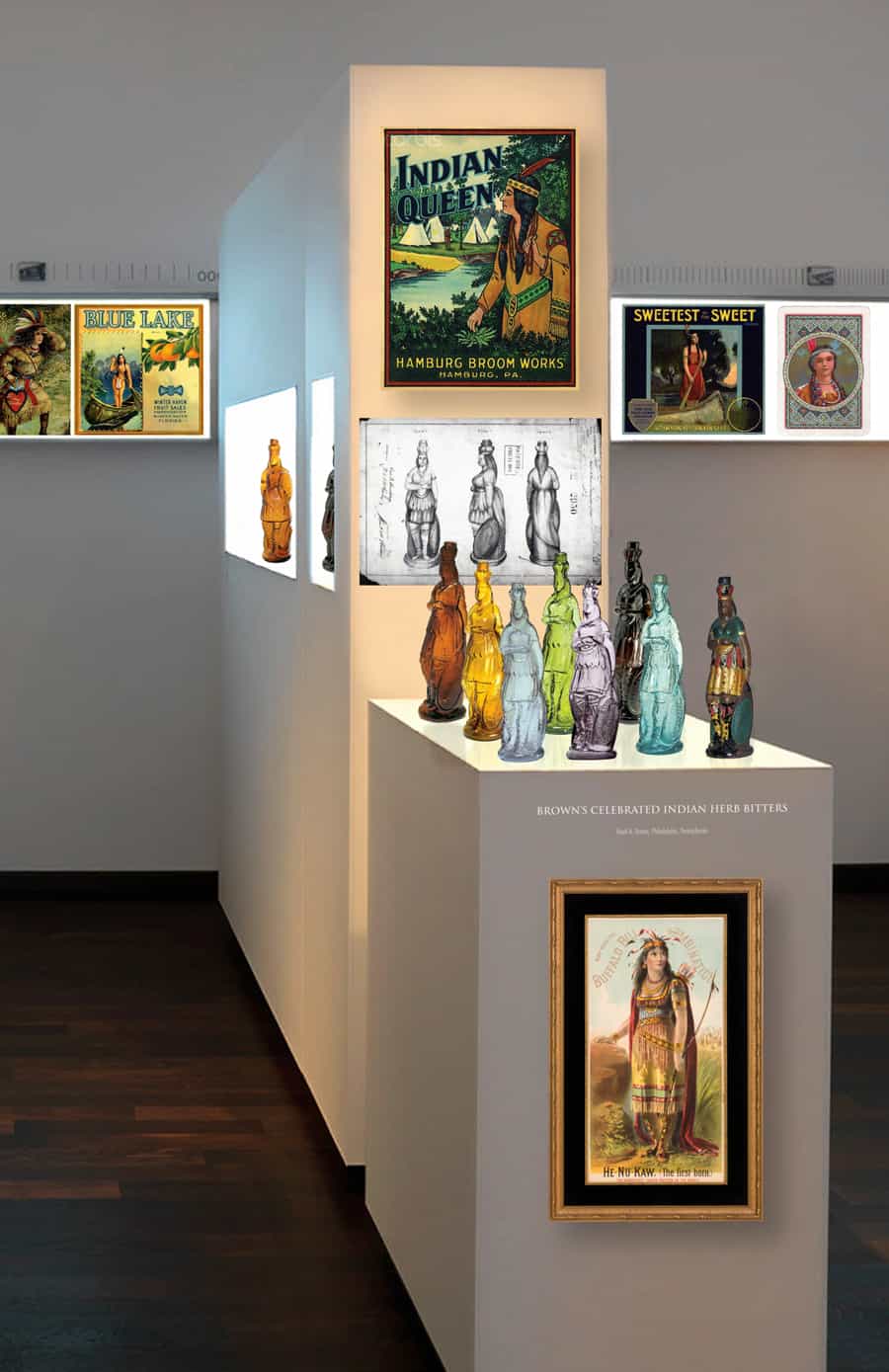 The Discovery of America, painted in 1575 by Jan Van Der Straet, depicts a naked Indian princess welcoming Christopher Columbus as she reclines on a hammock. A little over three hundred years later, Buffalo Bill promoted He-Nu-Kaw as "The Handsomest Indian Maid in the World." Even before the first Englishman set foot on Virginia soil, America was represented in iconography of 16th-century European art as an Indian woman. She was depicted as both savage and seductive. When looking at antique bottles we see this represented in Brown's Celebrated Indian Herb Bitters.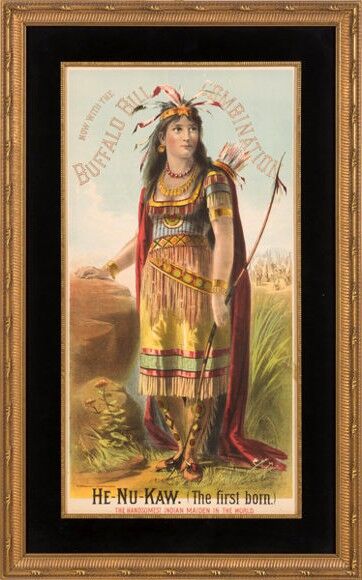 Most antique bottle collectors are familiar with figural "Indian Queen" bottles. The "Queen" is desired because of her form, eye appeal, and glass colors that are simply gorgeous. Most collectors start off with an amber Brown's Celebrated Indian Herb Bitters. Next, they might progress and look at different brands, colors, and molds.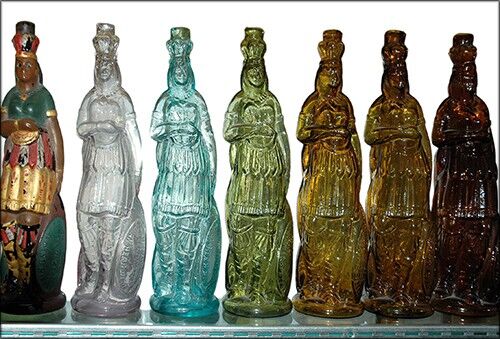 According to the write-up in Bitters Bottles by Carlyn Ring and W. C. Ham, there are no discernible variations between the five different numbered (B 222 – B 226) Brown's Celebrated Indian Herb Bitters other than their datelines. Collectors seem to not notice which dateline their "Brown's Indian Queen" has so ranking their relative rarity is difficult.
Many of the ground mouth finish "Queens" have been found with traces of paint in the crevasses of robe folds and between the feathers of the apron or necklace details. It could easily be mistaken for accumulated dust or soil but like so many of these paint traces, some tend to believe that some were painted originally. Today's collectors seem to look for a sparkling mint specimen so the traces of paint are often removed.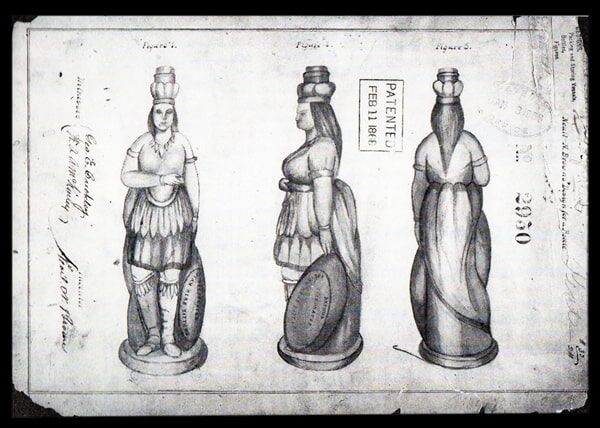 Four other Indian Queen brands and molds are known that are not directly related to the Neail Brown Indian Queen. One is quite varied with the right arm well below the waist with a sword in hand. The left arm is bent and holding a shield to the body. Lettering on the shield reads Mohawk Whiskey Pure Rye. At the shawl fringe, you see an embossed "Patented Feb. 11, 1868."
Another brand, using the same mold, has an unlettered shield. The area where you would normally have the patent date reads, H. Pharazyn Philadelphia Right Secured. Both of these Queens have sheared mouths. The remaining queen molds are altogether different. See E. Long's Indian Herb Bitters and Indian Herb Bitters Dickerson & Stark.

Neail N. Brown
Not much is known about the proprietor, Neail N. Brown. Even his name spelling is confusing as it is also spelled Neal, Neil, and Neill in the sparse historical documents that can be found. We go with Neail as it looks as this is how he signed it on his patent drawing.
We do know that Neail N. Brown lived and operated in Philadelphia and took out a couple of patents for his famous figural bottle in 1867 and 1868. Most believe he was an Irishman. We first see him as an innkeeper and tavern owner in 1863 and 1864 located at southeast 24th and Locust. In 1866, he has some legal problems as he is charged by the United States government for transporting unsealed whiskey. In 1868 he is selling liquor at 1826 Market Street. That same year he shifts into Patent Medicines at 217 Callowhill Street up until 1870 or so. This is when his Brown's Celebrated Indian Herb Bitters was at its zenith. From 1874 to 1876, Brown is back to selling liquor at 2379 Tulip Street.
Neail N. Brown must have been a good customer of Whitney Glass Works in South New Jersey as he ordered most if not all of his bottles from this factory.
With all the bottles and brand popularity, it is really surprising that we do not see more period advertising for the Brown's Indian Queen.
The Carlyn Ring and W.C. Ham listing in Bitters Bottles is as follows: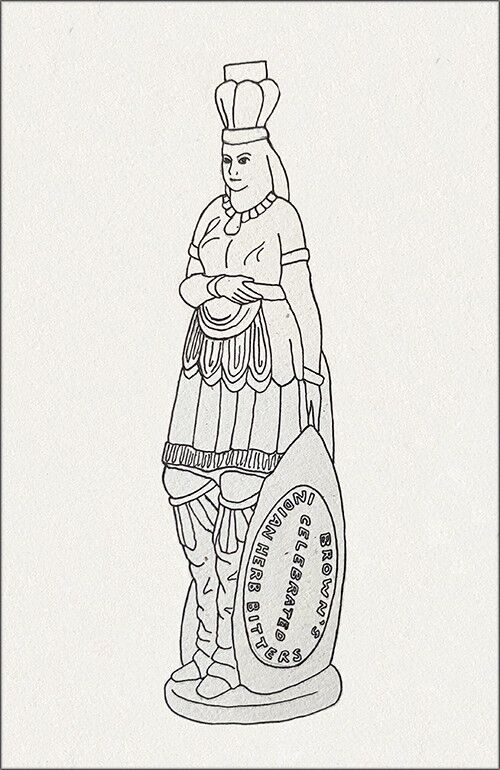 B 225 BROWN'S / CELEBRATED / INDIAN HERB BITTERS // PATENTED 1868
12 ¼ x 3 ¼
Indian Queen, Amber, Common; Yellow-green tone, Shear or Ground lip – Rare
Primary Image: Brown's Celebrated Indian Herb Bitters bottle imaged by the FOHBC Virtual Museum midwest studio by Alan DeMaison.
Support: Reference to Brown's Celebrated Indian Herb Bitters
Support: Reference to Bitters Bottles by Carlyn Ring and W. C. Ham. Use of Brown's Celebrated Indian Herb Bitters illustration and patent drawing courtesy Bill Ham.
Support Image: Color run of Brown's Celebrated Indian Herb Bitters – John Feldmann collection. Photo by Ferdinand Meyer V.
Support Images: Grouping of five Brown's Celebrated Indian Herb Bitters and the amber solo "Queen" courtesy of John Pastor and American Glass Gallery.
Support Images: Amethyst queen image from Jim Hagenbush and Glass Works Auctions.
Support Image: Pale yellow Brown's Celebrated Indian Herb Bitters from Skinner Auctions.
Support Image: William F. "Buffalo Bill" Cody's Wild West Show: "He-Nu-Kaw" Richly Colored Lithographed Poster Depicting "The Handsomest Indian Maiden in the World." A rare and early poster issued around 1878 to promote Cody's New York stage play. Only a handful of these examples are known according to longtime Buffalo Bill Historical Center curator Paul Fees. Printed by W.J. Morgan & Co., lithographers of Cleveland, Ohio. Beautifully matted and custom framed to 35″ x 22." From the Collection of the Late Edward C. Gillette. – Heritage Auctions
Join the FOHBC: The Virtual Museum is a project of the Federation of Historical Bottle Collectors (FOHBC). To become a member.