Wormser Bros. Fine Old Cognac
FINE OLD Cognac
Wormser Bros. S. F.

Isaac, Lewis & Simon Wormser, San Francisco, California
Amber Half Pint
Provenance: Steven Hubbell Collection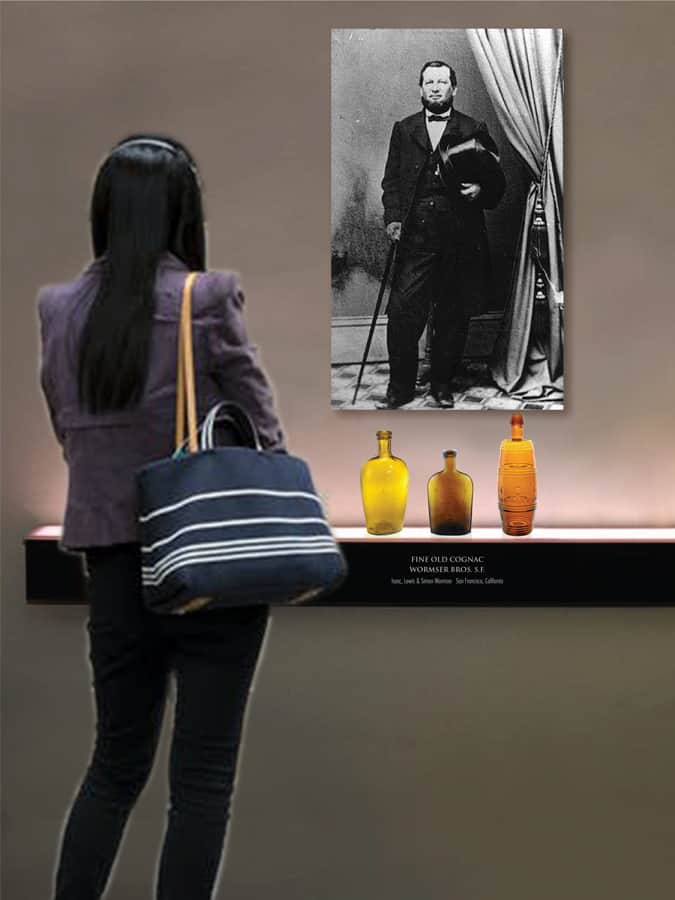 The Wormser name is well-known to western collectors in particular due to three different embossed glob-top flasks and a figural barrel. See Wormser Bros. San Francisco barrel in the FOHBC Virtual Museum Bitters Gallery. There are no known examples of Wormser Bros. cylinders or round fifths.
I have dug a few of those over the decades. There was a very old house at 15th and S. Streets, here in Sacramento, and the side yard was nothing but flasks, buried just beneath the surface. Most were broken, but one Angeli and four of those Wormsers came out whole. The trash pit was too early for the "newer" flasks and fifths, but all shades of those Wormsers were represented.

Michael Dolcini
Two of the Wormser Bros. flasks are fairly large. One has embossed arched copy reading WORMSER BROS. anchored by the embossed copy SAN FRANCISCO beneath in a horizontal straight line. This is the oldest Wormser flask and one of the oldest western embossed flasks. It is found in shades of amber with either a single or double roll collar applied top.
The second flask is embossed WORMSER BROS. SAN FRANCISCO vertically on the front. They come in a much wider range of colors. A paper Golden Sheaf Whiskey label would have occurred on the reverse. Both of these flasks are very rare and highly desirable though their shapes are somewhat bulbous.
Our museum flask is much smaller and rarer and is embossed 'WORMSER BROS. S. F.' vertically in two lines on one side and embossed 'FINE OLD COGNAC' on the other side in engaging convex and concave lines. The sides are banded.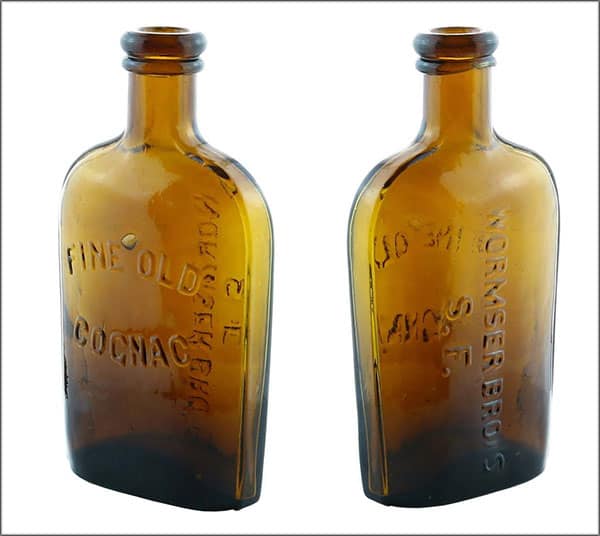 The flask is considered extremely rare and was probably distributed for a short time around 1871 and 1872. There are somewhere in the neighborhood of six examples known. It is a smaller flask than the other Wormser flasks noted above and slightly larger than a half-pint. The flask comes with a double roll top mouth and is fairly heavy glass. Examples are typically a lighter amber shade with a slight olive tone. It is noted in Whiskey Bottles of the Old West by John L. Thomas that a broken pint example of this flask was found but records have been lost. The flasks have been found in California and Nevada.
Issac Wormser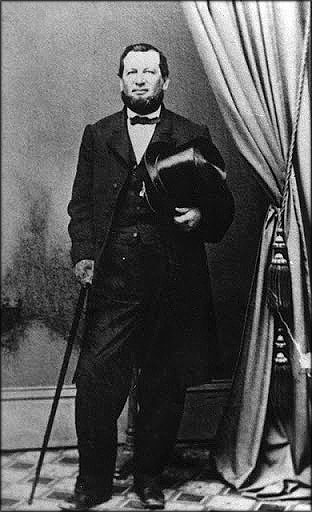 Isaac Wormser was born in May 1821 near Stuttgart in Württemberg, Germany. As a youth, he received a common education and learned the trade of a cloth weaver. He came to America in 1842, first settling in New York City, but soon went on to Kentucky where he remained for about four years. He then went on to Chicago for a few years and worked,
In 1850, Isaac Wormser came to California with his brother Louis and established a general merchandise store in Stockton, where they prospered and made a considerable amount of money.
In 1854, the two brothers were joined by a third brother Simon, and together they started a wholesale liquor business call Wormser Brothers in San Francisco. They were initially located at First and Battery Street and later in their own building at the corner of California and Front Streets, where they did an extensive business for many years and accumulated a large fortune. In October of 1867, during Simon's management of the firm, they trademarked the "Golden Sheaf" brand of whiskey. At this time they were listed as importers and jobbers in wines and liquors. They were also the consul for Württemberg, Germany. Simon was living in town and Isaac was living in Württemberg. By 1872, the Wormser Brothers business was sold to the firm of Braeg, Frank and Dallemand.
In the latter part of 1854, Isaac Wormser visited Germany and married a woman named Louisa. He remained in Württemberg and retired from active business. He eventually returned to California to retain the Presidency of the Golden Gate Distilling Company which filed for articles of incorporation for the purpose of carrying on a wholesale liquor business. The directors of the company were J. A. Spencer, George Miller, Henry Ebbinghausen, Isaac, and Samuel I. Wormser. The 1891 San Francisco directory puts the firm at 207 Battery. His later years were devoted almost entirely to charitable work. He died suddenly on October 26, 1894, in Monterey, California.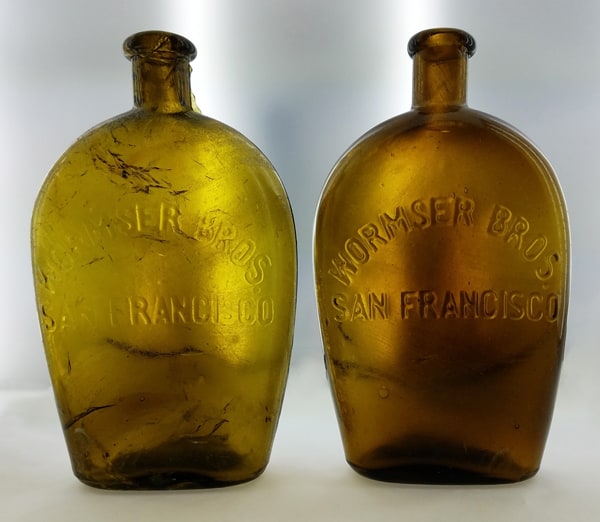 Primary Image: Fine Old Cognac flask imaged on location by Alan DeMaison, FOHBC Virtual Museum Midwest Studio
Support Images: Jeff Wichmann and American Bottle Auctions.
Support Image: Auction Lot 4: WORMSER BROS. S.F. /FINE OLD COGNAC on reverse. Applied double roll collar. 11 ounces. 1870-72 Interestingly, Wormser went from having one of the largest flasks to having this banded cognac style made. These always come with a double roll applied top. This is not the only cognac-style flask out there and they all seem to be somewhat similar. These are generally referred to as a half-pint, however, it is 3 ounces over a half-pint. As early as 1969 it was thought there were only a couple of these around but since then, more have turned up with quite a few being found in Gold Hill, Nevada. This example is an old amber with some decent crudity. Really no distractions to speak of, this one grades a solid 9.5. – Jeff Wichmann, American Bottle Auctions, Auction #69
Support Image: Two of the earliest Wormser Bros. flasks were likely made during the 1867-1868 time period and marketed for the Golden Sheaf Whiskey. Jeff Wichmann example is on the left. Warren Friedrich example on the right
Support: Reference to Whiskey Bottles of the Old West by John L. Thomas, 2002
Support: Reference to Wormser Brothers San Francisco, Bruce Silva, WesternWhiskies.com
Support: Reference to Isaac Wormser Family: San Francisco Jewish Pioneers & Founders of S&W Fine Foods
Support: Died Suddenly at Monterey, Close of the Career of Isaac Wormser, the Millionaire Pioneer Merchant, and Philanthropist – The San Francisco Examiner, October 27, 1894
Join the FOHBC: The Virtual Museum is a project of the Federation of Historical Bottle Collectors (FOHBC). To become a member.