Edwards Blue Black Fluid
Edwards Blue Black Fluid
H. Edwards MFG. CO.
San Francisco

Harry Edwards, President, H. Edwards Manufacturing Co., San Francisco, California
Cobalt Blue Cylinder
Provenance: John Hinkel Collection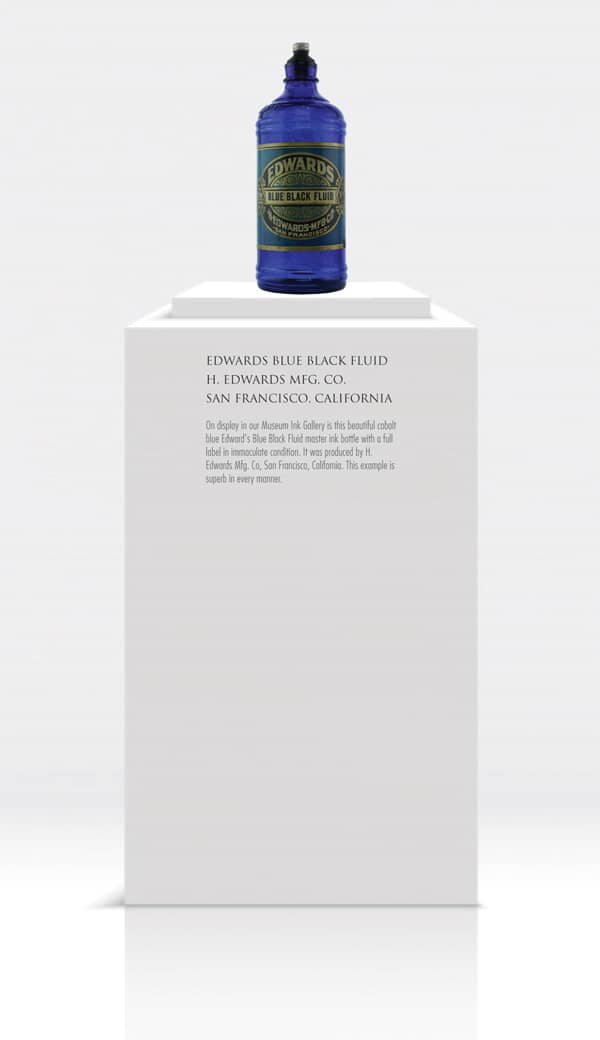 On display in our Museum Ink Gallery is this beautiful cobalt blue Edward's Blue Black Fluid master ink bottle with a full label in immaculate condition. It was produced by H. Edwards Mfg. Co, San Francisco, California. This example is superb in every manner.
Harry Edwards was an ink manufacturer working out of San Francisco, California located at 20-22 Natoma Street. His telephone number was Sutter 4253. He started H. Edwards Manufacturing Company sometime around 1904 and specialized in what he called "Coast Products" which included writing fluid, colored inks, pure gum mucilage, and photo-library paste. His advertising proudly stated, "Manufactured by a Native Son of the Golden West."
The two vignettes below give us some insight into Mr. Edwards, his company, and the ink business in general, during World War I.
Ink Makers Have Their Troubles
"I don't suppose there is an industry in the United States," says Harry Edwards, president of the H. Edwards Manufacturing Company, "which has been influenced by the war to a greater degree than the ink, paste, and mucilage manufacturing lines," and as Mr. Edwards makes what has frequently been said to be the best in these products used on the Pacific Coast, he should be the authority. Ink prices are now $1 to $1.10 per quart, which is about a 30 percent advance, and if the war keeps up prices will probably go to $1.50 and even to $1.75.
Naturally, this raise in price has been due to the inability to obtain necessary ingredients whose supply has always depended upon the nations now engaged in war. Potato dextrine used in library paste, and aniline for inks are German products; nut galls, also used in the manufacture of ink, have Turkey as their source of supply; gum arabic, utilized in mucilage making, is an Asiatic product, but its successful shipment is so uncertain that the supply is more or less cut off. In fact, it is but a short time back that a vessel containing a large consignment of this product to this country was sunk by a submarine of one of the belligerents.
Not only have the ingredient prices. advanced, but the price of tin has gone up, glass works say that they must have more money for their bottles, and therefore about the only thing that the ink, paste, and mucilage makers can place any price dependence upon is the bristle in the brushes. In spite of such unusual circumstances and adverse conditions, however, Mr. Edwards says that their 1915 business showed a 34 per cent increase over 1914. This year, so far, makes even a more remarkable showing. Last month's business shows an increase of 85 per cent over the same month in 1915 and this month to date has the same period of last year bettered by almost 100 per cent. – Coast Banker, 1916
American-Made Inks and Paste
H. Edwards, of the H. Edwards Manufacturing Co., local manufacturers of mucilage, paste, and ink, is making a campaign to draw the attention of the public to the fact that American-made ink and paste are now as good as the German products were before the war. Mr. Edwards said today: "We are now obtaining colors for inks that are as good as German dyes. We are again able to obtain the raw material that was cut off from us during the war, and the library paste is as good as any ever imported." At a recent test, made by the California State Chemist, the Edwards inks stood a test which showed them to be 98 percent pure, out of a possible 100. The firm has been in business here for the past sixteen years. – The American Stationer, 1920
Primary Image: Edward's Blue Black Ink bottle imaged by the FOHBC Virtual Museum midwest studio led by Alan DeMaison.
Read More: Hinks Inks – Post 1 "This Guy collects Labeled Inks" and Hinks Inks – Post 2 "John hINKel"