Hartwell & Baker Bottlers Cincinnati
Hartwell & Baker
Bottlers
Cincinnati
Charles Mason Hartwell and David Baker
Cincinnati, Ohio
Light Blue Green Aquamarine Soda Water
Provenance: Doug Shuter Collection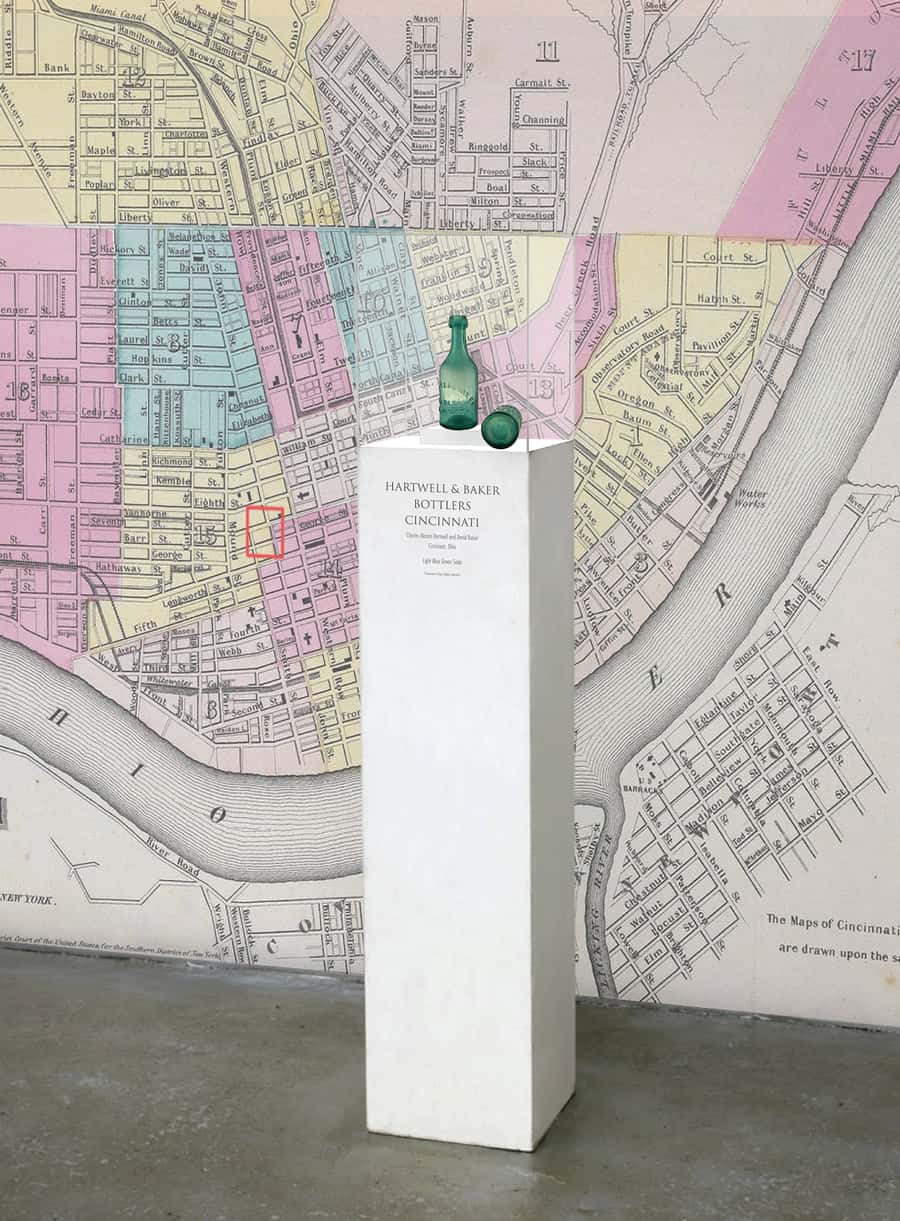 Charles M. Hartwell was born in November 1820 in New Hampshire, though some accounts state Vermont. His father was Simon Hartwell who married Thurste Williams and relocated to Centre, Vermont prior to the War of 1812. Simon engaged in trade but soon after the close of the war lost his farm and most of his savings. He would spend two years in Windham, Vermont, and would emigrate to Newburg, Ohio where he spent the rest of his life.
Charles Hartwell had two brothers and two sisters, Eli Clark (b. 1815), Winthrop Dow (b. 1817), Olivia (b. 1819), and Mary Hartwell (b. 1824). Eli Hartwell first went to Cincinnati, Ohio in 1833 and worked as a drygoods salesman and was followed by his brother Charles in 1842 where he was employed in a soda water manufactory.
This was a period of rapid growth in Cincinnati. The population in 1830 was 24,831 and by 1840 was 46,381. In 1833 alone, there were 321 new buildings of which 200 were brick and 121 frame. In 1850, the population was 115,438, which was a 150 percent increase. There was no city in the Union, of equal magnitude, whose ratio of increase during the same period, equaled that of Cincinnati, and only two other cities had been greater, New York City and Philadelphia. This growth in the first half-century earned Cincinnati the name, "Metropolis of the West." The city came "from a few rude cabins in the midst of primeval forests and hostile savage tribes to a powerful city, the center of wealth, commerce and the arts."
In 1850, Charles M. Hartwell would partner with David Baker, who was born in Germany in 1823. They were both about the same age. Their concern, Hartwell & Baker, specialized in vinegar and they were located on the southeast corner of 7th and John Streets. That same year, on November 3, 1850, Charles would marry Henrietta Jane Anderson. In 1851, Baker was boarding at J. C. Stewart's and Hartwell was boarding at W. P. Ketchums.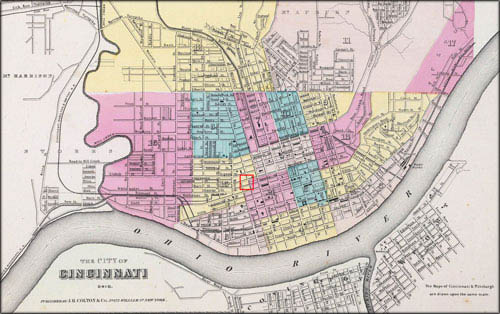 By 1853, Hartwell & Baker, were listed as vinegar and mineral water manufacturers, at the same address. We can assert that our subject bottle was ordered and used during this period. Other mineral water manufacturers listed that year were Henry Alwes, H. Overdick & Co., John Postell, and William B. Tarr.
The Hartwell and Baker partnership lasted through 1856. Charles M. Hartwell would move to Milwaukee in 1857, then on to Oconomowoc, Wisconsin where he was a farmer and insurance agent. He was drafted for Civil War service in 1863 and went on to be the sheriff of Waukesha County from 1864 to 1868. He was also township supervisor and treasurer from 1873 to 1874. Hartwell relocated to Moline, Illinois in 1888. He would die there in 1913.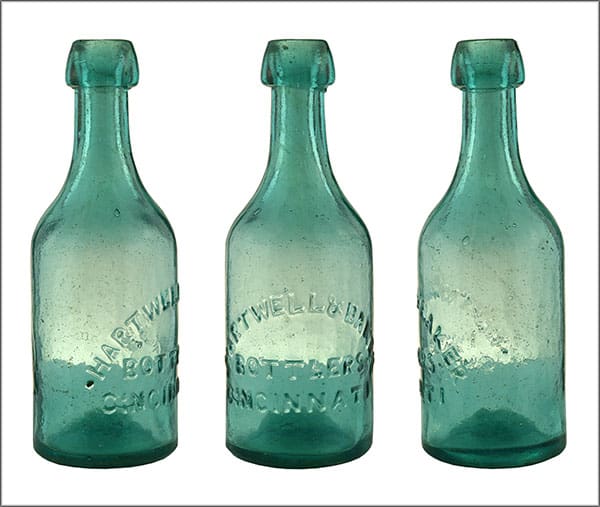 Our subject museum soda bottle is 7-3/8″ tall, was blown in a light blue-green glass, has an applied rounded mouth, and an iron pontil. The copy is embossed on the face of the bottle in three lines. 'HARTWELL & BAKER' occurs in an arc over a second horizontal straight line reading 'BOTTLERS.' The third straight line reads 'CINCINNATI.'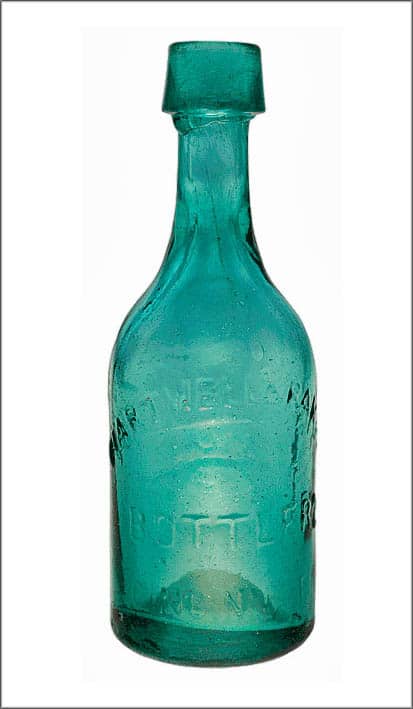 There is a variant Hartwell & Baker Bottlers Cincinnati bottle with a slugged-out area on the face and a reversed "S" in "BOTTLERS." The typography is similar but clearly a different mold. Also reported is a 9 ½" tall, 12-sided pottery cronk impressed "Hartwell & Baker, Knickerbocker Root Beer" with and without blue wash lettering.
Primary Image: The Hartwell & Baker soda water bottle imaged on location by the FOHBC Virtual Museum midwest studio led by Alan DeMaison.
Support: Reference to The American Pontiled Soda Database Project, Tod von Mechow
Support: Reference to Soda & Beer Bottles of North America, Tod von Mechow
Support Image: Variant Hartwell & Baker Bottlers Cincinnati with slugged out area and reversed "S" in 'BOTTLERS." – Jim Hagenbuch, Glass Works Auctions
Support: Reference to The Hartwell Family, An Account of the Descendants of William Hartwell of Concord, Mass. 1636 – 1895, by L. W. Densmore