Meat & Fish Packing Co. S.F.
Meat & Fish Packing Co.
S.F.
Meat & Fish Packing Co., San Francisco, California
Colorless Figural Barrel
Provenance: Eric McGuire Collection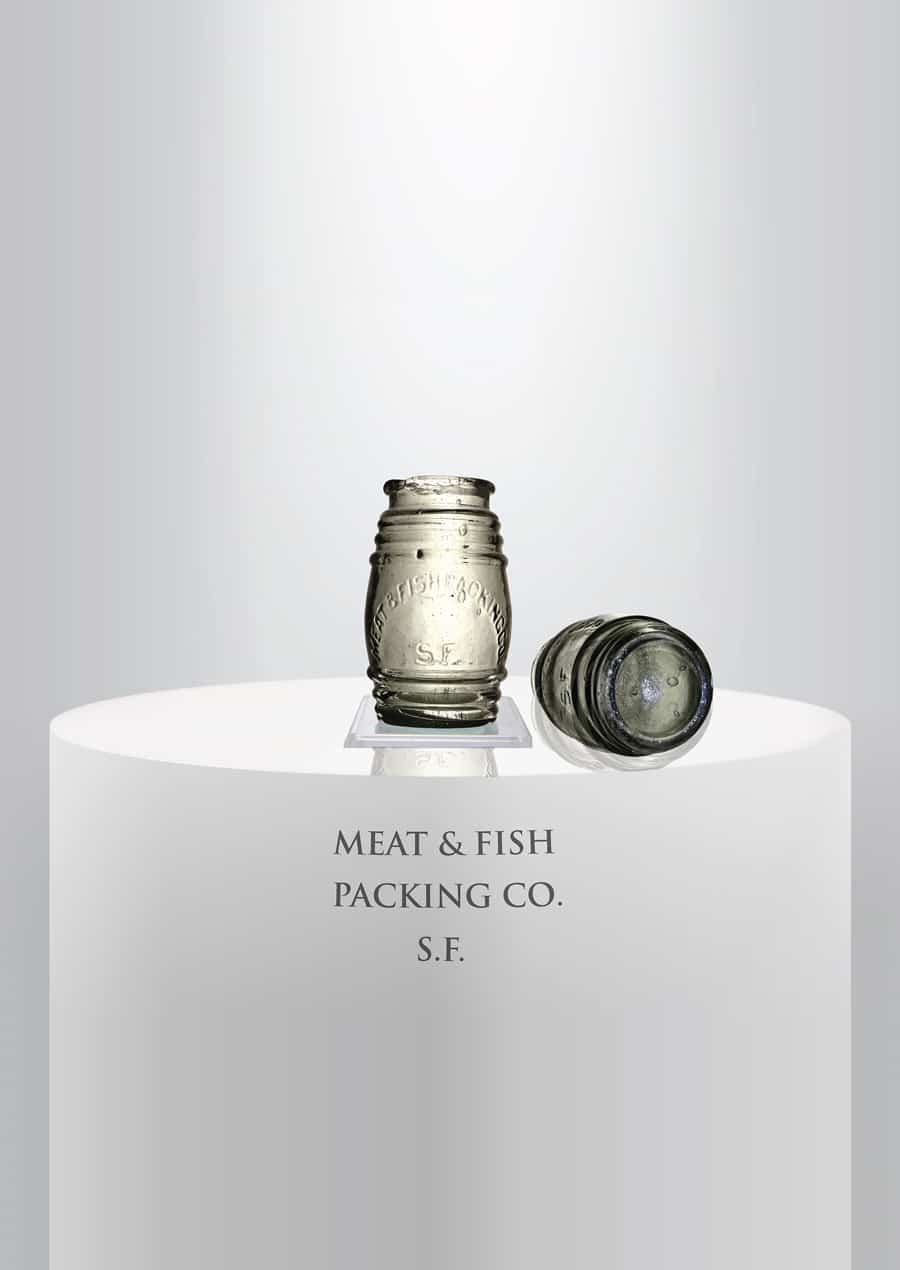 Our small figural barrel is one of the treasures of the early Western glass industry. The company that sold it, the Meat & Fish Packing Co. of San Francisco, located at No. 736 Montgomery Street, was short-lived. Documentation is nearly non-existent, save for one newspaper reference that gives us a little information.
The relatively new product was marketed in 1878 as the proprietors decided to enter it into the 13th Industrial Exhibition of the Mechanics' Institute in September of that year, as noted in the Pacific Rural Press, September 21, 1878.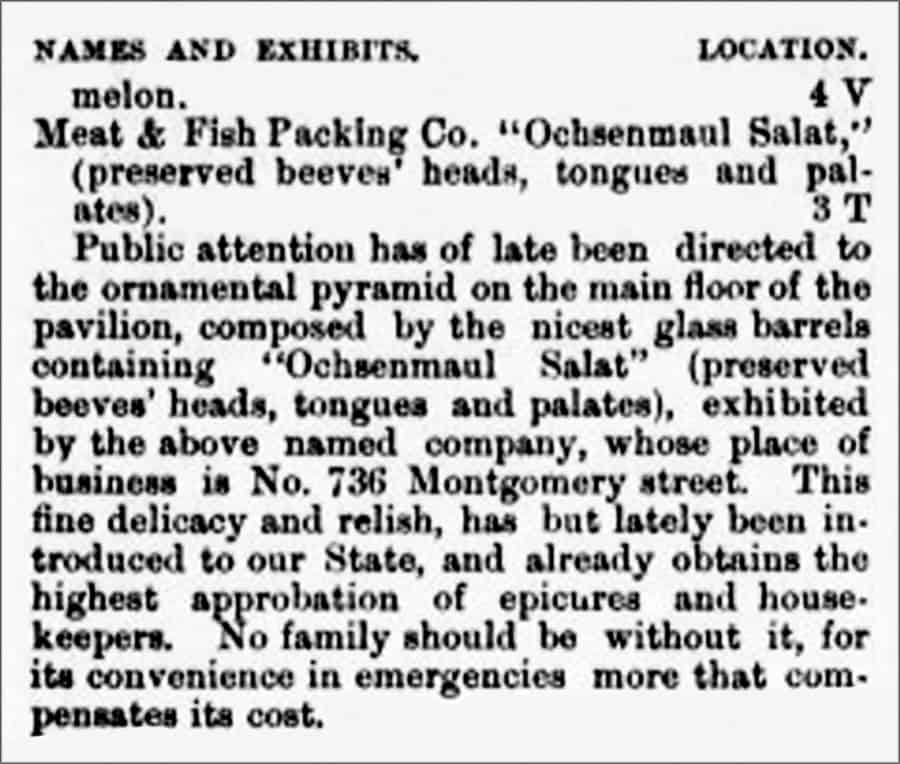 "Meat & Fish Packing Co. – Ochsenmaul Salat
Public attention has of late been directed to the ornamental pyramid on the main floor of the pavilion, composed by the nicest glass barrels containing "Ochsenmaul Salat" (preserved beeves' heads, tongues and palates), exhibited by the above named company…This fine delicacy and relish, has but lately been introduced to our State, and already obtains the highest approbation of epicures and housekeepers. No family should be without it, for its convenience in emergencies more than compensates its cost."
Translated from its German roots, "Ochsenmaul Salat" means ox mouth salad. The concoction originated in southern Germany and Bavaria and was a delicacy (and probably still is). The company made the relish from meat picked from the cheeks and tongue of a cooked corned beef head. The meat would then be boiled in a water-vinegar mixture for three hours and then cut into small pieces with onion, salt, pepper, vinegar and oil, with additional spices. Apparently, there weren't enough Germans in San Francisco to keep the company in business and it silently and quickly went away. The business was never even listed in the San Francisco business directory.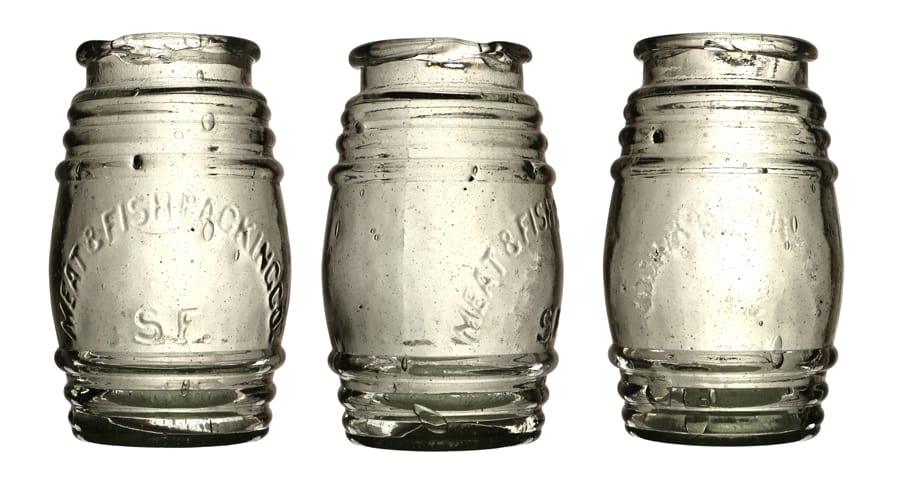 The clear horizontally 3–3 ring barrel, with a hint of green, is a little larger than most mustard bottles and is an obvious contender for being blown at the San Francisco and Pacific Glass Works. Measuring about 5 ½ inches in height, the bottle is embossed 'MEAT & FISH PACKING CO.' in an arched copy set within a semi-circle plate. Horizontal, straight-line copy reading 'S.F.' is centered and placed beneath. The mouth is very sloppily applied and the base is smooth. A small long-lost paper label would have most likely been placed on the reverse side of the barrel, repeating the product name and contents.
The consignor dug this extremely rare bottle in San Francisco many years ago and said it is one of his favorite California-made bottles. He knows of another example in a California collection. Betty Zumwalt, in her book Ketchup Pickles Sauces 19th Century Food in Glass, lists the bottle on page 299 and provides a rubbing of the embossed copy from Jane Blacharski of Tucson. That specimen was excavated in a Tucson urban renewal project in 1969.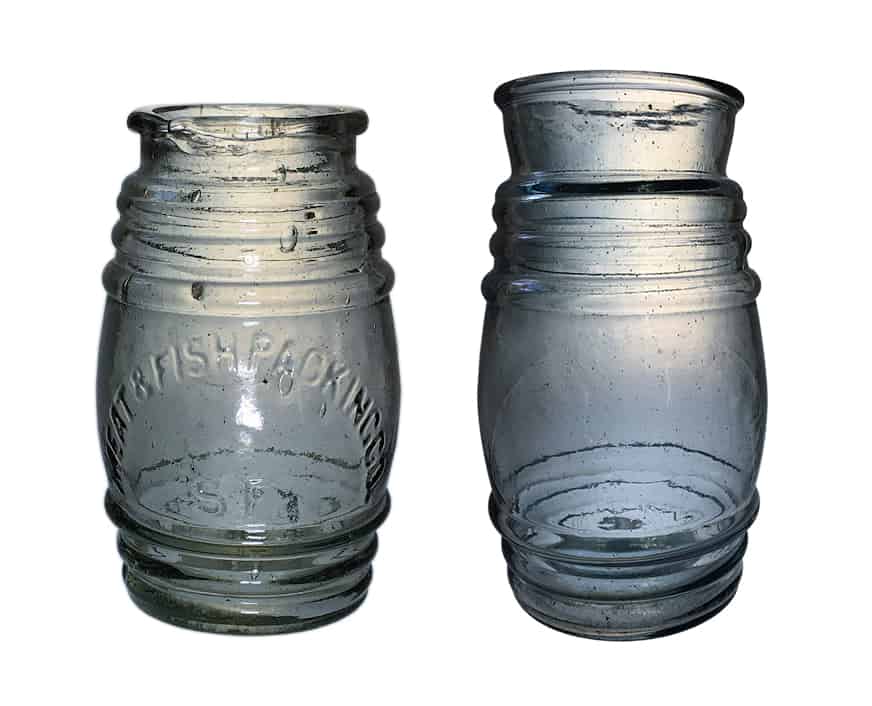 If one is observant, it is possible to find an example blown from the Meat & Fish Packing Co. reworked mold, as shown above-right. A slugged-out arch hiding the area of the previous embossing is visible. These bottles are rare, and we have no idea what they may have contained, but they look similar to period mustard bottles.
See the museum example of a G E Mustard.
See the museum example of a Wm. Schotten & Bro. St. Louis mustard.
Primary Image: Meat & Fish Packing Co. S.F." figural barrel imaged by Eric McGuire, FOHBC Virtual Museum West Coast Studio.
Support: Reference to Western Bottle News, Meat & Fish Packing Co. by Eric McGuire, November 1, 2019. Research by Eric McGuire.
Support: Reference to Ketchup Pickles Sauces – 19th Century Food in Glass by Betty Zumwalt, 1980
Join the FOHBC: The Virtual Museum is a project of the Federation of Historical Bottle Collectors (FOHBC). To become a member.