Congress Water – Congress & Empire Spring Co.
Congress & Empire Spring Co.
C (Embossed)
Saratoga N.Y.
Congress Water
Emerald Green Pint
Provenance: Alan DeMaison Collection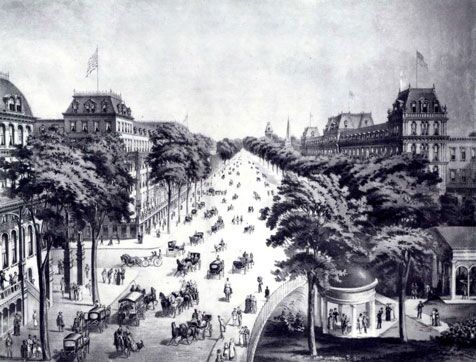 Here is a popular bottle with a large and prominent embossed 'C' that you will find in general and specialist bottle collections as it is rather common, is historically significant, tells a story, and is quite beautiful. The bottle was made for the Congress & Empire Springs Co. in Saratoga Springs, New York. Their advertising called your attention to the fact that "Genuine Congress Water was never sold on drought and came in bottles with the letter 'C' prominently raised on the glass." There are also pint and quart bottles with an "E" prominently raised on the glass representing Empire Spring. They were also the proprietors of Columbian Spring.
This pint bottle was blown in a two-piece hinge mold and has a cylindrical neck, hand-tooled finish with rounded shoulders, a cylindrical body, and an applied mouth. A large embossed 'C' within an arch formed by the embossed 'CONGRESS & EMPIRE SPRING CO.' stands for Congress Springs. 'SARATOGA N.Y.' is embossed beneath all the lettering above. The reverse side of the bottle has an embossed, curved-down 'CONGRESS' centered over the word 'WATER'. The bottle also comes in quarts.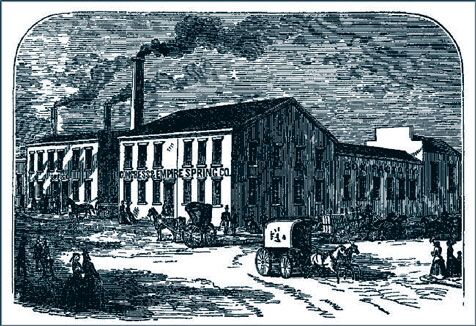 In 1823, John Clarke purchased land in Saratoga Springs with partner Thomas Lynch. The property included the Congress Spring in what is now Congress Park, at that time a swamp. Clarke drained the swamp to create a park and built a bottling plant there. In 1825, Lynch and Clarke began bottling Congress Spring Water. Lynch died in 1833 and Clarke continued the business alone, and eventually partnered with John White, and after his death, Eliza White, as Clarke & White to produce and market Congress Water. They were also the proprietors of High Rock Spring.
Clarke would die in 1846 but Clarke & White would continue. They were always on the lookout for counterfeiters and swindlers and had all their corks marked with a "C & W." The notice below addresses this concern.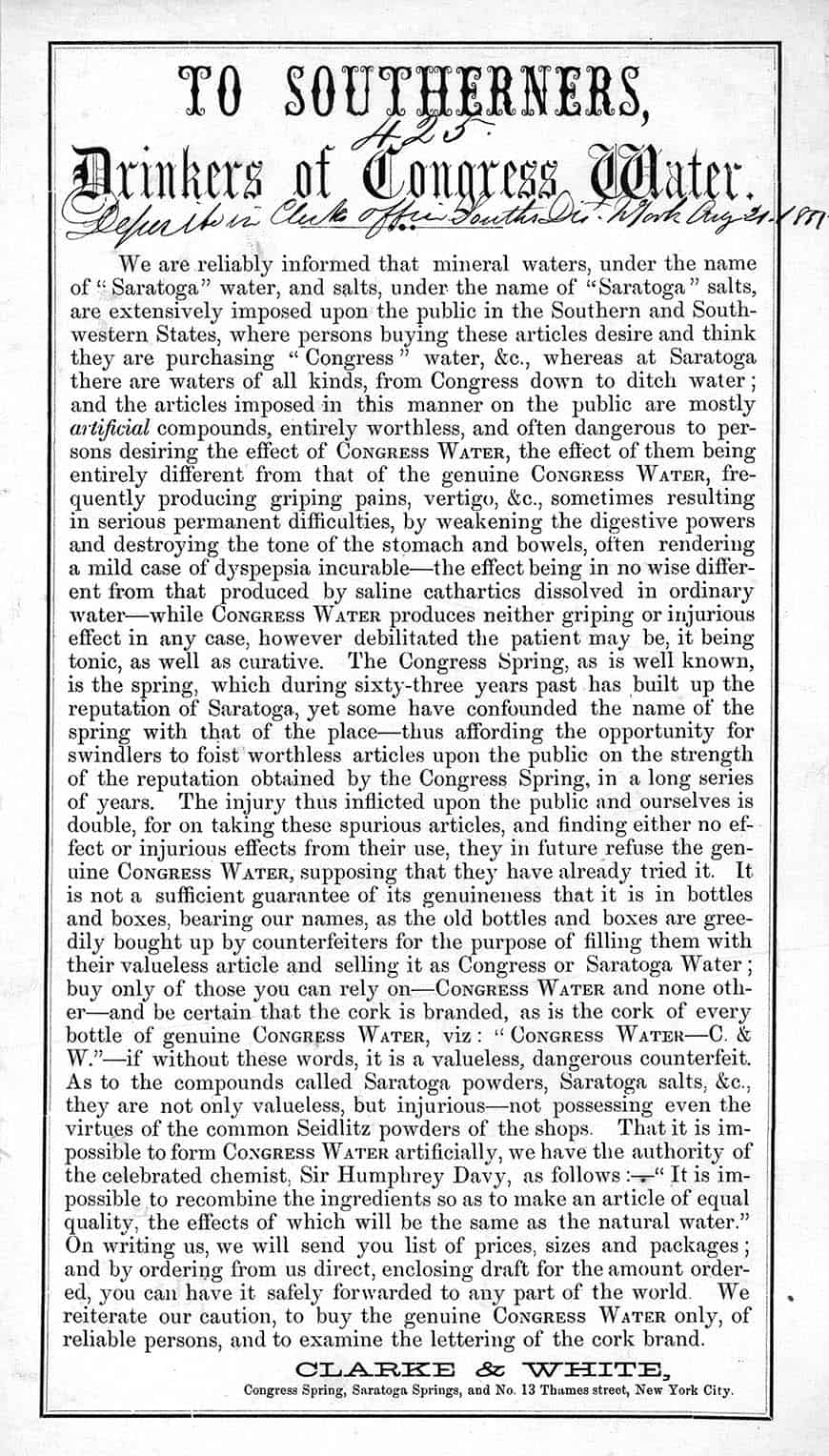 Our museum bottle was made by the Congressville Glass Works in New York which was in operation from 1865 to 1890, for the Congress & Empire Spring Co., of Saratoga, New York. This particular bottle was produced between 1870 and at least the late 1880s to the early 1890s (Tucker, 1986). The company succession went like this:
"Congress & Empire Spring Co, Hotchkiss & Sons" (Both "C" and "E" variants in pints and quarts) 1866-1869 or 70. *see image further below of three examples together.

Hotchkiss & Son's name removed and the company was just called "Congress & Empire Spring Co." (Again both "C" and "E" pints and quarts) 1870-1884,

Congress & Empire Co. was sold and became separate companies (Congress Spring Co. and Empire Spring Co.) (both sold their own pints and quarts).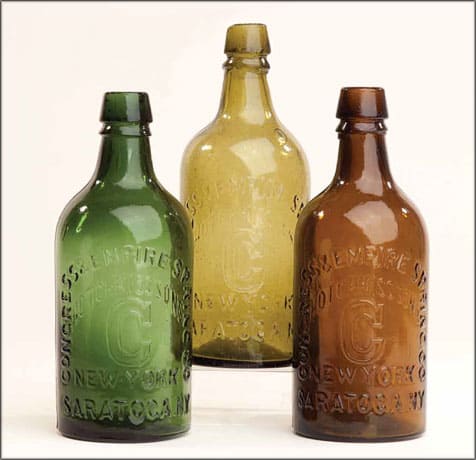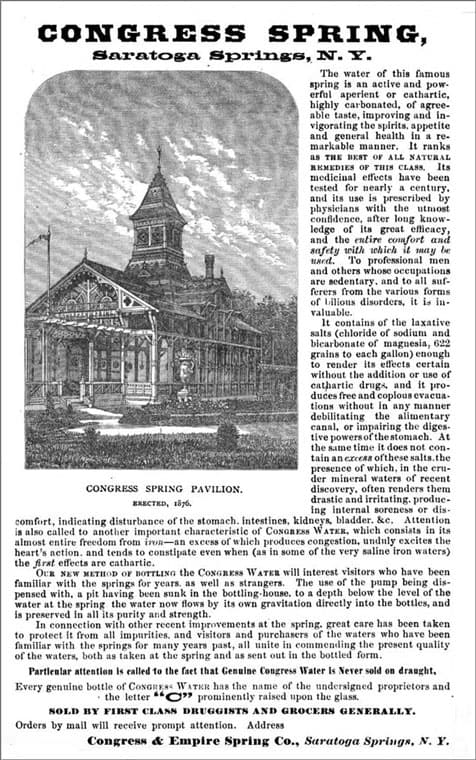 The Congress Water brand was probably one of the most popular of the Saratoga mineral waters as somewhere between 75,000 and 100,000 bottles were sold by the company in 1878, including to many parts of the world (McKearin & Wilson 1978).
In 1871, Saratoga was promoted as a beautiful town lying an hour and a half's railway ride from Albany, New York. The area was known for its life-giving springs and mineral water. The town had a residential population, all year round, of about 10,000, while in the summer it would overflow with pleasure and health-seeking pilgrims from all over the world.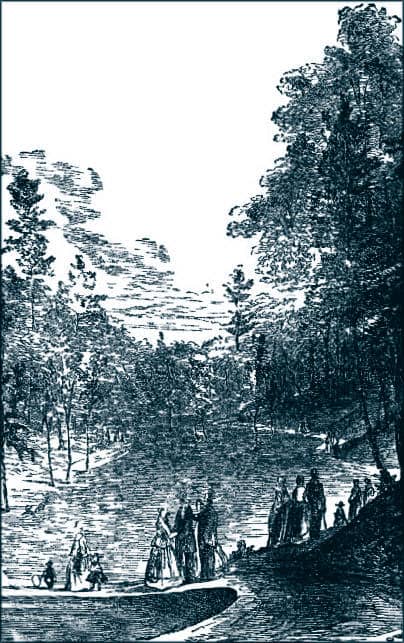 Congress Water from Congress Spring was an early favorite beverage from patrons outside of Saratoga Springs. Congress Park was the gem of Saratoga. It consisted of a small hill in the shape of a horseshoe, covered with handsome trees, and laid out in smooth walks encircling the low ground which surrounded the spring. The centerpiece was Congress Spring Pavilion which was erected in 1876. The park and pavilion was the property of the Congress and Empire Spring Co., who generously kept it in perfect repair, and open to the public.
Congress Water, which is known as nature's champagne, better than any made by the art of man and dear to the palates of all who have qualified it at its fountain head.

Letter from Saratoga, July 16, 1871
Support Images: Congress & Empire C olive green pint, Congress & Empire E pint and quart, Congress & Empire C quart and pint comparison. Congress & Empire Spring Saratoga pint in teal blue-green – Greg Spurgeon, North American Glass
Support Image: Auction Lot 80: "Congress & Empire Spring Co / C / Saratoga. N.Y." Mineral Water Bottle, America, 1860-1880. Cylindrical, brilliant golden honey amber, applied sloping collared mouth with ring – smooth base, quart. T #C-14A A scarce mold in a rare and beautiful color. Fine condition. Charles and Joy Flint collection. – Norman Heckler, Norman C. Heckler & Company, Auction 158
Support Image: (Centered in a grouping of 3) "Congress & Empire Spring Co / C / Saratoga. N.Y.", America, 1865 – 1875. Bright yellow-olive, cylindrical, applied sloping collared mouth with lower bevel – smooth base, quart; (just a tiny pinhead-sized flake and a couple of even smaller pick marks at the side near the base, otherwise perfect). T #C-14:A, variant 3. Very rare in this yellow-olive coloration, a stunning color, wonderful condition. – John Pastor, American Glass Gallery
Support: Reference to Collector's Guide to the Saratoga Type Mineral Water Bottles, Donald Tucker, 1986
Support: Join the Saratoga Type Bottle Collectors Society. Request information at jullman@nycap.rr.com