G. Norris Cleveland Ohio
G. Norris
Cleveland Ohio
George Norris, City Bottling Works, Cleveland, Ohio
Charles Norris, City Bottling Works, Detroit, Michigan
Deep Aqua Blob Top Pony
Provenance: Doug Shutler Collection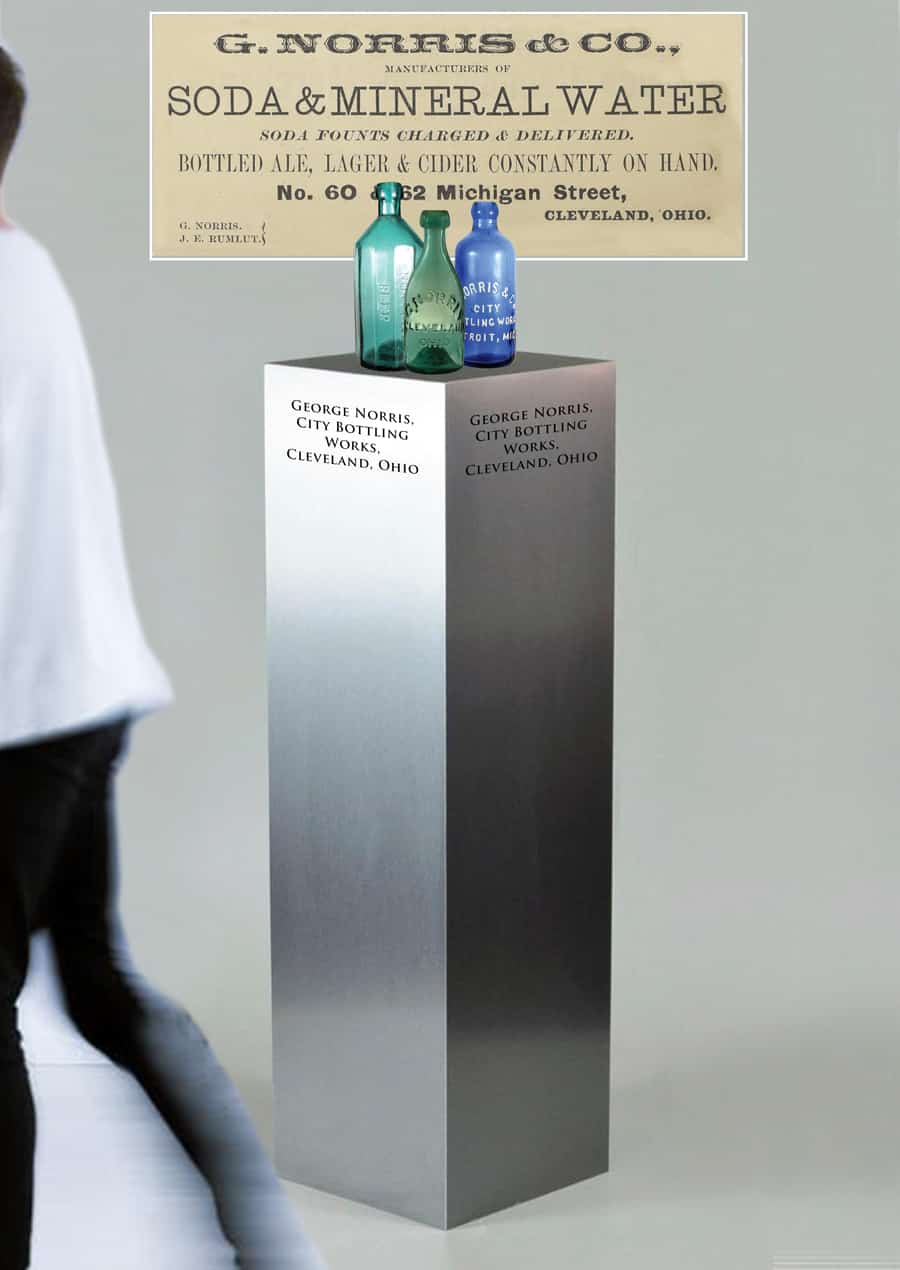 There is an interesting story with our bottle as it involves two brothers who simultaneously ran successful soda and mineral water businesses in two different cities, Cleveland, Ohio, and Detroit, Michigan.
Our deep aqua blob top pony bottle has an iron pontil and measures 7 x 2-9/16 (3 ¼) inches. The copy is embossed on the face reading 'G. NORRIS' (1st line arched), and 'CLEVELAND OHIO' (2nd and 3rd lines, horizontal).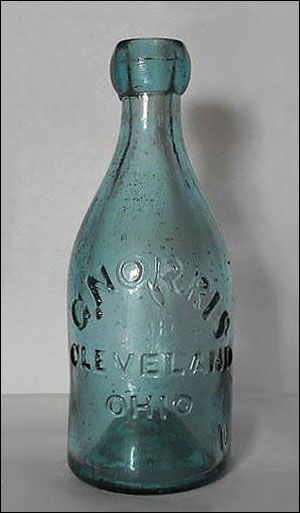 George Norris was born around 1830 in Connecticut while his brother Charles was born on September 22, 1839. Their parents were Moses K. Norris (1806-1872) and Caroline (1807-1894). We see them both together listed in the 1860 United States Federal Census living in Cleveland, Ward 8, Cuyahoga, Ohio, George is listed as a manufacturer with real estate value of $1,600 and a personal estate value of $500.
Looking at the 1856 Cleveland Ohio City Directory we first see George Norris listed with soda water manufacturer next to his name. He is located on Main Street north of Washington. Charles Norris, George's younger brother, is listed as a bottler. George would remain in this capacity until 1863 when a new partnership, Gilbert & Norris (E. E. Gilbert and G. Norris), soda manufacturers, was formed at 60 and 62 Michigan Street.
The Gilbert and Norris partnership did not last long as an 1864 Cleveland Ohio City Directory advertisement (above) was placed reading, "G. Norris & Co., Manufacturers of Soda & Mineral Water Soda. Founts Charged & Delivered. Bottled Ale, Lager & Cider constantly on hand. No. 60 & 62 Michigan Street, Cleveland, Ohio. G. Norris. J. E. Rumlut."
In 1862, Charles Norris started the G. Norris & Co. branch in Detroit, Michigan. In 1864 he was listed as Charles Norris, City Bottling Works, 54 Jefferson Ave, Detroit.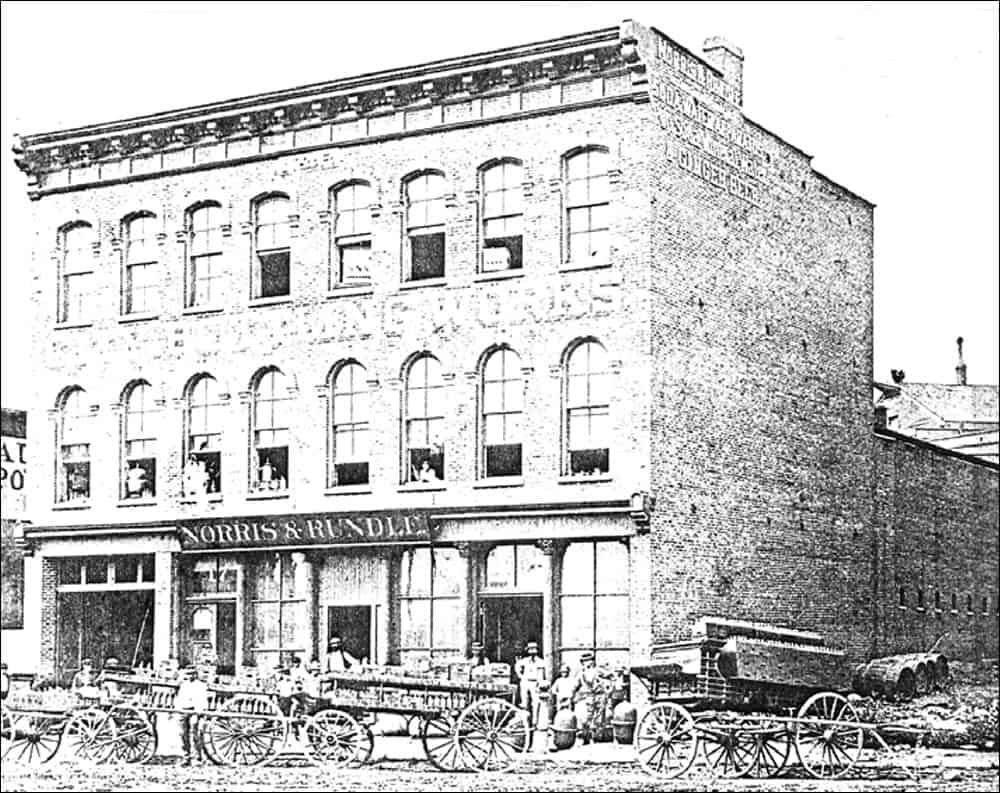 By 1865, George took on another partner named James E. Rundle who also married Georges's sister Fannie. The new business name was Norris & Rundle, City Bottling Works. Their 3-story building was well-known throughout the city.
It becomes our painful duty to record the occurrence of the most appalling disaster that has darkened the records of the Western Lakes for many years. On Wednesday night about 8:30 o'clock, the fine propeller Pewabic, Capt. George McKay, on her way down from Lake Superior to this port, when abreast of Thunder Bay Island, and about six miles from the light, collided with the propeller Meteor, Capt. Wilson, upward bound, by which the Pewabic was immediately sunk.

Detroit Press, August 14, 1865
When the horrific collision of two propeller steamships occurred on Lake Superior on August 14, 1865, one ship, the Pewabic sank to the bottom with a loss of life. Many years later it was salvaged and some of the contents were displayed such as copper plates and ingots, lead pencils, musical instruments, the captains' binoculars, all types of clothing, books, dishes, knives and forks, canned sardines, salted fish in sealed wooden barrels, and mixed pickles. There were also many cases of Norris & Rundle Sarsaparilla bottles from the City Bottling Works in Cleveland, Ohio.
George and James Edward Rundle remained at the 60 and 62 Michigan Street address up until 1875 or so. George would be listed alone from 1875 to 1879. Not much can be found of him after this date though he continued to run his branch in Detroit even after his brother Charles died on May 28, 1871. An 1875 Detroit Michigan City Directory lists George Norris & Co., bottling works, 63 and 65 2nd, George Norris and William J. Stapleton. By 1880 the listing was bold and included the same information plus "Mineral Water Manufacturers."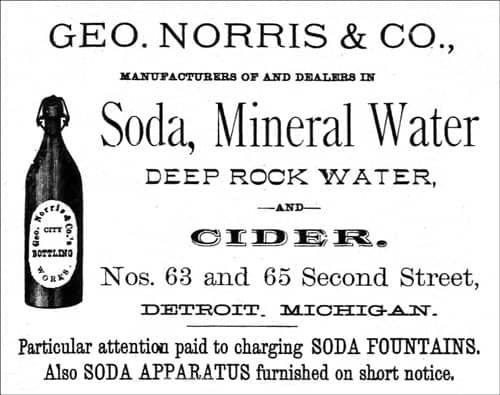 The business was renamed Norris & Stapleton sometime in 1880 or 1881 as William J. Stapleton became a partner. The advertising looked essential the same as the 1880 advertisement above though now saying "Soda, Mineral Water, and Ginger Ale, Deep Rock Saratoga Water and Cider". Norris and Stapleton would continue to be listed with advertising in the Detroit directories until 1887 when listings stopped.
Primary Image: G. Norris Cleveland soda water bottle imaged on location by the FOHBC Virtual Museum midwest studio led by Alan DeMaison.
Support: Reference to Soda & Beer Bottles of North America, Tod von Mechow
Support: Reference to The American Pontiled Soda Database Project
Support: Great Lakes Steamers Meteor And Pewabic 1865 – Served Norris & Rundle Sarsaparilla by Donald Yates – Bottles and Extras, 2004
Support Image: Two (2) 12-sided flavored beer bottles embossed 'NORRIS.S BEER.' Improved pontil with a rounded tapered collar. Approx. 8-1/2″ tall. Light blue aqua and light green aqua. Courtesy American Glass Gallery and Glass Works Auctions.
Support Image: Two (2) cobalt blue Hutchinson bottles embossed G. NORRIS & CO. CITY BOTTLING WORKS DETROIT, MICH. Approx. 6 7/8 x 2 1/2. Smooth base with rounded tapered mouth. Courtesy American Bottle Auctions.