A. Ritter Mineral Water Cincinnati
A. Ritter
Mineral Water
Cincinnati
R
Anthony Ritter, Cincinnati, Ohio
Light Blue-Green Soda
Provenance: Doug Shutler Collection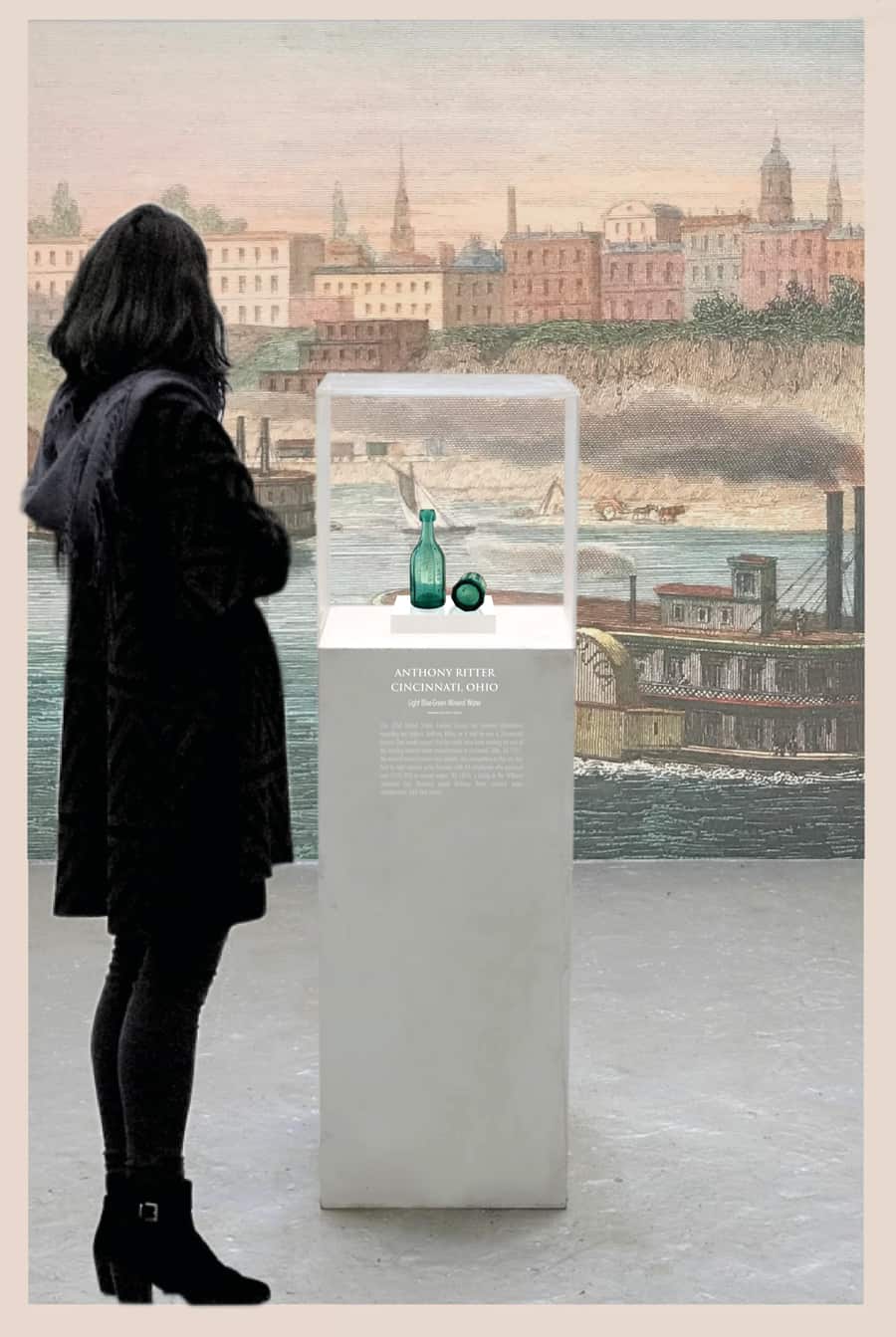 The 1850 United States Federal Census has minimal information regarding our subject, Anthony Ritter, as it said he was a 38-year-old laborer. One would suspect that he might have been working for one of the bustling mineral water manufacturers in Cincinnati, Ohio. By 1851, the mineral water business was already very competitive as the city was host to eight mineral water factories with 64 employees who produced over $100,000 in annual output. By 1856, a listing in the Wiliams Cincinnatti City Directory noted Anthony Ritter, mineral water manufacturer, 468 Vine Street.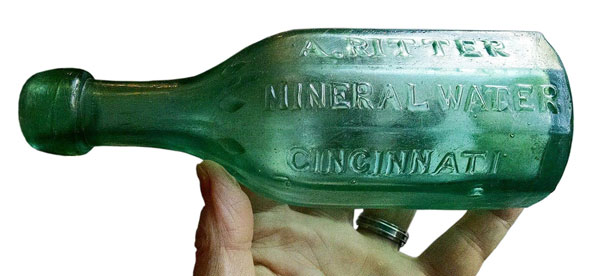 The difference between "soda water" and "mineral water" during the 19th century was often vague. Soda water was generally considered flavored artificial mineral water with the purposeful addition of carbonation and various compounds and flavoring. Mineral or spring water, as it was also called, would generally be natural waters from spring sources that were typically highly mineralized with carbonates like alkaline, sulfurous compounds, and or various salts, which often carbonated naturally. The confusion sometimes arises when mineral water is used as a generic term applied to various natural and artificially carbonated, non-artificially flavored waters, including many utilized for their perceived medicinal qualities. Please visit the museum Spring & Mineral Water Gallery.
At the end of 1862, the leading mineral water manufacturers in Cincinnati posted a joint notice in the Cincinnati Enquirer stating that as of January 1, 1863, they wanted to inform their customers that, "in consequence of the Government tax, and the advance of Bottles, Corks, Sugar, &c., in our manufacture, we are compelled to advance the price to 35 cents per dozen and have, furthermore, adopted this rule that for all Bottles short we will have to charge at the rate of 5 cents each." The notice was signed by H. & J. Alwes, J. Born & Greiwe, G. & H. Muhlhauser, H. & C. Overdick, Capt. H. Niehaus, Wm. Wilke & Co., H. Verhage, and A. Ritter.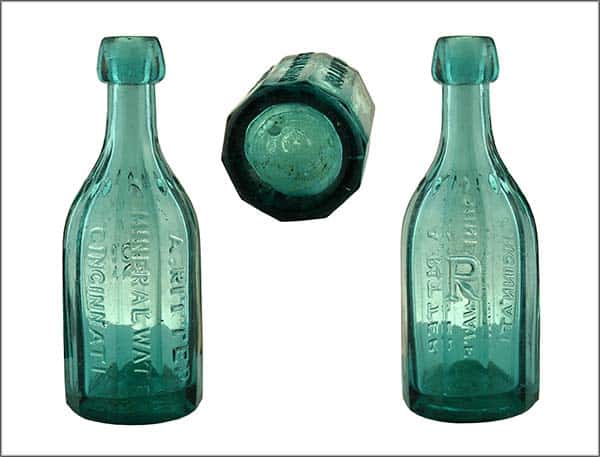 Our subject museum example is a 7 3/8″ tall, ten-paneled bottle with teardrop beads on the shoulders. The bottle is iron pontiled and has a rounded tapered mouth. The light blue-green soda is embossed vertically top-to-bottom 'A. RITTER' on panel 1. The second panel is embossed 'MINERAL WATER,' and the third-panel 'CINCINNATI.' The copy on the message panels is centered in each panel. The next three panels are blank. The 8th panel has a large ¾" tall embossed prismatic 'R' which stands for 'Ritter.' The kick-out leg is quite decorative. Panels 9 and 10 are blank.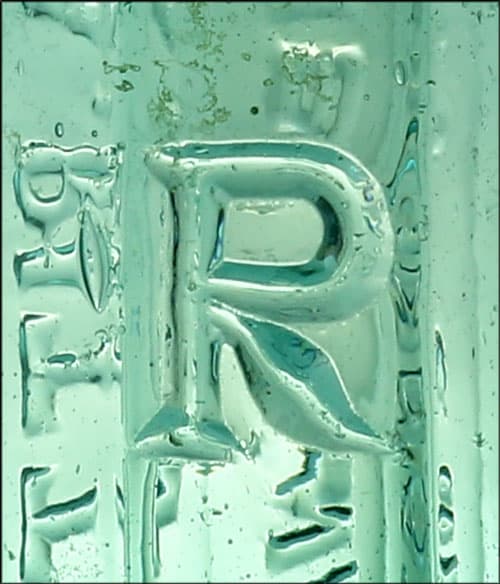 There is very little historical information for Anthony Ritter. The 1850 U.S. Federal Census report said he was German, while the 1860 and 1870 census reports say he was French. His parents were foreign-born, and most records state that Anthony was born around 1810. We see him first listed in 1842 in Cincinnati with 'tavern, 13th Street at the corner of Walnut' next to his name. There was also a listing that year for Charles G. Ritter, who ran a local boarding house. This could have been his father, who was listed as early as 1819 as a confectioner and baker at 13 Lower Market Street in Cincinnati. Next door, at 11 Lower Market Street, was Louisa Ritter, a Milliner. Probably husband and wife.
In the 1850 census, Anthony's wife was named Catherine, and she was 31 years old. They had four daughters; Catharine, 8, Margaret, 6, Louisa, 4, and Francisca Ritter, 2. Other records list Anthony Ritter in the mineral water business until the early 1870s. In September 1862, Ritter enlisted for service in the military Union cause at 52. His rank was a private in Infantry Company F. He mustered out on October 2, 1862.
It is reported that a 10″ tall, 12-sided pottery or stoneware Cronk exists that is inscribed 'RITTER.'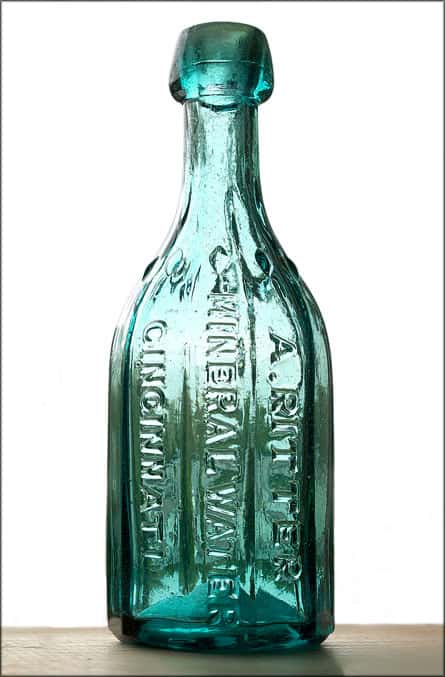 Support: Reference to The American Pontiled Soda Database Project, Tod von Mechow
Primary Image: The A. Ritter Mineral Water Cincinnati bottle imaged on location by Alan DeMaison, FOHBC Virtual Museum Midwest Studio
Support Image: Second example of an A. Ritter Mineral Water Cincinnati soda with painted lettering courtesy Jim Hagenbuch, Glass Works Auctions.
Support: Reference to Soda & Beer Bottles of North America, Tod von Mechow
Join the FOHBC: The Virtual Museum is a project of the Federation of Historical Bottle Collectors (FOHBC). To become a member.