F & P.J. Cassin O.K. Golden Plantation Whiskey
FPJ & C Monogram
F. & P.J. Cassin
AGT'S
O.K. Golden Plantation Whiskey
San Francisco, Cal

Francis and Patrick Joseph Cassin
San Francisco, California

Amber Fifth
Provenance: Richard T. Siri Collection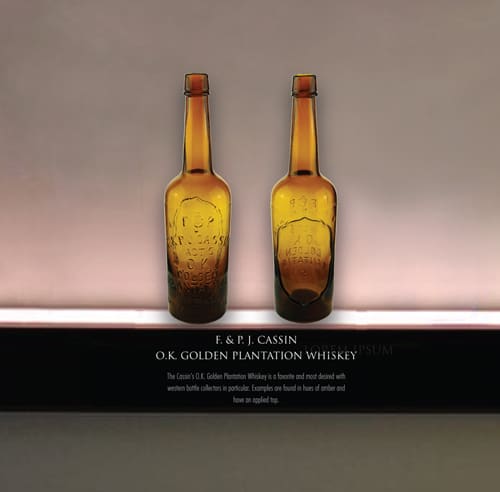 The rare Cassin's O.K. Golden Plantation Whiskey is a very desirable and favorite with western bottle collectors in particular. Examples exist in hues of amber and have an applied top.
When looking at the bottle, there is an abundance of embossed copy reading 'FP & JC (monogram) F. & P. J. CASSIN AGT'S O.K. GOLDEN PLANTATION WHISKEY SAN FRANCISCO, CAL' in eight lines. The second and seventh lines are curved. Many of the Cassin bottles have a weak strike in the center area of the embossing. Our museum example is exemplary. The reverse of the bottle has a large embossed decorative shield-like border frame that would have surrounded a paper label.
The base of the fifth O.K. Golden Plantation Whiskey bottle is embossed with the mark of the Cunningham & Ihmsen glassworks in Pittsburgh, Pennsylvania, which operated between 1865 and 1878. It is not known if the bottles were all blown in Pittsburgh or if the mold was brought to San Francisco where some or all of the examples were made.
The brothers, Francis and Patrick Joseph Cassin need no introduction to bitters collectors and collectors of western bottles. Their Cassin's Grape Brandy Bitters bottle is a classic, highly sought after, and high-value container first marketed about 1867.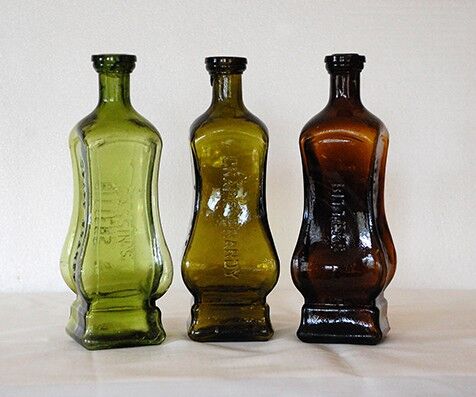 See the museum example of Cassin's Grape Brandy Bitters.
Later in their career, the Cassin's introduced another iconic bottle in the form of their O.K. Golden Plantation Whiskey. The earliest record of its introduction to the market was found in December 1873, when the "beautiful glass labeled bottles" were advertised.
The Cassin brothers first partnered in 1858 and in 1860 moved into their location of many years at 523 Front Street in San Francisco. The strong Nevada market was so promising that they even opened a branch store in Treasure City, White Pine County, Nevada in 1869. Along with a large stock of wines, bitters, and liquors, they also produced a short-lived mineral water in an embossed "Cassin's English Aerated Waters" bottle in 1872.

The OK Golden Plantation Whisky was heavily advertised in California newspapers from July 1875 to the spring of 1877. Note that advertising used the spelling "Whisky" and the bottle is embossed "Whiskey." Both spellings are correct though it seems as though you would want to be consistent.
On October 6, 1880, the firm of F. & P.J. Cassin was dissolved. Patrick Cassin succeeded under the company name of P.J. Cassin & Co. He continued with the sale of the O.K. Golden Plantation Whiskey but no advertising reference was located until 1883 when he advertised, . . . "Celebrated O.K. Golden Plantation whisky, in one gallon, half-gallon or quart imported English stone jars." These jars, actually handled jugs, are fairly rare and impressed with the name of the whiskey and that of P.J. Cassin. There was another advertising hiatus for the brand until July 20, 1886, then under the control of P.J. Cassin.
Francis Cassin
Francis Cassin was born about 1819 in Ireland. After the dissolution of the partnership with his brother in 1880, he continued with liquor sales on his own. His health was apparently on the decline and by 1887, he had moved into Saint Mary's Hospital in San Francisco. He continued to reside there until his death on May 28, 1902.
Patrick Cassin
Patrick Cassin was born about 1833 in Ireland. As with most successful businessmen in San Francisco, Patrick Cassin diversified his business interests in a number of pursuits, which included mining. Perhaps the most unusual activity he tried was the incorporation of the Boys' and Girls Cigar Manufacturing Company in San Francisco. As a member of its board, the corporation organized in 1880, for the purposes of the "employment of our youthful population of both sexes in the manufacturing and making of cigars, cigarrites (sic), chewing tobacco, etc., and the dealing, selling and disposing thereof in this city and county and State; to acquire, buy and sell real estate therein, and make improvements and build thereon for the purposes aforesaid."
In 1886, Patrick Cassin focused his attention on Santa Cruz, California, a coastal city about a hundred miles south of San Francisco, where he owned a cottage on Garfield Street. He devised a construction project consisting of approximately 100 houses with streets, blocks, etc., and facilities for access to the famous Santa Cruz beach. Cassin even opened a branch store at 91 Pacific Avenue in Santa Cruz in 1887. He called the establishment the French Liquor Store, which is an odd name coming from a proud Irishman who, in that same year, was Grand Marshal of the St. Patrick's Day celebration in San Francisco. Perhaps it was waning health, but Cassin sold his Santa Cruz liquor store in January 1888, and it is not known if his Santa Cruz real estate scheme was ever consummated. Patrick J. Cassin died at his home in San Francisco on August 5, 1889.
Support Primary Image: Cassin's O.K. Golden Plantation Whiskey bottle imaged by the FOHBC Virtual Museum midwest studio by Alan DeMaison.
Support: Research by Eric McGuire.
Support: Reference to Whiskey Bottles of the Old West by John L. Thomas, 2002
Support Image: Cassin's Grape Brandy Bitters from the Warren Friedrich collection.