Mantua 32-Rib Bowl
Mantua Pattern Molded Bowl
32 RibS
Early American Molded Glass
Attributed to Mantua Glass Company
Ravenna, Portage County, Ohio
Blue Aquamarine Bowl
Provenance: John Fifer Collection, ex Darl Fifer Collection, ex Clark Garrett Collection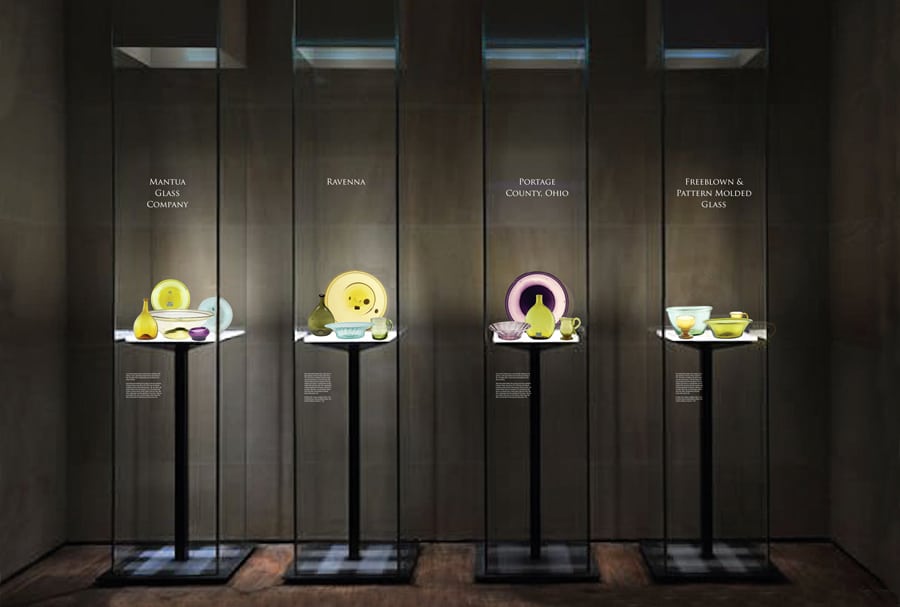 Mantua Glass Works, located in Ravenna, Ohio, produced early American molded glass referring to functional and decorative objects, such as bottles, and tableware in the 1820s. The objects were produced by blowing molten glass into a mold, thereby causing the glass to assume the shape and pattern design of the mold. Common blown molded tableware items bearing this design process include salt cellars, sugar bowls, creamers, celery stands, decanters, pans, and drinking glasses.
We have an impressive Mantua Glass Company display in our Free-blown & Pattern Molded Tableware Gallery that includes this exquisite blue aquamarine, 32-rib pattern molded bowl with an outward rolled rim and pontil scar that was made circa 1821 to 1829. There is a sticker reading, "Clark Garrett Collection." John and Eleanor Garrett were the founders of Garrettsville, Ohio, a neighboring community to Mantua, Ohio. The upper diameter of the bowl is 7-¼ inches, the bottom diameter is 3-¾ inches, and the height is 1-¾ inches.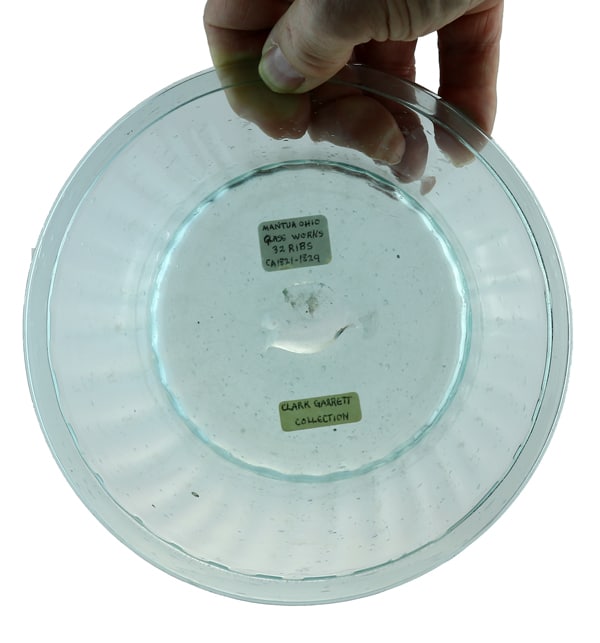 See the museum example of the Mantua Creamer.
See the museum example of a pale-yellow Mantua Bowl.
Mantua Glass Company
Since the early nineteenth century, not long after the establishment of the territory as a State, glassmaking has been one of the major industries of Ohio. This tradition holds an important place in the development of the industry in America.
David Ladd founded the Mantua Glass Company, the first glass manufactory in Ravenna, Portage County, Ohio in 1821. At that time, the settlement consisted of scarcely more than a few log houses, a mill, and a tavern. Ladd moved to Portage County from Connecticut in 1816 and opened his glass factory in a converted tannery. He hired Jonathon Tinker from Vernon, New York as superintendent and primary glassblower for the business. Tinker was the son-in-law of Oliver Lewis, one of the founders of Mount Vernon Glass Works, and had worked in the family business before going to Ohio.
The Mantua Glass Company completed its plant in 1822. The Western Reserve Chronicle published in Warren, Ohio, printed the following on February 9, 1822.
"We have lately received as a present from the proprietors of the glass works in Mantua, a very clear well-shaped decanter and elegant sweet-meat, as a specimen of their skill in the important manufacture in which they are engaged. Both of these articles are ample proof of the ability of the enterprising and meritorious owners of this establishment to serve the public in their line of business. We hope they will receive all the encouragement necessary for the support and prosperity of their highly useful undertaking."
Later both Ladd and Tinker built glasshouses on the Cuyahoga River, at Carthage and Franklin Mills, which were so close together that they were incorporated as the town of Kent. Both had brought with them from the East, the traditions of glassmaking – perhaps even some of the molds used there. At both Mantua and Kent, free-blown and pattern-molded glass was made, and three-mold blown as well. The three-mold patterns are combinations of diamond and ribs in various arrangements and are seen in decanters, pitchers, flips, and bowls.
Primary Image: Mantua 32-Rib Pattern Molded Bowl imaged by the FOHBC Virtual Museum midwest studio by Alan DeMaison.
Support Secondary Image: Auction Lot 5: Pattern Molded Deep Dish, ribbed and swirled to the right, 16 ribs, probably Mantua Glass Works, Mantua, Ohio, 1822-1829. Cylindrical with flared sides, light amethyst, outward rolled rim – pontil scar, ht. 1 5/8 inches, rim dia. 5 1/4 inches. Fine condition. This item descended in the family of John and Eleanor Garrett, the 1804 founders of Garrettsville, Ohio, neighboring community to Mantua, Ohio. Detailed provenance listing. – Norman Heckler Jr. & Sr., Norman C. Heckler & Company
Support Secondary Image: Auction Lot 1: Pattern Molded Salt Cellar, 16 ribs swirled to the left, probably Mantua Glass Works, Mantua, Ohio, 1822-1829. Double ogee form bowl with applied circular foot, golden yellow, tooled rim – pontil scar, ht. 2 3/8 inches, greatest dia. 2 3/8 inches; (light interior stain). Similar to TH plate 58, #6, exact item illustrated in The Magazine Antiques, "The Story of the Mantua Glassworks", by Harry Hall White, July 1935, pg. 207, figure 26 (reprinted in Schwartz, American Glass, Volume 1). Extremely rare and beautiful color. Fine condition. In this color, certainly a rare example of early 19th-century tableware. Ex Ralph G. Jones collection, ex John A. Williams collection, ex George Austin collection, ex Robert J. Warren collection, ex David Ellis collection, Anthony Picadio collection. – Norman Heckler Jr. & Sr., Norman C. Heckler & Company
Support: Reference to Harry Hall White, Bottle Archaeologist and Researcher Extraordinaire by Bill Baab, FOHBC Bottles and Extras, September-October 2011
Support: Reference to Ohio Glass: 1815-1953, Toledo Museum of Art, 1953
Join the FOHBC: The Virtual Museum is a project of the Federation of Historical Bottle Collectors (FOHBC). To become a member.