Van Vliet Improved Fruit Jar
Van Vliet
Improved
Patd May 3 – 81
Warren R. Van Vliet, Stroudsburg, Pennsylvania
Reddish Amber Quart Jar
Provenance: Darrell Plank Collection
Our red amber quart example of a "Van Vliet Improved Patd May 3-81" jar is an extremely rare embossing variant that commands five-figure numbers when auctioned or sold privately.
The patentee for the fruit jar was Warren R. Van Vliet of East Stroudsburg, Pennsylvania. The patent was approved on May 3, 1881. The jar maker is uncertain but was probably made between 1880 and 1885 by the East Stroudsburg Glass Company and probably other glassmakers.
The jar was made for Van Vliet & Blake of Boston and Van Vliet Fruit Jar Company of Philadelphia, Pennsylvania. The calling card below says "Van Vliet & Blake, Proprietors, Manufacturers and Dealers in the Van Vliet Fruit Jar of 1881. Simple, Neat, Effectual and Cheap. Sales Office, G. B. Blake, 913 Washington St., Boston, Mass. W. R. Van Vliet at Factory, East Stroudsburg, Penn."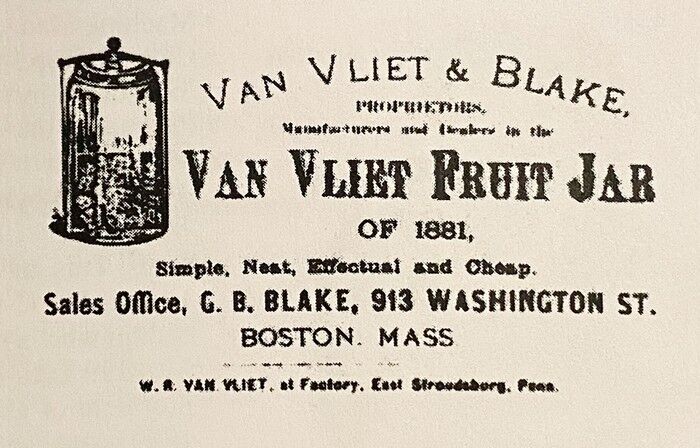 The design for the Van Vliet jar was intended to advance the preservation of fruits and other foods by improving the jar's seal. The jars were narrow at the top and flared to a wider, more stable bottom. To seal the jars, Van Vliet developed a baling device that wrapped the jar with wire. The wire then secured a yoke-shaped clamp that tightly held the lid of the jar when they were closed, creating an air-tight seal. Van Vliet's jars came in a variety of sizes from a one-half pint to half gallons.
Our museum example is a red amber quart that was competing with the Trademark Lightning fruit jars, also represented in our museum. This jar is in immaculate condition and is embossed in three centered horizontal lines 'VAN VLIET' (1st line), 'IMPROVED' (2nd line), and 'PATD MAY 3 – 81' (3rd line) in a sans serif typestyle. The jar has the embossed letters 'VA', 'NV', 'LI', 'ET' arranged around the base of the jar to act as the footing for the jar. This embossing variant can be found in aquamarine, amber and yellow green glass.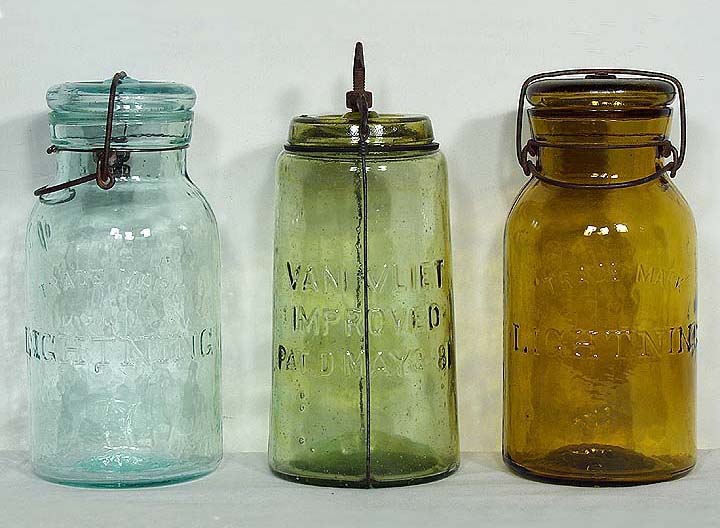 Unfortunately, the Van Vliet jars were only made for four years as the factory burned down in 1885, and the storeroom, fasteners, and jars were lost. The factory was never rebuilt. Because the Van Vliet canning jars were only made for a short time, there are very few in existence.
Primary Image: Van Vliet Improved jar imaged on location by Alan DeMaison, FOHBC Virtual Museum Midwest Studio
Support: Reference to W. R. Van Vliet's Canning Jars, Monroe County Historical Association, 900 Main Street Stroudsburg, Pennsylvania 18360-1604
Support: Reference to Fruit Jar Annual 2020 – The Guide to Collecting Fruit Jars by Jerome J. McCann. Use of calling card image also from Jerry McCann.
Support: Reference to Red Book #11, the Collector's Guide to Old Fruit Jars by Douglas M. Leybourne, Jr.
Support Images: Auction Lot 45: Quart "VAN VLIET IMPROVED" jar in an extremely rare (or singular) yellow-green color. The glass displays some beautiful character with tons of seed bubbles and some swirling. There are also some very subtle amber swirls visible through the jar. The base of the jar has "feet" comprised of the 8 embossed letters "VAN VLIET". Original iron clamp assembly and original wire. The Van Vliet glass lid is more yellowish than the jar but looks very good on the jar. The base has an embossed mold number "13". We believe this is one of only two known colored Van Vliet jars. – Greg Spurgeon, North American Glass, November 2007

Support Images: Auction Lot 44: "The / Van Vliet / Jar / Of 1881" Fruit Jar, America, circa 1881. Cylindrical, tapering from bottom to top, aquamarine, ground mouth with glass lid, wire and thumb screw closure – smooth base with embossed "1", half-gallon; (potstone between the J and A in "Jar" has several 1/8 inch radiations). L #2878 An appealing jar with the unusual closure and odd tapering form. Generally fine condition. – Norman C. Heckler & Company, Auction #177
Support Image: Two Trademark Lightning jars with a centered Van Vliet jar together – Greg Spurgeon, North American Glass
Join the FOHBC: The Virtual Museum is a project of the Federation of Historical Bottle Collectors (FOHBC). To become a member.