Embossed Block Pattern Target Ball
Embossed Block Pattern Target Ball

French
Olive yellow
Provenance: Ex: Ralph Finch Collection, American Glass Gallery
The American Glass Gallery Auction of the Ralph Finch Collection of Target Balls, Traps, and Shooting Ephemera in 2017 to 2019 included four Embossed Block Pattern Target Balls. All were attributed to being French-made and were 2-5/8″ in diameter and had a rough sheared mouth. All had a block pattern above and below the plain center band that contained no embossed copy.
As far as glass color, the group included Lot 581 which was bright, deep cobalt, almost an electric blue. Lot 582 was a medium to light cobalt blue. Lot 583 was medium lime or "7-Up" green and our primary museum example was Lot 584 in an olive-yellow, almost olive-toned straw coloration. The length of the flared neck varied with each.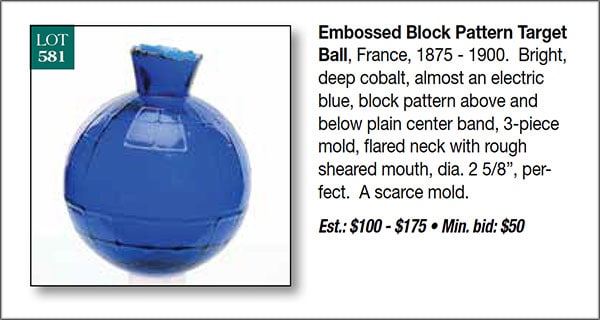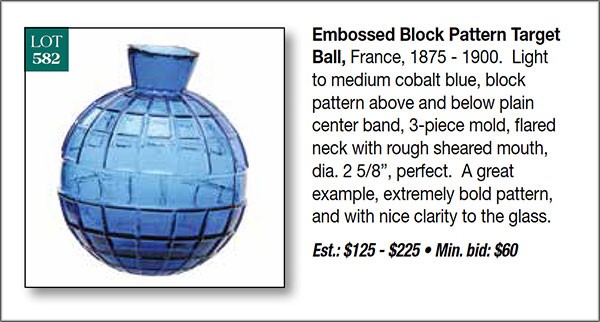 Target balls have patterns on them to make them visually interesting and to assist the gunshot from deflecting off the ball when struck. For that reason, you see very few smooth glass target balls. The absence of copy makes identifying these pieces difficult as far as who was the proprietor, glasshouse, location, or patent date. Some advertising target balls actually have all this information.
Within our Target Ball Gallery, you can see other patterned balls such as diamond quilts, geometric and concentric rings among others.
Primary Image: Embossed Block Pattern Target Balls imaged on location by the FOHBC Virtual Museum midwest studio led by Alan DeMaison.
Primary Museum Image: Auction Lot 584: Embossed Block Pattern Target Ball, France, 1875-1900. Olive yellow, almost an olive-toned straw coloration, block pattern above and below plain center band, 3-piece mold, short flared neck with rough sheared mouth, dia. 2 5/8", near mint; (a hard-to-see, ¼" thin hairline crack at the mold seam, below the center band, otherwise perfect). A scarce mold in a very uncommon, and rare, color! – The Ralph Finch Collection of Target Balls, Traps and Shooting Ephemera, An Absentee Auction in Six Parts – 2017-2019, John Pastor and American Glass Gallery
Secondary Museum Image: Auction Lot 583: Embossed Block Pattern Target Ball, France, 1875-1900. Medium lime, or "7-Up" green, block pattern above and below plain center band, 3-piece mold, flared neck with rough sheared mouth, dia. 2 5/8", perfect. An attractive, scarce color for this mold, and one that will add a nice splash of color to almost any collection. – The Ralph Finch Collection of Target Balls, Traps and Shooting Ephemera, An Absentee Auction in Six Parts – 2017-2019, John Pastor and American Glass Gallery