Ross's Excelsior Ink
Ross's Excelsior Ink
William M. P. Ross
Stephen F. Lyndell, Lewisburg, Pennsylvania
Green Master Ink
Provenance: Michael George Collection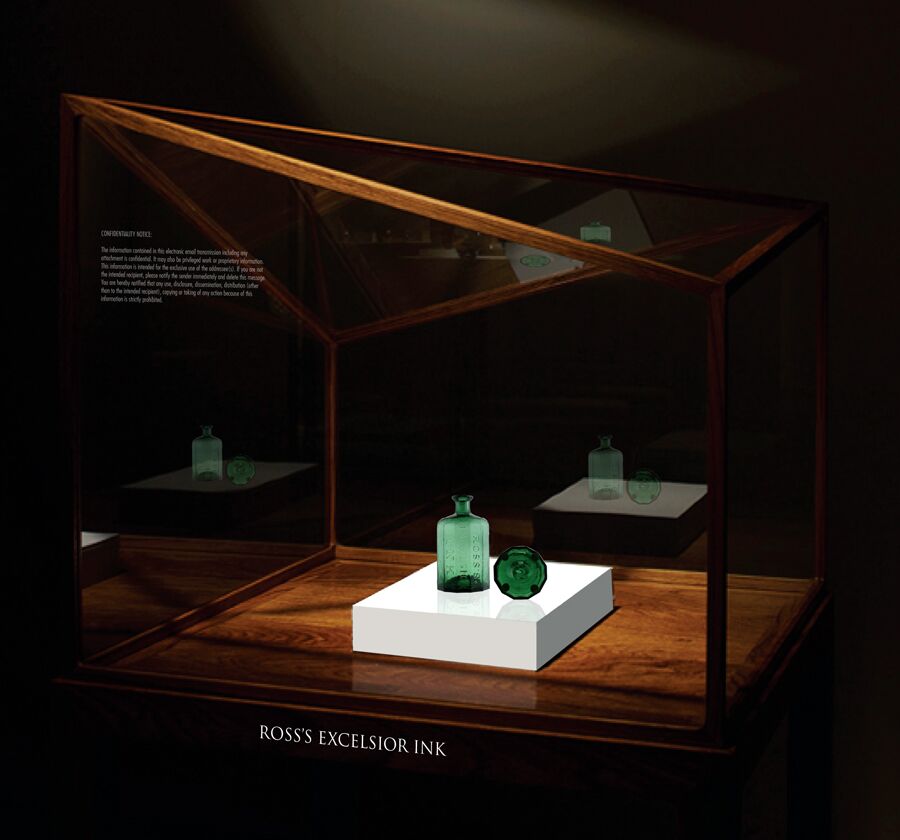 According to the consignor, our museum example of a Ross' Excelsior Ink is extremely rare and was obtained from a private collection. The 7 3/8″ tall by 4″ wide, twelve-sided master ink is embossed from shoulder to base, vertically, in three lines on the arched side panels. The first line is embossed 'ROSS'S' in a distinctive serif typestyle with a high kick-up letter "R." The second line is embossed 'EXCELSIOR' in a sans-serif typestyle. The third consecutive panel is embossed 'INK' in a serif typestyle. There is an applied flared mouth and a pronounced tubular pontil scar. The glass is a strong green color, and the bottle condition is immaculate.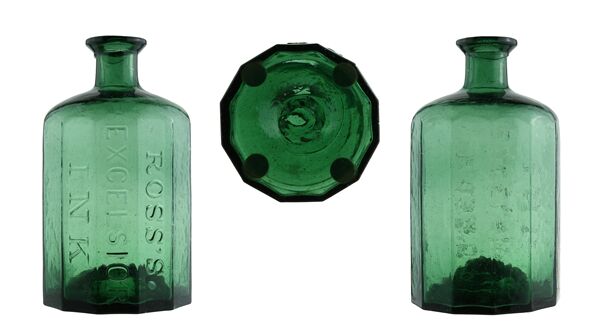 We can attribute this bottle to S. F. Lyndall in Lewisburg, Pennsylvania, circa 1848 to 1850. Lyndall was a merchant who ran The Lyndall Emporium specializing in "Boots and Shoes, Hats and Caps, Books, Stationery and Ready-made Clothing." One might imagine that he was selling his Ross' Excelsior Ink in the writing and stationery portion of the store. It was "warranted not to corrode Metallic Pens, and is warranted superior to any made in this country, or any imported." He would also have agents and other merchants selling his ink regionally.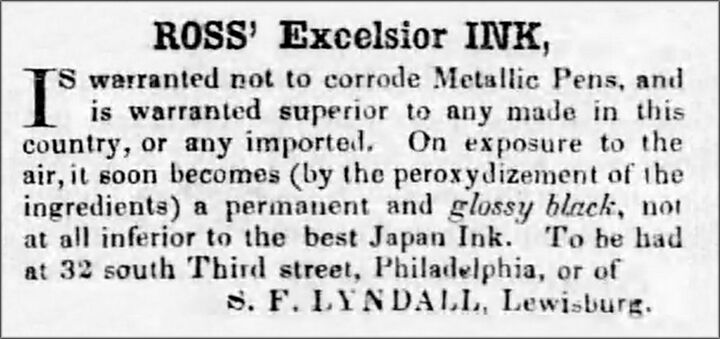 Stephen Flannigan Lyndall was born in Philadelphia, Pennsylvania, on December 7, 1812. He married Catherine Ann Stoughton (1827-1870) on January 27, 1846, in Lewisburg, Pa. Their children were Henry Ward Lyndall, Catherine Lyndall Forrest (1849–1900), Clara Geddes Lyndall Furey (1853–1921), and Henry Ward Beecher Lyndall (1854–1890). S. F. Lyndell died at a relatively young age in Lewisburg on May 12, 1856.
Lewisburg was founded in 1785 by Ludwig Derr, a settler of the area as early as 1763 to 1769. Derr had purchased several tracts of land from the William Penn family and other neighboring landowners, the largest of which was known as "The Prescott.". Having been on the land for such a long time, Derr had befriended the local Native Americans of the area. His relationship with these indigenous peoples was so well-founded that, even as many of the other local settlers' homesteads were routinely sacked by Native Americans, Derr's lands remained free from attacks. Subsequently, in 1784, he worked with Samuel Weiser to lay out his combined land tracts and create Derrstown. Later, the name was changed to Lewisburg when Snyder County was created from Union County in 1855.
Some Ross' Excelsior Ink advertising attributed the ink as an invention of William W. P. Ross, the well-known writing teacher. This assertion could reference William Potter Ross (August 28, 1820–July 20, 1891), also known as Will Ross. He was the Principal Chief of the Cherokee Nation 1866-1867 and 1872-1875. Ross was born to a Scottish father and a mixed-blood Cherokee mother (the sister of future chief John Ross). He was raised in a bilingual home. Ross spent his childhood in a town just south of Chattanooga, Tennessee, where he learned the basics of reading and writing from his mother. He completed his elementary education at a Baptist missionary school in Alabama and later attended Tusculum Academy in Greeneville, Tennessee. In 1837, with his uncle's financial support, William relocated to Lawrenceville, New Jersey, where he attended Hamil's Preparatory School (later named Lawrenceville Preparatory School), known nationally as one of the most prestigious high schools in the Northeast. He earned the highest possible scores in all of his classes, including Orthography, Reading and Elocution, Penmanship, and Mathematics, and received recognition for excellent conduct. Ross attended Princeton University, where he graduated first in his class in 1844. He would write a number of papers that were reported broadly.
Primary Image: Ross's Excelsior Ink imaged on location by Alan DeMaison, FOHBC Virtual Museum Midwest Studio
Support: Reference to Great Expectations William Potter Ross and Cherokee Education, Gilcrease Museum, Thomas Gilcrease Institute of American History and Art
Join the FOHBC: The Virtual Museum is a project of the Federation of Historical Bottle Collectors (FOHBC). To become a member.