Dr. Boerhaave's Stomach Bitters
Dr. Boerhaave's Stomach Bitters
B 133

Wertheimber & Waterman, San Francisco, California

Olive Green Square
Provenance: Richard T. Siri Collection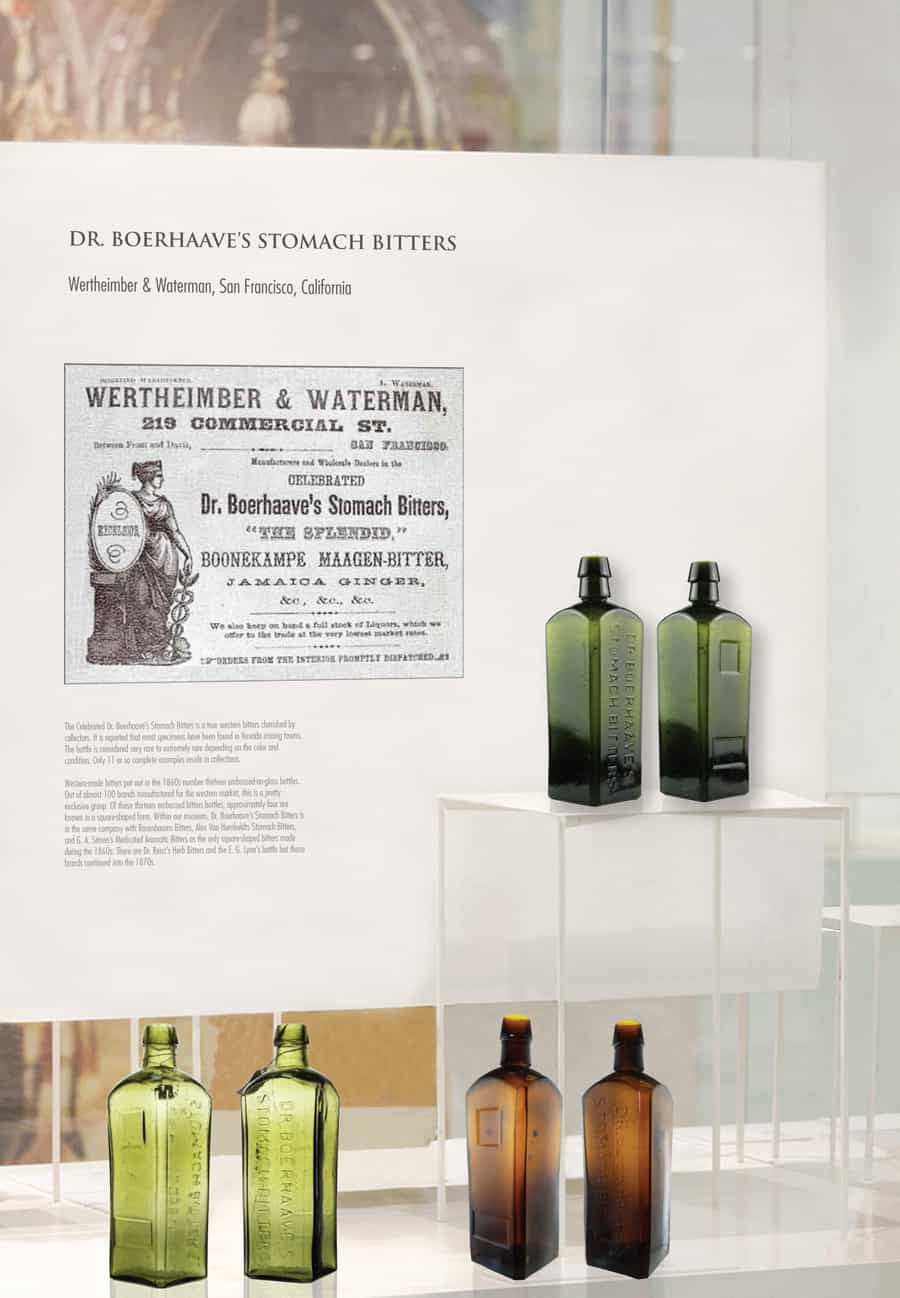 The Celebrated Dr. Boerhaave's Stomach Bitters is a true Western bitters cherished by collectors. It is reported that most specimens have been found in Nevada mining towns. The bottle is considered very rare to extremely rare depending on the color and condition. Only eleven or so complete examples reside in collections.
Western-made bitters put out in the 1860s number thirteen embossed-on-glass bottles. Out of almost 100 brands manufactured for the Western market, this is a pretty exclusive group. Of those thirteen embossed bitters bottles, approximately four are known in a square-shaped form. Within our museum, Dr. Boerhaave's Stomach Bitters is in the same company as Rosenbaums Bitters, Alex Von Humboldts Stomach Bitters, and G. A. Simon's Medicated Aromatic Bitters as the only square-shaped bitters made during the 1860s. There are Dr. Renz's Herb Bitters and E. G. Lyon's bottles but those brands continued into the 1870s.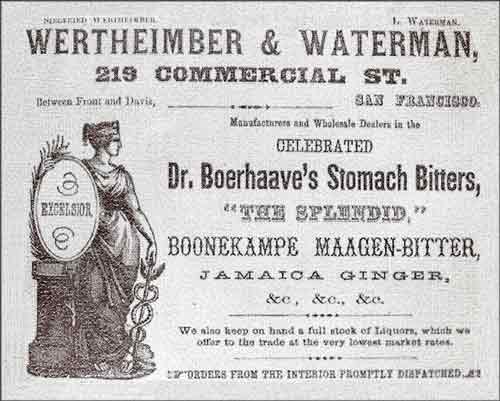 The trademark for The Celebrated Dr. Boerhaave's Stomach Bitters is a standing gowned goddess holding a shield on a pillar that reads 'Excelsior.' Her other hand holds a Caduceus staff. The words 'A Blessing for the Afflicted' surrounds the illustration.
Advertising stated that a 'Professor Hildebrand, A Distinguished Physician of Vienna, who has used them for thirty years says,' "They invigorate purify and cleanse the blood, correct and regulate all the secretions, and by purgation strengthen the body and mind."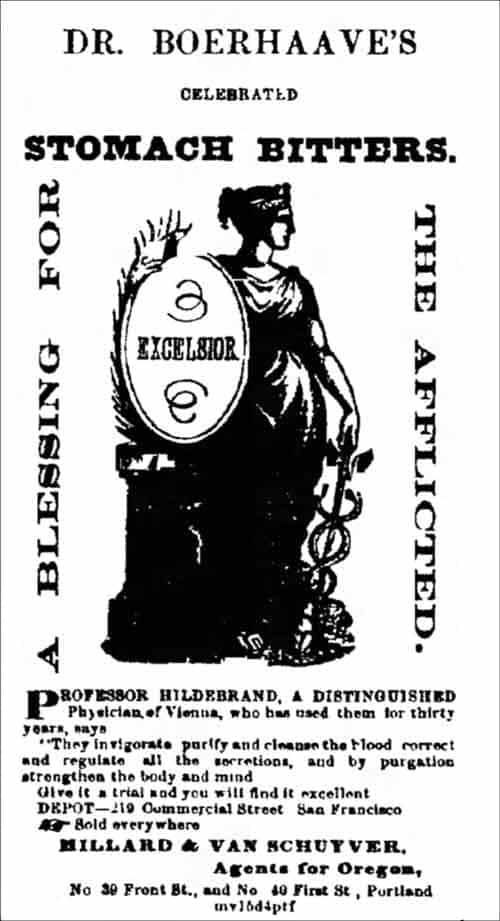 The square bottle has a short neck and an applied long tapered collar mouth. The bottle corners are chamfered up to an arched shoulder. The embossed product name panel reads 'DR. BOERHAAVE'S STOMACH BITTERS' in two embossed lines. There is a period after 'BITTERS.' The opposite side has two peculiar debossed beveled rectangles. The top one is square while the bottom one is in a horizontal format. The two side panels are blank. The bottom is smooth with a large debossed circle.
Wertheimber & Waterman (Siegfried Wertheimber and Louis Waterman) were the manufacturers and wholesale dealers for the Celebrated Dr. Boerhaave's Stomach Bitters. They also marketed a cordial called 'The Splendid,' another bitters called Boonekamp Maagen-Bitter and Jamaica Ginger. These three products continued to be advertised without Dr. Boerhaave's Stomach Bitters throughout 1869 in a Sacramento newspaper.
Wertheimber & Waterman exhibited their products at the 1868 San Francisco Mechanics Institute Fair. The San Francisco Daily Alta reported this in their September 9th column on the fair's exhibitors, "Wertheimer & Waterman have two casks, lettered in gold leaf, containing respectively the Boonekamp and Maag Bitters. They also have a large collection of bottles containing Boerhaave's stomach bitters, and the new drink known as the 'Splendid'."
Dr. Boerhaave's Stomach Bitters was first advertised on March 7th, 1868 with the principal depot being at 311 Commercial Street, San Francisco, California. Only S. Wertheimber was listed. By June 1868, the firm now named Wertheimber & Waterman had relocated to 219 Commercial Street. Dr. Boerhaave's Bitters was also advertised in the Portland Morning Oregonian newspaper from May 15, 1868, thru January 28, 1869. Millard & Van Schuyver were the Agents for Oregon. The Los Angeles Star newspaper ran an advertisement for Dr. Boerhaave's Stomach Bitters placed by a local druggist for several months in 1868 as well.

Of the eleven or so examples in Western collections, four are in a dark green glass coloration, four are various shades of amber, one is a light green color, one is a yellow-olive and there is a rather exciting medium ginger ale example.
In a notice placed in the San Francisco Daily Examiner newspaper, the firm of Wertheimber & Waterman dissolved their partnership on September 25th, 1869. Siegfried Wertheimber having sold his entire interest in the business to Phillip Wertheimber and the firm continued as before under the name of Wertheimber & Waterman.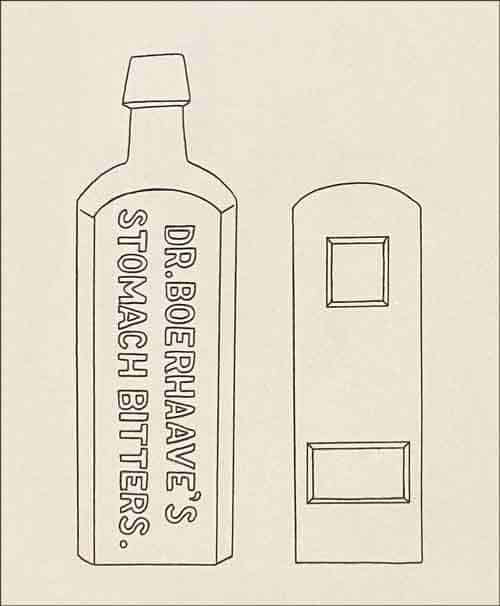 An updated listing for a future Bitters Bottles Supplement 3 would read:
B 133 DR. BOERHAAVE'S / STOMACH BITTERS. // f // f // f
Wertheimber & Waterman, San Francisco, California
8 7/8 x 2 1/8 (6 ¾) ¼
Square, Amber, Yellow-olive, Ginger ale and Green, LTC, Applied mouth, Smooth base. Extremely rare
Most specimens are found in Nevada mining towns.
Advertised in 1868 and 1869
Drug Catalogs: 1871 Schieffelin, 1872 F & F, Melliers
Primary Image: Dr. Boerhaave's Stomach Bitters bottle imaged by the FOHBC Virtual Museum Midwest studio by Alan DeMaison.
Support: Reference to Bitters Bottles by Carlyn Ring and W. C. Ham. Use of Dr. Boerhaave's Stomach Bitters illustration courtesy of Bill Ham.
Support: Reference to Western Bottle News – Dr. Boerhaave's Stomach Bitters, September 21, 2009, and February 20, 2010.
Support Image: Auction Lot 65: DR. BOERHAAVE'S STOMACH BITTERS with two inset windows on reverse. 1868-68. B 133. The Boerhaave's Bitters is a most unusual bottle in that although it's a square that looks much like a Dr. Hostetter's, it has a couple of inset squares on the reverse of the bottle not seen on any other Western bottle we are aware of. Whether a label covered the entire back except for the windows or vice versa we might never know. What is known is that it is a very early bitters put out by the partnership of Werthheimber Bros. and Louis Waterman. Their bottles were made beginning in 1868 and it is thought they lasted only a couple years or so. Mostly likely made at San Francisco Glass Works on Townsend or Pacific Glass Works at Mariposa Street in S.F. These are seen in some very pretty colors mostly varying shades of green or amber. These bottles have gained a lot of notoriety lately as we've handled a couple from the Ken Fee auction and a couple have surfaced for sale. However, there is no doubt that these bottles are very rare and one of the earlier San Francisco Bitters sought after by collectors today. This example is a medium amber and has a radiating potstone on the left panel. The neck has a large chunk of glass running down the inside of the lip. A fine overall Boerhaave's with uneven surfaces and aside from the stone would grade a solid 8.5. – Jeff Wichmann, American Bottle Auctions, Auction 70, Part 1 of the Don Dwyer Collection
Support Image: Auction Lot 201: DR. BOERHAAVE'S STOMACH BITTERS with inset squares on reverse. Applied top. 1868. The first listing for this product was an ad of March of 68 in the San Francisco Dramatic Chronicle according to Early Glassworks of San Francisco by Warren Friedrich. "A Blessing for The Afflicted," the ad said in part, using a proprietary method the bitters were invented by distinguished Vienna Prof. Hilderbrand. The agents Millard & Van Schuyver were located at Depot, 311 Commercial St. The Boerhaave's Bitters are a very popular one albeit very hard to find. In fact this example, we believe fresh to the market, is only the second presented in our auctions in the many years we've been around. Often found in shades of green and amber, this bright yellow example is a bit off-color from what we've seen. In addition many of the examples we've encountered are often fairly plain without the crudity seen here. It has a neck tag that reads, "Sunday 6 June 71 China Town Delamar." Fred Holabird helped in giving us more information, the name Delamar is a city in Idaho, not the diggers name. Advertisements for this bottle are only found in four places (so far): Sacramento, Los Angeles, Portland, Oregon and San Francisco according to Fred. Lots of character, very drippy top and overall crude glass consistent with a bottle made so very long ago. We asked around regarding the top, there is a flash as you can see that was universally agreed on as an in-making flaw. As Friedrich points out, this bottle was probably made at San Francisco Glass Works since at the time of Boerhaave's introduction Pacific Glass Works was down. The bottle was owned by Howard Whittig since it was originally found. If you can live with an in-making flaw in the mouth, here's a novel and beautiful example of this very early SF bitters. Grades an easy 8 despite the top. – Jeff Wichmann, American Bottle Auctions,m Auction #73.
Support Images: Two views of a green Dr. Boerhaave's Stomach Bitters – Jeff Wichmann, American Bottle Auctions. Ginger ale example photograph by Dale Mlasko.
Join the FOHBC: The Virtual Museum is a project of the Federation of Historical Bottle Collectors (FOHBC). To become a member.