Mason's Union (Shield)
Mason's Union
(Shield)
John L. Mason, New York City, New York
Aquamarine Quart
Provenance: Phil Smith Collection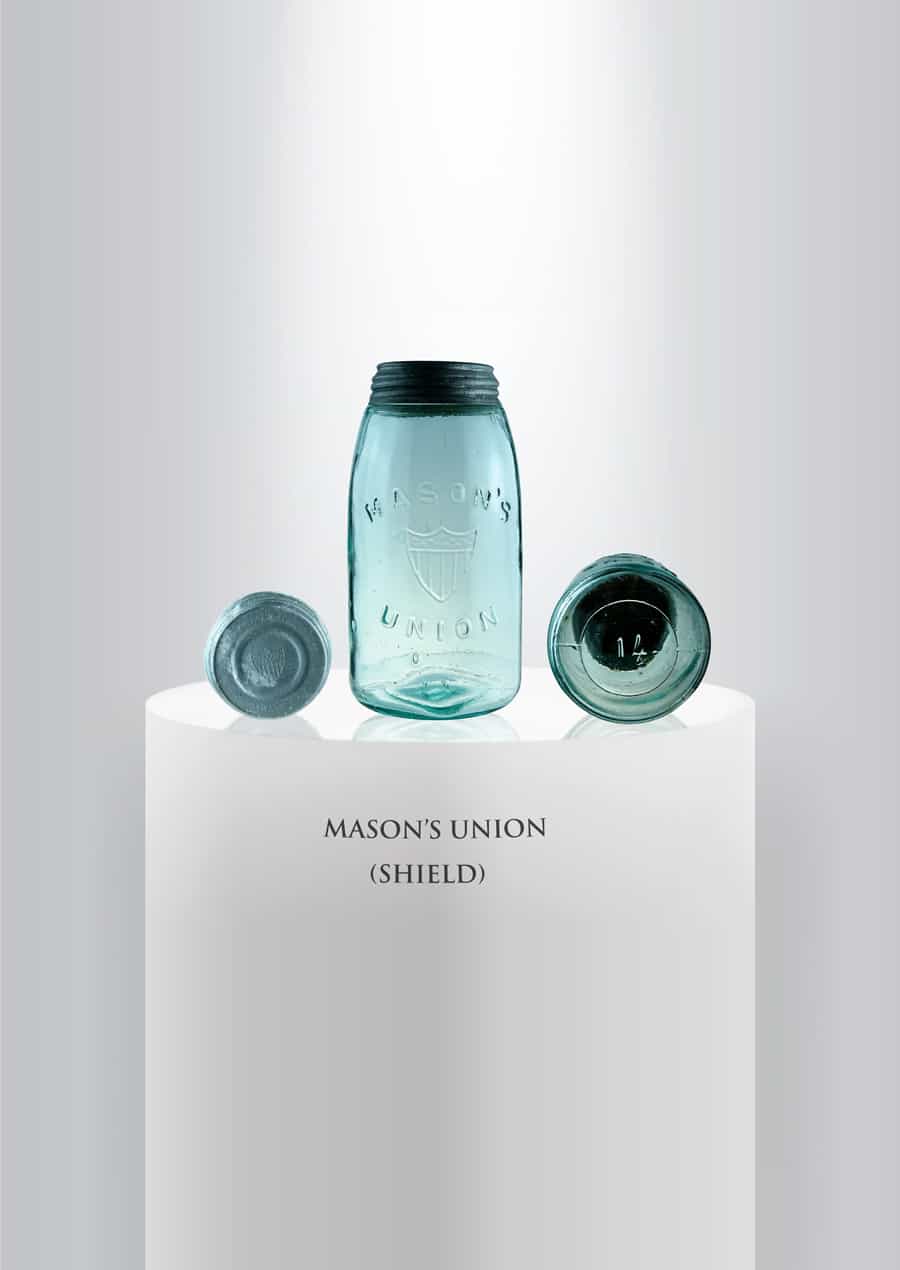 John Landis Mason received or was assigned 40 patents during his lifetime, including the most famous fruit jar patent of all time—for what came to be called the Mason Jar—on November 30, 1858. Mason established a tinsmith shop in New York City in 1857 and received his first patent for a lathe and forming tool to make screw caps on June 2 of that year, although he did not patent the cap itself.
Richard Allen Roller (FOHBC 2018 Hall of Fame) admitted that Mason's "history is not well known or recorded." In his research, Roller discussed jars embossed "Mason's Union" with an embossed shield. He described the jars as having a side seal with a zinc screw cap and that the jars "seal on an elongated, tapered neck rather than on the shoulder, which is too narrow for an effective seal." Consolidated Fruit Jar registered the shield trademark on June 10, 1873, claiming use by the Mason Mfg. Co. from 1870 to 1872. J. P. Smith, Son & Co., glass jobbers in Pittsburgh, advertised Mason's Union Jars with a "Metal Cap" or "Porcelain Cap" on July 3, 1872.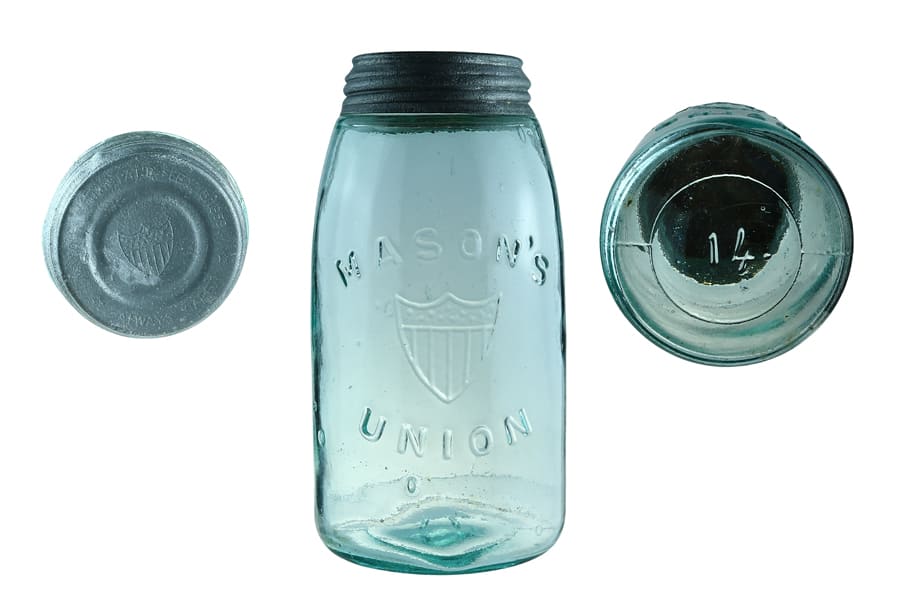 Our subject quart aquamarine jar is embossed 'MASON'S' in a slight convex arch over a pictorial embossed shield with the word 'UNION' embossed beneath in a slight concave inverted arch. The centered graphics occur on one side of the jar. The typestyle is sans serif. The shield has eleven dots, representing 13 stars, in the upper section and six vertical stripes, two barely seen, in the lower portion.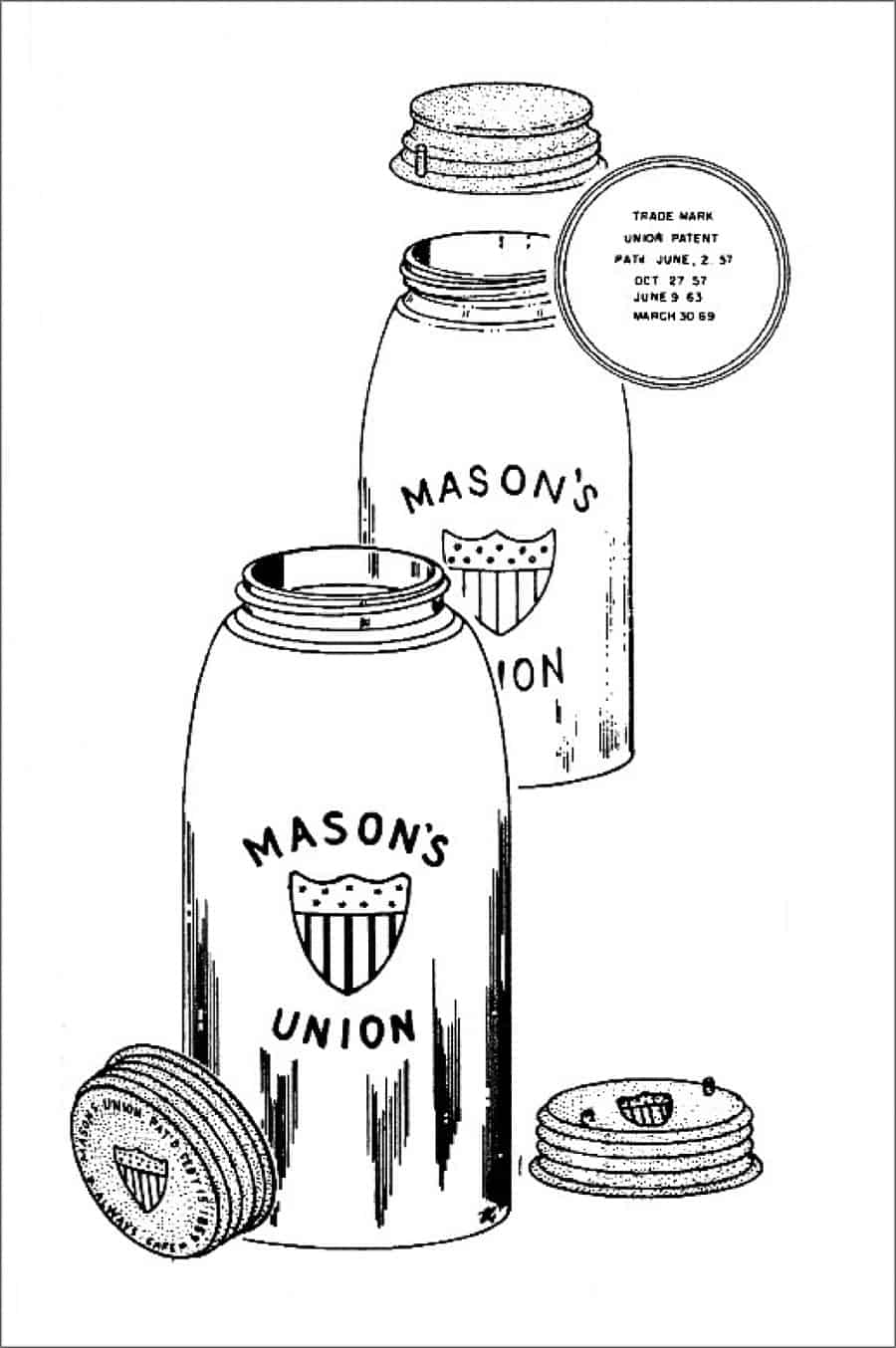 The jar is hand blown with a ground lip. The closure is correct and represents a top seal on the ground lip consisting of a zinc screw cap with a porcelain-covered iron liner. The cap is stamped with embossed copy reading, 'MASON'S UNION PAT'D FEB'Y 15 1859' (outline star) 'ALWAYS SAFE' (outline star) around a shield depicted similarly to the shield on the side of the jar. There are thirteen distinct stars. At least two other variations of cap stamping occur. The caps have a pressed-out wrench lug or two vertical wrench lugs soldered on top.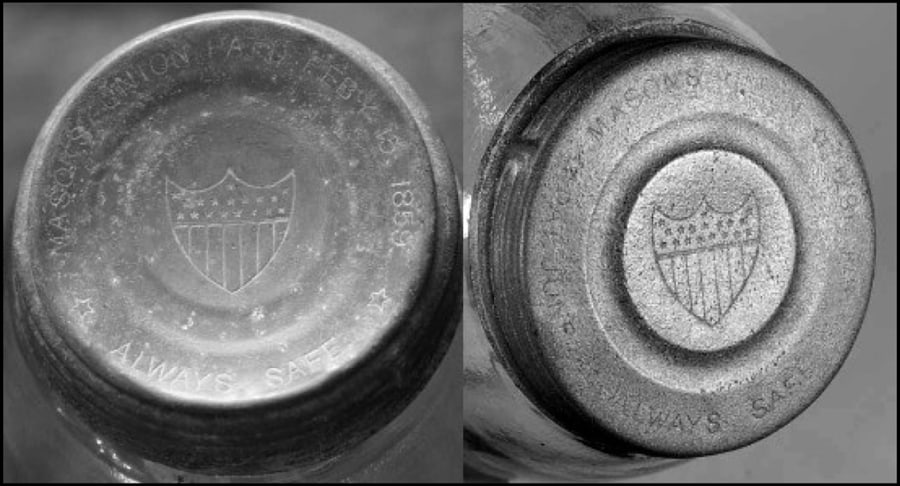 The base is smooth and embossed with the number '14.' The rare jar can be found in aqua half-gallons, quarts, and an extremely rare pint, which surfaced on eBay. A sky-blue quart is noted.
The patentees were James F. Martin and Henry C. Nicholson of Mount Washington, Ohio, in 1859 and John L. Mason of New York, New York, in 1871. The jar was made circa 1870-1871 by an unknown glass house.
Primary Image: Mason's Union (Shield) jar imaged on location by Alan DeMaison, FOHBC Virtual Museum Midwest Studio.
Support Images: Auction Lot 732: Rare Original Cap MASONS (Shield) UNION Half Gallon. This item is not from the Robinson museum but is a fine addition to the auction. This jar and rare lid were recently discovered in a house attic in eastern NY state. An aqua half-gallon "MASONS (Shield) UNION" jar with an extremely rare correct original wide mouth zinc cap. The cap is in very good shape with all lettering clearly readable and the original enameled iron liner in place and in good shape. The lid is impressed into the top: "MASONS UNION PATD FEBy 15 1859 ALWAYS SAFE" and with the Union Shield logo with stars and stripes. The side lug was formed in the lid by stamping out from the inside and then filling the depression with solder. The top edge of the lid is slightly flattened along one side. There are no holes, or splits, or weak spots of any kind. The lid tightens perfectly and snugly onto the threads of the jar. The jar itself is in good shape with clean glass. There is a bubble in the mouth that was cut into during the grinding process and has subsequently filled up with canning residue. Base: "27". Virtually all known examples of this jar have been collected without a lid because only one other example of this lid was known in this size. – Greg Spurgeon, North American Glass, January 2009
Support Images: Auction Lot 8768: MASONS UNION Quart SHIELD with STARS & STRIPES, Quart, Aquamarine. Closure: common zinc cap, not original. Appearance: traces of haze. Condition: normal edge flaking on the ground mouth. Embossing: strong. Base: "8". Age: c1870. Availability: scarce – Greg Spurgeon, North American Glass, December 2014
Support Images: Auction Lot 855: ORIGINAL UNION SHIELD Zinc Lid MASONS UNION Quart. An aqua "MASONS (shield) UNION" quart retaining the rare original zinc cap with impressed Union Shield. The jar is in fine shape with shiny glass, strong embossing, and no damage or stains. The cap retains the original enameled iron liner, and the cap is in fair shape, with the lettering on top all clearly readable, with roughness along the lower section as shown. The lid is solid and tightens perfectly onto the jar. Base: "23". Rarely has this jar been found with the original cap. This item is from the Cay & Erv Bettinghaus Collection. – Greg Spurgeon, North American Glass, May 2009
Support: Reference to Keystone Mason Jars, Part I by John Landis Mason and His Companies by Bill Lockhart, Beau Schriever, Bill Lindsey, and Carol Serr.
Support Image: Mason's Union (Shield) jar lids courtesy Greg Spurgeon, North American Glass.
Support: Reference to Fruit Jar Annual 2020 – The Guide to Collecting Fruit Jars by Jerome J. McCann
Support: Reference to Red Book No. 12, the Collector's Guide to Old Fruit Jars by Douglas M. Leybourne, Jr. Use of Creswick illustration courtesy Doug Leybourne.
Join the FOHBC: The Virtual Museum is a project of the Federation of Historical Bottle Collectors (FOHBC). To become a member.