Pile Remedy / Patented May 1863 / By Wm Carr / Bath, Me
Pile Remedy
Patented May 1863
By Wm. Carr
Bath, Me
William Carr & Co., Bath, Maine
Rectilinear Red Amber Medicine Bottle
Provenance: Michael George Collection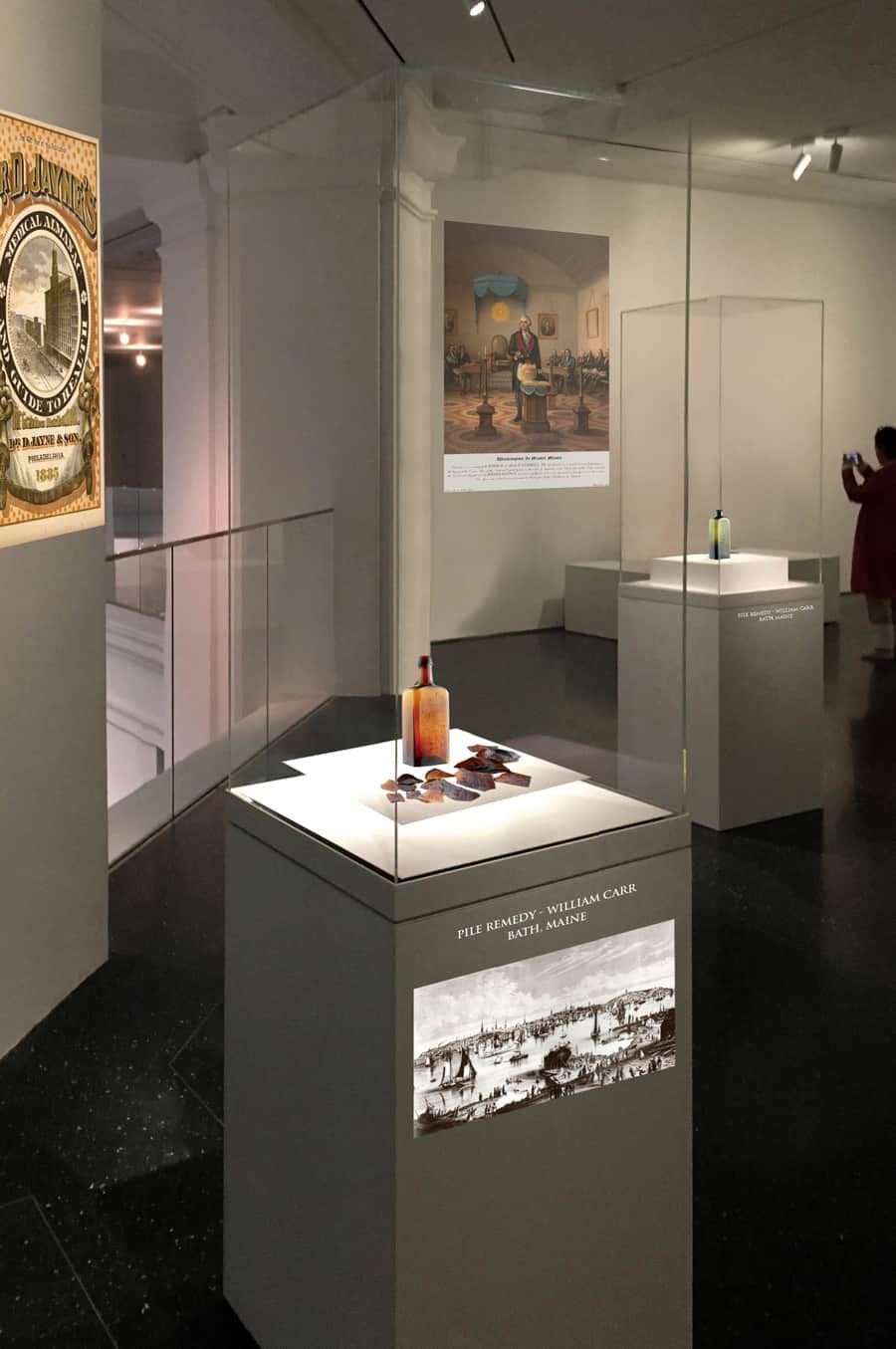 Our Pile Remedy, Wm. Carr bottle is extremely rare as it is the only example known. This unique bottle is the same example that was sold during the January 23, 1994, Harmer Rooke Galleries Auction 60 sale, and was pictured on the cover of the auction catalog. Researcher and collector Kris Kernozicky once had a small bag of glass shards that were pretty important to him as it was pieces of the Pile Remedy bottle that were all dug at the South Stoddard Glass Manufacturing Company site in Stoddard, New Hampshire. Both the bottle and shards are on display in the museum.
The 8-3/8″ tall, red-amber, rectilinear Pile Remedy bottle exudes character and has chamfered corners, rounded shoulder panels, a tapered neck, and a crudely applied tapered collar. The base is smooth. The sans-serif embossed copy occurs in four lines on one face of the bottle. The opposite face may have been where a paper label was placed. Two interesting components of the typography is the smaller "Patented May 1863" copy and the raised lower case "m" in "Wm."
Read: Stoddard Glass – Updated Information from Michael George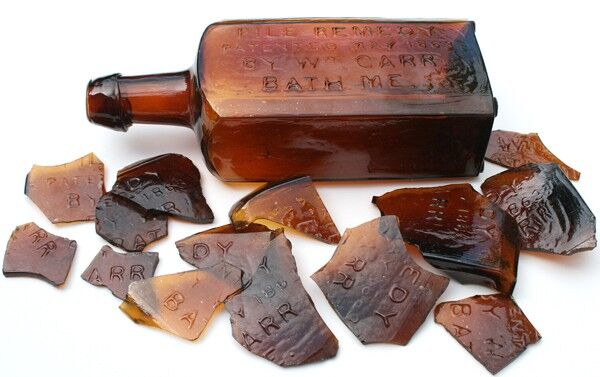 William Carr was not a doctor, druggist, or proprietary medicine man. He was primarily a ship carpenter and much later, a grocer. He was born in Massachusetts sometime around 1803 and lived and worked in Bath, Maine his entire life judging by 1850-1880 United States Federal Census Reports. Each decade report noted that he was married to Sarah Carr, seven years his senior. They had a son John who was also a ship carpenter. There was a daughter named Adeline. He would die on September 13, 1886, in Bath.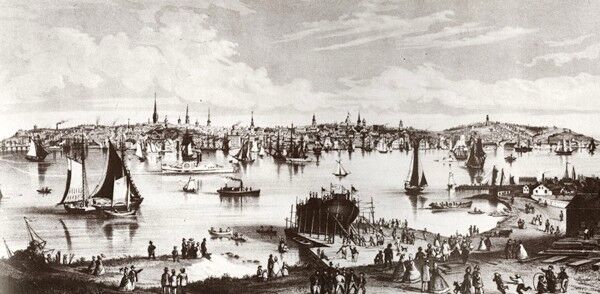 Bath, located in Sagadahoc County, Maine, is renowned for its shipbuilding and, at one point, was home to more than 200 shipbuilding firms. The industry began in 1743 when Jonathan Philbrook and his sons built two vessels. Since that time, roughly 5,000 vessels have been launched from Bath, which became the nation's fifth-largest seaport by the mid-19th century. The clipper ships built in Bath sailed to ports around the world.
For a short period in his life, William Carr was a "Trader" who touted a medicine he "invented" called Carr's Remedy (Pile Remedy) that was patented in May 1863. Piles are Hemorrhoids that are swollen veins in the lowest part of your rectum and anus. William Carr would create the William Carr Company, most likely with his son, and sell his Pile Remedy in Maine in 1866 and 1867. He probably sold many bottles to outgoing or incoming seamen. His sole agent was B. F. Bradbury located at No. 8, corner of Smith's Block.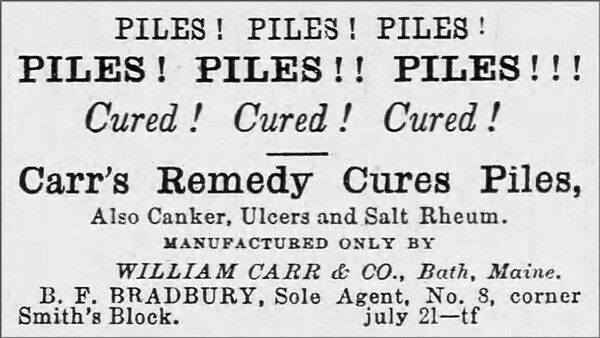 The William Carr patent application is replicated below.
UNITED STATES PATENT OFFICE. WILLIAM CARE, OF BATH, MAINE. IMPROVED MEDICINE FOR PILES.
Specification forming part of Letters Patent No. 38,466, dated May 12, 1863.
To all whom it may concern:
Be it known that I, WILLIAM CARR, a resident of Bath, in the county of Sagadahoc and State of Maine, have invented a new and useful composition to be used for the cure or alleviation of piles; and I do hereby declare that the ingredients thereof and the manner of compounding the same are fully set forth in the following specification.
In carrying out my invention I take a vessel (preferring an earthen one) of sufficient size to contain the quantity of the composition I desire to make. If we suppose the quantity to be three pints, I put two ounces of fir bark into the vessel and pour three pints of boiling water on such bark, and place the vessel over a fire and allow the bark to steep for about one hour. Next, I remove the vessel from the fire and strain the decoction, and add thereto the following, viz: five table-spoonfuls of pulverized maple, beech, or other hardwood charcoal, two tea-spoonfuls of pulverized rosin, and one nutmeg in a powdered state. The whole is next to be well shaken, so as to cause a thorough mixture thereof and is then ready for use. In using my improved medicine or compound a person may take one-half of a wineglassful of it twice each day.
The great advantage of my compound in the cure or alleviation of piles, or inflammation of the rectum and bowels, as well as for absorbing gases collected therein, has been fully demonstrated by long practice and experience.
I claim The above-described composition, as made of the ingredients and compounds in the manner set forth. WILLIAM CARR. Witnesses: H. EDDY, F. P. HALE.
Primary Image: The Pile Remedy bottle imaged on location by the FOHBC Virtual Museum midwest studio led by Alan DeMaison.
Support: Reference to American Bottles and Flasks and Their Ancestry by Helen McKearin and Kenneth M. Wilson, Crown Publishers Inc., New York, 1978.
Support Image: "Bath, Maine: A City of Ships" illustration, Witkin, Taylor, (2012). Historical Ecology Atlas of New England. 3. https://digitalcommons.com