GI-39 Washington / Taylor Portrait FLask
GI – 39
Washington / Taylor Portrait FLask
The Father of his Country
General Taylor Never Surrenders

Possibly Dyottville Glass Works, Philadelphia, Pennsylvania
Emerald-Green Quart
Provenance: Anonymous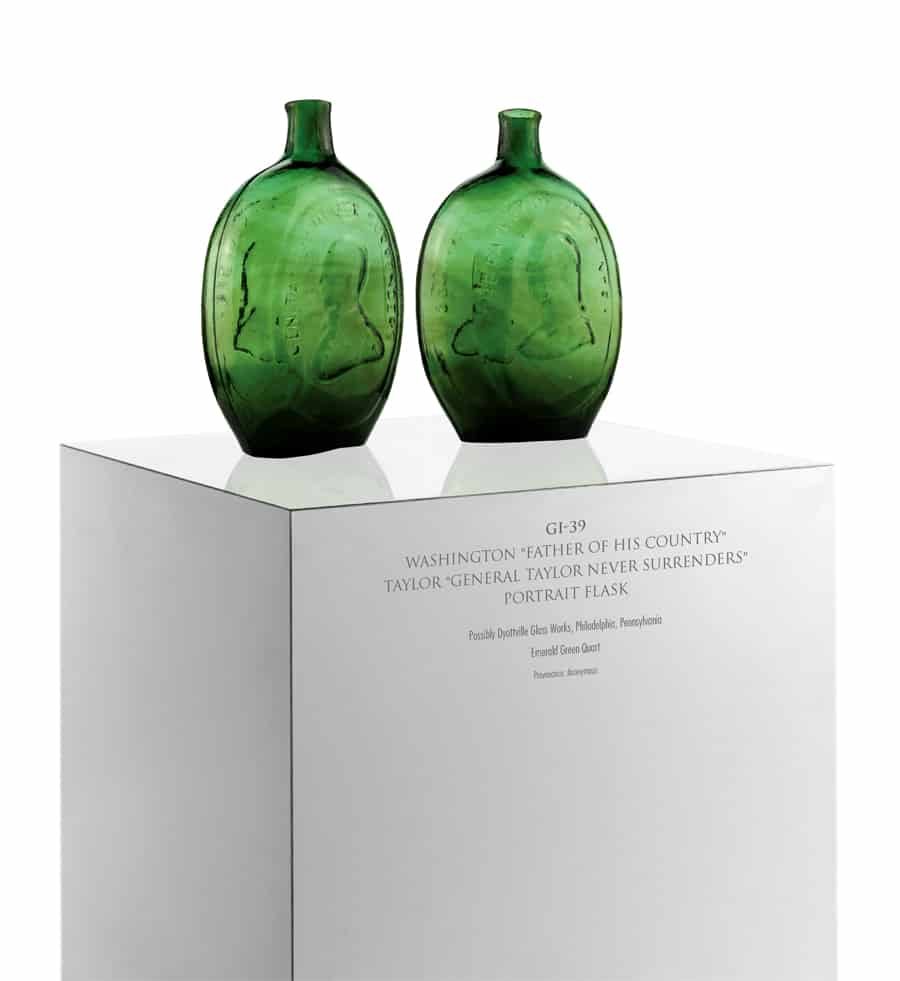 Our museum example of a quart GI-39 Washington "Father of His Country" – Taylor "General Taylor Never Surrenders" portrait flask features George Washington in a classical profile facing left on the obverse. Washington has a braid of hair or queue worn hanging at the back of the head and is showing a broad band of toga. The bust is surrounded by embossed copy reading, 'THE FATHER OF HIS COUNTRY' in a horseshoe shape. This is all set within an oval frame.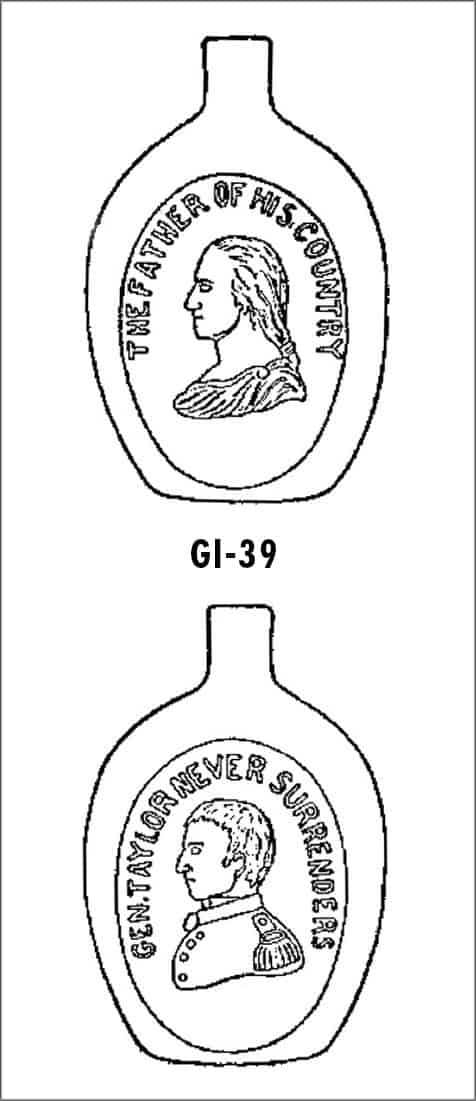 The reverse of the flask pictures General Zachary Taylor in profile facing left. He is in uniform, with four buttons on his coat and an ornamental shoulder piece or epaulet on the coat or jacket of his military uniform. 'GENERAL TAYLOR NEVER SURRENDERS' is embossed in a horseshoe shape around the raised profile. This phrase is in reference to Santa Anna's messengers requesting General Taylor to surrender his forces at discretion, previous to the battle of Buena Vista. This bust and copy are all set within an oval frame.
See our museum example of a quart Washington – Taylor portrait flask "The Father of His Country" "I Have Endeavor'd To Do My Duty"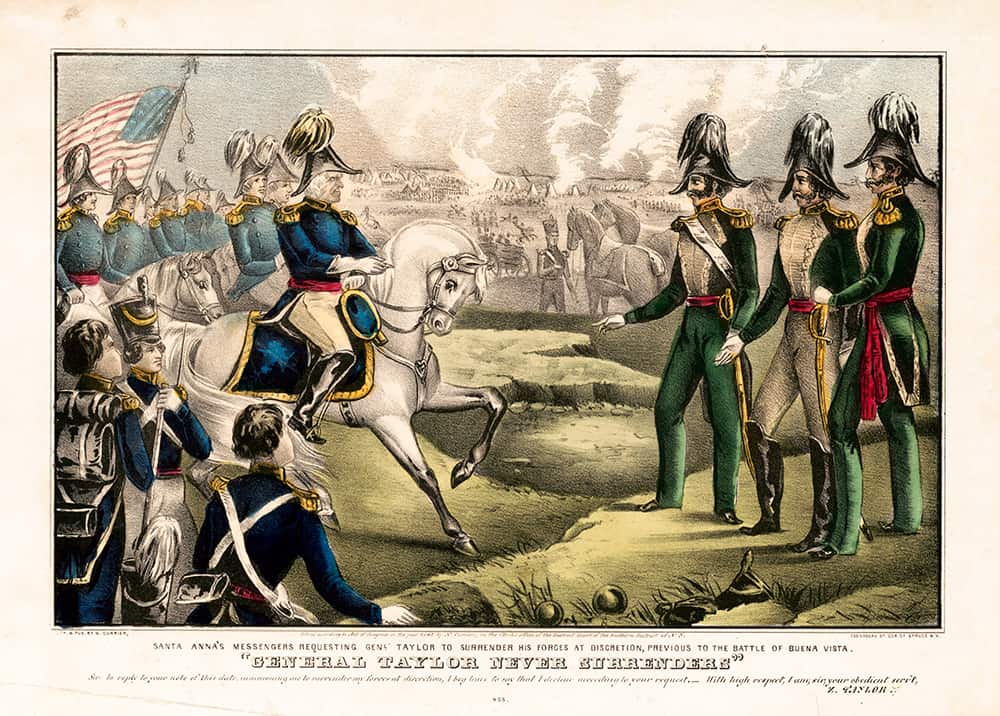 George Washington and Zachary Taylor were paired on twenty-six molds and variants, excluding molds where Taylor was absent. Within the McKearin historical flask groups, Washington – Taylor flasks start at GI-37 and go to GI-61. Two of these flasks are actually Washington – Washington (GI-60 and GI-61), two are Washington – (blank) (GI-47 and GI-48) and three are Washington – Sheaf of Wheat (GI-57, GI-58, and GI-59) flasks.
On a broader basis, George Washington appears on numerous flasks from the 1820s, or before, which pre-date our subject Washington-Taylor flasks by 30 or more years. Taylor appears on some other flasks that McKearin attributes to the period of 1847-48, which would commemorate Taylor's victory at Buena Vista. This victory helped propel Taylor, old "Rough and Ready," as he was known to the White House in 1849. His term as the twelfth President was cut short by his untimely death at the age of 66 in 1850. The flasks were most likely produced in response to both his military successes and his death in office.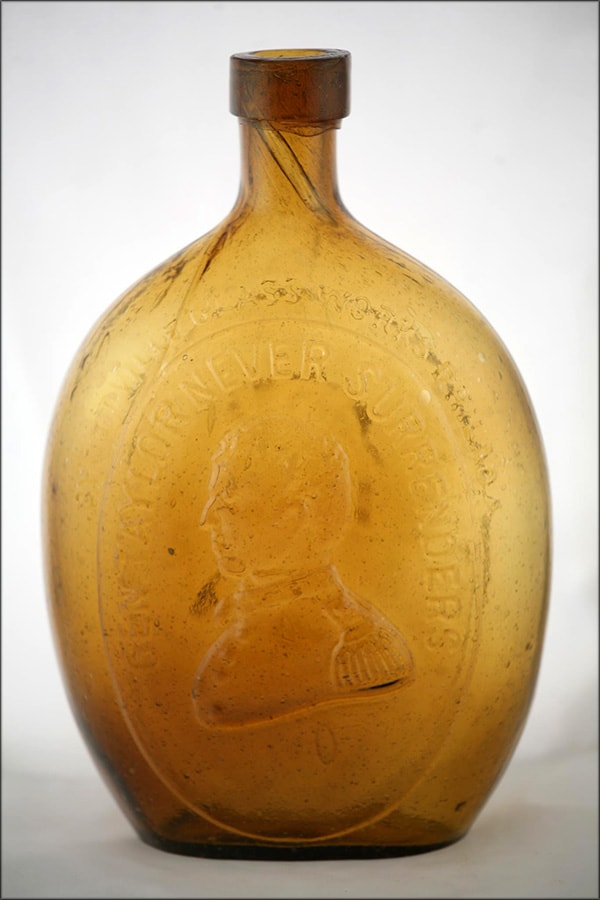 In looking at the first three charted Washington-Taylor flasks in the group, GI-37 to GI-39, we see that they are all quarts with mold differences. GI-37 looks just like our museum GI-39 flask but has 'DYOTTVILLE GLASS WORKS PHILADA' embossed in an arch above the main facial panel on both sides. GI-38 is similar to GI-37 as far as embossing but Washington's queue is tied with three ribbons, and the toga band is narrower. General Taylor's jacket has five buttons instead of four.
There is a recorded GI-39a flask variant that is similar to our GI-39 example except that there are no buttons on Taylors coat. Apparently, there is one known example in the yellow-green glass color. After the initial publication of the McKearin list, a GI-39b variant was recorded sometime around 2000 that is fairly common but was missed nonetheless. The differences relate to the embossed copy, the shape of the flask, and the locations of the bottom of the facial ovals. On GI-39, the edges of the flask gently circle to the base and the bottom of the ovals is within 1/8″ of the base. On the GI-39b variant, the sides straighten out visibly near the base and the bottom of the oval is ½" or more above the base.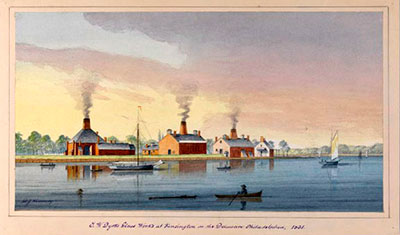 For the most part, the group of Washington-Taylor flasks is attributed to the northeast which includes Dyottville Glass Works in Philadelphia, and possibly Crowleytown Glass Works, New Jersey, and Lockport Glass Works, New York. For that reason, these flasks are referred to as "Dyottville Type." Only two of the flasks, GI-37 and GI-38, are actually embossed 'Dyottville Glass Works.' Present thinking is that there was no reason for just Dyottviille Glass Works to produce so many molds and variants.
The Washington-Taylor flasks can be found in quarts, pints, and half-pints and have different necks; plain lip, double rounded collar, single rounded collar, and broad sloping collar. The flask sides are smooth and they were produced in the 1850s to sometime in the early to mid-1860s as is evidenced by the presence or absence of pontil marks.
Only the Baltimore flasks approach, but can't match, the range of glass colors that can be found on Washington-Taylor flasks. Known colors are aqua which is common; clear green and bright blue-green are comparatively scarce; light green, medium green, emerald green, dark yellow-green, and deep blue-green are scarce; peacock green, dark green, gold amber, olive amber, dark olive amber, dark olive-yellow, olive green, pale violet-blue, and deep emerald green are rare; while light green with mossy green swirls, amethyst, wine, are medium blue is very rare. The more exotic the color, the more desirable.
Primary Image:  GI-39 Washington "Father of His Country" – Taylor "General Taylor Never Surrenders" portrait flask imaged on location by the FOHBC Virtual Museum Midwest studio led by Alan DeMaison.
Support: Reference to American Bottles and Flasks and Their Ancestry by Helen McKearin and Kenneth M. Wilson, Crown Publishers Inc., New York, 1978.
Support: Reference to Collecting Washington-Taylor Flasks by Michael Roberts Spring 2004, Bottles and Extras
Support Images: Auction Lot 150: Washington – Taylor Portrait Flask, possibly Dyottville Glass Works, Philadelphia, Pennsylvania, 1820-1840. Light yellowish-green, sheared mouth – pontil scar, quart. GI-39 A subtle and beautiful shade of green. Fine condition. – Norman Heckler Jr. & Sr., Norman C. Heckler & Company, Auction #135
Support Images: Auction Lot 122: Washington – Taylor Portrait Flask, Dyottville Glass Works, Philadelphia, Pennsylvania, 1840-1860. Rich blue-green, sheared mouth – pontil scar, quart; (7/8 inch crack extends from the pontil scar to the edge of the base, several small shallow flakes off base edge, minor exterior high point wear). GI-39 Beautiful deep color. – Norman Heckler Jr. & Sr., Norman C. Heckler & Company
Support Image: Auction Lot 299: "THE FATHER OF HIS COUNTRY" / BUST OF WASHINGTON – "GEN TAYLOR NEVER SURRENDERS" / BUST OF TAYLOR, (GI-39), Dyottville Glass Works, Philadelphia, Pennsylvania, ca. 1848 – 1855, deep yellowish olive amber quart, open pontil, sheared and tooled lip. An area of scratches are below the Bust of Washington. Fine impression, lots of seed bubbles and a rare color for this mould. This one would standout in any color run of Washington / Taylor flasks! – Jim Hagenbuch, Glass Works Auctions | Auction #147
Support Image: Auction Lot 300: "THE FATHER OF HIS COUNTRY" / BUST OF WASHINGTON – "GEN TAYLOR NEVER SURRENDERS" / BUST OF TAYLOR, (GI-39), Dyottville Glass Works, Philadelphia, Pennsylvania, ca. 1848 – 1855, light to medium yellow green or citron quart, pontil scarred base, sheared and tooled lip. Some spotty patches of wear are mostly on the Taylor side. Ex. Judge Edmund Blaske Collection #93. – Jim Hagenbuch, Glass Works Auctions | Auction #147
Support Image: Auction Lot 302: "THE FATHER OF HIS COUNTRY" / BUST OF WASHINGTON – "GEN. TAYLOR NEVER SURRENDERS" / BUST OF TAYLOR, (GI-39), Dyottville Glass Works, Philadelphia, Pennsylvania, ca. 1848 – 1855, medium emerald green quart, open pontil, sheared and tooled lip. A few light scattered scratches otherwise in pristine condition. A bright, very clean flask and in a nice pure green color! – Jim Hagenbuch, Glass Works Auctions | Auction #147
Support: Reference to Washington – Taylor (Portrait Only) Historical Flasks