GI-86 Lafayette / Liberty Cap Portrait Flask
GI – 86
"Lafayette" and bust "Coventry C-T" – Liberty Cap
historical Flask

Coventry Glass Factory, Coventry, Connecticut
Yellow-Olive Half Pint
Provenance: Anonymous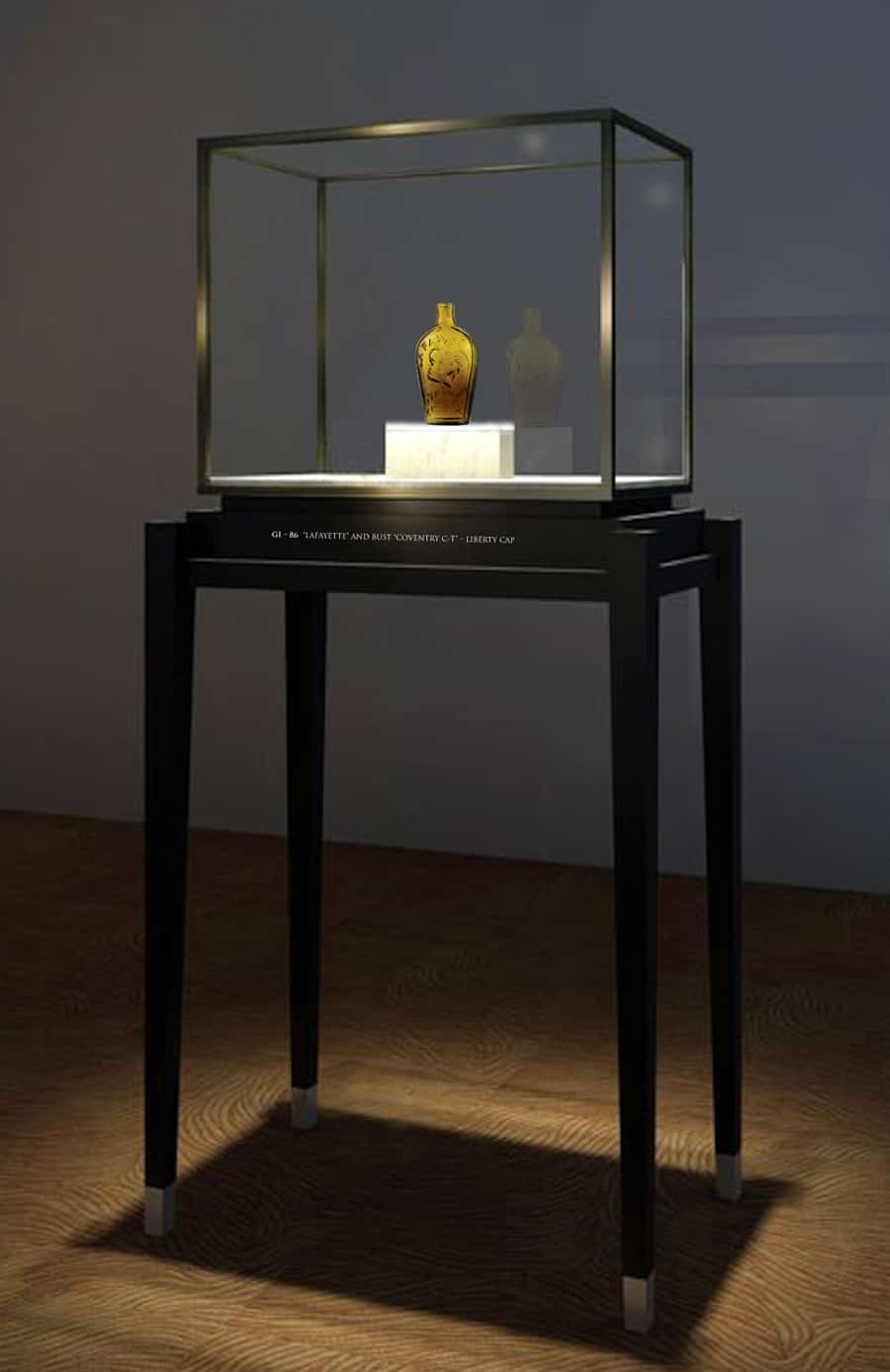 The GI-86 "Lafayette" and bust "Coventry C-T" – Liberty Cap flask was produced circa 1825 and features the Marquis de Lafayette who was a French aristocrat and military officer. He fought in the American Revolutionary War, was wounded in the Battle of Brandywine, fought in the Battle of Rhode Island, and commanded American troops in the Siege of Yorktown. This flask may have been produced hoping to capitalize on American patriotism with the 50 year anniversary of the Declaration of Independence coming up in 1826.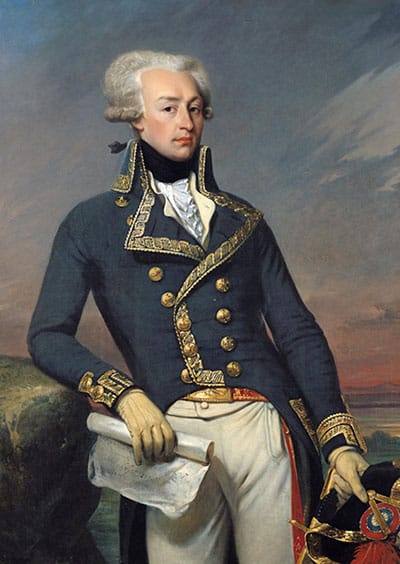 There were four Coventry Lafayette – Liberty Cap flasks, GI-85 through GI-87a. When looking at our GI-86 half-pint, there is the embossed Lafayette bust facing right with 'LAFAYETTE' embossed in a tight semicircle above the bust. Below the bust is a semicircle of embossed letters reading 'COVENTRY' over a straight-line horizontal embossed 'C – T' for Connecticut.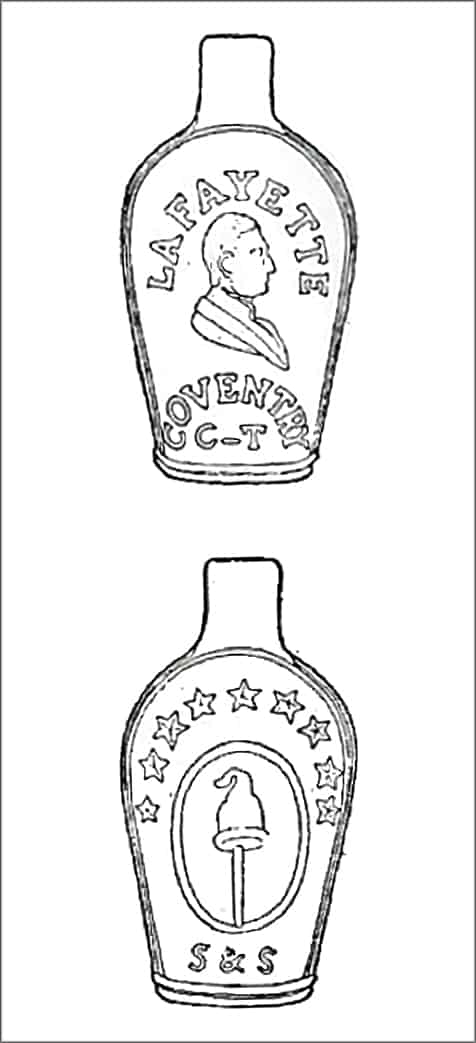 The reverse of the flask has an embossed Phrygian or as Americans called it, a French Liberty hat on a short pole enclosed by an embossed vertical oval. Nine, five-point graduated stars form a deep semicircle above the oval. Embossed straight-line horizontal letters reading 'S & S' are positioned at the bottom of the flask and beneath the oval. The S & S is thought to stand for the owners of the Coventry Glass Factory at the time, Stebbins and Stebbins.
The edge of the flask is finely ribbed vertically with five ribs. The flask has a plain lip and pontil mark and is considered scarce but available.
Known colors are olive-amber which is common; olive green, amber, and green (with olive tone) which is comparatively scarce, and aqua which is extremely rare.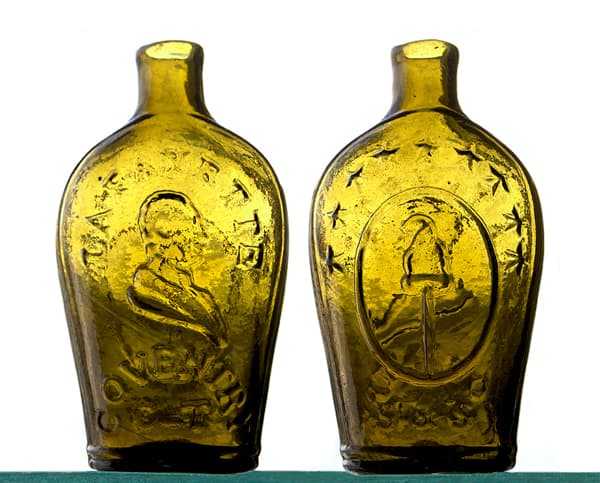 Coventry Glass Works
Seven men agreed to erect a glass factory in Coventry, Connecticut on January 14, 1813, along the Willimantic River. Four of the men, Captain Nathaniel Root, Ebenezer Root Nathaniel Root Jr., and Joseph A. Norton all of Coventry were not glassmakers. The group included Eli Evans, Thomas W. Bishop, and Uriah Andrews, glassblowers from East Hartford that had the experience to run the day to day operations. Eli, Thomas, and Uriah were to use their expertise where needed in the glass factory and be compensated at $26 per month and $45 for each year they worked in the plant. In 1816 there was an agreement to expand by adding buildings. Thomas Stubbins was operating the glassworks by 1820. Lafayette flasks having embossed "T.S." were made sometime around 1825.
The brother of Thomas may have entered the business sometime in 1825. The "S.S." on some Lafayette flasks could be the entry of a brother to the glassworks or possibly a mistake. Later in 1825, Rufus B. Chamberlain joined the firm and they were now Stebbins & Chamberlin. The "S & C" is found on some flasks. In 1828, Jasper Gilbert, John Turner, and Rufus B. Chamberlain with John Turner's brother Levi took control forming Gilbert Turner & Company. Lack of wood is said to be the reason for the glassworks closing in 1848, but accounting books seem to indicate sales into 1849.
Primary Image: GI-86 "Lafayette" and bust "Coventry C-T" – Liberty Cap flask imaged on location by the FOHBC Virtual Museum midwest studio led by Alan DeMaison.
Support: Reference to American Bottles and Flasks and Their Ancestry by Helen McKearin and Kenneth M. Wilson, Crown Publishers Inc., New York, 1978.
Support Image: The GI-86 "Lafayette" and bust "Coventry C-T" – Liberty Cap flask Obverse and Reverse, The Historical Flask Collection of Michael George, Historical American Glass
Support Images: Auction Lot: GI-86, Strong yellow amber with olive tones, Attribution: Stebbins & Stebbins, Coventry Glassworks (1815-1848), Coventry, Connecticut. Circa: 1820-1848. Condition: Undamaged with just a hint of high-point wear. Size: 6″ H. Provenance: From the estate collection of Russell and Doris Evitt, Jackson, CA. Heckler/Skinner, Gardner Collection, 1975, lot 1900. Ex-collection of Charles B. Gardner, New London, CT (retains printed number label 4). – Jeffrey Evans, Jeffrey S. Evans & Assoc.
Support Image: Auction Lot 306: "LA FAYETTE" / BUST OF LAFAYETTE / "COVENTRY / C-T" – LIBERTY CAP ON A STICK / "S & S", (GI-86), Coventry Glass Works, Coventry, Connecticut, ca. 1825 – 1835, medium yellow amber with olive tone half-pint, open pontil, sheared and tooled lip. Some minor spotty high point wear, as expected on this exceptionally bold impression. – Jim Hagenbuch, Glass Works Auctions | Auction #147
Support Images: Auction Lot 242: "Lafayette" And Bust – Liberty Cap Portrait Flask, Coventry Glass Works, Coventry, Connecticut, 1824-1825. Medium yellowish olive amber, sheared mouth – pontil scar, half pint; (sand grain to the left of the "L" has a faint 1/4 inch fissure, light exterior high point wear). GI-86 A handsome flask with bold embossing and a bright color. Robert and Janice Weekes collection. – Norman Heckler, Norman C. Heckler & Company