GII-77 Concentric Ring Eagle – NG / CO. Flask
GII – 77
Concentric Ring Eagle FlasK
Eagle – N G CO.

New England Glass Company, Cambridge, Massachusetts
Medium Yellow-Green with Amber Mouth
Provenance: Anonymous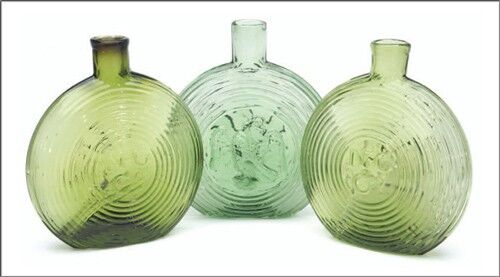 There are three similar flasks known as the "Concentric Ring Eagles." These flasks are unusual in that the form is not like traditional historical flasks as they look more like a canteen shape. The central design theme is a large embossed eagle surrounded by embossed concentric rings. The three flasks are numbered by McKearin-Wilson as GII-76, GII-76a, and GII-77 and are quite heavy as the glass is thick and can weigh two pounds or more.
Our museum example represents a GII-77, Concentric Ring Eagle "NG Co." flask. Of the three flasks, the GII-77 is the rarest. The flask color is a distinctly darker green than other known examples and has an amber mouth. The medallion contains a crudely embossed eagle facing right on what is considered the primary or obverse face of the flask. The eagle's tail is curved to the right and the talons appear to be grasping a very crude olive branch.
The reverse of the flask has a smaller circular medallion with two embossed lines reading "N G Co." which stands for New England Glass Company. This is opposed to the other two flasks having a second eagle on the reverse side. The flasks were probably made between 1820 and 1830.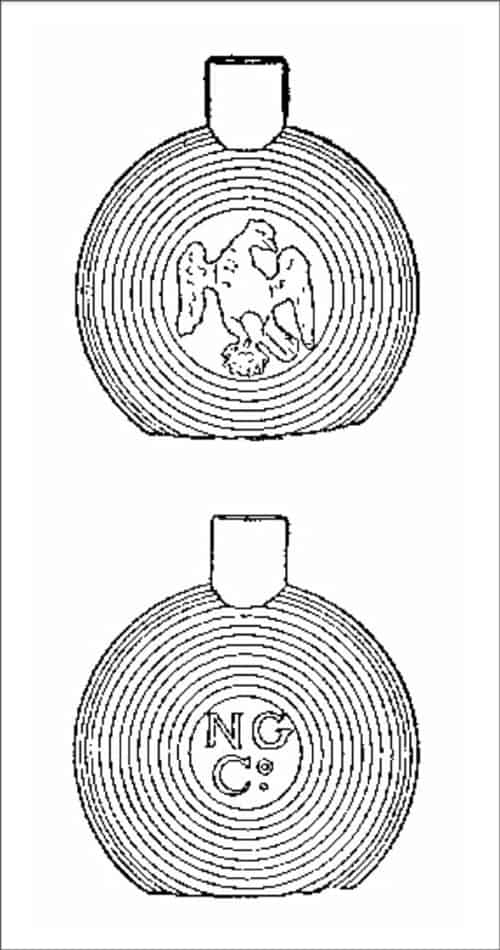 The flask has a plain lip and a pontil mark. The flask has a tighter band of concentric rings than what is found on the GII-76 and GII-76a flasks. The GII-77 rings number twelve on each side surrounding the eagle or the monogram culminating in a medial rib.
There are only six or seven examples known to collectors which make the GII-77 an extremely rare flask. Known colors include clear light yellow-green, vivid yellow-green, medium yellow-green with an amber shaded top, and pale sapphire blue. The imperfect blue example resides in the Corning Museum of Glass.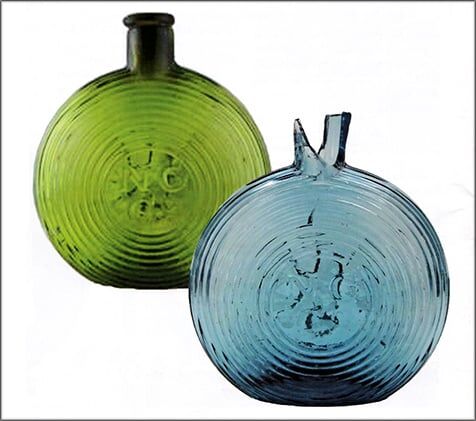 Primary Image: The GII-77 Concentric Ring Eagle Flask imaged by the FOHBC Virtual Museum midwest studio by Alan DeMaison.
Support: Reference to The Exotic Concentric Ring Eagle Flasks by Mark Vuono, Antique Bottle & Glass Collector, October 2019
Support: Reference to American Bottles and Flasks and Their Ancestry by Helen McKearin and Kenneth M. Wilson, Crown Publishers Inc., New York, 1978.
Support Images: Auction Lot 37: Concentric Ring Eagle – Concentric Rings Around "NG / Co." Historical Flask, probably New England Glass Company, Cambridge, Massachusetts, 1820-1830. Canteen shape with concentric rings encircling the eagle on one side and the lettering on the other, brilliant light to medium yellow-green, tooled mouth – pontil scar, one pint and two ounces to the bottom of the neck. GII-77 Extraordinary in color, mold, and condition. Warren "Bud" Lane collection. – Norman C. Heckler & Company Auction #100, October 2012
Support Images: Auction Lot 38″ Concentric Ring Eagle – Concentric Rings Around "NG / Co." Historical Flask, probably New England Glass Company, Cambridge, Massachusetts, 1820-1830. Canteen shape with concentric rings encircling the eagle on one side and the lettering on the other, bright yellow green with an olive tone and a decidedly olive mouth and neck, tooled mouth – pontil scar, 15 ounces, one ounce less than a pint to the bottom of the neck; (some high point wear on the eagle's breast and olive branch). GII-77a Extremely rare, probably unique. Beautiful and unusual color, fine condition. Ex Norman C. Heckler & Company auction #82, March 2007, Warren "Bud" Lane collection. – Norman C. Heckler & Company Auction #100, October 2012
Support Images: Pale blue-green glass; mold-blown; plain lip, pontil mark, lead glass. Obverse: "Concentric Ring Eagle." same as GII-76. Reverse: instead of the eagle in the medallion, letters "NG Co" in two lines. Edges: vertically ribbed. – Corning Museum of Glass
Support Image: Three Concentric Ring Eagles. GII-76, GII-76a, GII-77 – Norman C. Heckler & Company, Auction #100, October 2012
Support Image: GII-77 with shaded amber top and pale blue imperfect GII-77. – Antique Bottle & Glass Collector, October 2019