Gleason & Cole Pittsb Mineral Water
Gleason & Cole
Pittsb
Mineral Water
Fortunatus Gleason and William Cole
Pittsburgh, Pennsylvania
Deep Blue Green Aquamarine
Provenance: Doug Shutler Collection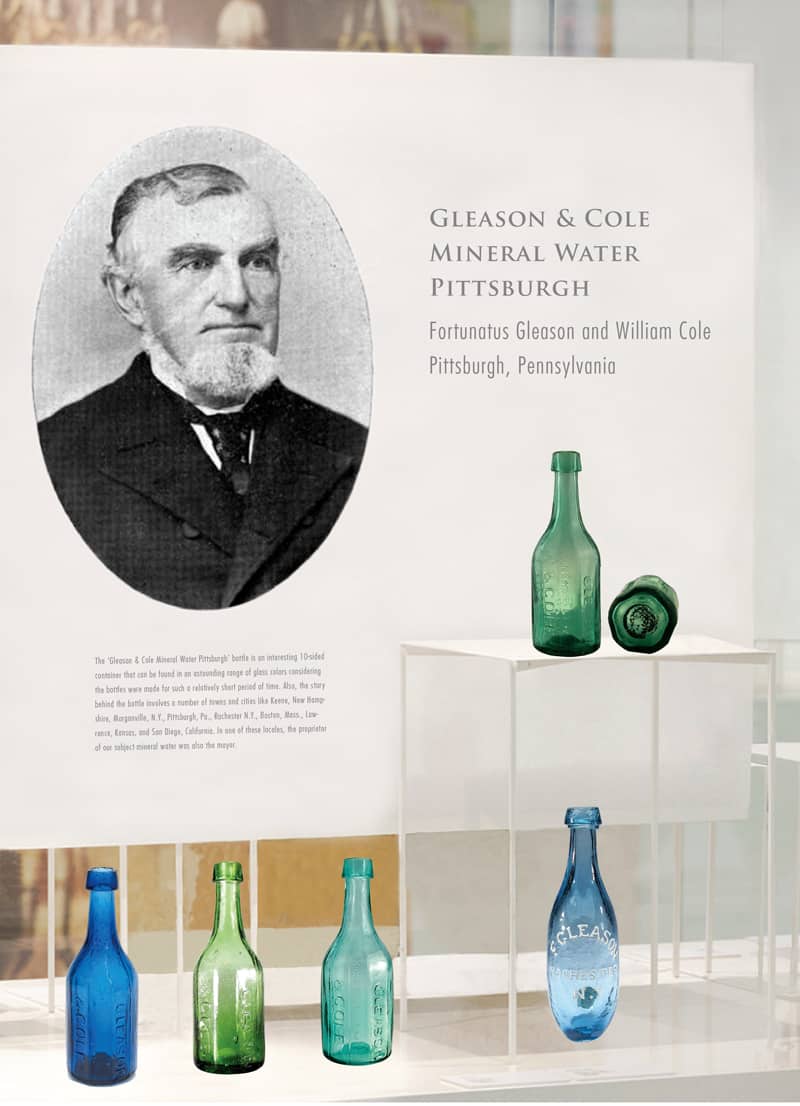 The "Gleason & Cole Mineral Water Pittsburgh" bottle is an interesting 10-sided container that can be found in an astounding range of glass colors considering the bottles were made for such a relatively short period of time. Also, the story behind the bottle involves a number of towns and cities like Keene, New Hampshire, Morganville, N.Y., Pittsburgh, Pa., Rochester N.Y., Boston, Mass., Lawrence, Kansas, and San Diego, California. In one of those locales, the proprietor of our subject mineral water was also the mayor.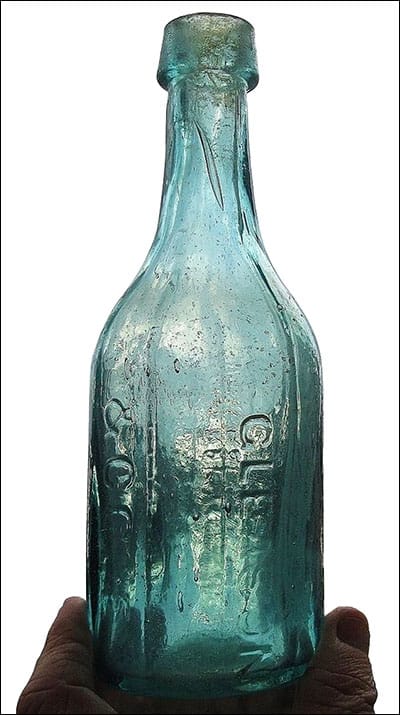 Our decadon or 10-sided deep aqua bottle is embossed, 'GLEASON' (side 1, flush right), '& COLE' (side 3), 'PITTSB' (side 5), and 'MINERAL WATER' (side 7). All of the other panels are blank. There is an applied tapered mouth and an iron pontil. The bottle is considered very rare and measures approximately 7-5/8 x 2 ¾ (3 ½) inches.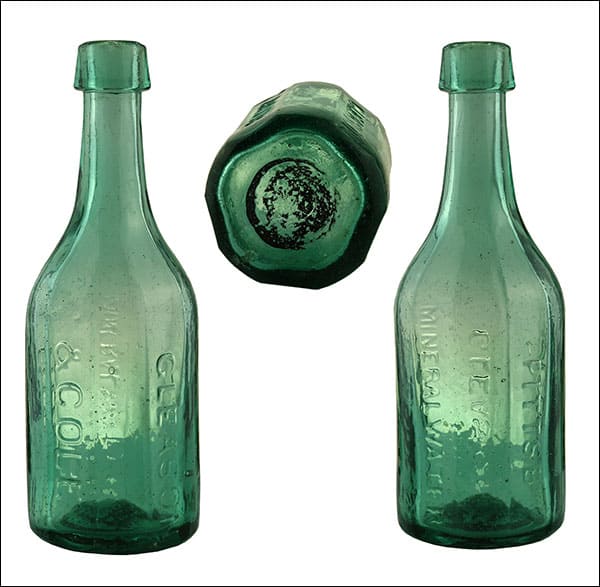 The Gleason and Cole bottles were somewhat of a mystery over the past years as we could not ascertain who Gleason and Cole were. We do see a listing for "F. Gleason & Co." with "root beer manufacturer" at "124 Liberty" street in the 1847 Harris's General Business Directory of the Cities of Pittsburgh & Allegheny. This scant bit of information is critical in unlocking the bottle's story as adjacent year directories are not archived online. In 1847, we also see a listing for "Cole & Randall, grocer, S s Diamond" in the same directory. William Cole was a grocer in the 1840s and most likely partnered with Fortunatus Gleason to make and sell his mineral water. Mr. Gleason would be known in the coming years as a flavored beer maker and root beer was one of his specialties.
See the museum example of J. Ogden Pittsburgh who is also listed in the 1847 Pittsburgh directory.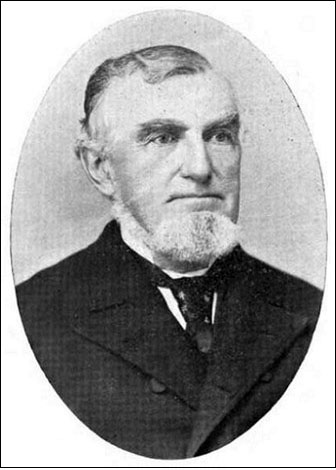 Fortunatus Gleason was born in Westmoreland, New Hampshire on April 20, 1824. He was the sixth of ten children born to Wilson (1788-1866) and Louisa Atherton Gleason (1791-1852), both lifelong New England residents. His wife was Mary Foster (1829-1902) and they had three children, Louisa, Mary, and Sophia. They married in 1849 in Rochester and started their family.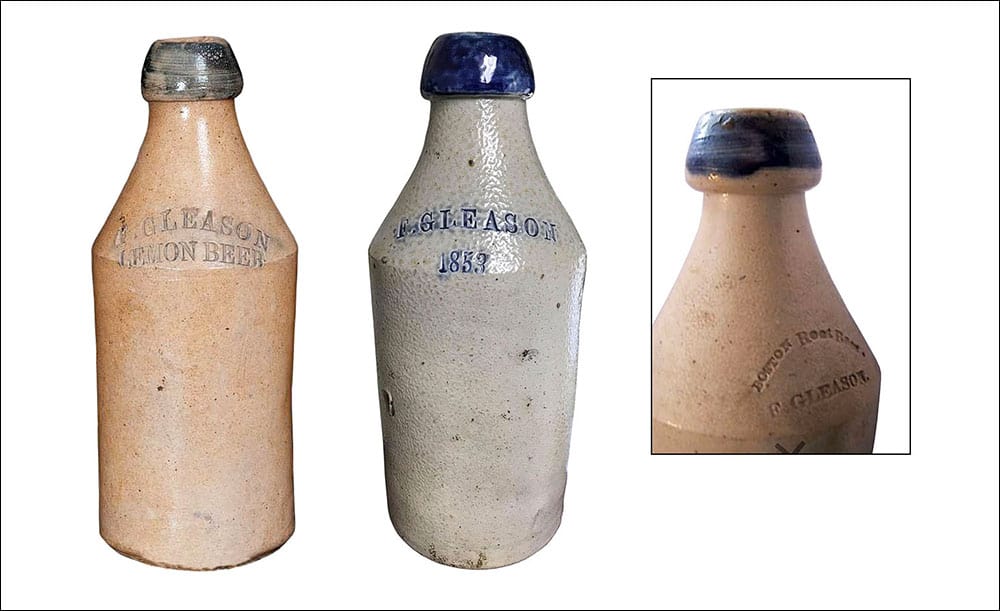 Fortunatus spent his youth in Keene, New Hampshire, where he worked as a clerk in a mercantile store. He and his family were also involved with the Morganville Pottery Factory in Morganville, Genesee County, New York in various capacities. The factory produced ceramics and tile from 1829 until the end of the 19th century. From there, Fortunatus headed to Pittsburgh, Pennsylvania sometime around 1846 where he resided for a few years selling mineral water and root beer. This is when our subject bottle was made. In 1848 or so, Fortunatus relocated to Rochester, New York, and became rather well-known as a flavored beer and mineral water manufacturer up until 1855.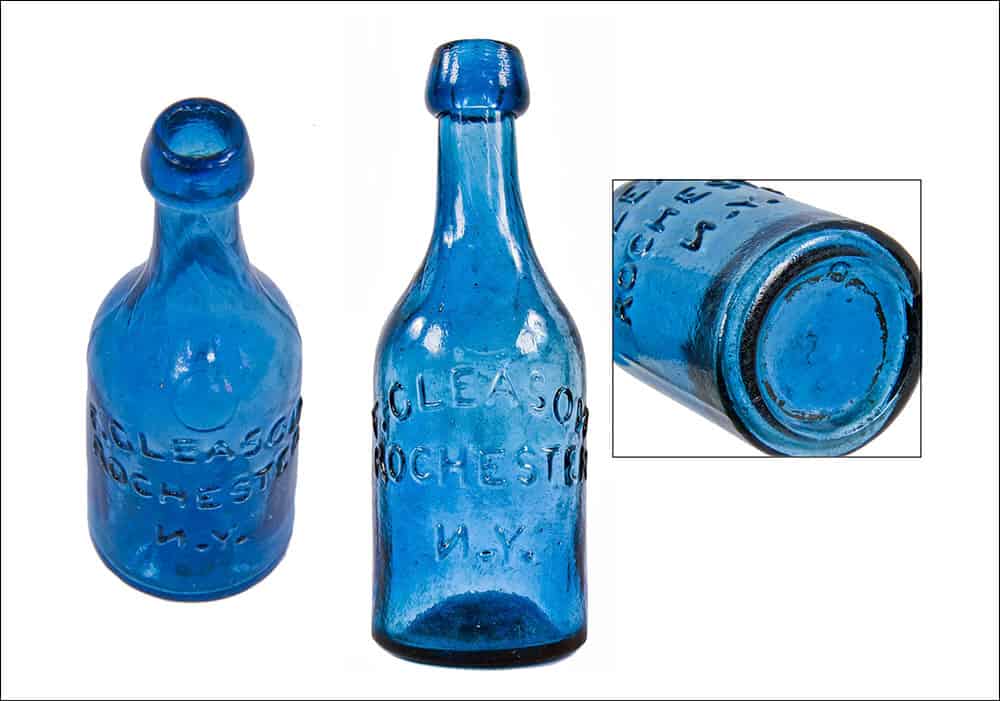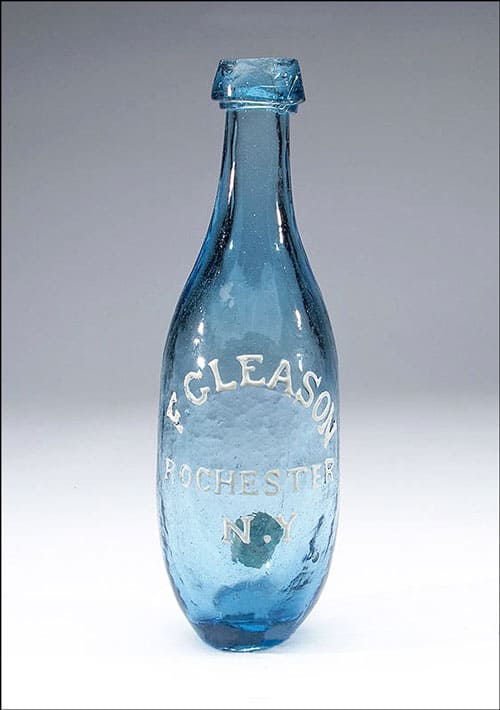 The Gleason family would move to the Kansas Territory in the late 1850s, settling in Lawrence, Douglass County in 1857 which is known for being a hot point for anti-slavery and pro-slavery forces in the late 1850s during an era known as "Bleeding Kansas." During the Civil War, the still infant city was attacked by Confederate Colonel William C. Quantrill and his "Raiders" on the morning of August 21, 1863, resulting in the deaths of over 140 Lawrence citizens, some of whom were children. The savage brutality of what was inflicted on the residents of this pro-union town later became known as the "Lawrence Massacre."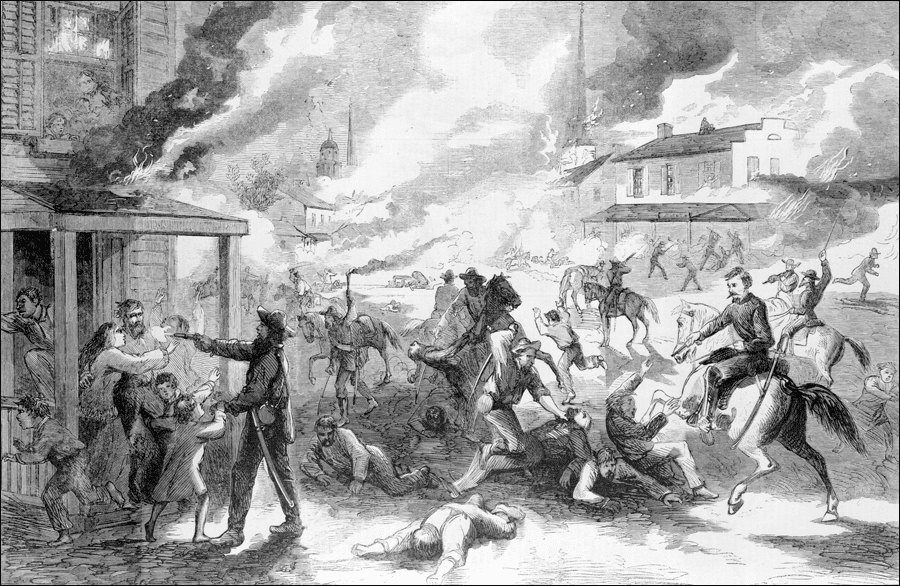 Fortunatus Gleason served as a member of an organized militia to protect Lawrence in the months preceding Quantrill's attack. Following the bloody savagery leveled upon Lawrence. being a lieutenant in a "home guard militia" located in Marion, Kansas. This militia consisted of about thirty persons and is recorded as being called to service "several times" in the year preceding Quantrill's raid, all of which are listed as "false alarms."
Gleason first ventured into political life in Douglass County, serving as a County Commissioner between 1864 and 1866. For several years he occupied the post of assistant assessor of Internal Revenue in Lawrence and also began involvement in real estate during this time, becoming a partner in the firm of Gleason and Whitman. In 1873, Gleason succeeded Washington Hadley as Mayor of Lawrence, Kansas, and served one year in office.
Little else is known about the life of Fortunatus Gleason after his time in Lawrence. He eventually relocated to San Diego, California to improve his health but was only there two months when he died on September 26, 1897.
See the museum example of a cobalt blue Gleason & Cole Pittsburg.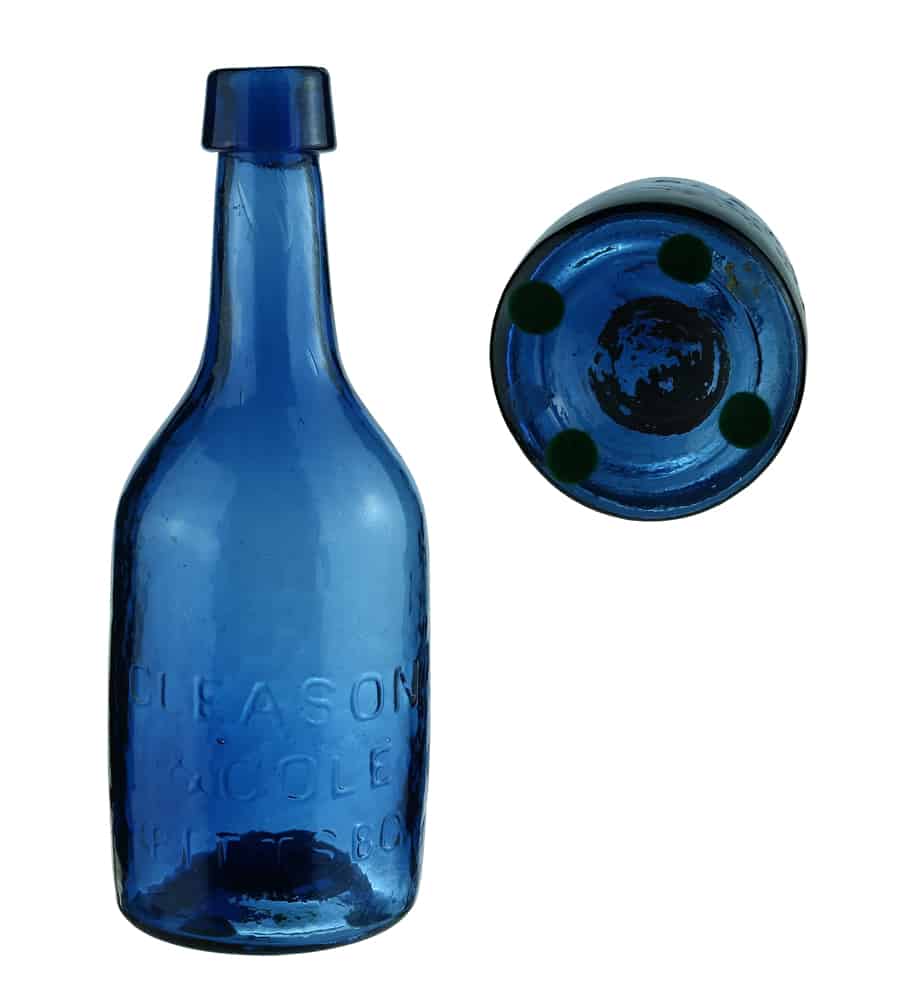 Primary Image: Gleason & Cole Mineral Water bottle imaged on location by the FOHBC Virtual Museum midwest studio led by Alan DeMaison.
Secondary Spinning Image: Gleason & Cole Pittsburg in cobalt blue from the Chip Cable collection. Imaged on location by the FOHBC Virtual Museum midwest studio led by Alan DeMaison.
Support: Reference to Soda & Beer Bottles of North America, Tod von Mechow
Support: Reference to The American Pontiled Soda Database Project
Support Images (2): Auction Lot 140: "Gleason / & Cole / Pittsbg / Mineral Water" Bottle, America, 1845-1860. Ten-sided, medium cobalt blue with a teal tone, applied sloping collared mouth – iron pontil mark, ht. 7 ¾ inches; (light exterior high point wear). A great example with bold embossing and numerous bubbles. Fine condition. Dr. Charles and Jane Aprill collection. – Norman Heckler, Norman C. Heckler Auctions.
Support Images (3): Various examples from Jim Hagenbuch, Glass Works Auctions.
Support Image: Single antique American intact c. 1845-1855 iron pontiled medium sapphire blue soda bottle with desirable crudities manufactured for new york bottler F. Gleason. The front body is embossed "F. GLEASON / ROCHESTER / N.Y." with reversed letter 'N' in both "N.Y." and "Gleason" and the 'g' appearing as a 'c'. A circular slug is stamped right above the embossed lettering, though no word or logo appears within or around it. The long narrow neck has significant stretch marks curving out from the applied rounded collar or blob top. The base features a moderate kickup with a small amount of residue from the iron pontil. Crudities are typical of its age and date of manufacture, including allover whittling, bubbles, and asymmetry. Possibly hand-blown by Union Glass Works, Philadelphia, Pa. Discovered at Wolf Point, Chicago, Ills. Likely pitched off a passing schooner traveling along the Chicago River. – Urban Remains
Support Image: Gleason & Cole, Pittsburgh – Pontiled 10-Sided Mineral Water. This circa 1850 bottle is loaded with whittle character and is in really nice condition. The top is an applied taper, light residue remains on the pontil. Embossed: GLEASON // – // & COLE // – // PITTSBG // – // MINERAL WATER // – // – //. Height: 7 7/8″, Color: light teal, Condition: near mint – perfect structurally with no chips, dings, etc. Lightly tumbled cleaned, just spotty trace wear mentioned for accuracy. – Kreeger's Antique Bottle Market
Support Image: Rare Stoneware bottle stamped 'Boston Root Beer' (in arc above) 'F. Gleason'. Most likely made circa 1857 in Rochester, NY by potter Frederick Stetzenmeyer. Gray stoneware with blue on the lip of the bottle. Height (approx.) 10 ¾"
Support Image: Auction Lot 243: "F. Gleason / Rochester / N.Y" Soda Water Bottle, America, 1860-1880. Ten pin form, light sapphire blue, applied sloping collared mouth – smooth base, ht. 8 1/8 inches; (several chips on top and bottom edges of mouth, the largest being ¼ inch, ¼ inch chip on edge of base). A scarce and beautiful color. Generally fine condition. Ex Robert Pattridge collection. – Norman Heckler, Norman C. Heckler Auctions
Join the FOHBC: The Virtual Museum is a project of the Federation of Historical Bottle Collectors (FOHBC). To become a member.