Terry & Baril – Massilon. O
Terry & Baril
Massilon. O
(Misspelled)
John Terry and John Baril, Massillon, Ohio
Medium Blue-Green Soda
Provenance: Doug Shutler Collection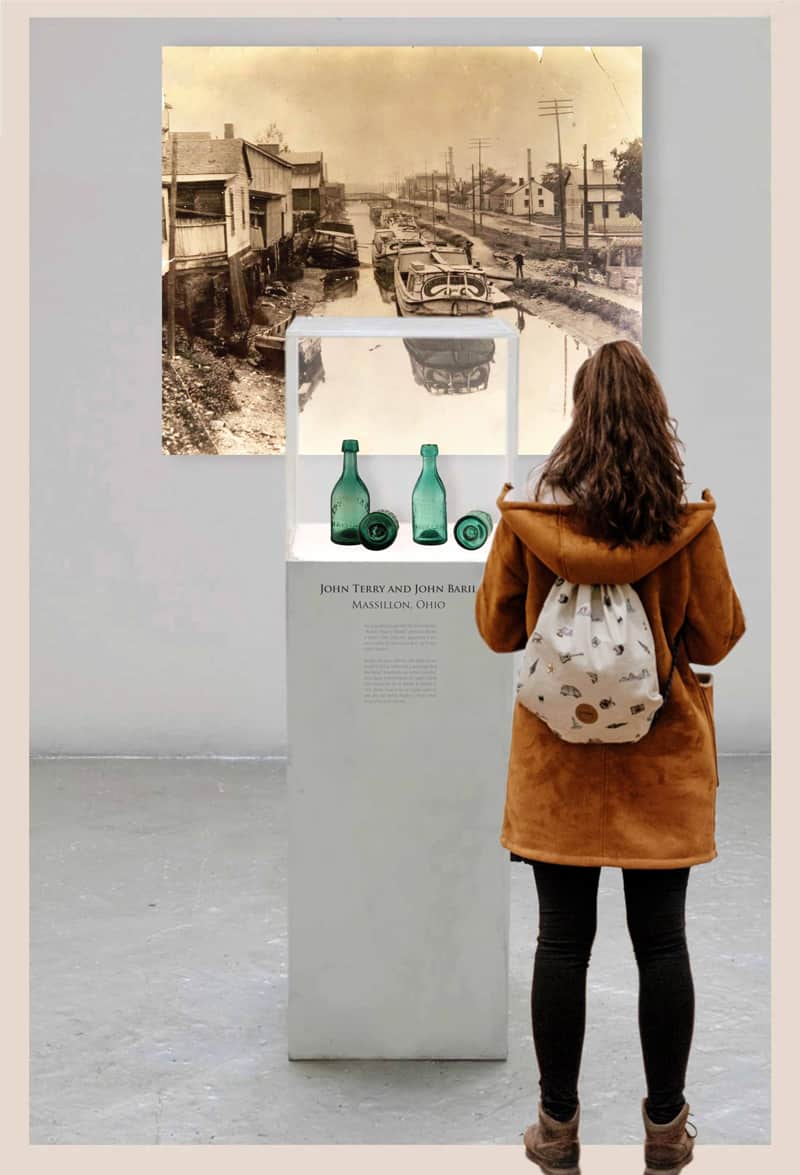 Here is an interesting soda bottle that has a misspelling. "Massilon" should be "Massillon" with two l's. Massillon is located in Stark County Ohio, approximately 8 miles west of Canton, 20 miles south of Akron, and 50 miles south of Cleveland.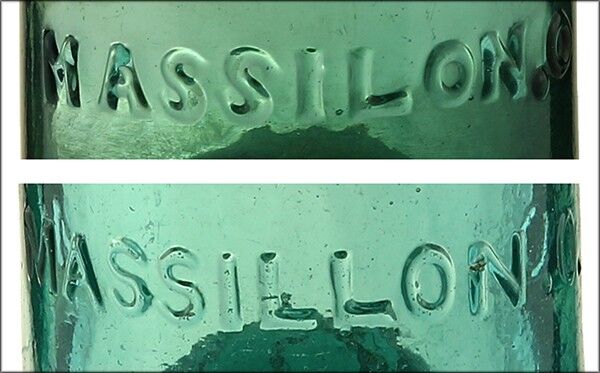 Massillon was once a settlement called Kendal and was founded in 1812 by Thomas Rotch, a Quaker originally of New Bedford, Massachusetts, and Hartford, Connecticut. James Duncan of New Hampshire first settled in Kendal before recording the plot for Massillon on December 6, 1826. Duncan, known as the city's founder, named the town after Jean Baptiste Massillon, a French Catholic bishop, at the request of his wife.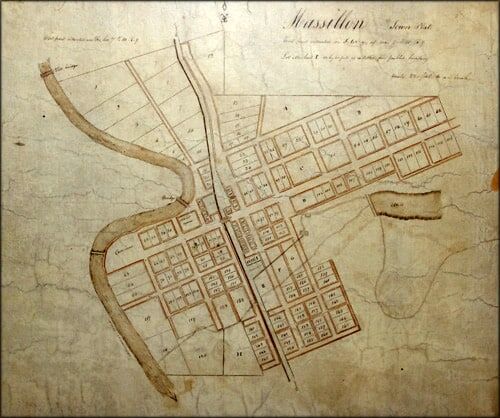 The town plat was established along the east bank of the Tuscarawas River, which was the surveyed route for the Ohio and Erie Canal being constructed to connect Lake Erie with the Ohio River. The canal section spanning from Cleveland to Massillon was completed in 1828. Massillon quickly became a major port town along the canal route, known as the Port of Massillon, following the canal's completion in 1832.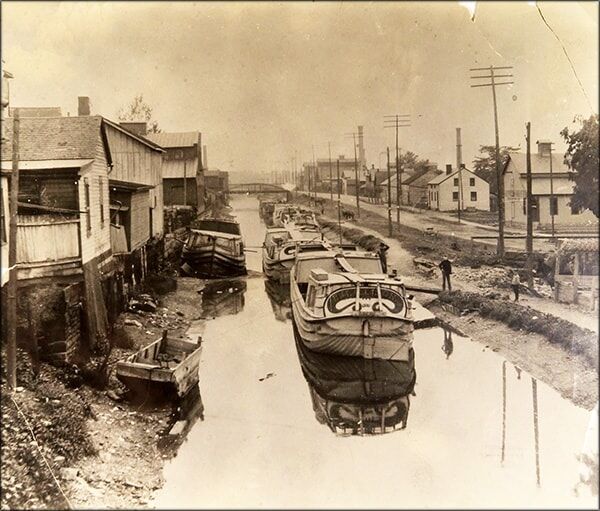 The first telegraph lines would reach Massillon in 1847, and the Ohio & Pennsylvania Railroad would extend its rails to Massillon in 1852. Massillon incorporated as a village in 1853. In 1868, Massillon incorporated as a city when the population reached 5,000.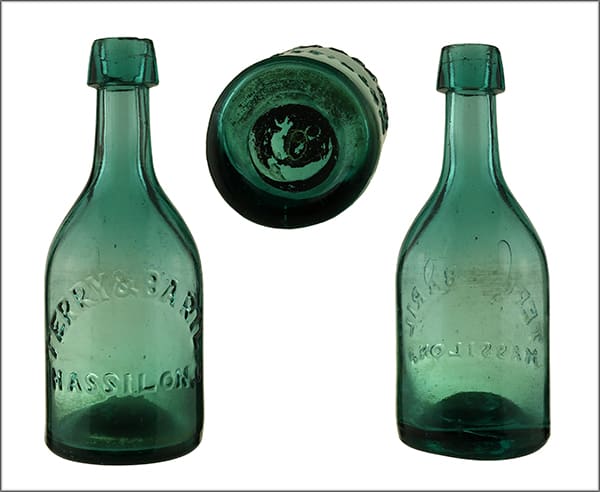 Our 7-¼" tall medium blue-green tapered blob top soda is cylindrical in form and has an iron pontil. The bottle is embossed on the face, 'TERRY & BARIL' in an arch set over a centered and embossed 'MASSILON. O' The period after Massilon is very large. The reverse is blank. Massillon is misspelled.
FOHBC member Tom Feltman from O'Fallon, Illinois, reported in the May-June 2006 Recent Finds section in Bottles and Extras that he had recently dug a rare pontiled soda in a privy in St. Louis, Missouri embossed 'TERRY & BARIL – MASSILLON. O.' His example had the correct spelling of Massillon and the typography was in a similar arrangement but used a serifed typestyle. See "Recent Finds" below.
There are three variants of the Terry & Baril bottle, all iron pontiled and date to the 1850s. Besides the misspelled museum example embossed TERRY & BARIL – MASSILON. O, there is another embossed TERRY & BARIL – MASSILLON, O. with Massillon spelled correctly.
The third example is a 7-1/8″ tall pony and has large, double outlined 1″ tall block letters embossed completely around the circumference of the bottle reading 'JOHN TERRY.' Beneath the word, Terry is embossed 'MASSILLON. O.' in smaller letters. Of the three, the John Terry Massillon O. bottle is the oldest and rarest.
See the museum example of the John Terry – Massillon. O. soda bottle.
There is very little information about our proprietors though we do know that their names were John Terry and John Baril. The local Canton and Massillon directories for this period only include 1859. Within this directory, there is a John Terry listed as a baker boarding on the west side of Mill Street between Main and Charles. John Baril is also listed as a baker at the same address. With this information, we can presume the "partners" put out and sold mineral and soda water in the early to mid-1850s in Massilon, Ohio. John Terry was probably first and made his bottle before taking on Baril as a partner. This is only conjecture.
Primary Image: Terry & Baril bottles imaged in-house by the FOHBC Virtual Museum midwest studio led by Alan DeMaison.
Support: Reference to The American Pontiled Soda Database Project, Tod von Mechow.
Support: Reference to Soda & Beer Bottles of North America, Tod von Mechow.