Lynch & Clarke New York
Lynch & Clarke
New York

Thomas Lynch & John Clarke
Dark Olive Green – Pint
Provenance: Dave Merker Collection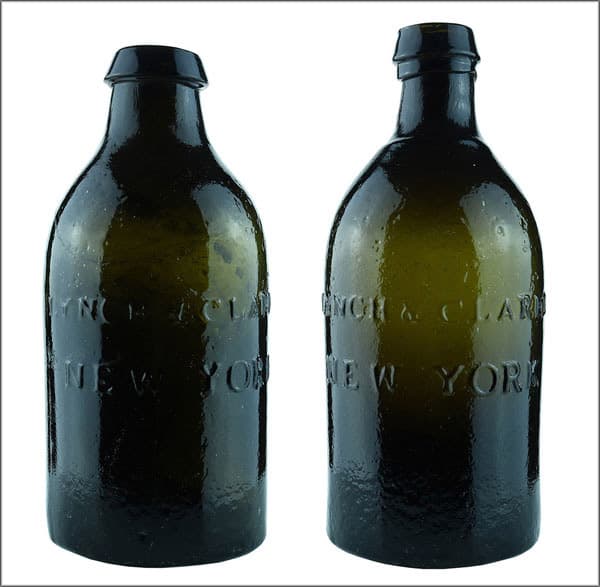 Our example of a Lynch & Clarke bottle represents the oldest Saratoga mineral water bottle in our gallery. We've only seen a handful of these primitive Lynch & Clarke bottles. Later Lynch & Clarke bottles look different but display essentially the same wording in different typestyles and sizes. This example would be the earliest variant. The image above shows an example where the mold for the pint bottle has been altered to hold a cork better. See this museum example.
The subject bottle, in dark olive green, is in a cylindrical form with a short applied sloping collared mouth set on a short neck leading to a slightly tapered shoulder giving the bottle somewhat of a squat appearance. It has a pontil scar. The front horizontal embossed copy, reading 'LYNCH & CLARKE' on the first line and 'NEW YORK' on the second line is in a serif typestyle which is unusual for early American bottles. The bottle is raw and crude yet beautiful in its simplistic form.
Prior thought was that the bottles were first made at the Mt. Vernon Glass Works in New York. More recent investigations discount this and suggest the possibility of the New England Glass Company near Boston, Massachusetts.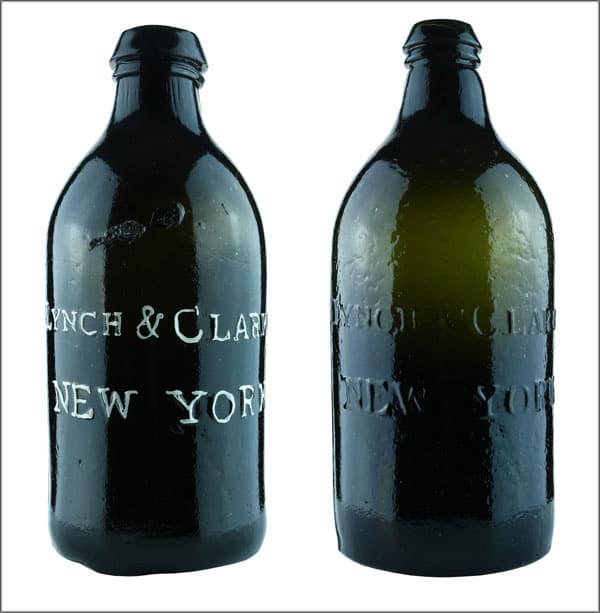 The Lynch & Clarke bottles can be found in quarts, pints, and half-pints. The half-pints are extremely rare (only a couple known), quarts are the next rarest (50+ known) and pints are fairly available but rather crude. They are all very desirable to collectors. See the earliest mold for a Lynch & Clarke quart. See an example of a Lynch & Clarke quart where the bottle mold was altered on the neck and mouth to hold a cork better.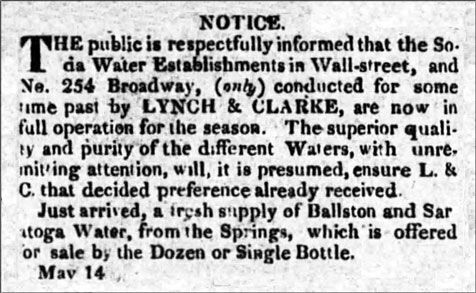 In 1813, you can almost imagine a neat arrangement of mineral water bottles in the New York City establishment of Lynch & Clarke as the advertisement above states. Here, their mineral water was offered by the bottle or by the dozen. We will likely never be able to prove when Lynch and Clarke started using these subject embossed bottles but we know they were using bottles whether it be stoneware or glass. Early drinkers of spa water believed that the water from mineral springs had therapeutic properties and that drinking the water could help treat many common ailments.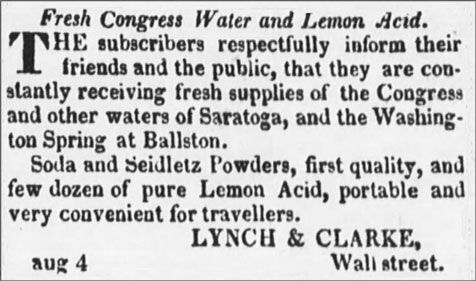 Each display or shelf within their store would have a sign saying which mineral spring was represented. One might say Congress Spring, while another High Rock Spring with a note that they were from Saratoga Springs. Another display would be for the newly tapped Washington Spring bottles from Ballston Spa. Patrons would order their favorite beverage just as they do today. Just a much different time.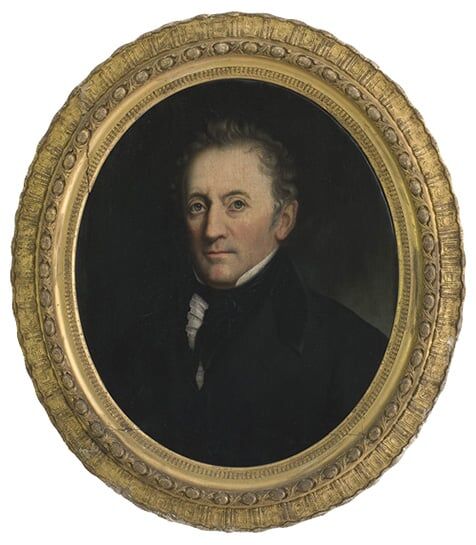 John Clarke (1773–1846) was an American businessman who played a major role in the development of Saratoga Springs, New York in the first half of the 1800s. He was sometimes called "Doctor Clarke", though that was just a courtesy title. Born in Yorkshire England, Clarke immigrated to America and settled in New York City wherein 1808, he went into business with Thomas Lynch selling spring and soda water, lemon acid, and Seidletz Powders. Much less is known about Lynch except that he was from Ireland. Their business was located on Wall Street and claimed to have been the first soda fountain in America. The partners were very close and had entire confidence in each other. Clarke being unmarried actually lived with the family of Lynch.
In 1823, Lynch & Clarke purchased land and a farm in Saratoga Springs which included the Congress Spring which at that time, was a swamp. They first brought the water of the Congress Spring into general notice as you can see from the advertisement below. After making a trial of the public taste for the water, they resolved to secure the control of the fountain. They drained the swamp to create what would become Congress Park and in 1825 built a bottling plant that was in business 20 years bottling the popular Congress Spring Water. Lynch died in 1833 and Clarke continued the business alone under the same name. The bottles would eventually change and have his name embossed on them as you will see in our museum.
Primary Image: Clarke & Lynch New York bottle imaged on location by the FOHBC Virtual Museum midwest studio led by Alan DeMaison.
Support images: Two 1980s historical photographs from the Saratoga Bottle Collectors Society.
Support images: Comparison images of Lynch & Clarke pints and quarts from the Dave Merker Collection.
Support image: Auction Lot 60: "Lynch & Clarke / New York" Mineral Water Bottle, America, 1823-1840. Cylindrical, medium olive amber, applied sloping collared mouth with ring – pontil scar, quart; (1/8 inch bubble on base edge has opening in cover glass). T #C-1C A visually appealing example with swirls of bubbles surrounding the bottle. Bold embossing. Excellent exterior surface condition. – Norman C. Heckler & Company
Support image: Auction Lot 72: "Lynch & Clarke / New York" Mineral Water Bottle, America, 1840-1860. Cylindrical, medium yellowish forest green, applied sloping collared mouth – pontil scar, quart; (1/8 inch bubble has an opening in the cover glass, light exterior high point wear, some light washable content residue). T #C-1C A rare mold in a beautiful unlisted color. Great overall condition with the exception of the small bubble. Property of The Strong, sold to benefit the museum's collections fund. – Norman C. Heckler & Company
Support image: Auction Lot 11: "Lynch & Clarke / New York" Mineral Water Bottle, probably Mount Vernon Glass Works, Vernon, New York, 1820-1830. Cylindrical, dark olive amber, applied flattened expanded double ring mouth – pontil scar, half pint; (repair of small mouth chip). T#C2C Extremely rare, possibly the only known example. Ex Robert Simmons collection, ex Robert Morocco collection, Gerry Strubel collection. – Norman C. Heckler & Company
Support image: Lot 47: "Lynch & Clarke / New York" Mineral Water Bottle, possibly Mount Vernon Glass Works, Vernon, New York, 1820-1840. Cylindrical, brilliant forest green, applied sloping collared mouth with ring – pontil scar, pint. T#C2B type 2 Rare color, beautiful whittled glass full of tiny bubbles. Gerry Strubel collection. – Norman C. Heckler & Company
Support image: Lot 139″ "Lynch & Clarke / New York" Mineral Water Bottle, probably Mount Vernon Glass Works, Vernon, New York, 1820-1830. Cylindrical, dark olive amber, applied sloping collared mouth with ring – pontil scar, pint. T#C2A Hard to find, fine condition. Ex Bernie Puckhaber collection, Gerry Strubel collection. – Norman C. Heckler & Company
Support image: C-1B, LYNCH & CLARKE / NEW YORK, yellowish olive amber, Quart, nice crude double tapered applied top, Sand Chip Pontil, bold embossing, lots of bubbles in the glass, has a few light wear scratches otherwise perfect condition, a superior example of this rare bottle, the earliest of the embossed Mineral Water bottles, circa 1823 to 1833, – GreatAntiqueBottles.com, The website of Ed & Kathy Gray
Support: Reference to Collector's Guide to the Saratoga Type Mineral Water Bottles, Donald Tucker, 1986
Join: The Saratoga type Bottle Collectors Society. Request information at jullman@nycap.rr.com