J.F. Cutter Extra Old Bourbon (Shield & Star)
J. F. Cutter Extra Old Bourbon
Trade Mark (Shield & Star)

John Francis Cutter
Louisville, Kentucky and San Francisco, California
Yellow-Olive Fifth
Provenance: Stephen Hubbell Collection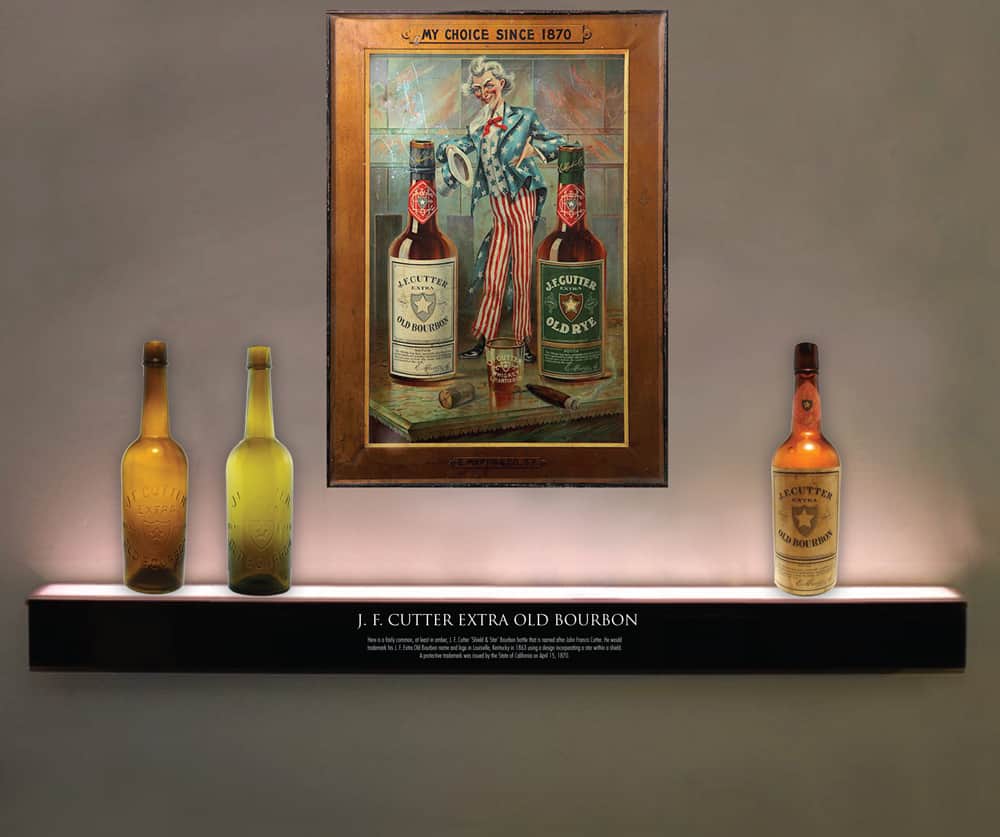 Here is a fairly common, at least in amber, J. F. Cutter 'Shield & Star' Bourbon bottle that is named after John Francis Cutter. He would trademark his J. F. Extra Old Bourbon name and logo in Louisville, Kentucky in 1863 using a design incorporating a star within a shield. A protective trademark was issued by the State of California on April 15, 1870.
John F. was the third child of John H. Cutter whose well-known and highly collectible bourbon whiskey bottles are represented in our museum.
See museum examples of J.H. Cutter Old Bourbon and J.H. Cutter Old Bourbon (Circle Cutter).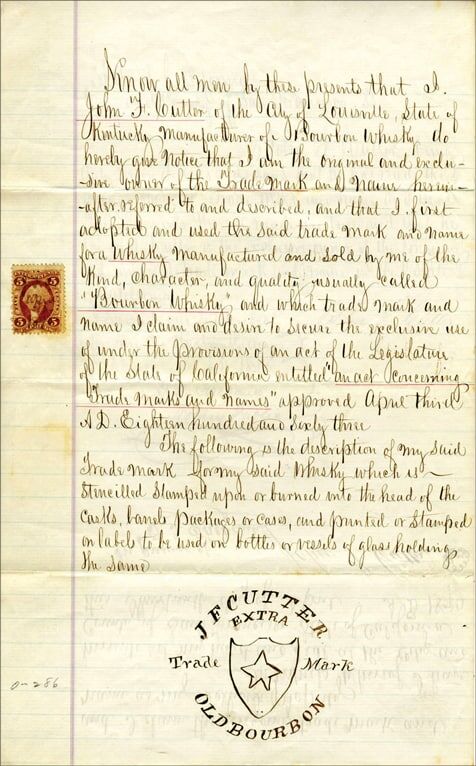 John F. Cutter
John F. Cutter was born on January 6, 1838, and as a youth attended Phillips Academy in Andover, Massachusetts, and then Dartmouth College in 1856. From there he went to Yale where he obtained a law degree and entered the bar in New York. Cutter joined the Confederacy during the Civil War and was captured by the Federal forces in Kentucky. Obtaining his freedom after the war, it was here that he had his introduction to the great whiskeys and bourbons that Kentucky is known for.
Cutter eventually made his way to San Francisco looking to the Golden State to further his ambitions, line his pockets and sell his whiskey. It's a complex story that is condensed here but he started a wholesale liquor house in 1870 with Edward J. Martin & Co. who were acting as agents. Together, they would try to corner the market. Martin was born in Ireland in 1819 and arrived in San Francisco to coincide with the 1849 Gold Rush. He was fortunate in the hills and returned to San Francisco to engage in the liquor trade.
Much has been written about the brand and legal troubles that entangled it with the J. H. Cutter trade marks. Initially, John F. Cutter supervised sales and merchandise until 1875. He apparently began drinking too much and became obsessed with the idea that Charles P. Moorman had stolen the Cutter name from the family. Moorman was a partner with John H. Cutter in Louisville, Kentucky where they manufactured J. H. Cutter Old Bourbon. Moorman apparently knew all the secrets making Cutter whiskey by using Maryland rye with a Pennsylvania rye and then blended with the great flavors of Anderson and Nelson County, Kentucky whiskeys.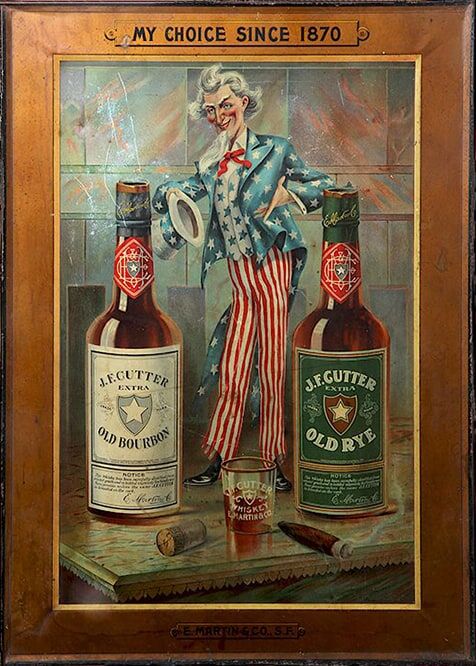 John F. Cutter would leave San Francisco and go back to Louisville. In February 1875. He found Charles Moorman at the Galt Hotel and demanded part of the profits from the sale of J. H. Cutter whiskey; and, when Moorman refused, he assaulted Moorman. This attempt was followed by another assault in a few days. He was convicted, jailed, became sick, and died on February 21st of that year.
Some beautiful examples of this bottle have been found over the years, usually in old silver and gold mining camps and towns. There are at least four subtle variants of this bottle that are usually found with an applied top. You will see the bottle in shades of amber and olive-amber which is fairly common. The greenish ambers and olive amber, as our museum example, is considered pretty rare. The bottles were made from 1870 to 1985. Our museum example would have been made in the early to mid-1870s.

Primary Image: The J. F. Cutters Extra Old Bourbon bottle imaged by the FOHBC Virtual Museum midwest studio by Alan DeMaison.
Read: C. P. Moorman and the Cutter Connection at Those Pre-Pro Whiskey Men! by Jack Sullivan
Support: Whiskey Bottles of the Old West by John L. Thomas, 2002