Simmond'S Nabob Bourbon Whiskey
Simmond's Nabob
(Nabob Embossing)
Trade Mark
Pure KY Bourbon Whiskey
George Simmonds, San Francisco, California

Dark Amber
Provenance: Ken Schwartz Collection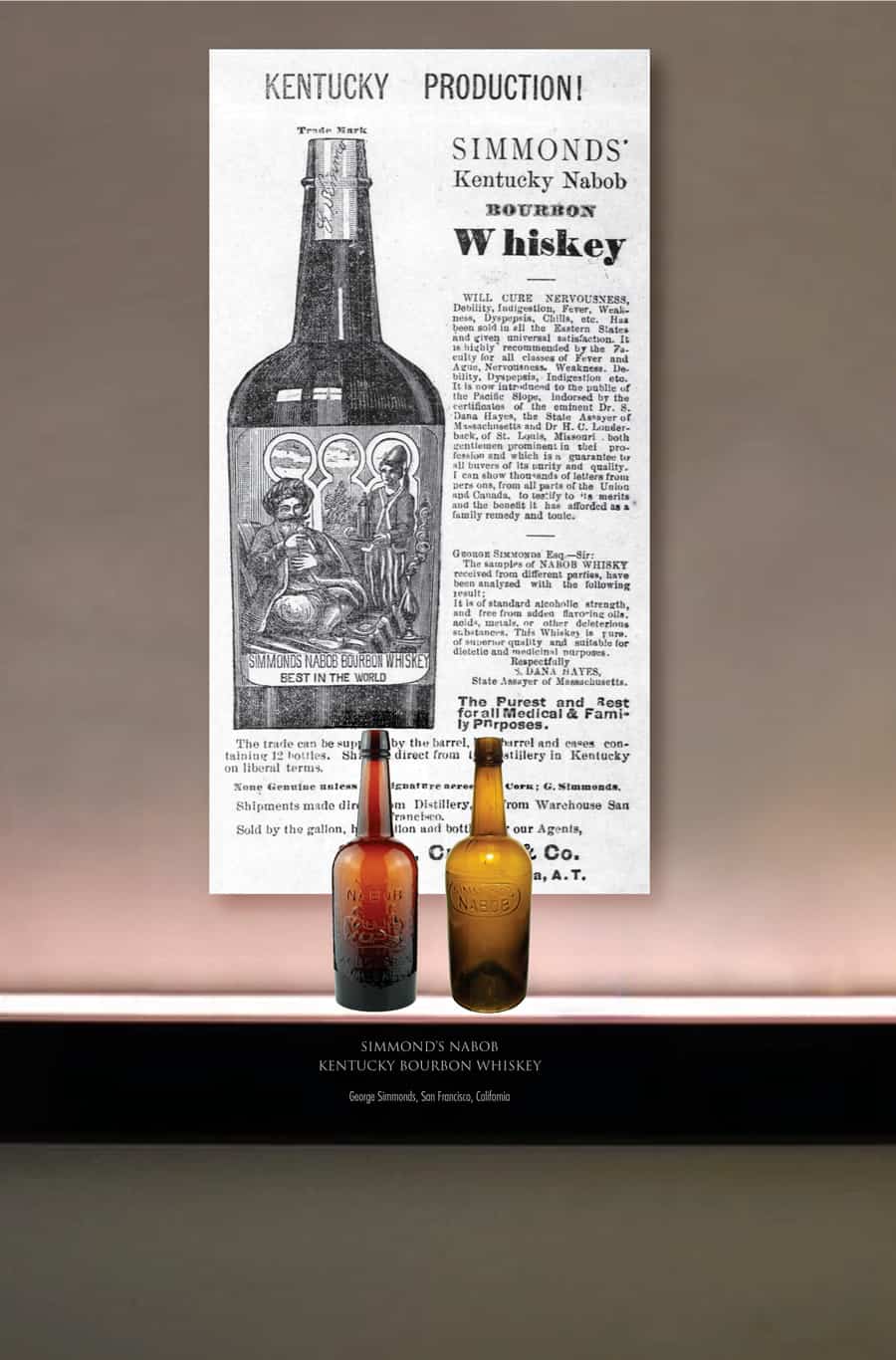 The bottle maker must have been challenged when an order from George Simmonds requested that an embossing of a Nabob and servant appear prominently on his bottles. A Nabob is a conspicuously wealthy, influential, or powerful person deriving his fortune in the east, especially in India during the 18th century with the privately held East India Company. Simmonds's trademark certainly encapsulates his Nabob brand.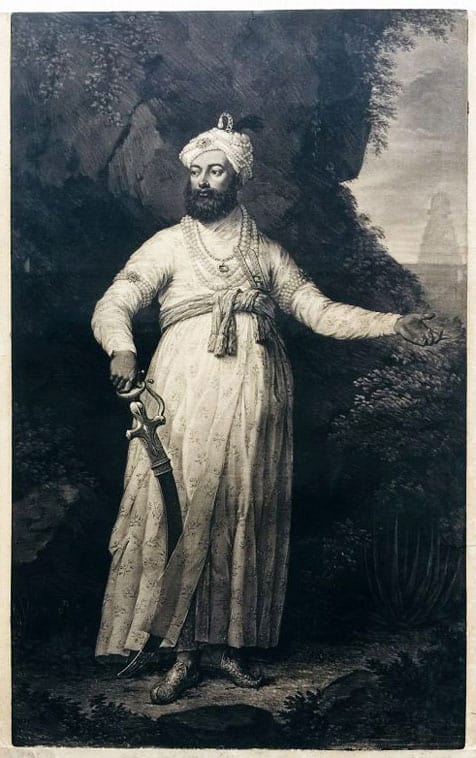 Simpler variants of the bottle just have NABOB embossed in a horizontal oval or SIMMOND'S NABOB in a horizontal oval. Both are pictured above. One of the more detailed illustrations of the George Simmonds Nabob trademark is represented below. You can read "Nabob" on the label of the bottle sitting on the serving tray.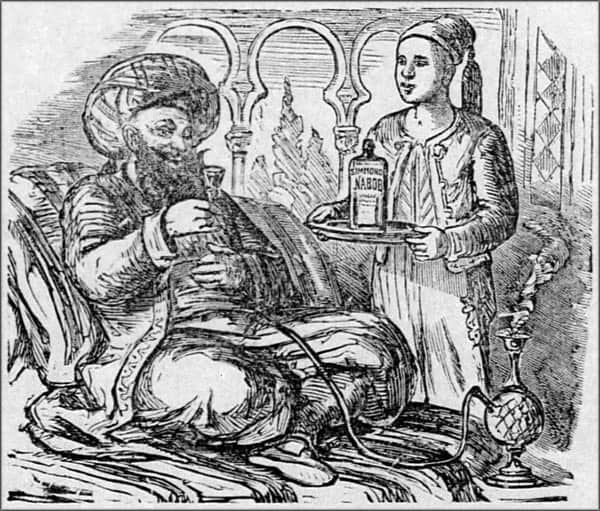 Our museum example represents one of three variants of the embossed Nabob bottles. It is typically found in whittled red-amber glass with an applied top.
George Simmonds
Not much is known about George Simmonds though we believe he was born in 1826. We first see Mr. Simmonds's name and his Simmonds' Nabob Bourbon Whiskey referenced in Boston in 1873. He was listed as the Sole Proprietor of Simmonds' Nabob Whisky with a Laboratory and Office at No. 4 State Street. His advertising said it was the "Purest and best for medicinal and family purposes." You could buy his whiskey by the bottle, case, gallon, half-barrel, or barrel. There was even a shot glass embossed with the Nabob brand.
Simmonds seemed to avoid the United States Federal Census reports each decade probably because he was nomadic. He may have visited Kentucky on his way to California because an illustration of the label on the billhead below states that it was Distilled by Nabob Distillery Co. in Covington, Kentucky. It is believed that George departed Kentucky and arrived in San Francisco in 1877.

In 1878, George Simmonds was listed as the Proprietor of Nabob Whiskey and a Patent Night Light. The patent for the light said that it was "a new and useful improvement on Chamber and Nursery Lamps." Simmonds was located at 427 Sansome according to the San Francisco City Directory.
The United States Patent Office under "Whisky" records that George Simmonds of San Francisco, California had an application filed on April 11, 1878, for the arbitrary selected word "Nabob" and the title "Simmonds." He would take on Ami Vignier as a partner in 1882 and they would relocate to 429-431 Battery in San Francisco. The company name was now G. Simmonds & Company and advertising would continue until 1886 or so. The primary brands they represented, besides Nabob, were Iroquois, Simmonds's Choice, O.P.S., and Cream of the Valley Gin. We have the O.P.S. bottle in this gallery on another shelf.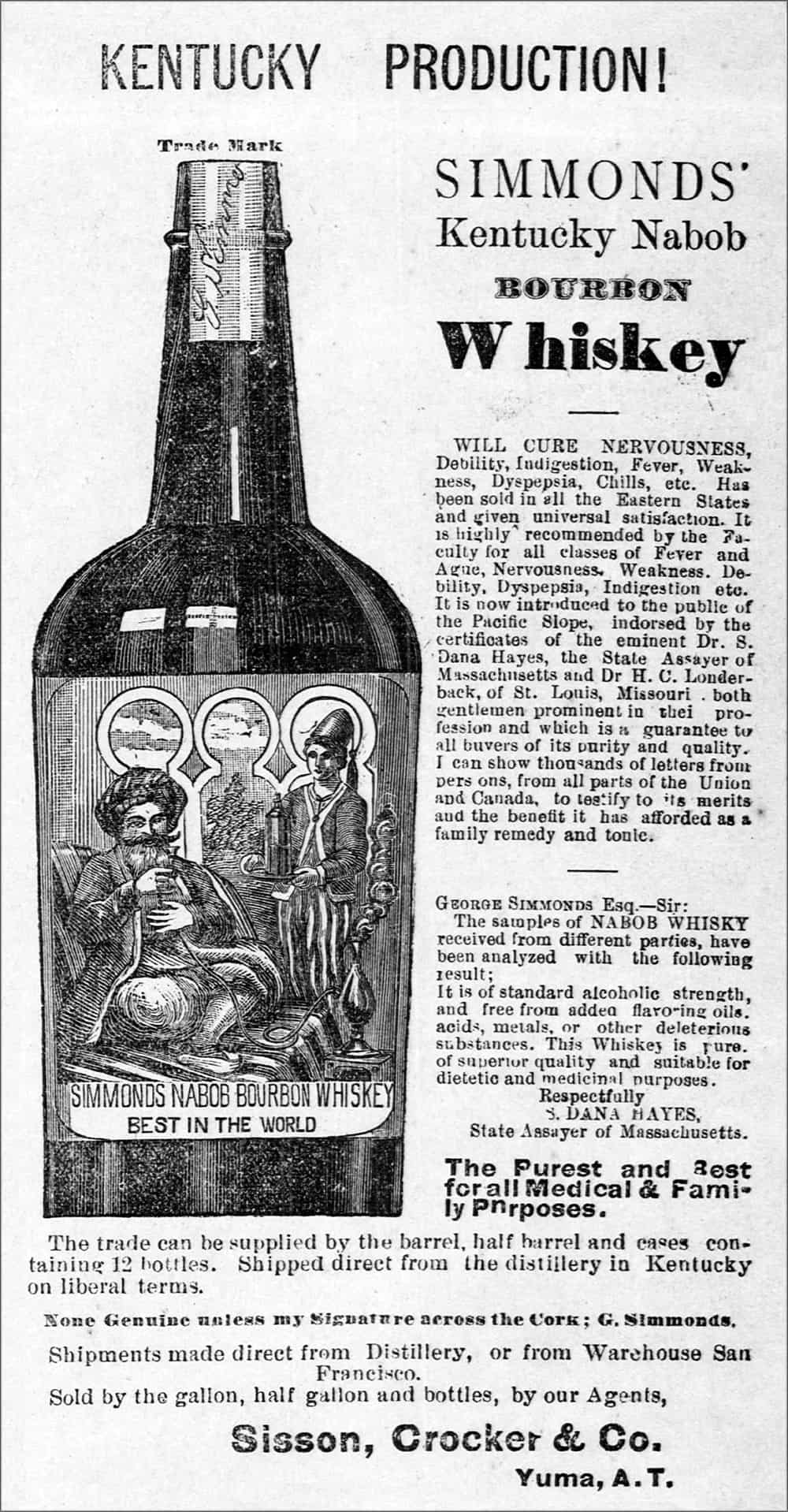 Primary Image: Simmond's Nabob Kentucky Bourbon Whiskey bottle imaged on location by Alan DeMaison, FOHBC Virtual Museum Midwest Studio
Reference: Reference to George Simmonds Put Nabobs on Frisco's Nob Hill by Jack Sullivan
Reference: Whiskey Bottles of the Old West by John L. Thomas, 2002
Support Images: Secondary Simmonds' Nabob Whiskey bottle images courtesy Jeff Wichmann at American Bottle Auctions
Join the FOHBC: The Virtual Museum is a project of the Federation of Historical Bottle Collectors (FOHBC). To become a member.