Kent Pattern Molded Chestnut Flask
Kent Pattern Molded Chestnut Flask
20 Verticle Ribs

Franklin Glass Works, Portage County, Ohio
Pale Yellow
Provenance: John Fifer Collection, ex Darl Fifer Collection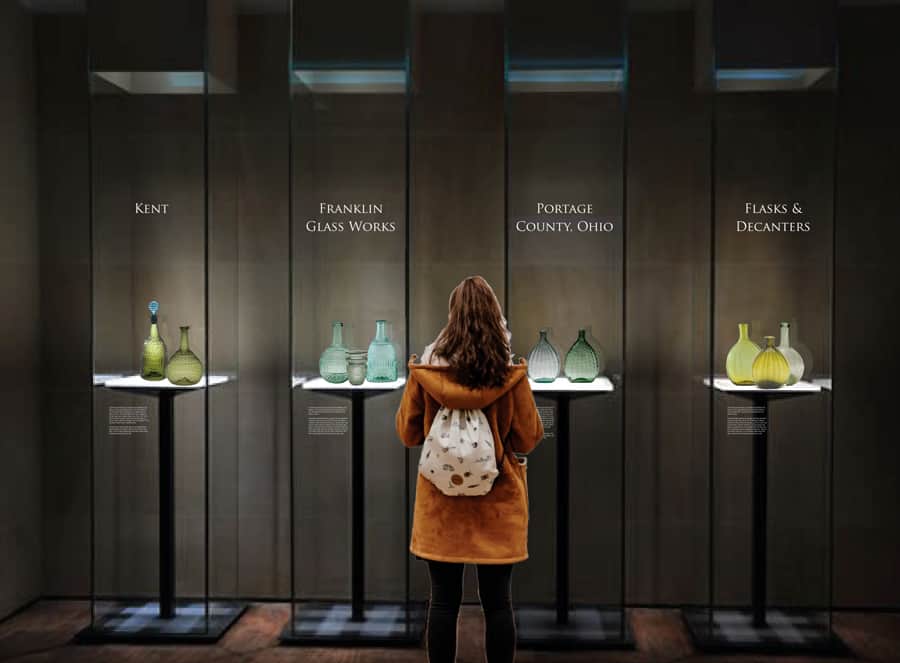 Some of the finest 19th-century American glass, both free-blown and pattern-molded, was made in the glasshouses which dotted the Ohio and Pittsburgh-Monongahela districts. The craftmanship, glass brilliancy, color, and style were as good as any of the Steigel Manheim Pennsylvania work that was passed on from the great Venetian or Continental glassblowers. Within our museum Free-Blown and Pattern-Molded Gallery, we have some excellent examples in our Tableware and Flask & Decanter Rooms.
Bottles and flasks, patterned in molds and expanded, were a leading commercial product of most of the early Ohio and Midwestern houses. These were produced in an almost never-ending variety of size, form, and color, and combined with delicate designs patterned in ribbed and latticed or diamond molds. The sixteen-rib molds used at Mantua, Ohio; the twenty-rib, identified with Kent; and the Zanesville twenty-four rib were used by skilled blowers to produce not only expanded vertical and swirled ribbing but, by double insertion of the gather, the fascinating broken swirl and delicate "noncom kernel" effects, distinctly associated with these Ohio and Midwestern glasshouses.
Using the same bottle and flask molds, the blowers made beautiful table and decorative wares. A large part of the latter represented individual pieces blown as gifts, for home use, and commercially for local markets. The surviving examples can be found in prominent American museums and collections.
For many years before and after its excavation, the subject glasshouse has been called the Franklin or Kent Glass Works, terms used nearly interchangeably by researchers and collectors of Midwestern American glass. While in operation, the glassworks produced several distinctive patterns of glass flasks and decanters blown into two-piece and three-piece molds, and much free-blown pattern molded decorated tableware.
It is believed that the Franklin Glass Works factory was established in 1823 at a site that was near to all the necessities of glassmaking. Sand or sandstone was there to be melted and mixed with potash and limestone to make glass. A kiln was nearby where bricks for the ovens were made. Clay was available to make the crucibles needed to hold the molten glass and there were plenty of trees to provide wood to fire the furnaces. A major industrial accident in the winter of 1830/31 caused the glasshouse to cease operations and close.
See the museum example of a Kent Blown Three Mold Decanter.
See the museum example of a Kent Pattern Molded Bowl.
Our 6 1/2″ tall olive-yellow Pattern Molded Chestnut Flask has 20 vertical ribs and is attributed to Kent Glass Works circa 1824 to 1830. The neck is flared to a plain sheared mouth. There is a pontil scar.
Primary Image: Kent Pattern Molded Flask imaged by the FOHBC Virtual Museum midwest studio by Alan DeMaison.
Support Images: Auction Lot 120: Pattern Molded Flask, 17 vertical ribs, Midwest America, probably Kent Glass Works, Kent, Ohio, 1820-1830. Olive yellow, inward rolled mouth – pontil scar, ht. 4 7/8 inches, greatest width. 3 7/8 inches; (some exterior high point wear and scratches). Form similar to MW plate VI, #5 Rare seventeen rib mold, rare color, beautiful small pocket flask. Ex Hiram Norcross collection. – Norman Heckler, Norman C. Heckler & Company
Support: Reference to American Bottles and Flasks and Their Ancestry by Helen McKearin and Kenneth M. Wilson, Crown Publishers Inc., New York, 1978.
Support: Reference to Archaeology In a Portage County Cornfield by Charles Buffum, Akron Beacon Journal, November 30, 1869.
Support: Reference to Ohio Glass 1815-1953, The Toledo Museum of Art, October 1953
Support: Reference to History of the Franklin Glass Works, Portage County, Ohio By George L. Miller, Summer 2004, Bottles and Extras
Support: Reference to Ohio and Midwestern Glass by George S. McKearin, November 1940, American Collector magazine.