H & C. Overdiek Mineral Water Cincinnati O
H & C. Overdiek Mineral Water Cincinnati O
O This Bottle Is Never Sold
Henry and Charles Overdiek, Cincinnati, Ohio
Aquamarine Pony Soda Water
Provenance: Doug Shutler Collection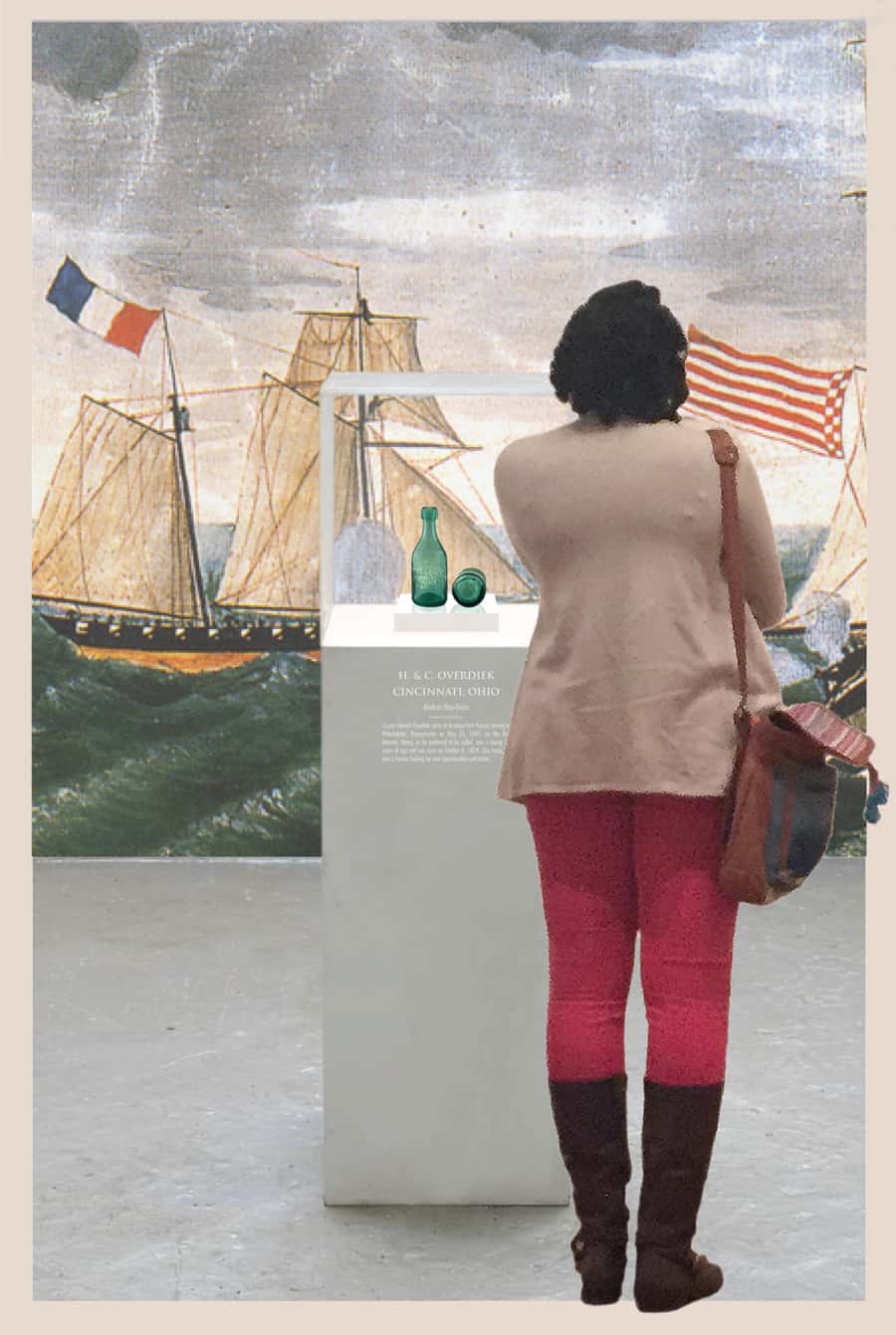 Our 7 ¼ tall, cylindrical, hand-blown aquamarine pony bottle is embossed on the face in four lines, 'H&C. OVERDIEK,' 'MINERAL WATER,' 'CINCINNATI.' and 'O'. The "O" is on the fourth line and flush right. The reverse of the bottle is embossed with a 1″ tall 'O' for Overdiek. Beneath in two lines is the embossed copy, 'THIS BOTTLE IS NEVER SOLD.' The bottle has an iron pontil and an applied rounded mouth. It was made circa 1855.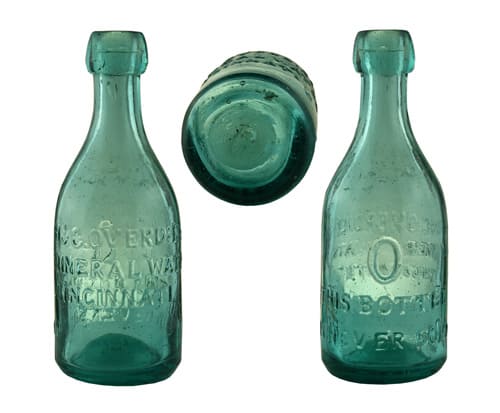 Many soda water bottles have an extensive base and side wear as soda water bottles were the property of the soda bottler and were sometimes marked like our example, "This Bottle is Never Sold" or similar embossing to that effect.
Before soft drinks, there was a significant mineral and soda water industry in the United States, populated mainly by regional manufacturers. Water quality was a considerable concern in the antebellum days of cholera epidemics. Mineral or soda water was considered safer than well or other flowing water.
Overdiek Brothers
On the Brig Bremen, Caspar Henrich Overdiek came to America from Prussia, arriving in Philadelphia, Pennsylvania, on May 25, 1847. As he preferred to be called, Henry was a young 22 years of age and was born on October 8, 1824. Like many, he was a farmer looking for new opportunities and riches.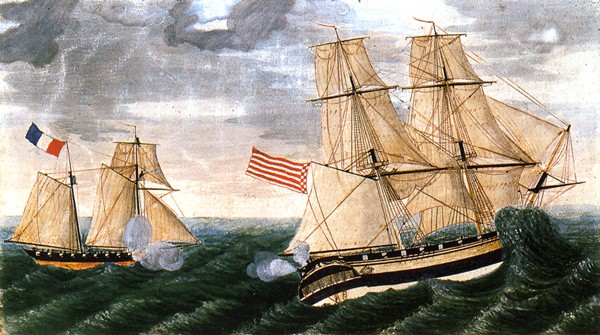 Immigrants from Germany soared to 1,275,000 from 1845 to 1860 as people fled the rocky mid-19th century revolutionary years in Germany. The fertile lands of Ohio were the end destination of many of these Germans who came with money and could afford to start a business. We believe Henry came with his brothers Charles and John. He would marry Augusta Louisa M. Wachs in the late 1840s, and they would have three children, Matilda, Johanna, and William.
While Heinrich "Americanized" his name to Henry, he and his brothers were also transitioning to a spelling of their last name to "Overdick" as opposed to "Overdiek," which resulted in many misspellings and errors in historical records.
By the early 1850s, the mineral water business was very competitive in Cincinnati. The city was host to eight mineral water factories with 64 employees who produced over $100,000 in annual output.
The difference between "soda water" and "mineral water" during the 19th century was often vague. Soda water was generally considered flavored artificial mineral water with the purposeful addition of carbonation and various compounds and flavoring. As it was also called, mineral or spring water would generally be natural waters from spring sources that were typically highly mineralized with carbonates like alkaline, sulfurous compounds, and or various salts, which often carbonated naturally. The confusion sometimes arises when mineral water was used as a generic term applied to various natural and artificially carbonated, non-artificially flavored waters, including many used for their perceived medicinal qualities. Please visit the museum Spring & Mineral Water Gallery.
The first time we see the Overdiek brothers listed in the Williams' Cincinnati Directory, City Guide and Business Mirror was in 1853 when Henry and Charles Overdiek was listed as "H. & C. Overdiek, mineral water manufacturers located on the south side of 5th Street, east of Broadway." These listings would continue until 1865 with a change of address in the mid-1850s to 15 and 17 Home Street. The pair also put out a very collectible and desired 12-sided dark blue favored beer bottle embossed "H & C. Overdick Cincinnati." Note the spelling of "Overdick."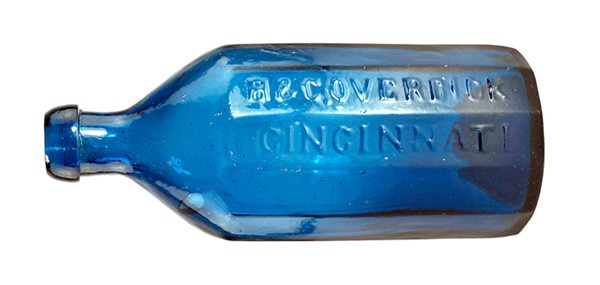 Henry Overdiek died in 1867. John Henry Overdiek, Henry's younger brother, would continue the mineral water business and have his own embossed bottles made similar to the Henry and Charles initial mineral water bottles. He also had a "J. H. Overdick Cincinnati, Seltzer Water" bottle made with a Putnam cork fastener. The Overdeik bottles were made at an unknown glass house though the seltzer water bottle was marked Alexander and David H. Chambers of Pittsburgh.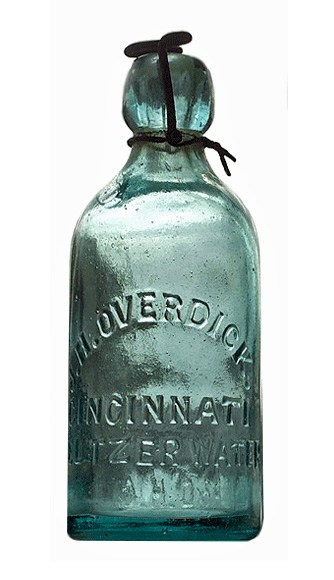 John Overdiek did well as the 1870 United States Federal Census listed John H. Overdeick (another misspelling variant), age 43, birth date about 1827 in Prussia. He was living in Cincinnati Ward 8, Hamilton, Ohio. "Mineral Water Factory" was listed as his occupation with a personal estate value of $3,000 and a real estate value of $23,000. His wife was named Henrietta, and their children were Louisa, Alvina, Henry, and Tillie.
Support: Primary Image: The H & C. Overdiek Mineral Water bottle imaged by the FOHBC Virtual Museum midwest studio by Alan DeMaison.
Support: Reference to Soda & Beer Bottles of North America, Tod von Mechow
Support: Reference to The American Pontiled Soda Database Project, Tod von Mechow
Support Images: Dark blue, 12-sided flavored beer bottles embossed "H & C. Overdick Cincinnati" from Jim Hagenbuch, Glass Works Auctions
Join the FOHBC: The Virtual Museum is a project of the Federation of Historical Bottle Collectors (FOHBC). To become a member.