Gibb's Bone Liniment
L. E. Gibbs' Celebrated Bone Liniment
Lester E. Gibbs, North Blandford, Massachusetts
Hexagonal Yellow Olive Medicine Bottle
Provenance: Chris Bubash Collection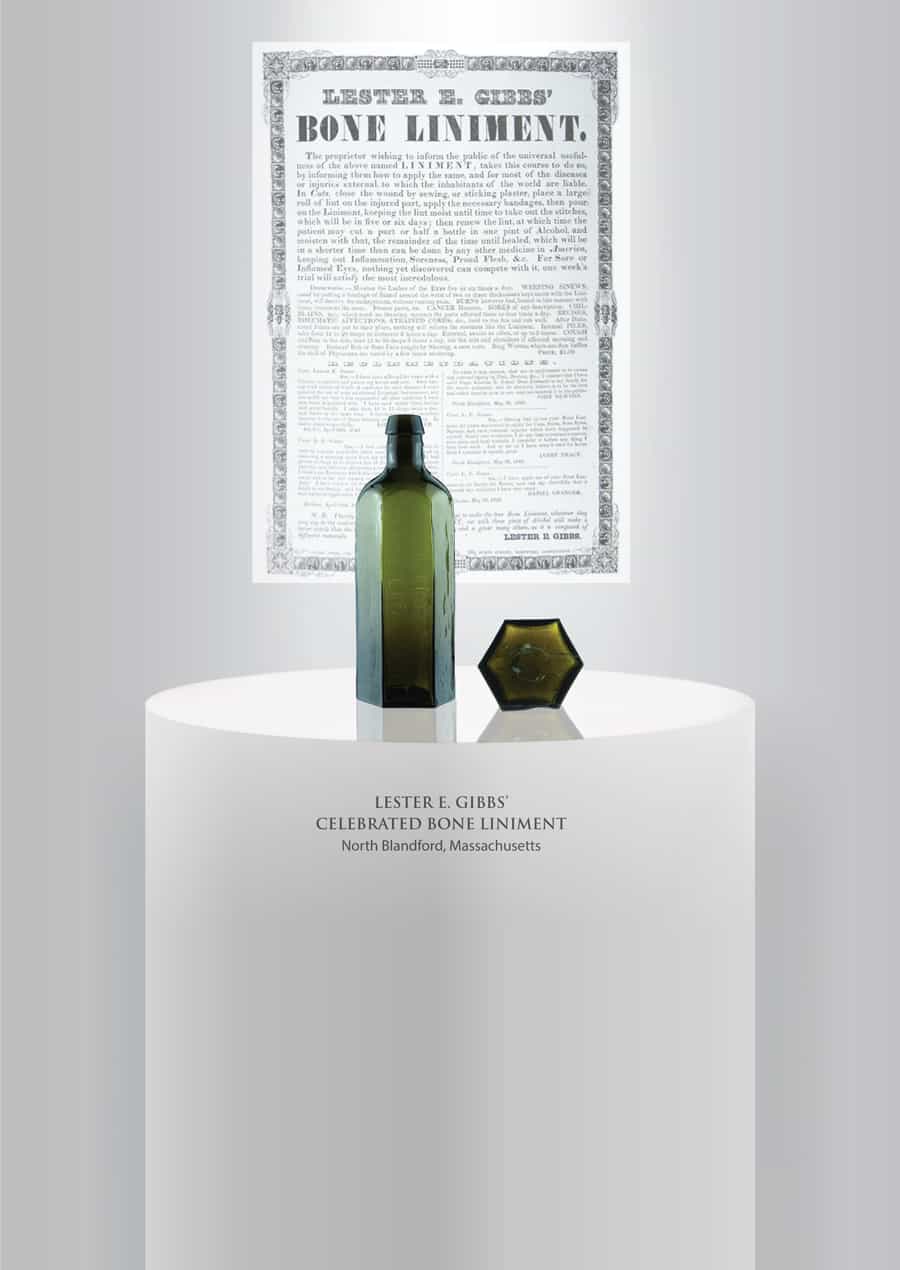 L. E. Gibbs' Celebrated Bone Liniment is an early New England medicine bottle that is seldom seen. This attractive 6 1/2 inch tall vessel is hexagonal and was blown in a rich yellow-olive glass. There is an applied sloping collared mouth and a pontil scar. The bottle has six arched panel sides and one of them carries the embossed copy, shoulder to base. In a crude sans serif typestyle 'GIBB'S BONE LINIMENT' occurs in two lines. The other five panels are blank. A paper label might have been placed on one or more of these panels. The short rounded shoulder connects to a fat crude neck. The color, condition, character, and crudity is excellent. The consignor notes that he obtained this bottle from Maine collector and dealer Jack Pelletier at a past Baltimore Antique Bottle Club show.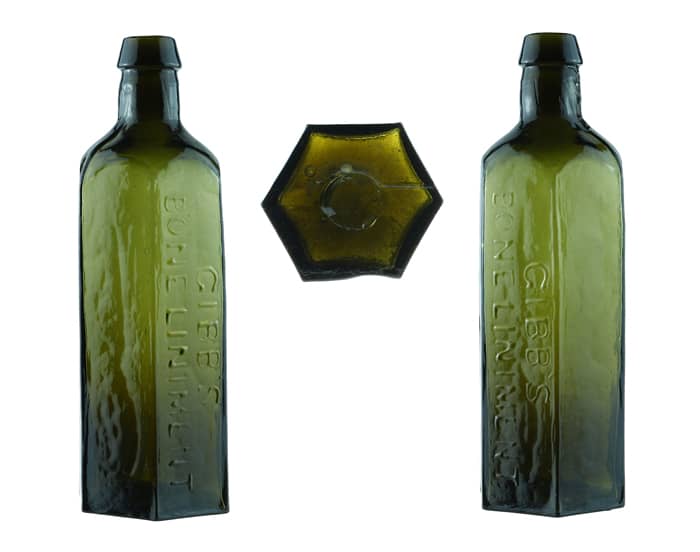 Lester Elan Gibbs was born on October 14, 1795, in Blandford, Hampden County, Massachusetts. His father was named Samuel and his mother, Jane Murray Gibbs. He would marry Mary (Polly) Boies (1793–1866) in 1818, and they would have nine children.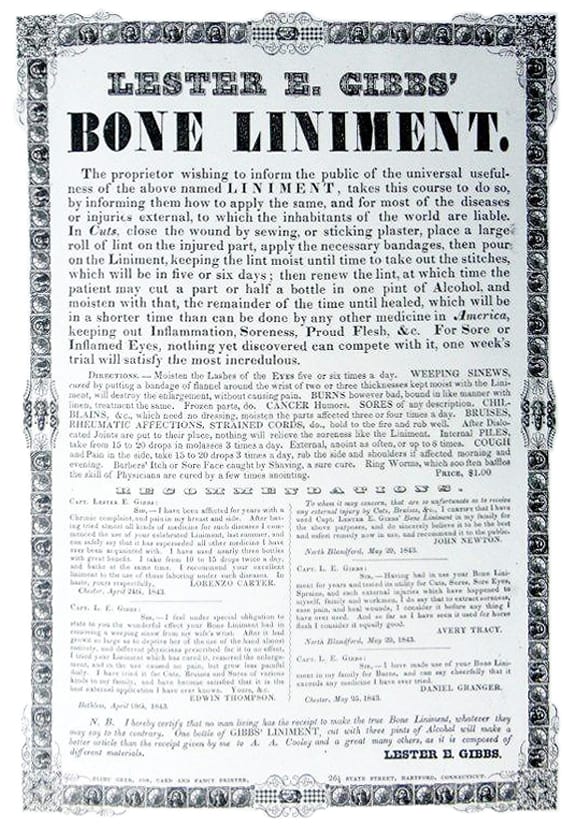 L. E. Gibbs was one of Blandford's cordwainers and Captain of the local militia (10 July 1817, paid as a drummer, 20 May 1919 made ensign, and 2 July 1824 nade Captain). He was primarily a farmer who raised horses in North Blandford, Mass. He sold his liniment in the early to mid-1840s. Regional newspaper advertising said his Gibbs' Celebrated Bone Liniment was "The most sovereign remedy ever discovered for all the external injuries of that noble animal the Horse." According to directions and advertising, it was a cure liniment for external use only and should be used for "Skin Inflammations, Soreness, Eye Inflammation, Frost bit (sic), Weeping Sinews, Burns, Cancer Humors, Chilblains, Rheumatic Affections, Itching, Ring Worm, Facial shaving Injuries, Strained Cords, etc." This copy indicated that he was recommending the Liniment for personal use too.
Some suggest that these bottles are Stoddard-made glass from New Hampshire or could have been made at Coventry Glass Works as this factory was the closest to Gibbs, as the crow flies. This changed when bottle shards were found at the Mt . Vernon Glassworks site in Vernon, New York. The color and form is consistent with the bottles made there.
Due west of Springfield, Mass., Blandford was first settled in 1735 primarily by Scots-Irish settlers and was officially incorporated on November 10, 1741. Because of these Scots-Irish families, Blandford was initially called "New Glasgow" after Glasgow, Scotland, but was renamed "Blandford" at the time of incorporation. While the petition of incorporation from the settlers asked that the town be named Glascow (sic), William Shirley, the newly appointed governor of the province of Massachusetts, ignored their request and named the town Blandford after the ship that brought him from England. The name change came at a cost to the townspeople. The people of Glasgow, Scotland, had promised the settlers a gift of a church bell if they named the town after their city. With the town now called Blandford, the bell was never sent.
Hugh Black was the first settler to arrive in the fall of 1735. James Baird came shortly after that. Several other families soon followed, including Reed, McClintock, Taggart, Brown, Anderson, Hamilton, Wells, Blair, Stewart, Montgomery, Boies, Ferguson, Campbell, Wilson, Sennett, Young, Knox, and Gibbs, the name on our bottle. Most of these families first settled in Hopkinton, Massachusetts, in 1727 before coming to Blandford.
Lester E. Gibbs died on August 19, 1853, at the age of 57 in Blandford. On his handwritten will, a passage on the first page in the multi-page document said he was giving his twin sons Edward Eli Gibbs and Edson Otis Gibbs all the real estate he owned, stock carriages, harnesses, farming tools, joiners, blacksmiths, and farriers instruments among many other items. The last sentence said— "and all my Liniment and bottles that may be on hand at that time."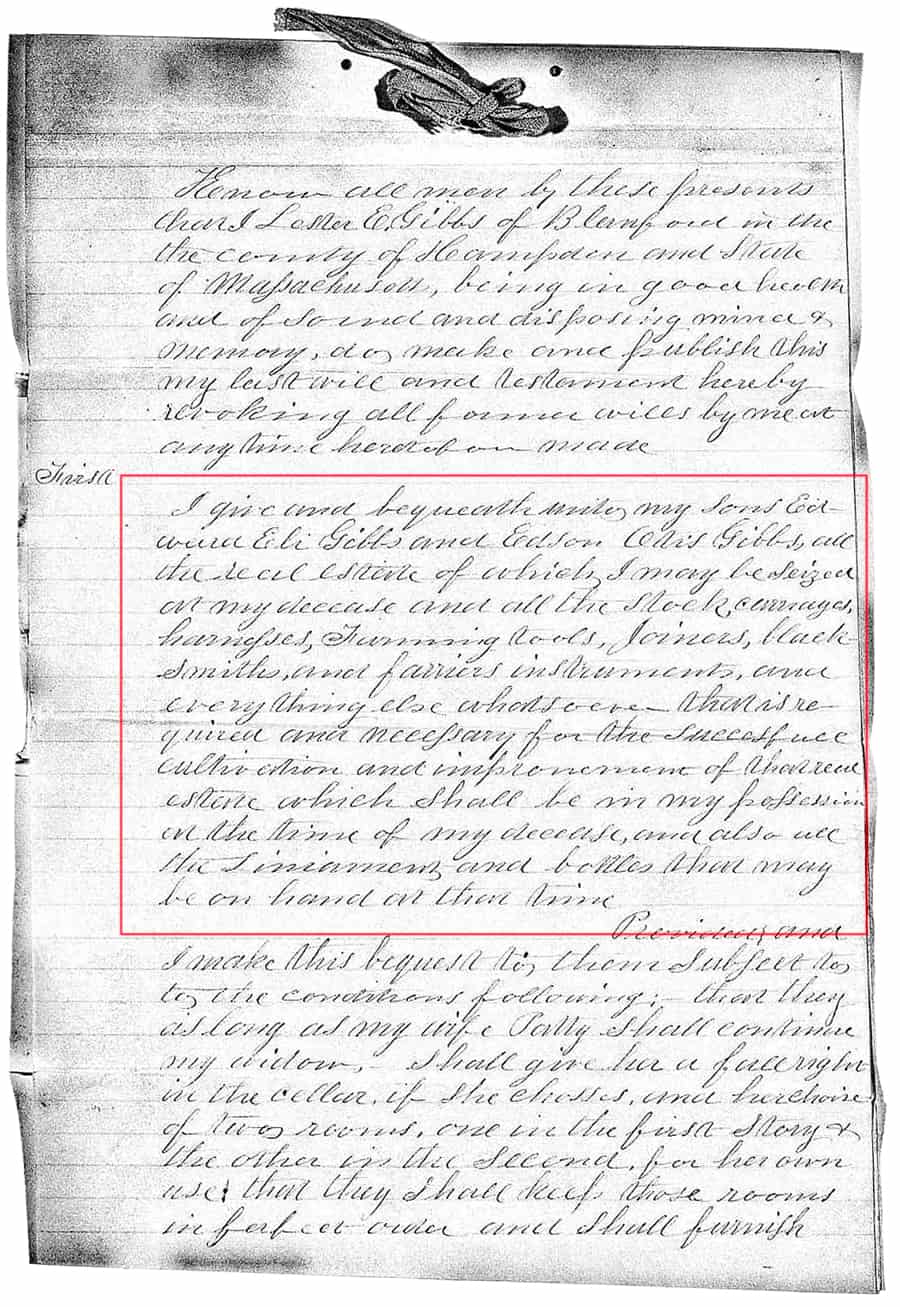 Primary Image: Gibbs' Bone Liniment bottle imaged on location by Alan DeMaison, FOHBC Virtual Museum Midwest Studio
Support: Reference to Lester E. Gibb's Bone Liniment, Peachridgeglass.com, Posted on 30 May 2012 by Ferdinand Meyer V
Support: Reference to Descendants of David Boies of Blandford, Massachusetts, by Betty E. Boies and Violet C. Wells, of Spokane, Washington, privately published in 1986 (468 pages).
Support: Discussion with Pliny "Chips" Norcross III, President of the Blandford Historical Society
Support Image: Auction Lot 6: "Gibb's / Bone Liniment" Medicine Bottle, a Stoddard glasshouse, Stoddard, New Hampshire, 1846-1860. Hexagonal, light to medium yellow olive, applied sloping collared mouth – pontil scar, ht. 6 1/2 inches; (3/8 inch open bubble on panel to left of embossing). AAM pg. 188 Numerous large and small bubbles. Crudely applied mouth and bright color. – Norman Heckler Jr. & Sr., Norman C. Heckler & Company, Auction #144
Join the FOHBC: The Virtual Museum is a project of the Federation of Historical Bottle Collectors (FOHBC). To become a member.