Air-Tight Fruit Jar Whimsey
Air-Tight Fruit Jar
Whimsey

Possibly Ravenna Glass Works, Ravenna, Ohio

Aquamarine Figural Barrel
Provenance: Jerry McCann Collection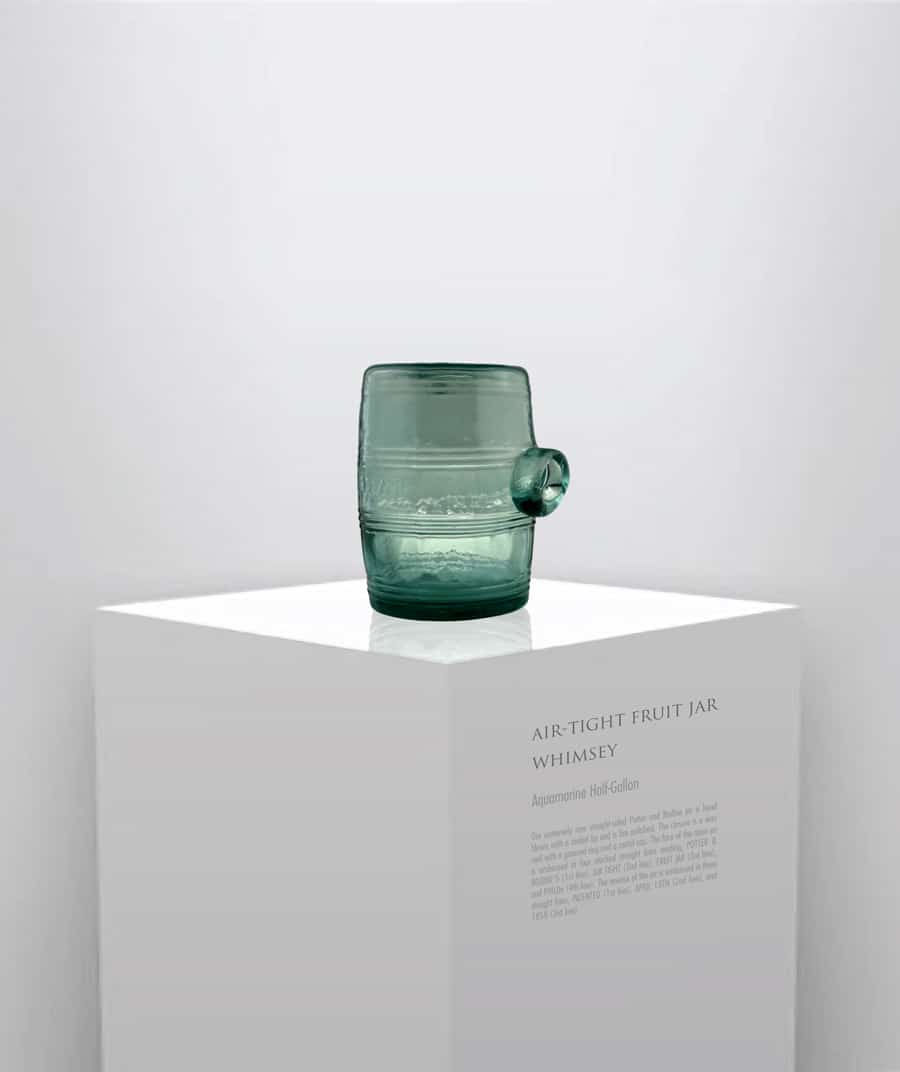 The museum is pleased to have on display this wonderful whimsey made from an Air-Tight Fruit Jar. What is extraordinary about this example is that the mold was used to make a figural barrel or keg bottle. The bottle-maker added a blob-top spout or mouth in the bunghole position of the barrel form. This is the only example reported and has an open pontil scar. Initially, one might not see a practical reason this so-called bottle was made so we use the term whimsey.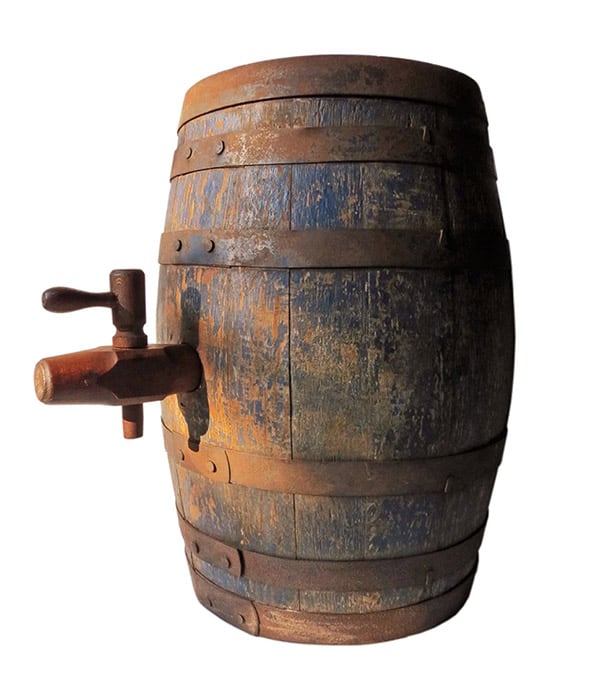 Early American glass authority Norman Heckler Jr. believes that it may very well have had a function. "In 18th century America, this form served as a canteen in treenware and is referred to as a rundlet. They also served as handheld vessels for liquor of 18th/19th century England in very fancy pearlware ceramics. Another handheld rundlet was discovered in an olive green glass a decade or so ago, with "sled" feet, possibly America but a European origin could not be ruled out. Of course, all the above have a bunghole carved wood, molded pottery, and applied tooled glass. What is great is that this glass example cannot be anything other than American! A wonderful piece of Glass!"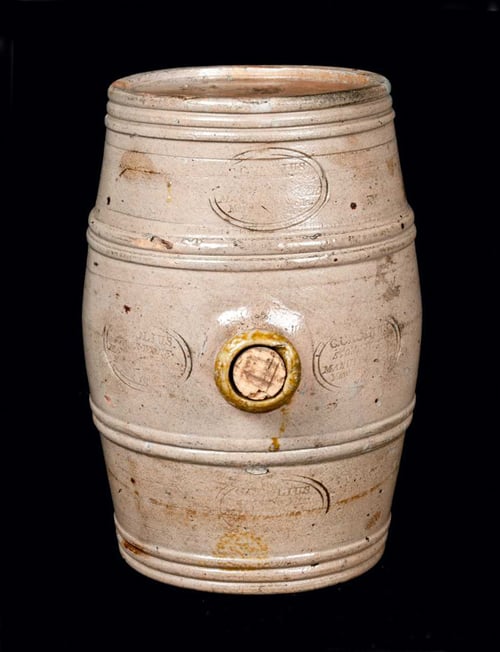 Whimsey glass, also known as "whimsy", "whimsies", "wimsy" and "wimsies", and also as "triggers" or "end-of-days" as they were often made at the end of the glass-blowing workday. It is usually a work that is created to demonstrate the skill of the glassmaker for no useful purpose, so named as it was made on a whim, or was a whimsey of the glassmaker.
The name may also refer to the fanciful or whimsical style of much of this sort of work. Glassmakers would make whimsies on their breaks or at the end of the day with any extra molten glass left in the pot. They would often bring the objects home to their families. It became one of the most sought-after styles of glass during the 19th-century, especially representations of boots, shoes, and hats, though this style of glass is first recorded in 15th-century Germany. During the 19th century, its popularity was as a souvenir but also due to its display in trade exhibitions.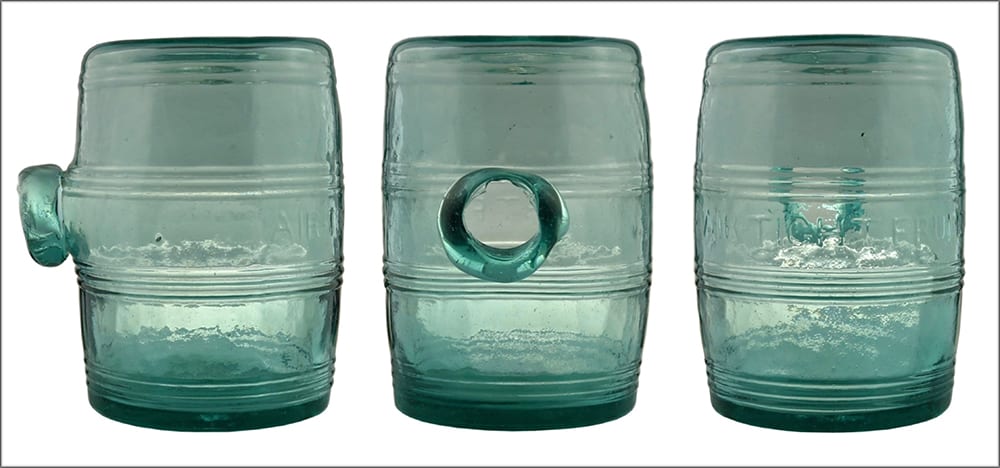 These handblown jars, typically found in aqua, are embossed horizontally 'AIR-TIGHT FRUIT JAR' across the center space of the front of the jar between two embossed 3-ring hoops. There are also sets of 3-ring hoops on the shoulder and bottom of the jar. The jars have no embossed proprietor or glasshouse name like other museum examples such as the Ravenna Glass Works Ohio Air-Tight Fruit Jar and the Potter & Bodine Air-Tight Fruit Jars.
See our museum example of an Air-Tight Fruit Jar.
See museum example of a Ravenna Glass Works Ohio Air-Tight Fruit Jar.
See museum example of a Potter & Bodine Air-Tight Fruit Jar.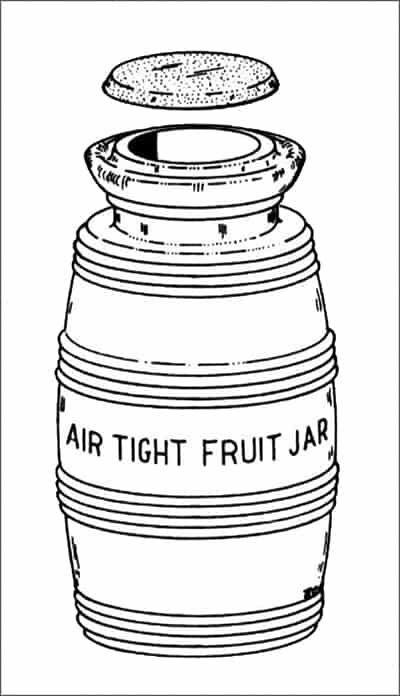 The mouth or opening on the Air-Tight Fruit Jars has a grooved ring that was formed by collapsing the bulbous neck while hot and working it upward to form the groove. Most aquamarine examples come with a rough, broken off the blowpipe, inner lip while the very few amber examples have a fire-polished inner lip. There would have been a metal cap. Aqua examples are iron pontiled or have a glass tubular scar on the base. On our whimsey example, the bunghole opening would have been made when the glass was hot. The blob-top mouth ring would have been added next.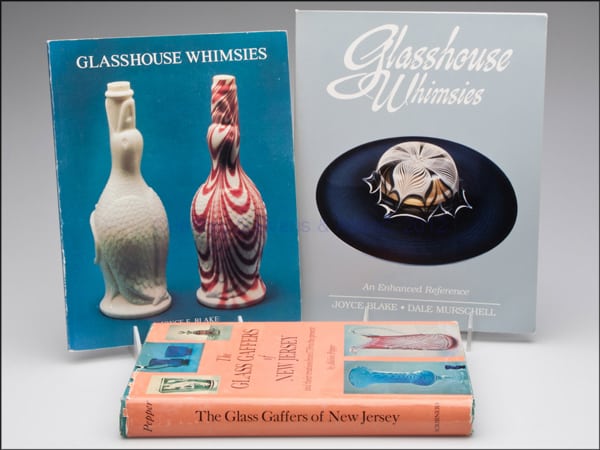 Primary Image: Air Tight Fruit Jar Whimsey imaged on location by Alan DeMaison, FOHBC Virtual Museum Midwest Studio
Support: Reference to Fruit Jar Annual 2020 – The Guide to Collecting Fruit Jars by Jerome J. McCann
Support: Reference to Red Book #11, the Collector's Guide to Old Fruit Jars by Douglas M. Leybourne, Jr. This includes the use of the Alice Creswick drawing granted by Doug Leybourne.
Support Image: Auction Lot 63: "Air-Tight Fruit Jar", possibly Ravenna Glass Works, Ravenna, Ohio, 1845-1860. Barrel form, light to medium blue-green, applied wax seal mouth – iron pontil mark, quart; (3/8 inch by 1/4 inch chip has been filled with epoxy on the rough inner mouth). – Norman C. Heckler & Company, Auction #98
Support Image: Example, Red Book #51-2, Air-Tight Fruit Jar, figural barrel, deep aqua, Iron Pontil, Quart, large crude applied mouth, nicely whittled, 100's of tiny bubbles in the glass, a fine example of this scarce jar, America circa 1850 to 1870. GreatAntiqueBottles.com. Photography: Kathy Gray
Support Image: Example: Quart, deep aqua, grooved ring wax sealer mouth finish and comes with an early unmarked tin cap. Sparkling glass. Chips off the inner sheared lip. Strong embossing. Black iron pontil scar, 1850s. – Greg Spurgeon, North American Glass
Support Image: Example: Pint, Deep rich aqua, Grooved ring wax sealer mouth finish with a rough sheared inner lip. Sparkling glass. Edge flaking off the inner lip which is normal. Black iron pontil scar, 1850s. – Greg Spurgeon, North American Glass
Support Image: Rare Salt-Glazed Stoneware Rundlet, Impressed Four Times "C. CROLIUS / STONEWARE / MANUFACTURER / Manhattan-Wells / NEW-YORK," circa 1815, finely-potted, small-sized keg with ovoid body, raised banding, recessed top, and underside, and applied rounded spout at the midsection. Impressed four times with Clarkson Crolius maker's mark within an oval, surrounding the spout. A scarce Crolius form with unusual employment of multiple signatures. Excellent condition with an in-the-firing stone ping/chip to foot, and two other minor base chips. H 8″. – Crocker Farm
Support: Reference to Toppin' it off with a few Glasshouse Hat Whimsies
Support: Reference to Ravenna Glass Company and The Bodine Glass Companies by Bill Lockhart, Beau Schriever, Bill Lindsey, and Carol Serr
Join the FOHBC: The Virtual Museum is a project of the Federation of Historical Bottle Collectors (FOHBC). To become a member.