Petal Jar – Green
Petal Jar
American
Dark Green Half-Gallon and Quart
Provenance: Lou Pellegrini Collection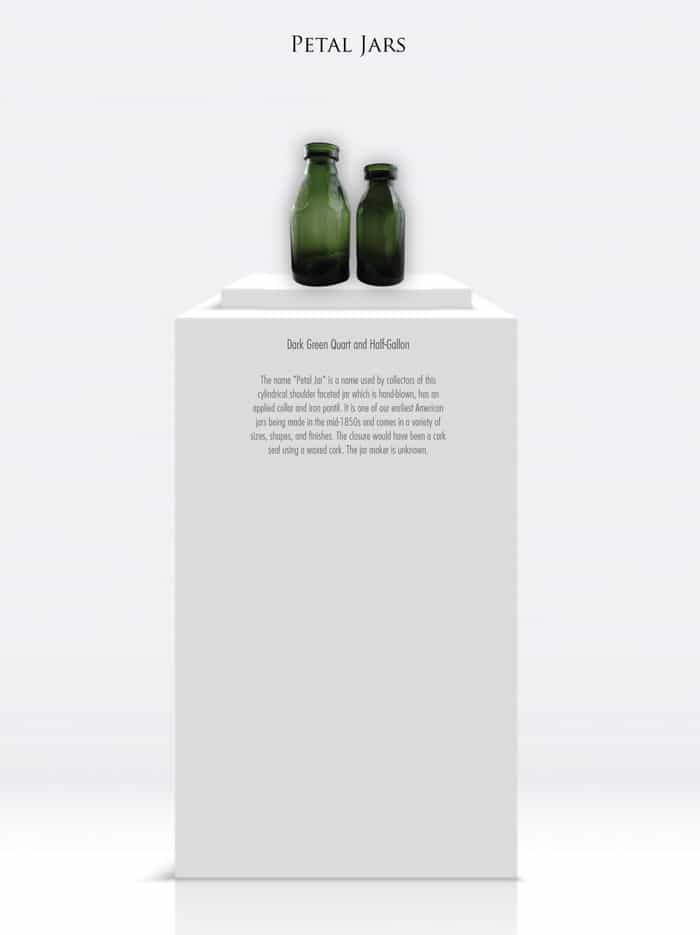 Petal Jars are well-represented within our museum Jar Gallery on the 2nd Level where you can see a beautiful sapphire blue quart Petal Jar and related examples. We thought it important to include these early dark green Petal Jar examples in our Food & Sauces Gallery as these jars were used as storage vessels for fruit and vegetables, among other things.
See the quart sapphire blue Petal Jar in the Jar Gallery.
The name "Petal Jar" is a name used by collectors of this cylindrical, shoulder faceted jar which is hand-blown, has an applied collar and iron pontil. The jar form is one of our earliest American glass containers being made in the mid-1850s and comes in a variety of sizes, shapes, and finishes. The closure would have been a cork seal using a waxed cork. The jar maker is unknown.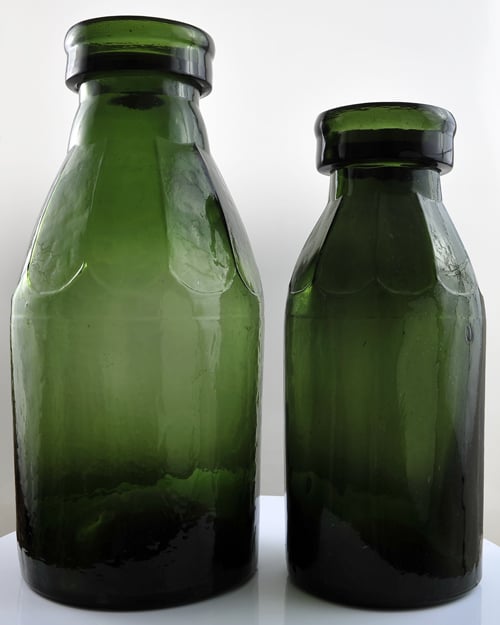 The jars are not marked with any embossed copy and are called "Petal Jars" due to the curved bottom panels or flutes molded around the shoulder. There are usually ten petals. You can find the jar in various sizes such as half-gallon+, half-gallon, and quarts in colors such as shades of medium to dark green, olive green, sapphire blue, deep sapphire blue, and medium olive amber. There are also aqua pints. These containers are very desirable and popular with collectors of rare jars.
Primary Image: Dark green Petal Jar imaged by the FOHBC Virtual Museum west coast studio by Gina Pellegrini.
Support Image: Auction Lot 156: Petal Jar, (RB-3067), probably Pittsburgh District, ca. 1850 – 1860, emerald green quart, 10-shoulder and neck panels, reddish iron pontil, applied wax seal mouth. About perfect (two in-making paper-thin open surface bubbles are on the shoulder). Some glass whittle, numerous tiny air bubbles. – Jim Hagenbuch, Glass Works Auctions, Auction #153
Support: Reference to Fruit Jar Annual 2020 – The Guide to Collecting Fruit Jars by Jerome J. McCann
Support: Reference to Red Book #11, the Collector's Guide to Old Fruit Jars by Douglas M. Leybourne, Jr.
Support: Reference to American Bottles and Flasks and Their Ancestry by Helen McKearin and Kenneth M. Wilson, Crown Publishers Inc., New York, 1978.
Support: Reference to Ketchup Pickles Sauces – 19th Century Food in Glass by Betty Zumwalt
Join the FOHBC: The Virtual Museum is a project of the Federation of Historical Bottle Collectors (FOHBC). To become a member.