Pat'd Aug. 5th 1862 – W.W. Lyman
Pat'd Aug. 5th 1862

Attributed to William W. Lyman, West Meridian, Connecticut
Moonstone Quart
Provenance: Jerry McCann Collection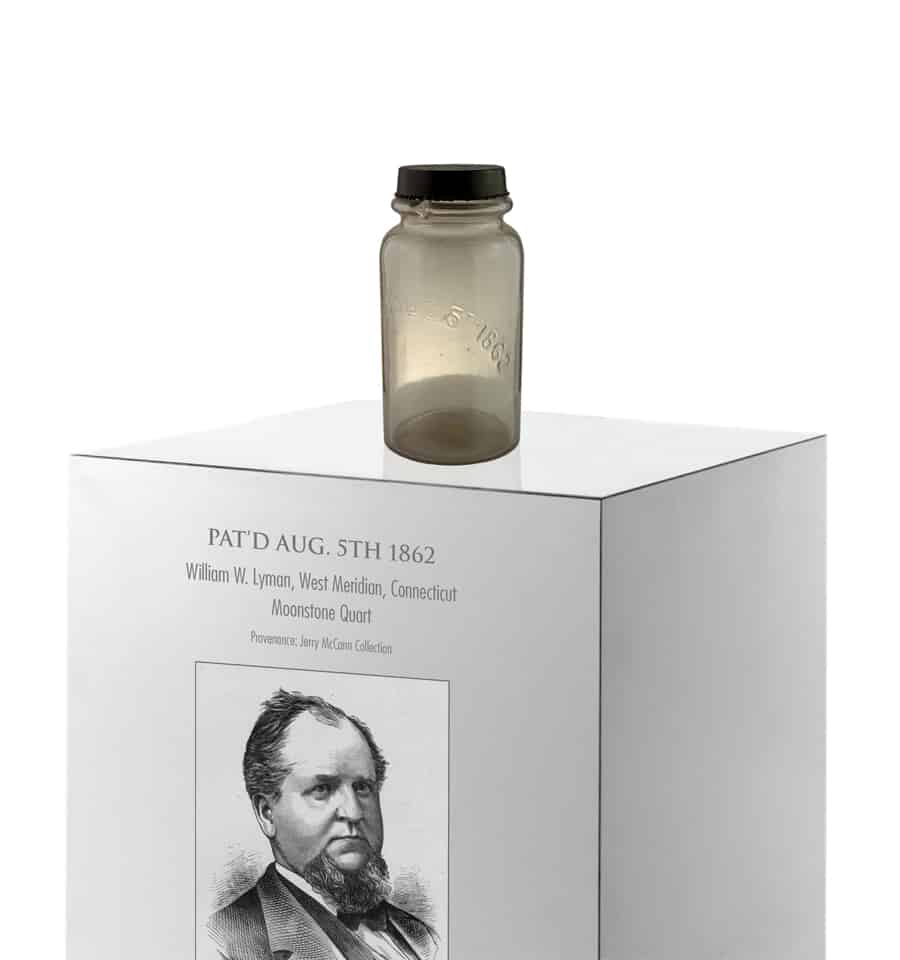 Here is an extremely rare jar that was probably the earliest of the W. W. Lyman jars which are very similar and have the same patent date. This example is in what is described as a "moonstone" glass. Aquamarine glass examples exist. This jar in certain lighting conditions has also been described as having a pink clam broth glass coloration.
The subject jar is hand-blown and has a ground lip. The closure is a side seal, metal press-down cap with a crinkled edge. The embossed copy reads, 'PAT'D AUG 5TH 1862' in an umbrella arch on the face of the jar. The base and cap are unmarked. It was made circa 1862-1863 by an unknown glasshouse. The moonstone glass would correspond to certain scroll flasks made in the same glass color, also circa 1862. It is thought that this jar and the scroll flasks were made at the same Pittsburgh District glasshouse that covers the Ohio Valley down to Cincinnati geographic area.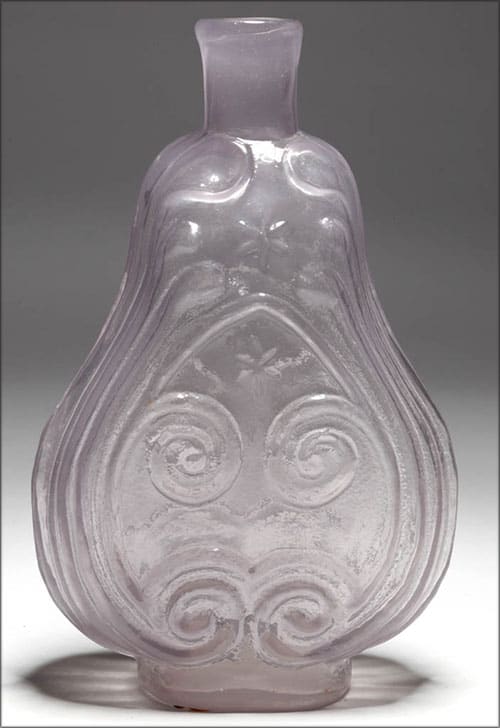 William Worcester Lyman
William Worcester Lyman (March 29, 1821 – November 15, 1891) was an American inventor from Meriden, Connecticut. Lyman was born in 1821 in Middlefield, Conn. and at the age of 15, was apprenticed to the local company Griswold & Couch, located in Meriden, to learn how to be a pewter smith. Lyman worked there until 1844.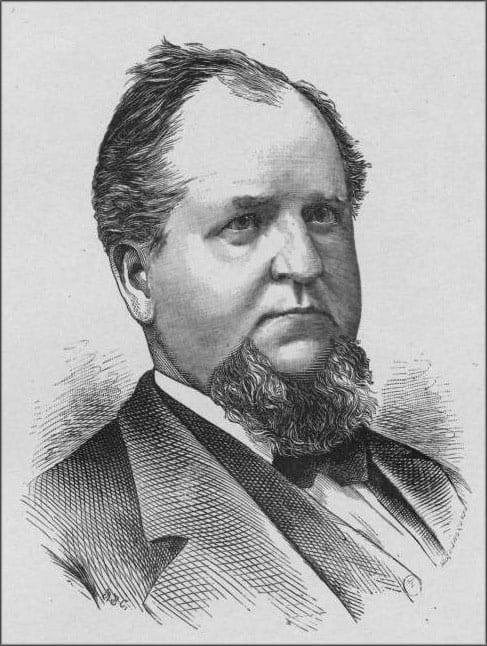 Lyman was a dedicated inventor and was awarded several United States patents. The most famous was his rotating wheel can opener, invented in 1870. His other patents were dedicated to improvements to various household food utensils such as a refrigerating pitcher (1858), fruit can lids (1862), tea and coffee pots, and a butter dish. As an example illustrating the nature of those improvements, Lyman's fruit can lid relied on the physical principle that hot food placed in a jar and then allowed to cool would suck down the lid, provided with an elastic rim inside, thereby sealing the can.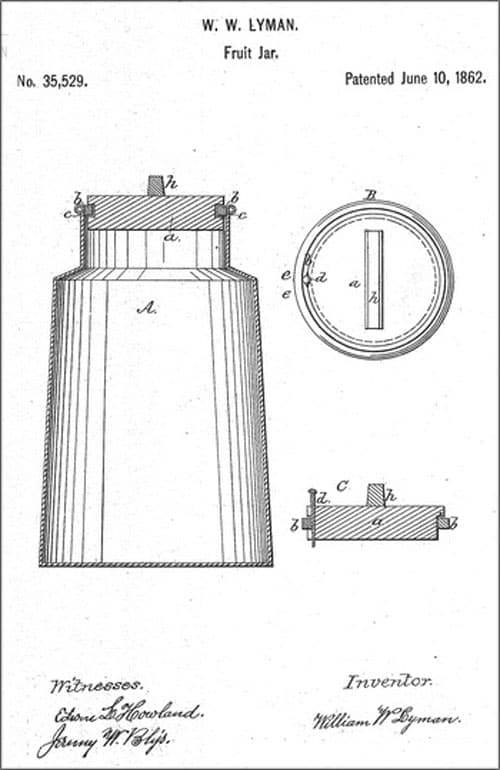 Lyman continued working as a pewter smith with various local companies until 1880. He died in Meriden in 1891 at the age of 70.
Primary Image: The Lyman Pat'd Aug. 5th 1862 jar imaged on location by Alan DeMaison, FOHBC Virtual Museum Midwest Studio
Support: Reference to Fruit Jar Annual 2020 – The Guide to Collecting Fruit Jars by Jerome J. McCann
Support Image: Auction Lot 170: GIX-2 SCROLL FIGURED FLASK, Feb 28, 2020 Auction, quart, each side with two six-point stars, plain mouth with tooled interior, rough pontil mark. Moonstone with lavender tone, Circa:1840-1860. Condition: Undamaged with just a hint of high-point wear. Size: 9″ H. Provenance: From the estate collection of Russell and Doris Evitt, Jackson, CA. Reference: Literature: McKearin/Wilson – American Bottles & Flasks, pp. 616, 617. – Jeffrey S. Evans & Associates
Support Images: Auction Lot 7540: PAT'd AUG 5th 1862. Quart, Rare Lyman Predecessor, Color: Greenish aqua, Closure: Replica metal cap. Appearance: Shiny glass. Condition: Mouth chip at the seal breaker notch. Embossing: Strong. Base: Unmarked. Age: c1862. Availability: Rare – Greg Spurgeon, North American Glass
Support Images: Auction Lot 7388: W.W. LYMAN 4 Patd 1864, Size: Quart, Color: Aquamarine: Closure: Replica cap. Appearance: Sparkling glass. Condition: Shallow chipping on the lip. Embossing: Strong. Base: Unmarked. Age: c1870 Availability: Uncommon – Greg Spurgeon, North American Glass
Support Images: Auction Lot 8247: W.W. LYMAN PATd 1862 Half Gallon, Original Cap, Size: Half Gallon. Color: Aquamarine. Closure: Original drop-on tin cap and original sealing gasket (the cap is a little ruff with some corrosion holes but still solid). Appearance: Sparkling glass. Condition: Normal flaking of the ground mouth. Embossing: Strong. Base: Unmarked, Age: c1870. Availability: Scarce especially with the original cap. – Greg Spurgeon, North American Glass