GII-30 Decanter
BLOWN THREE MOLD
Decanter
GII – 30
Possibly Keene Marboro Street Glass Works
Keene, New Hampshire
Rich Sea Green Quart
Provenance: Michael George Collection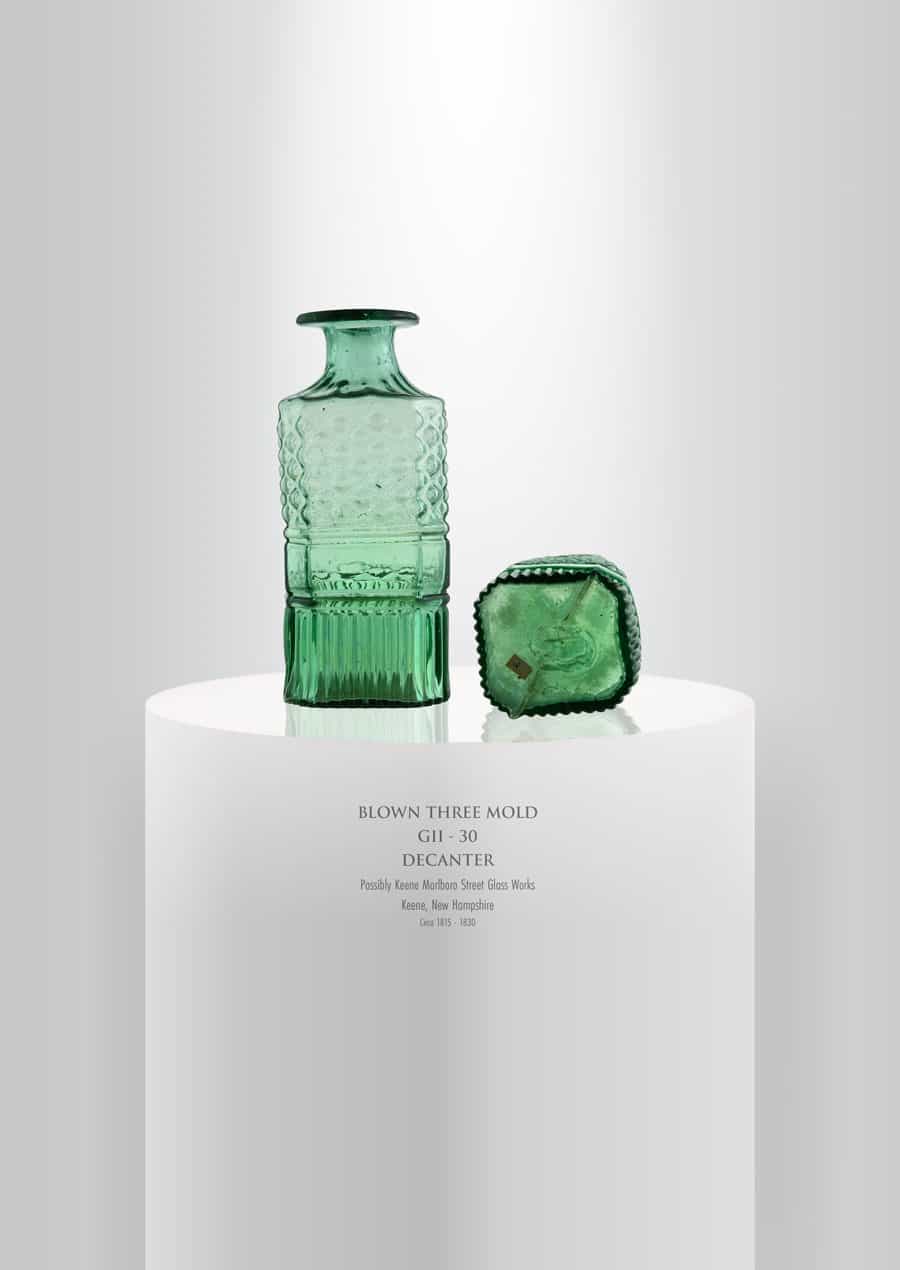 This rare GII-30 Blown Three Mold Decanter is in a square quart size. This example was found at an estate sale on Cape Cod many years ago and represents one of only a few perfect examples known.
These decanters are similar to the more common GII-28 mold but are recognizable by the wide plain band in the center. This example was blown in a rich sea green color glass most likely between 1815 and 1825 and is attributed to a New England flint glass factory like Keene Marlboro Street Glass Works in New Hampshire or a Cambridge, Massachusetts glasshouse like New England Glass Co. The square form has beveled corners, a tooled flared mouth, and a pontil scar.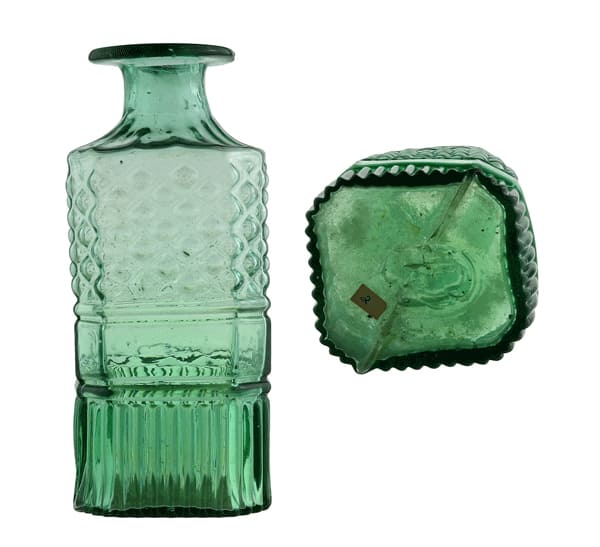 See the museum example of a GII-28 Blown Three Mold Decanter attributed to the Keene Marlboro Street Glassworks.
Two examples of these decanters are in the Cheshire County Museum in Keene. Both were found locally and passed down for a few generations before being donated to the museum. This information leads us to lean more toward Keene as the glasshouse.
The three main categories of three-mold glass patterns are Geometric, Arch and Baroque. Diamond patterning, also known as diamond diapering or diamond quilting, is the most common Geometric design and can be found on tableware items such as decanters, stoppers, cruets, casters, condiment sets, pitchers, punch bowls, pans, dishes, preserve dishes, mugs, tumblers, wine glasses, celery glasses and salts, and doll dishes.
The Keene glassworks opened under the direction of Henry Schoolcraft and his two partners in 1815 and continued in operation under a variety of operating firms for the next 35 years. Although the vast majority of the plant's products appear to have been unmarked, the factory made several flasks embossed with an owner's initials or the location name—all of which may be closely dated.
See the museum example of a pint GV-3 "Success to the Railroad" and Horse Pulling Cart historical flask also attributed to the Keene Marlboro Street Glassworks.
See the museum example of a pint GVII-1 Sunburst Flask attributed to the Keene Marlboro Street Glassworks.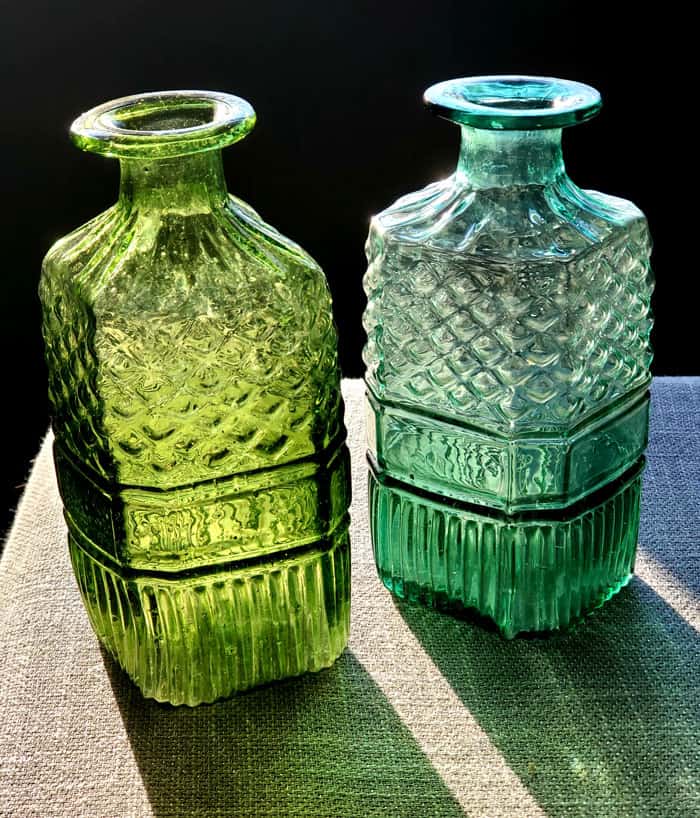 Primary Image: Blown Three Mold quart GII-30 Decanter imaged on location by Alan DeMaison, FOHBC Virtual Museum Midwest Studio
Support: Reference to American Glass by George S. and Helen McKearin, Crown Publishers Inc., New York, 1989.
Support: Reference to American Bottles and Flasks and Their Ancestry by Helen McKearin and Kenneth M. Wilson, Crown Publishers, New York, 1978.
Support Images: Auction Lot 28: Blown Three Mold Decanter, possibly Keene Marlboro Street Glassworks, Keene, New Hampshire, 1820-1840. Square with beveled corners, sea green, tooled flared mouth – pontil scar, pint; (3/8 inch hole at bottom corner). GII-30 A great display piece, fine early decanter in color and rare mold. Robert W. Skinner collection. – Norman C. Heckler & Co., Auction #99.
Join the FOHBC: The Virtual Museum is a project of the Federation of Historical Bottle Collectors (FOHBC). To become a member.