Old Virginia Peach Brandy
Old Virginia Peach Brandy
Unknown
Amber Gallon Demijohn
Provenance: Michael George Collection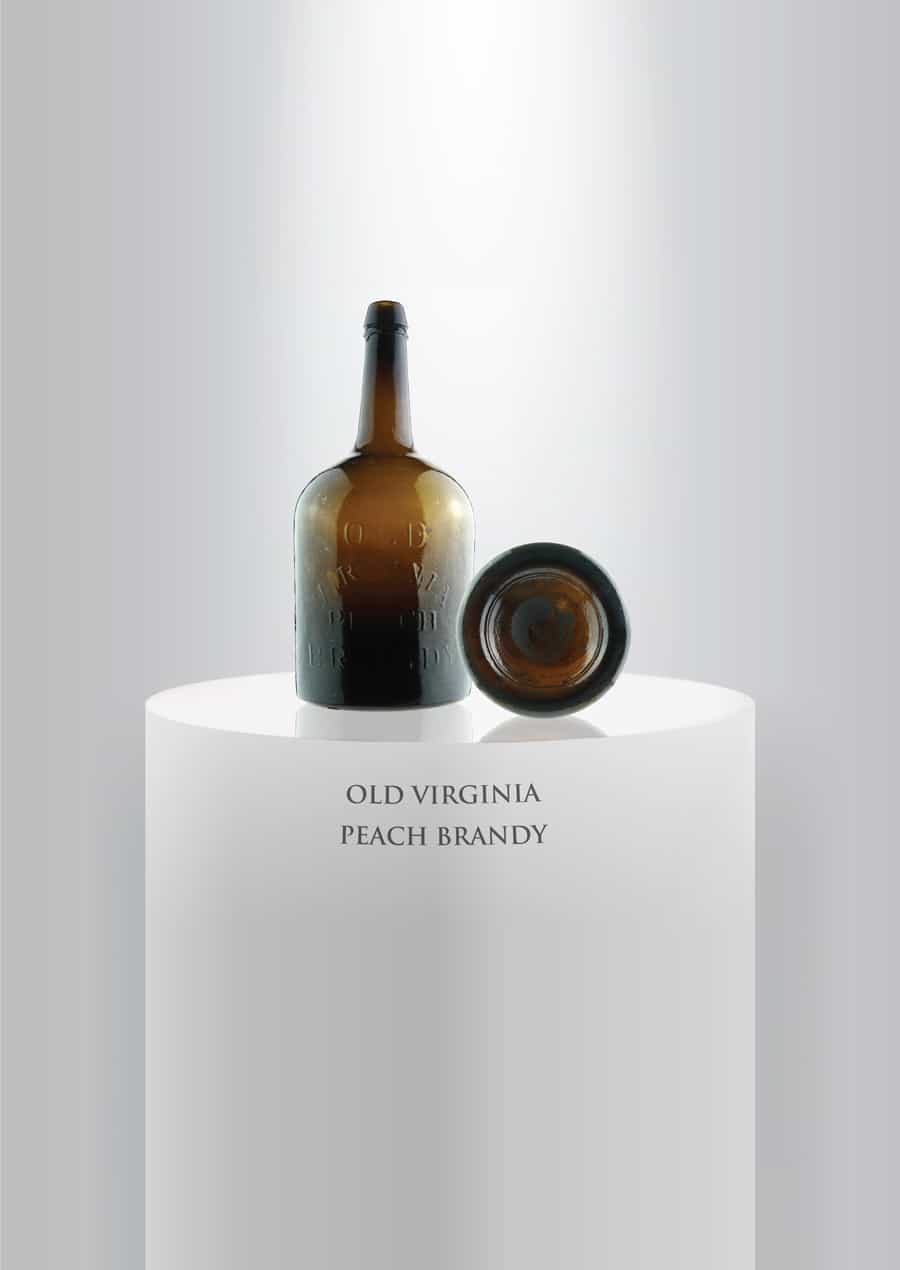 Traveling through Virginia in 1773, Josiah Quincy found countless fields planted with 10 to 20 acres of peaches, the purpose of which was "the making of brandy, a very favorite liquor." In 1769, a 500-acre farm near Augusta was advertised for sale in the Georgia Gazette, noting its eight-acre peach orchard from which "a great quantity of peach brandy" could be made.
A year before his death in 1799, George Washington began producing rye whiskey and brandy as a business. With only eight men—two paid, six enslaved—Mount Vernon produced 11,000 gallons of alcohol a year in both 1798 and 1799, more than any other distillery on the East Coast at that time, say historians of Mount Vernon. The distillery ledgers report that a small portion was peach brandy which was sold at market, while the remainder was sent to the mansion for use by the Washington family. The distillery fell into disrepair soon after Washington's death and burned down in 1814.
By 1820 or so, orchards across the South were planted with row after row of peach trees, with their fruit destined to be put into copper pot stills to be made into brandy.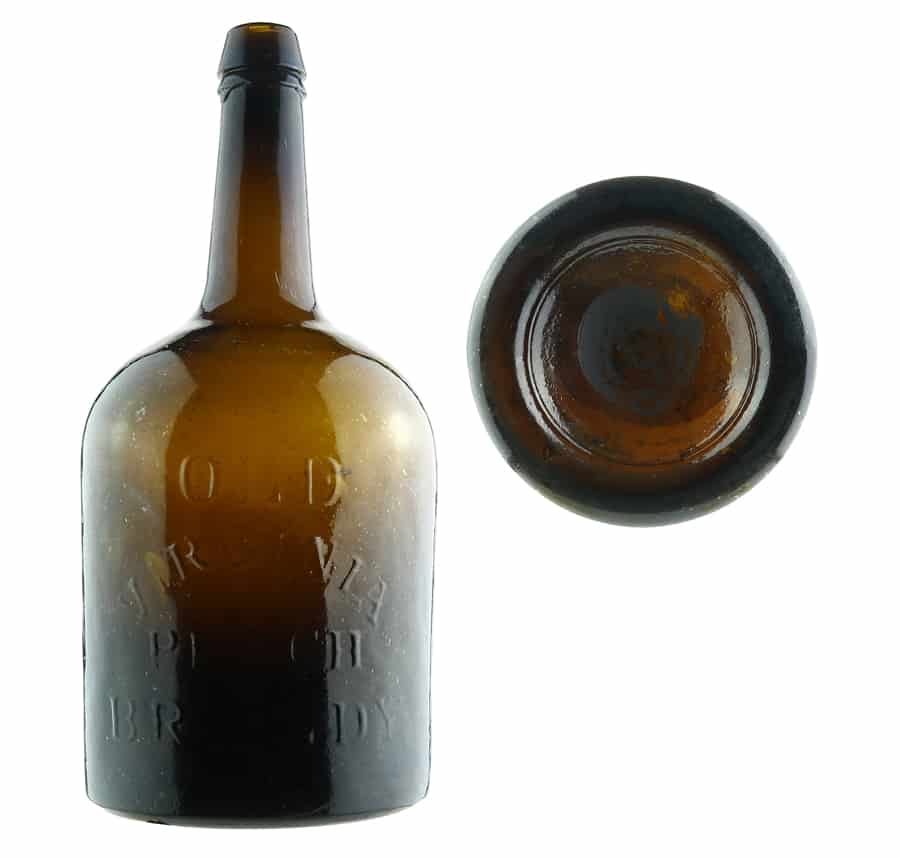 In this climate, an unknown proprietor had some bottles blown and embossed for his "Old Virginia Peach Brandy." It may have been George Zantzinger, in Philadelphia, who was advertising "Old Peach Brandy—Very superior old peach brandy, from Accomac (sic) county, Virginia, on draught and in bottle." In early 1836, J. B. Long was advertising in Rodney, Mississippi, that he had just received "Five casks of superior Old Virginia Peach Brandy" and that he had it for sale. By 1850, Old Virginia Peach Brandy was being announced and sold in a grocery store in Victoria, Texas. In the late 1850s, Old Virginia Peach Brandy was being advertised in California and Oregon newspapers. Interestingly enough, examples of Old Virginia Peach Brandy bottles have been found almost exclusively in the west, with some found in the Sierra gold camps.
The large gallon-size container closely resembles a demijohn and has been seen with both tapered tops, such as our museum example, and a tapered top with a ring similar to a whiskey. The embossed typography appears in four centered lines in a serifed typestyle. Each word occurs on one line. The word 'VIRGINIA' is arched over 'PEACH' and 'BRANDY.' The bottles are always iron pontiled and typically can be found in a dark olive-amber shade. One example we are aware of is orange-amber, heavily whittled and came from the Oroville, California area. Our museum example is lightly embossed and came from a western collection.
See the museum example of a similar form F. Chevalier Whiskey.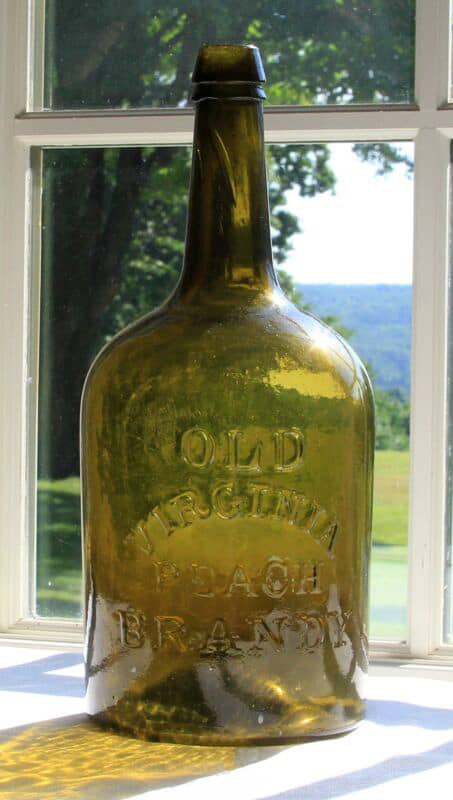 Primary Image: Old Virginia Peach Brandy bottle imaged on location by Alan DeMaison, FOHBC Virtual Museum Midwest Studio
Support Image: Auction Lot 50: "Old / Virginia / Peach / Brandy" Bottle, America, 1845-1860, Cylindrical, dandelion honey yellow with olive overtones, applied sloping collared mouth with ring, iron pontil mark, ht. 12 1/2 inches, dia. 5 1/8 inches; fine condition. Recently found in New Jersey. – Norman Heckler Jr. & Sr., Norman C. Heckler & Company, Auction #210
Support Image: Auction Lot 122: "OLD / VIRGINIA / PEACH / BRANDY", 1850 – 1860. Medium-to-deep 'old amber', cylindrical, magnum-size, applied sloping collar with bevel – heavy iron pontil scar, ht. 11 ¾"; (Lightly cleaned to original luster and near mint condition; a couple of light scratches on the side, and a ½" iridescent bruise on the inside edge of the lip). A big, impressive, magnum-size pontiled brandy, extremely rare – believed to be one of only a half dozen or so known in any condition. A top Eastern Whiskey! Provenance: Ex. Ken Schwartz collection. – John Pastor, American Glass Gallery, Auction #33
Support: Reference to Old Virginia Peach Brandy on Western Bottle News, February 22, 2012.
Join the FOHBC: The Virtual Museum is a project of the Federation of Historical Bottle Collectors (FOHBC). To become a member.