Hayden
Hayden
William Richardson Hayden, Bedford, Massachusetts
Olive Amber Medicine Bottle
Provenance: Michael George Collection
Our "Hayden" bottle or jar is extremely rare and is in perfect condition with only a handful known to exist in collections. This example was found during a sewer line installation in Portsmouth, New Hampshire in 2005 or so. A person on the excavation crew sold it to Wayne Godfrey in Maine, and the consignor bought it from him.
The small, rich olive-amber, open pontil bottle, measures about 4-5/8″ tall and is simply embossed 'HAYDEN' in a serif typestyle from shoulder to base. The form is a roundish oval bottle, with almost chamfered verticle panels making up the shape. There is a flattened but rounded shoulder connecting to a flared-out neck and a wide inward rolled lip.
William Richardson Hayden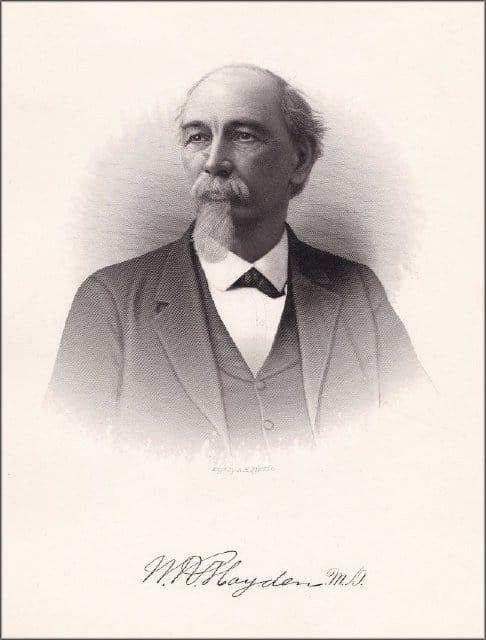 William R. Hayden was born in Salem, Mass. on May 7, 1820. He and his mother were rather poor as his father had been lost at sea when William was one year old. The mother and child would move from place to place struggling to survive. At the age of sixteen, after the death of his mother that year, William set about on his own with only meager schooling and no resources. He displayed lofty ambitions and with them the ability, energy, and determination to realize the high standards that he placed before himself, which led him to be rather successful.
At first, Hayden went to Boston and earned a living delivering letters, packages, and money from the railroad to parties in Boston. From there, Hayden became interested in the stage and was a leading actor with prominent parts in several old Boston stock companies that were popular between 1835 and 1845. He would marry Rebecca Wyman Erkskine in Bedford, Mass. on May 7, 1840. They would have one child, Rebecca W. Hayden in 1843 and his wife would die shortly thereafter in 1847. At about that time, Hayden was cast to appear with The Old Boston Stock Company, under W. H. Smith, but a sudden illness caused him to cancel the engagement.
From Boston, W. R. Hayden moved to New York City where he studied medicine eventually graduating in 1845 and practicing as an eclectic physician in the city for eleven years. Hayden would wed again to Maria Basheba Trenholm, on October 27 1850 in Boston. They would have a daughter Lillie M. in 1853, a son William R. in 1856, and another daughter Edith Louise Hayden in 1863.
In 1867, Dr. Hayden moved to Bedford, Mass. and accepted the presidency of the failing New York Pharmaceutical Company which had a laboratory that had been successful for almost half a century. Soon after the company had been reorganized, Dr. Hayden purchased the entire business which thrived with his energy and conscientious methods. The New York Pharmaceutical Co. became one of the leading companies in New England and a pioneer in the field of drugs. Dr. Hayden expanded the product line to over 350 medicinal preparations, the most popular being Hayden's Viburnum Compound (HVC), an anti-spasmodic sedative.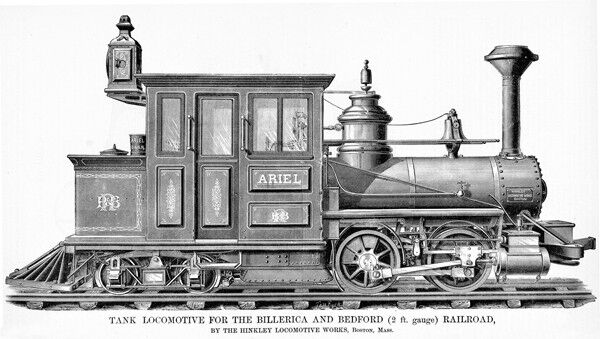 Dr. Hayden on his previous trips to Bedford, Mass. from Boston saw that there was no railroad nearer than Lexington, Mass. which is northwest of Boston. He went before the Legislature in 1868 and obtained a charter for the nation's first narrow-gauge railroad, the Billerica and Bedford Railroad line from Lexington to Bedford which was built by George E. Mansfield and the Middlesex Central Railroad Company, where Dr. Hayden would eventually become president. Unfortunately, the line was poorly constructed though it was extended north to Bedford Springs where a station was built. You now could take a trip from Boston to Bedford and return on the same day.
Bedford Springs, long a favorite of Indians and white settlers, was part of the Shawshin grant that enlarged Newe Towne, soon to be renamed Cambridge, in 1644. Then through a land transfer, Captain Daniel Gookins sold 150 acres of his grant to Thomas Oakes. The land included Sulphur, Chalybeate, and Sweet Water springs that were used medicinally by Nipmuck and Pawtucket healers. Native American tribes living in the area were dispersed when the General Court ceded their land to the Town of Billerica through the Wamesick Purchase in 1685, but tribesmen returned through the 1700s to "fill their leathern buckets with waters from the springs."
In 1835, Augustus Pierce rented his pasture to local farmers who noted that their livestock grazing near and drinking from the springs were reported to be in better overall health than cattle feeding nearby in apparently better pastures. Massachusetts' State chemist Charles T. Jackson, M.D., pronounced Bedford's spring waters to be valuable in treating disease, "particularly in all scrofulous and cutaneous diseases, rheumatism, and affections of the kidneys." Dr. Jackson's report was confirmed by other scientists and attracted Dr. Hayden to purchase the property in 1856, eventually moving the New York Pharmaceutical Company to Bedford Springs in 1867. The company's laboratory produced potions based on the spring waters and various healing botanicals. Their principal products were Compound Phosphorus Pills, Uric Solvent, and Hayden's Viburnum Compound. In 1889, 25,000 pounds of Hayden's Viburnum Compound were shipped from the laboratory via the American Express office at Bedford Springs. In the 1890s, the number of written and published testimonials from physicians exceeded 6,000, more than any other product in history at that time.
Dr. Hayden's remarkable vitality was evident as at one time he was president of the New York Pharmaceutical Co., a working chemist, and pharmacist; doing all the compounding in the laboratory. He also controlled the greater part of the medical practice in Bedford, managed a farm of forty acres, and was the proprietor and landlord of the Springs House hotel for sixteen years. After it was demolished in 1897, Hayden began construction of the larger Sweetwater Hotel. Handsomely laid out, beautifully appointed, and heavily advertised, the Sweetwater Hotel became a favored destination for Bostonians seeking to escape the city's summer heat or to take in its curative waters. The spring-fed pond that became Fawn Lake was reportedly dug during the 1870s by 100 Italian laborers who traveled from Boston each week and lived in a temporary building near the Bedford Springs train depot.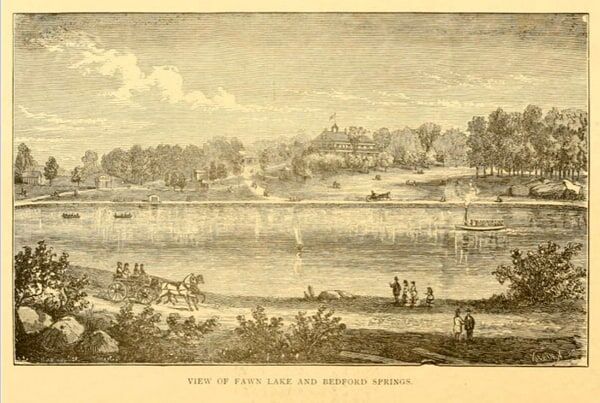 When Hayden's second wife died in 1883 he married Sarah Holden Everett Hayden, a fellow physician that same year. He met her when she was working in his laboratory. They would have five children; Pauline Viola, Elsie Everett, Rosaline Bryant, William Richardson, and Arthur Holden Hayden.
During his time in Bedford, Dr. Hayden resided both in Bedford and Bedford Springs and served the town one term on the Board of Selectman, two terms on the Board of Education, and one term as representative in the Legislature. After the Billerica and Bedford Railroad line's bankruptcy in 1878, Dr. Hayden persuaded the Boston and Lowell Railroad to expand the right-of-way with a standard gauge branch line that opened in 1885. In 1888 he established the Bedford Springs Post Office and served as its Postmaster. The American Express Company also had its offices on the premises. During these years he took trips abroad and traveled extensively in Europe for business and pleasure. He was also an author writing a number of articles and journals about his medicine.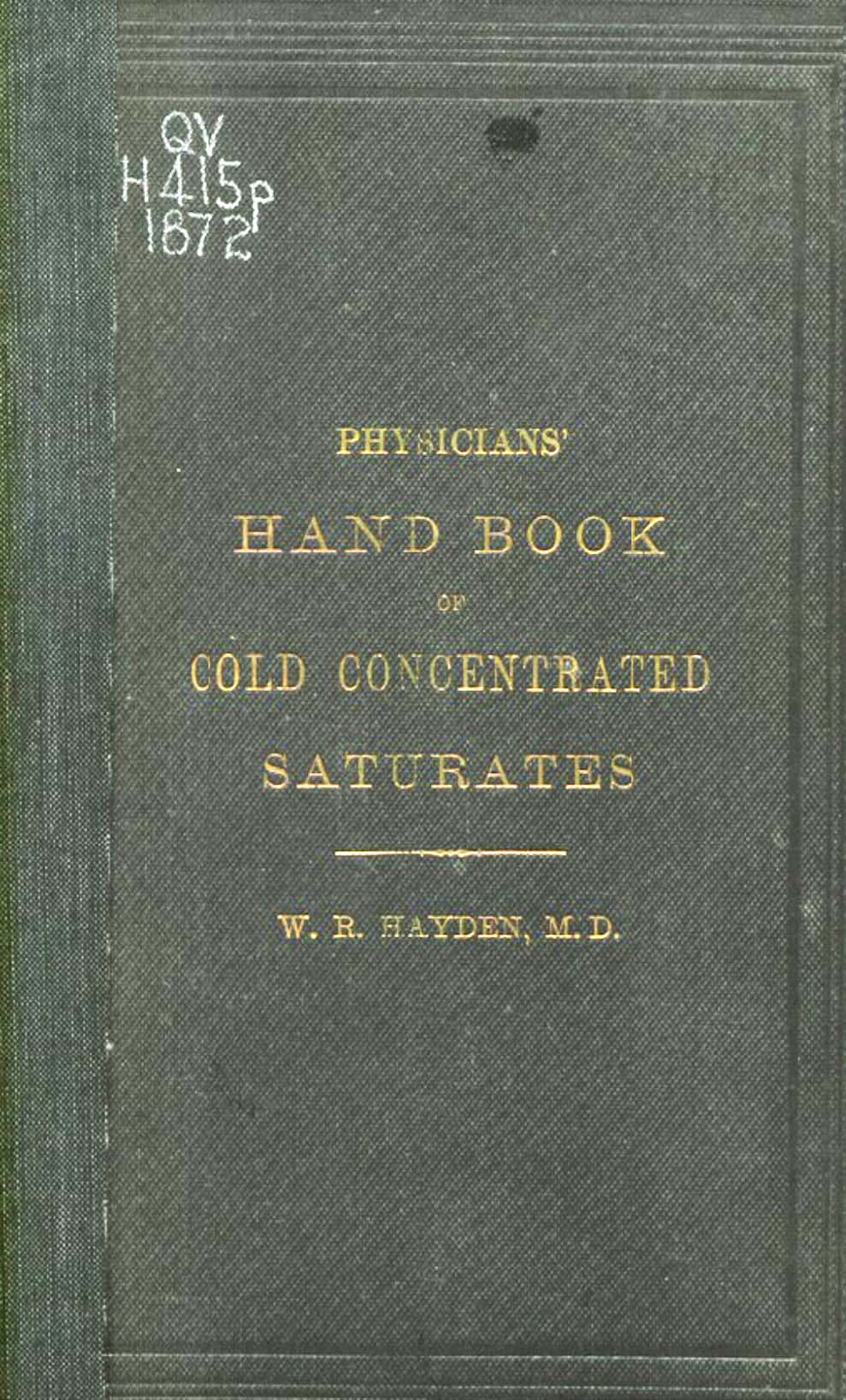 Dr. Bedford would die in Bedford Springs at his home on Wednesday, April 29, 1903, after a lingering illness. After his death, William Richardson Hayden, Jr., Dr. Hayden's son and namesake, and Dr. Hayden's wife Sarah, took an active role at the New York Pharmaceutical Company until his sudden death in 1923. Sarah survived her husband by 30 years and was instrumental in keeping the pharmaceutical company and estate going. To entice their son Arthur Holden Hayden, who had recently graduated from Harvard and served in the Navy during World War I to return to Bedford and take his brother's place in the company, Sarah hired prominent Boston architect Ernest Parsons of the firm Parsons and Wait to design the house that stood on a hill overlooking Fawn Lake and close to the Laboratory. He assumed control of the New York Pharmaceutical Corporation, and continued production of HVC, Hayden's Viburnum Compound until his retirement.
Primary Image: Hayden bottle imaged on location by Alan DeMaison, FOHBC Virtual Museum Midwest Studio
Support Image: Physicians' Hand Book of cold concentrated saturates: embracing brief treatises on the especial value of many valuable plants, Hayden, W. R. (William Richardson Hayden), 1820-1903, author, Bedford Springs, Published by the New York Pharmaceutical Co., 1872 – NIH, National Library of Medicines
Support Images: Bedford Historical Society, 2 Mudge Way, Bedford, Massachusetts 01730-2138
Support: Reference to A Slice of History: Bedford Springs, the New York Pharmaceutical Company, and the Hayden House, The Bedford Citizen, Julie McCayTurner, July 6, 2018
Join the FOHBC: The Virtual Museum is a project of the Federation of Historical Bottle Collectors (FOHBC). To become a member.