GI – 68 General Jackson Floral Motif Portrait Flask
GI – 68
"General Jackson." And Bust – Floral Motif Portrait Flask

Monongahela and Early Pittsburgh District
Pittsburgh, Pennsylvania

Deep Olive Yellow Pint
Provenance: Anonymous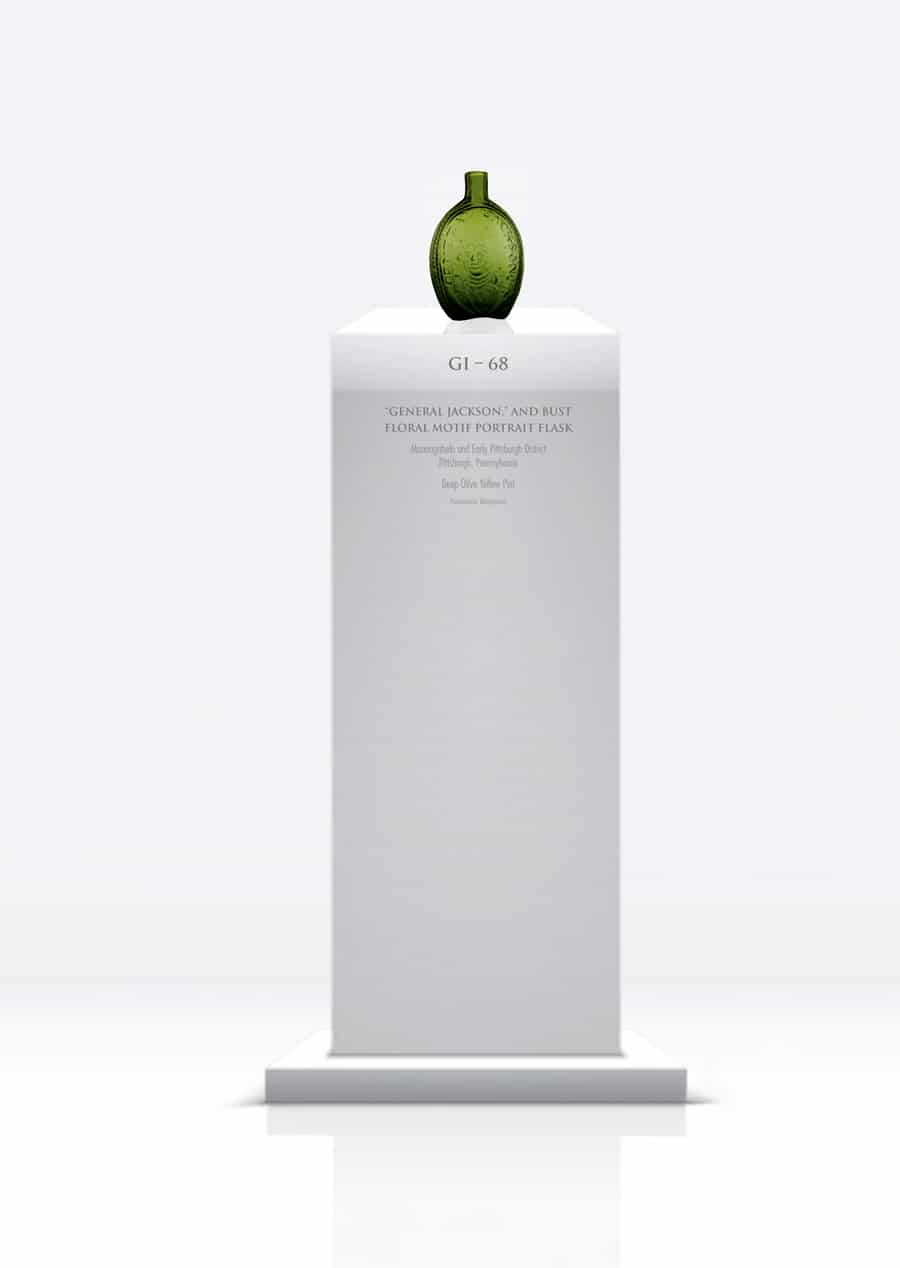 Our subject GI-68 General Jackson." and Bust – Floral Motif Portrait Flask presents Andrew Jackson (March 15, 1767 – June 8, 1845) who was an American soldier and statesman who served as the seventh president of the United States from 1829 to 1837. Before being elected to the presidency, Jackson gained fame as a general in the United States Army and served in both houses of the U.S. Congress.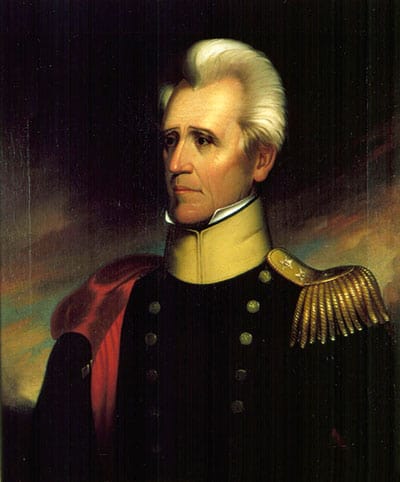 See the museum example of a GI-34 Washington – Jackson half-pint portrait flask.
The "General Jackson." and Bust – Floral Motif portrait flask has an embossed bust of General Andrew Jackson in uniform on the obverse in a three-quarter view facing slightly left. 'GENERAL JACKSON' is embossed in a semicircle horseshoe shape above the Jackson bust. There is an embossed period after the words General and Jackson.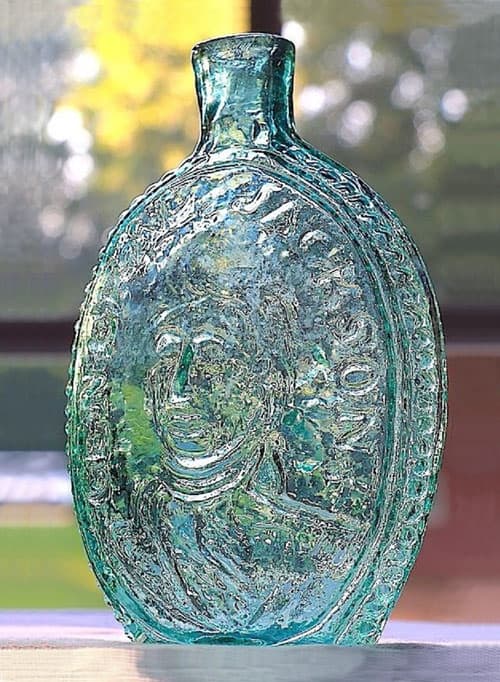 The reverse of the flask depicts a large medallion showing a seven-petal flower surrounded by branches of acorns, leaves, and flowers covering the entire back. An eight-petal flower is above the medallion.

This very rare pint flask has a plain lip and pontil mark while the edges are horizontally beaded with a vertical medial rib. It was made by a Monongahela and early Pistburgh District glass house.
Known colors are aqua, bright light green, and light blue-green which are very rare, and yellow-olive and dark olive-yellow which is considered extremely rare.
Primary Image: The GI-68 General Jackson." and Bust – Floral Motif Portrait Flask imaged on location by the FOHBC Virtual Museum midwest studio led by Alan DeMaison.
Support: Reference to American Bottles and Flasks and Their Ancestry by Helen McKearin and Kenneth M. Wilson, Crown Publishers Inc., New York, 1978.
Support Images: Auction Lot 48: "General Jackson." And Bust – Floral Motif Portrait Flask, early Pittsburgh district, Pittsburgh, Pennsylvania, 1820-1840. Bright, clear, strong greenish aquamarine, sheared mouth – pontil scar, pint; (pinpoint flake on top of mouth). GI-68 Fine example, good color, strong embossing, very rare. Warren "Bud" Lane collection. – Norman C. Heckler & Company Auction #100
Support Image: The obverse side of a pint GI-68 General Jackson and Bust – Floral Motif flask in an aquamarine glass. – Mike Newman collection.
Support Image: The reverse side of a pint GI-68 General Jackson and Bust – Floral Motif flask in yellow-green glass. – Corning Museum of Glass
Support Image: Auction Lot 305: "GENERAL JACKSON" / BUST OF JACKSON – FLORAL, LEAF AND ACORN, (GI-68), possibly James Taylor & Co. Glass Works, Brownsville, Pennsylvania, ca. 1825 – 1835, bluish aqua pint, open pontil, sheared and tooled lip. Some light spotty inside milky stain. Extremely bold impression, rare mould. A classic 'beaded side' Pittsburgh Distract flask! – Jim Hagenbuch, Glass Works Auctions | Auction #147