Catawba Wine Bitters
Catawba Wine Bitters
(Embossed Bunch of Grapes)
C 85

Longworth & Zimmermann, Cincinnati, Ohio
Green Square
Provenance: Steven Hubbell Collection
Catawba Wine Bitters was put out by Nicholas Longworth who was an influential figure in the early history of American winemaking. The grapes were grown on his Ohio River Valley vineyard on hills north of Cincinnati.
The bottle is an absolute favorite with antique bottle collectors. There is an embossed bunch of grapes prominently displayed on two opposite sides of the square bottle that has rounded shoulders and chamfered corners. A third side is embossed 'CATAWBA WINE', while the fourth side is embossed 'BITTERS'. The mouth of the bottle has a long tapered collar with a ring. You can find the bottles with either a smooth base or iron or metallic pontil. They also can be found in outstanding shades of green, puce, amber, and yellow amber. Some in the west have been found without the mouth ring.
Nicholas Longworth was the protagonist of the prominent Longworth family of Ohio and considered the first millionaire in Cincinnati. He was also known as the "Father of the American Grape Culture." Among his many other attributes, Longworth was an attorney, banker, merchant, horticulturalist, abolitionist, author, and art collector.
Longworth was born on January 16, 1783, in Newark, New Jersey. His mother was Apphia Davis Vanderpoel. His father, Thomas Longworth was a Tory or Loyalist who were American colonists who stayed loyal to the British Crown during the American Revolutionary War. Their very existence was complicated as every British Functionary who refused to betray the trust placed in him was considered a traitor by the Patriots.
By the time Nicholas was born, fines and property confiscations had depleted the family funds. This left young Nicholas with an early life of comparative poverty. Thinking ahead, it was decided to teach Nicholas a trade and give him an opportunity to work with either of his two elder brothers, Joseph and Archibald. One had gone north and the other south. Nicholas chose to move to South Carolina for a brief period where he was a clerk in his elder brother's store. It was said that a careful inventory of young Nicholas' belongings when he set forth to cross the Alleghenies was, "Six coats, black and blue; one dozen plain and fancy waistcoats; four pairs of silk and eight woolen breeches, six dozen plain and ruffled shirts; and a like number of hose and handkerchiefs with cravats."
After a spell, Longworth would leave South Carolina, arriving in Cincinnati, Ohio in 1803. Cincinnati at this point was a burgeoning town and soon to become an important city. 1803 was also the same year Ohio was granted statehood. There, Longworth married Susanna Conner, née Howell, three years his junior who was the daughter of Silas and Hannah (Vaughan) Howell, on Christmas Eve, 1807.
Longworth was a little man, and eccentric in dress, speech, and manner. He was also strong-willed and successful so that he could afford to do as he wished. Longworth, even with all his interests, was never a political candidate nor held any political office. He was also not a faithful member of any religious organization. Grape-growing would soon dominate his life.
Longworth first studied law under Judge Jacob Burnet, a well-known lawyer of great standing. Burnet was a member of the Territorial councils of Ohio from 1799-1802 and served in the Ohio State House from 1814-1816. He was considered the 'father of the Ohio constitution' and was an associate justice of the Ohio Supreme Court from 1821 until his resignation in 1828 to serve as the United States Senator.
Even without a formal education, Longworth studied hard and applied himself and was admitted to the bar in Ohio. He practiced as an attorney until 1819 in Cincinnati while buying large tracts of land. He next ventured into real estate, flipping property as his real estate dealings proved more lucrative than law. The property that he bought for a song all those years was now worth millions, and Longworth joined John Jacob Astor as one of the two largest taxpayers in the United States.
Believing Cincinnati to be an ideal location for grape cultivation, Longworth established viticulture as a successful venture on the hills adjoining the city. Along the main highway from east to west during the period of early settlement, Ohio had inevitably seen repeated trials of viticulture, suggested by the combination of southward-facing slopes and broad waters. Longworth would finally make it work.
Planting hundreds of acres and building a large wine-house, Longworth started his vineyards in 1813 and by 1820 became more serious about producing wine that would be a commercial success. At first, he was using foreign vines exclusively and was somewhat unsuccessful until 1828, when he introduced native vines or their seedlings and produced, from the Catawba, and Isabella grape, a wine of high marketable value. He was also well-known for his experiments with strawberries and published "Buchanan's Treatise on the Grape, with an Appendix on Strawberry Culture" in 1856.
Besides being a pioneer and leading horticultural expert in his section, Longworth was recognized as an authority in national horticultural matters. His writings, though individually short and now out of date, exercised a wide influence in his day. He might be compared to Isidor Bush who put out Missouri IXL Bitters.
Longworth planted a vineyard of Catawba on the Mount Adams hillside and began making sparkling wine from the grapes using the traditional method used in Champagne. From the 1830s through the 1850s, Longworth's sparkling Catawba was being distributed from California to Europe where it received numerous press accolades. He was then producing 100,000 bottles of sparkling Catawba a year and advertising nationally. In the 1850s, a journalist from The Illustrated London News noted that the still white Catawba compared favorably to the hock wines of the Rhine and the sparkling Catawba "transcends the Champagnes of France." The illustration below represents the Longworth vineyard from Harper's Weekly in 1858.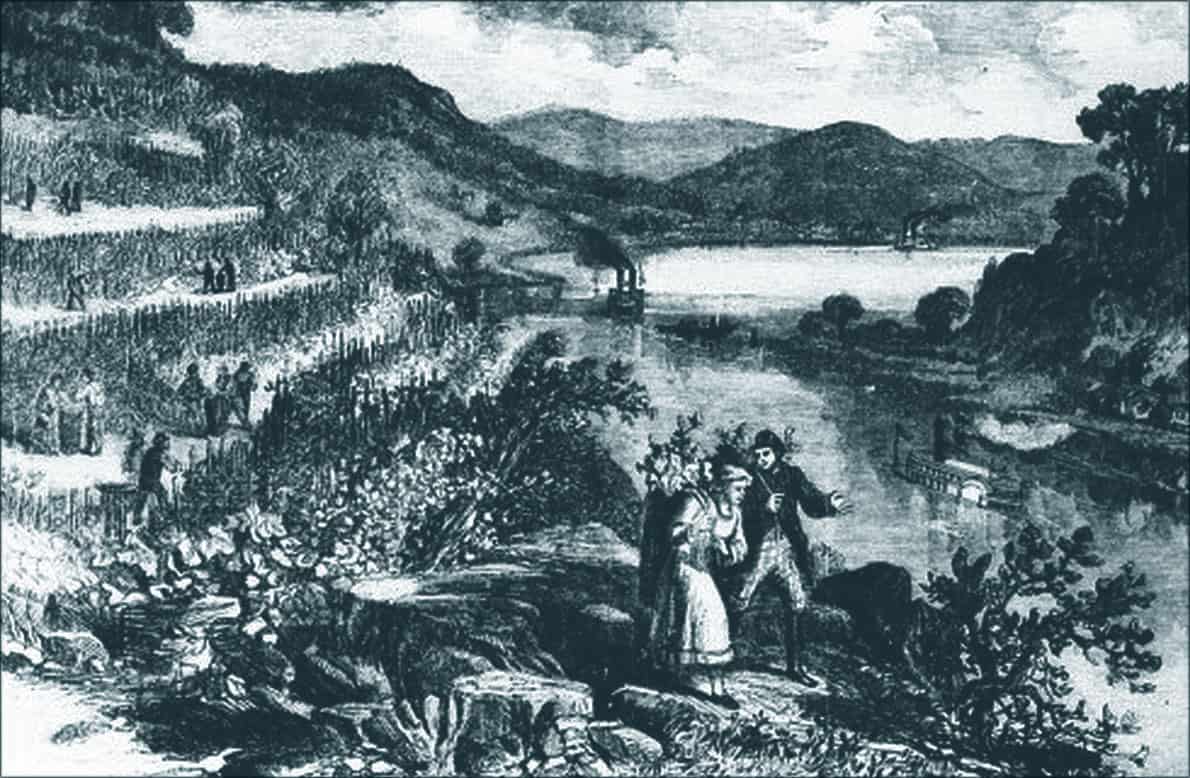 In the mid-1850s, Longworth sent a case to American poet, Henry Wadsworth Longfellow, then living in New York City, who wrote a poem dedicated to Nicholas Longworth titled 'Ode to Catawba Wine.'
The growing tide of German immigrants coming down the Ohio Valley to Cincinnati liked his wine. Longworth had found a lucrative market and the new German immigrants wanted an affordable, drinkable table wine to continue with the traditions of their homeland, so he enjoyed a virtual monopoly. By this time, Longworth would become one of the wealthiest people in the United States.
A visit to one of Nicholas Longworth's wine cellars in 1851 revealed 75,000 bottles of sparkling Catawba, and 40,000 or so gallons of wine in casks varying from 40 to 50 gallons each. The cellar was 120 feet long, 40 feet wide and 40 feet deep. Longworth was preparing to double in size his capacity the following spring.
In 1853, Nicholas Longworth partnered with Caspar Zimmermann as Longworth & Zimmermann to sell the Longworth wines wholesale. They were located at 177 Sycamore in Cincinnati. Anthony, John, and Phillip Zimmermann were also part of the business according to a listing in a Cincinnati directory that year. By 1858, the enterprise was called Zimmerman & Co. and was being run by John, Phillip, and Anthony Zimmermann. Their 'chemical laboratory' was located on the north side of 6th between Freeman and Canal. It is apparent that Longworth wanted to jump on the profitable bitters bandwagon so he needed a partner and laboratory reference so he could call his product a medicine.
In 1859, the first advertisement for Cordial Catawba Bitters was found in a Buffalo, New York newspaper. The bitters were noted for Pharmaceutical and Medicinal Purpose and were being manufactured pure, by Zimmermann & Co., Manufacturing Chemists of Cincinnati, Ohio. They were noted as the successors of Longworth & Zimmermann. By this time, Longworth was fading due to health issues. Longworth's Catawba Bitters was said to be made from pure Catawba Brandy and warranted to cure the worst cases of Dysentery and Diarrhoea. The ads many times over were directed to Civil War soldiers as a remedy for change of climate and fatigue.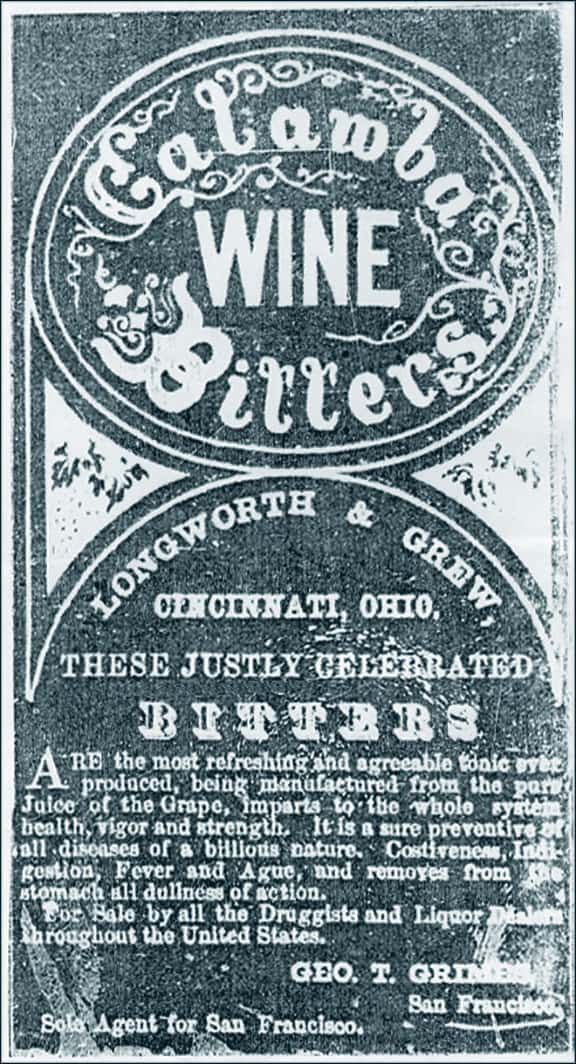 There is another Catawba Wine Bitters advertisement for Longworth & Grew, Cincinnati, Ohio noting that George T. Grimes as the Sole Agent in San Francisco. This is puzzling with all the Zimmermann references as there is no reference to a "Grew" in Cincinnati directories who might fit the bill. There is however a J. & B.L. "Crew" noted as grocers on the southwest corner of 3rd and Elm (J. Crew and B. L. Crew) in Cincinnati, Ohio in 1860. This is more likely the reference in the advertisement above.
Another advertisement in 1859 states that J. C. Spalding was selling, from the cargo of the American ship Josiah Bradley, 100 cases of London Jockey Club House Gin and 50 cases Catawba Wine Bitters in Hawaii. So, if you are a digger, and are looking for pontiled examples, might we suggest you head to Buffalo or Honolulu. We see the last advertisements for Catawba Wine Bitters in 1865 in the Black Hawk Daily Mining Journal where cases of the bitters were being sold by J. P. Henry.
The popularity of Longworth's wine encouraged a flurry of plantings along the Ohio River Valley and up north to Lake Erie and Finger Lakes region of New York. Longworth would also encourage artists to paint scenes of the Ohio River Valley, and the Ohio River Valley Wine Trail (formerly the Nicholas Longworth Wine Trail), in Southwest Ohio.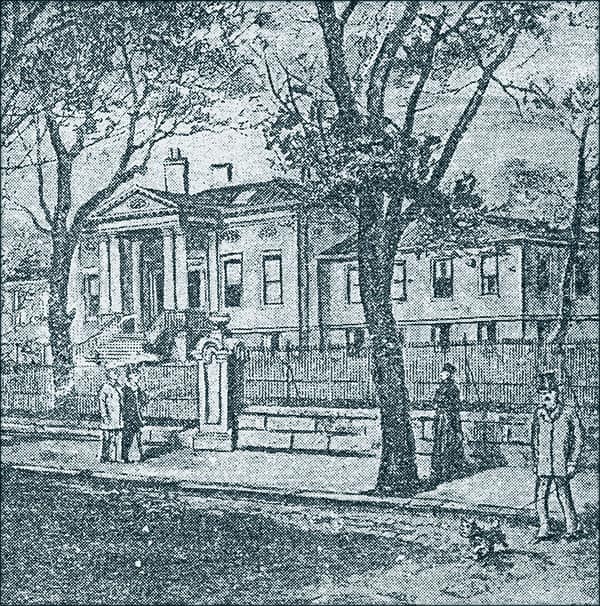 In Cincinnati, the Taft Museum of Art on Pike Street now occupies the former residence of Nicholas Longworth. Considered a National Historic Landmark built around 1820 for prominent businessman Martin Baum, it is the oldest domestic wooden structure and is considered one of the finest examples of Federal architecture in the Palladian style in the country. Longworth, during his habitation of the mansion, hired African American painter Robert S. Duncanson to paint landscape murals in the foyer, now considered as one of the finest suites of domestic murals dating from before the Civil War. Longworth supported Duncanson, America's first famous black artist, as a mentor and financed the artist's trip to Europe where he sold paintings to the Queen of England and other dignitaries. Landscape with Rainbow, 1859 is represented below.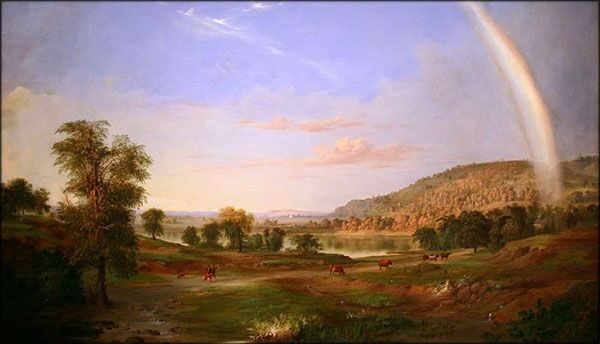 With his success in wine making, Longworth participated in charitable giving throughout Cincinnati, including a noteworthy donation to the land which the Cincinnati Observatory is built on. He was kindly but eccentric and gave much money to what he called the "Devils Poor."
Longworth was also the great-grandfather of U.S. Congressman Nicholas Longworth IV (a United States House of Representatives from Ohio), and the grandfather of Civil War Union General Nicholas Longworth Anderson.
Nicholas Longworth would die on February 10, 1863 at the age of 80. At his death, his property was valued between $12 and $15 million dollars.
See and read about Chalmer's Catawba Wine Bitters in the museum.
The new listing in Bitters Bottles Supplement 2: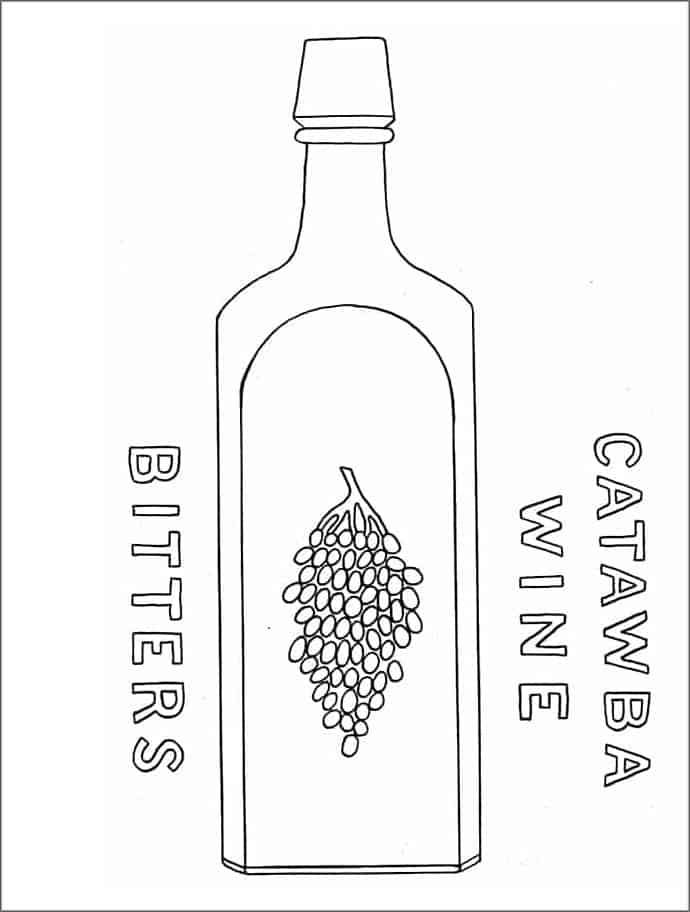 Information
C 85 CATAWBA / WINE // motif bunch of grapes // BITTERS // motif bunch of grapes //
9 3/8 x 2 3/8 (6 ¾) ¼
Square, LTC & LTCR, Applied mouth, Green with and without iron and metallic pontil mark – Rare; Amber and Puce with and without pontil mark – Extremely rare
Nicholas Longworth was an influential figure in the early history of American wine, producing sparkling Catawba wine from grapes grown in his Ohio River Valley vineyard on hills north of Cincinnati. In 1853, Nicholas Longworth partnered with Caspar Zimmermann (Longworth & Zimmermann) to sell the Longworth wines wholesale. They were located at 177 Sycamore in Cincinnati. Anthony, John, and Phillip Zimmermann were also part of the business according to a listing in a Cincinnati directory that year. By 1858, the enterprise was called Zimmerman & Co. and was being run by John, Phillip, and Anthony Zimmermann. Their chemical laboratory was located on the north side of 6th between Freeman and Canal.
See C 85 in Bitters Bottles and s2L 120.5
Primary Image: Catawba Wine Bitters bottle imaged by the FOHBC Virtual Museum midwest studio by Alan DeMaison.
Support: Nicholas Longworth – Catawba Wine Bitters at PeachridgeGlass.com
Support Bottle Images: Ferdinand Meyer V collection (three colored examples), Jim Hagenbach and Glass Works Auctions (yellow and dark green examples, Genius Collection), American Bottle Auctions, and Jeff Wichmann (example held in hand).