Rowe & Co Gothic Pickle
Rowe & Co.
Gothic Pickle
Rowe & Co., Buffalo, New York
Light Sapphire Blue
Provenance: Lou Pellegrini Collection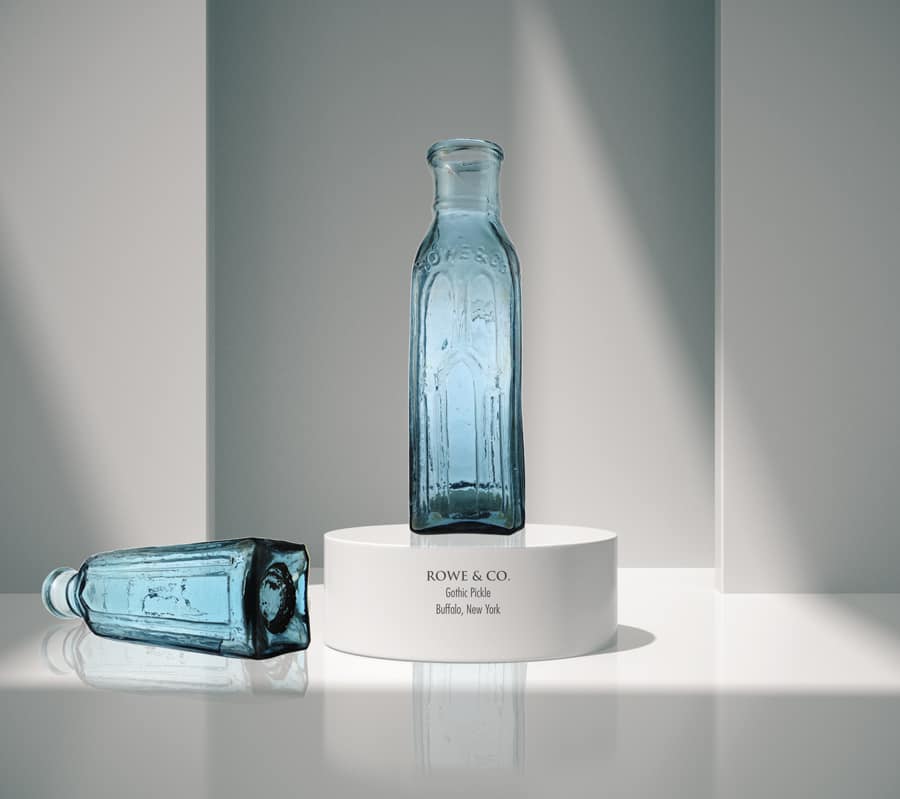 Rowe and Co. were primarily oyster wholesale and retail dealers in the second half of the 19th century set in Buffalo, New York. The concern also keeps on hand "a general assortment of Foreign and Domestic Fruits, Brandy Fruit, Nuts, Pickles, Sardines, Anchovies, Catsups, Pepper Sauce, Sauces, Olive Oil, Hermetically Sealed Oysters, and Lobsters, Pickled Oysters, Lobsters, Clams, Scallops, &c. &c.," according to an advertisement in The Buffalo Commercial on November 9, 1850.
Our embossed Rowe & Co. gothic pickle bottle measures 10 3/4 inches. The form is a square body with rounded chamfered corners. There is a short shoulder sloping to a ring at the base of the neck. This tall, wide neck spreads slightly at the top with a turned-over collar. There is a recessed blackish iron pontil.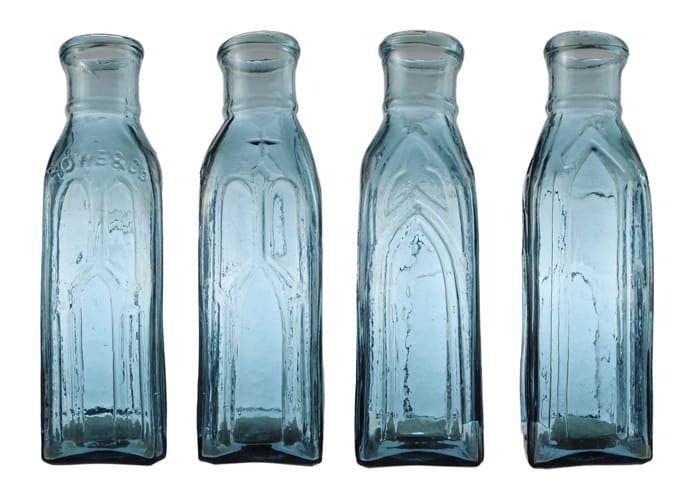 Each side panel is different, which adds to the interest of this extremely rare bottle that we have not seen before. The first embossed panel has three recessed vertical Gothic window arches in two sizes set in a tall cathedral arch. Above this display is the embossed sans serif 'ROWE & CO' copy in an arc on the shoulder. The "o" of "Co" is smaller. There is no period after "Co." The second panel has the same configuration of Gothic arches as panel 1. Above this is a four-point embossed star or cross. The third panel has a single tall recessed cathedral arch in a medium size from the previous. Above this is an embossed trefoil, all set in a large pointed Gothic arch. Panel four is just one tall recessed arch, the same as panel three, leaving space where a paper label may have been best placed.
Levi Rowe (1780-1858) and his wife Eunice (Grannis Rowe), from Connecticut, had thirteen children. Three sons, Ruel (b1806), Selah (b1824), and Walter (b1826), were involved with Rowe & Co. with other family members of less capacity. Ruel's residence in 1830 and 1840 was in East Haven, New Haven, Connecticut.
In 1847 there is an advertisement saying, "OYSTERS—Rowe & Co.., are receiving daily by Express, a choice article of Count Oysters, put up in kegs and cans—which they offer for sale cheap at 195 Main street. Buffalo." – The Buffalo Commercial, October 1, 1847.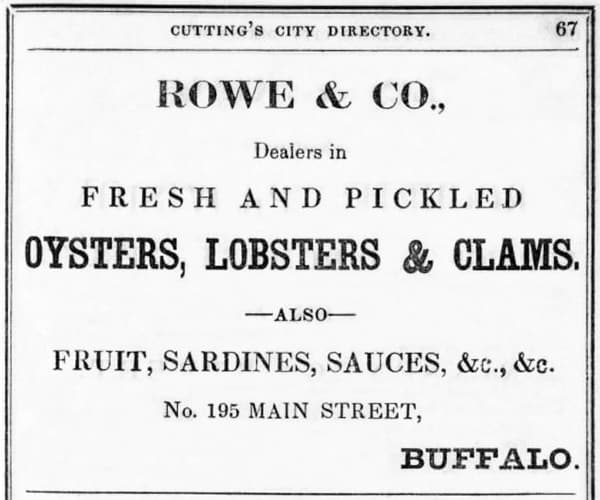 In 1850, the following notice indicated that they had grown and moved a few doors down. "REMOVAL—Rowe & Co. would respectfully inform their customers and the public generally that they have removed from their former place of business into the Store, 197 Main street, one door above the old stand…" – The Buffalo Commercial, November 9, 1850.
By 1854, "Rowe & Co's business is so extensive that the stock is continually flowing through their hands, and they can scarcely keep on hand a sufficiency to supply the demand. They have establishments East and West, and in Canada, and are large wholesale as well as retail dealers. Here, they keep on hand constantly venison, birds, and all the delicacies of the season in the fish and fowl lines. They have also preserves and pickles of the best qualities, and many a delicious relish for the breakfast table may be obtained from their shelves." – The Buffalo Commercial, December 6, 1854.
A newspaper account of Rowe & Co. in 1856 stated, "They have engaged in the business a capital of about $40,000; they employ twenty vessels in transporting oysters from the South, and besides twenty hands engaged in packing and shipping at Fair Haven, and 100 openers at the same place, they keep forty hands at work in Norfolk, whence are shipped large quantities of oysters to points South and West. Most of the oysters which they pack come from the Chesapeake Bay, but Messrs. Rowe & Co. have purchased 1,800 acres of shoal in Nanticoke for the purpose of bedding, they also occupy, in this way, a large tract of ground near Norfolk." The notice goes on to say that the company's office, at 197 Main Street, is under the supervision of J. L. Deming, E. A. Elliot, the senior of the firm based in Detroit, and William Rowe, who was stationed in Hamilton, C.W. (Ontario).
Also, in 1856, Rowe & Co. advertised pickles in three sizes of glass containers. This advertising only lasted less than a year attesting to the rarity of our subject bottle.
The 1860 United States Federal Census lists Ruel Rowe, still living in East Haven, New Haven, Connecticut as a dry goods merchant with real estate valued at 18,000 and a personal estate value of $10,000. His new wife was Almira, who was 37, and they had two children, Ella Rowe, 13, and Henry Rowe, 9.
That same year an advertisement stated that Rowe & Co. were Planters & Dealers in Fair Haven and Salisbury selling Keg, Can, and Shell Oysters. They had Packing Houses located at Turtle Wharf, in Fair Haven, Connecticut, and Harris Landing, in Salisbury, Maryland, with a General Sales Depot, at 212 Washington St., in Buffalo. Ruel Rowe, H. R. Smith, and William Rowe were listed as conducting retail at the same 197 Main Street address in Buffalo.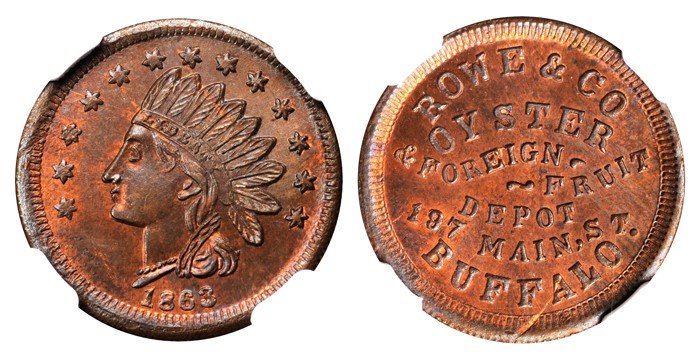 Ruel Rowe would die in 1868 though the business and advertisements continued into the 1920s with Ruel's son Henry running H. C. Rowe & Co. Oysters were still their primary business.
Primary Image: Rowe Co. Gothic Pickle bottle imaged by the FOHBC Virtual Museum west coast studio by Gina Pellegrini.
Support Image: "ROWE & CO." (on shoulder), Cathedral Pickle Jar, possibly 1852 – 1853. Aquamarine, square with beveled corners, all four sides with distinctly different cathedral arches and windows, sheared mouth with tooled, likely applied, crude ring collar – blowpipe pontil scar, ht. 8 5/8"; (a slight bit of minor wear including a 3/16" flake at edge of base, a ½" partially open interior bubble, otherwise perfect). An extremely rare pickle jar, believed to be one of only 3-4 extant! Provenance: Fred Swiechowicz collection. Believed to be from an eastern, possibly Boston area firm with offices and a depot in Detroit, Mich. Researching city directories, Rowe & Co. was listed in 1852-53, "fruit & oyster depot", 163 Jefferson St, Detroit. This is only the third confirmed example of this mold. The first known example, which now resides in a California collection, was dug in Battle Creek, Mich. A second example is believed to be in Canada.  – John Pastor, American Glass Gallery, Auction #34
Support: Reference to Ketchup Pickles Sauces – 19th Century Food in Glass by Betty Zumwalt, 1980
Support Image: Rowe & Co. Token. The obverse of the token reads, "Rowe & Co Oyster & Foreign Fruit Depot 197 Main, St. Buffalo" and the reverse of the token reads "Liberty 1863." The obverse shows text with one small decorative line in the center. The reverse depicts an Indian head facing the left with a date below and stars above. – CoinAppraiser.com
Join the FOHBC: The Virtual Museum is a project of the Federation of Historical Bottle Collectors (FOHBC). To become a member.