Dr. Miller's Ratafia
Dr. Miller's Ratafia
(Motif of Sphinx-Like Beast)
Damiana.
Siebe Bros. & Plangemann S. F.
Sole Agents Pacific Coast

Dr. Charles F. Miller, San Francisco, California
Red-Amber Cylinder Sixth
Provenance: Ken Schwartz Collection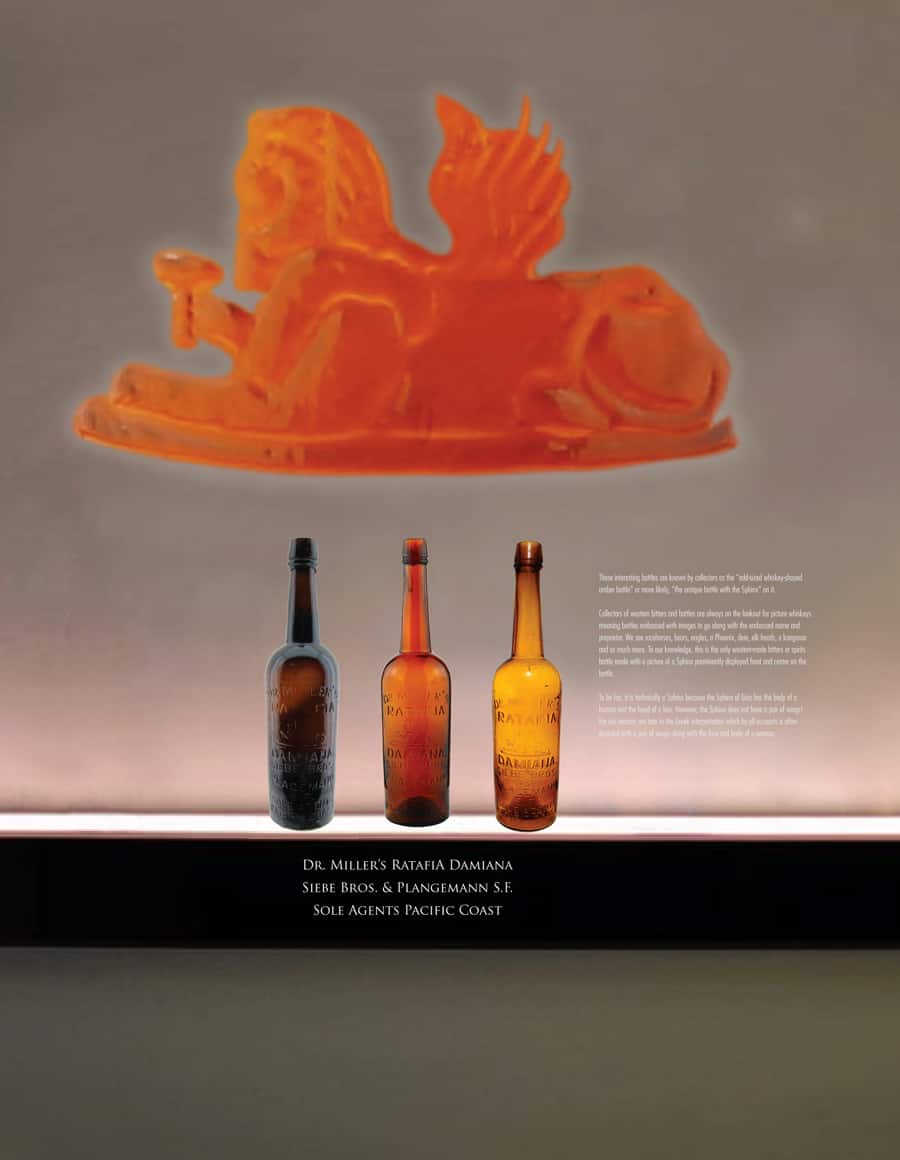 The following is from 2016 FOHBC Hall of Fame inductee Jeff Wichmann from American Bottle Auctions.
These interesting bottles are known by collectors as the "odd-sized whiskey-shaped amber bottle" or more likely, "the antique bottle with the Sphinx" on it.
Collectors of western bitters and bottles are always on the lookout for picture whiskeys meaning bottles embossed with images to go along with the embossed name and proprietor. We see racehorses, bears, eagles, a Phoenix, deer, elk heads, a kangaroo and so much more. To our knowledge, this is the only western-made bitters or spirits bottle made with a picture of a Sphinx prominently displayed front and center on the bottle.
To be fair, it is technically a Sphinx because the Sphinx of Giza has the body of a human and the head of a lion. However, the Sphinx does not have a pair of wings! For our version, we turn to the Greek interpretation which by all accounts is often depicted with a pair of wings along with the face and body of a woman.
The Sphinx of Giza is a mythicized beast made of limestone and is referred to as "The Terrifying One" or "Father of Dread." Built all the way back to at least 2,500 BC and often claimed to be even older, it is the oldest monument in Egypt and was made long before the pyramids surrounding it in the Valley of the Kings. Our Sphinx on our museum bottle is holding and enjoying a wineglassful of Miller's Ratafia on a hot Egyptian day.
Most bottle collectors know that damiana was thought of as a powerful aphrodisiac and was a common ingredient in bitters and other medicines. The Baja Damiana Bitters are probably the most successful of the damiana bitters but there are numerous other examples out there. As a result, the Siebe Brothers apparently thought it was a good idea or they just happened to wander in that direction. What could be better than a Sphinx and an aphrodisiac to sell you bitters?
The Miller's Ratafia bottles were made, according to Thomas and Zumwalt, from around 1878 to 1882 according to Thomas and for only a year or two in that window according to Zumwalt. According to Thomas, the earliest known address for the Siebe Brothers was on the southwest corner of Pacific and Stockton Streets in San Francisco in 1859. Later the store became the property of just John Siebe and moved to Union and Powell Streets. Eventually, John got back together with his brother and they opened a grocery liquor store around 1866. The point is, that it would be 28 years from their first venture before the Siebe Brothers and Plagemann would have a bottle with their names embossed on it.
We know the Siebe Bros. and Plagemann made their Rosedale O.K. Whiskey starting in 1882 and it is possible Thomas just may have thought that Miller's product was made up to that date. While Thomas doesn't get too much into the product itself, it is one of just a couple of bitters mentioned in his Spirits of the Old West book, the other being the Chalmer's Catawba Wine Bitters. Both are cylinders. Zumwalt points out that John Siebe and his brother Frederick had worked for George W. Chesley who put out Jockey Club Whiskey and Cundurango Bitters.
By 1877, the Siebe Bros. created their own wholesale liquor company while still working with Chesley, and decided they needed to furnish their own bitters product. They met Charles P. Miller who happened to be a noted physician and apothecary in San Francisco at the time and hired him to concoct a bitters in which they could bottle and distribute with their name and J. F. Plagemann who had become a partner in 1878.
Can you imagine the looks on their faces when they first saw the Miller's Ratafia bottle? Few moments can be as rewarding to a wholesale liquor dealer than to see your name in glass certifying the fruits of one's labor, especially after 28 years of hard work.
The brothers worked together until 1920 with prohibition in full swing. The company was said to be worth $125,000 to $200,000 by that time. By the few bottles out there owned by collectors today, it seems the Siebe Brothers were quick to cut their losses and went back to promoting the better known Cundurango Bitters product, already a familiar and popular drink. Their eventual claim to fame probably came in the way of their Rosedale O.K. Whiskey and their Golden Pearl, Old Family Bourbon and Marshall Whiskey products.
Dr. Miller's Ratafia bottles come in a sixth size and are always found in shades of amber. They are one of the few bitters embossed with 'SOLE AGENTS PACIFIC COAST' on them. One would have to believe that when the Siebe Brothers and Plagemann came out with this design and contents, they had to think they had a home run on their hands. An aphrodisiac bitters product with a sphinx. It had to be a huge success but unfortunately for some reason, it wasn't. It is possible the bottles were too expensive and were continued on with just a paper label, but those have not survived or have been found.
Rumors are out there and some believe the bottles can be found in shades of light yellow and yellow-green. We have also seen them in a dark chocolate amber and although the number of undamaged examples known is probably in the 5 to 10 range, they do come in various amber shades and are often pretty crude.
The one pictured in the Zumwalt bitters book was previously owned by the author and had a replaced top from mid-neck up. We had another example sent to us years ago in an orange amber coloration that arrived in around 30 pieces. A lesson that you can't put a bottle in a shoebox with tissue paper and expect it to arrive in good shape.
These hard to find western bottles have been mostly dug in California, Vallejo, Mariposa, and Nevada City and in neighboring states including Nevada.
We don't often hear much about a Miller's Ratafia changing hands and we believe that's because there just aren't enough to go around. Collectors who own one rarely want to part with them and new finds are quickly bought up. Since they are so hard to find, collectors pay a premium and it appears the going price for an undamaged example, in a decent color, will sell in the $10,000 area.
The bottle has a lot going for it such as rarity, the size, the abundance of embossed copy, the Sphinx-like image and you can find them with a good amount of crudity and character. Whether the lofty asking price stays constant is anyone's guess. It is unlikely anyone will be offering one soon, of course, the particular variant will always dictate price.
We do know that when one considers the choices of different western bitters bottles out there, a top choice has to come in the way of a bottle with one of the most unusual decorations on the front and one that collectors rarely get a chance to see in person. That would be the mysterious and elusive Dr. Miller's Ratafia.

The listing in Bitters Bottles Supplement 2 is as follows: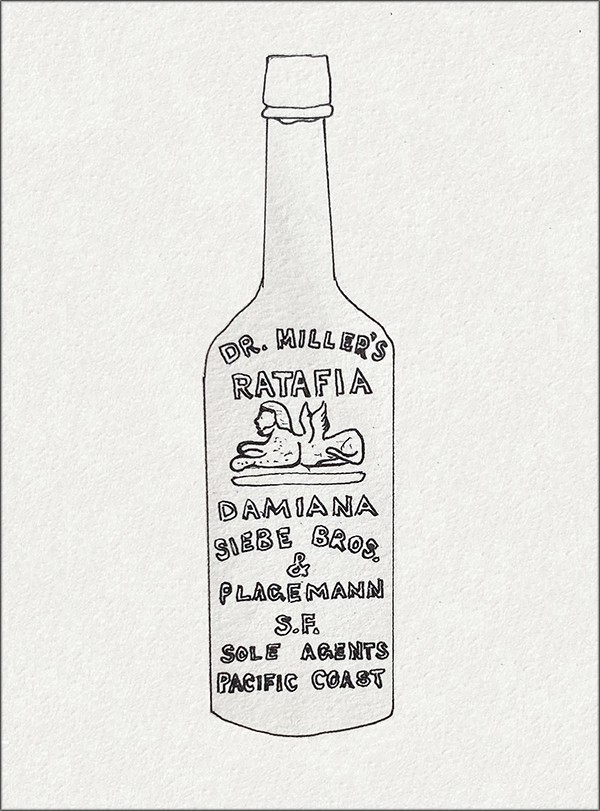 M 90 DR MILLER'S / RATAFIA / motif of Pegasus / DAMIANA / SIEBE BROS. / & / PLANGEMANN / S. F. / SOLE AGENTS / PACIFIC COAST // c //
11 ¾ x 3
Round whiskey shaped, Amber, LTCR, Applied mouth, Very rare bottle embossed with a sphinx.
Siebe Bros. & Plagemann, Sole Agents, San Francisco, California
Dr. Miller's name was Charles F. Miller, a San Francisco physician, and pharmacist. Ratafia is a generic type cordial flavored with herbs known as a stimulant tonic and laxative and said to have aphrodisiac qualities. The product was advertised as a bitters.
See M 90 in Bitters Bottles
Primary Image: Dr. Miller's Ratafia imaged on location by the FOHBC Virtual Museum midwest studio led by Alan DeMaison.
Support: Secondary bottle images courtesy of Jeff Wichmann and American Bottle Auctions
Support: Secondary bottle image of dug Miller's Ratafia bottle in hands courtesy Western Bottle News
Support: Reference to Bitters Bottles by Carlyn Ring, Bill Ham. and Ferdinand Meyer V Use of Miller's Ratafia Bitters illustration courtesy Bill Ham